What's new on Student Dashboards? The new student dashboard has moved from search to discovery. The big change we've made to students' dashboards is adding collections of jobs that are pushed to students.  They're prebuilt searches that we display to students based on their individual profiles, preferences and activity!  Examples include: Jobs Near Campus, Jobs in Locations You're Interested In and Recommended for You.  We want to help students shift away from spending hours hunting and pecking for jobs by pushing curated lists right to their dashboards and to their phones.  
Why is the New Dashboard Important:
We want to help you realize all sorts of potential career paths.

By collecting profile data, career interests and activity, we're hoping these collections help you go beyond standard search criteria in your job discovery process.  
 Old Student Dashboard: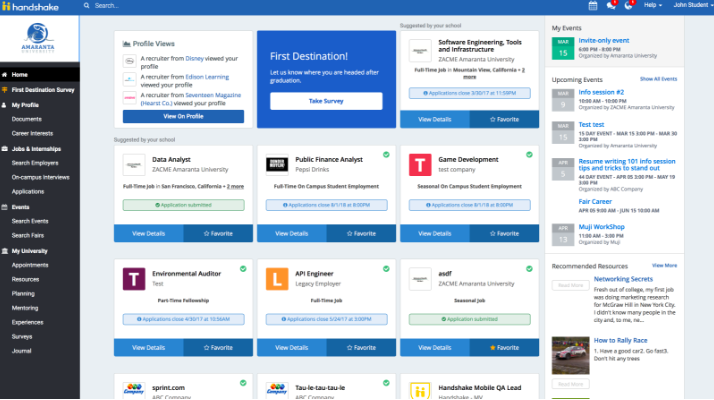 New Student Dashboard: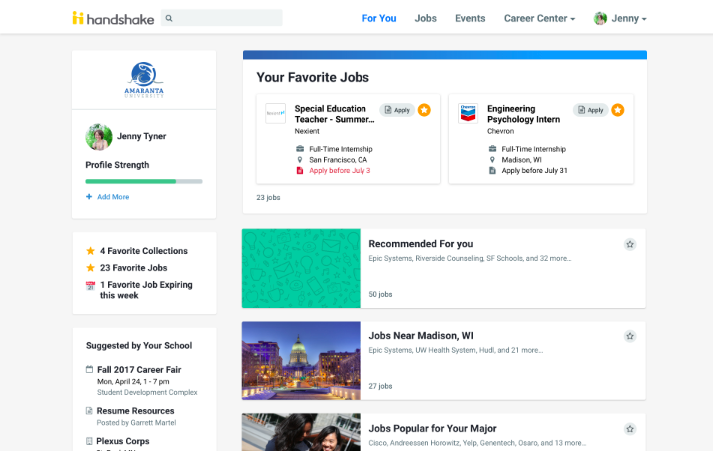 Student Dashboard FAQs
What does this change for students? Discovery will appear on the student's Dashboard, when they click Home or the Handshake logo.  Some of the links (for Jobs and Events) that they are used to seeing on the left will be moved to the top of the page.  Appointments, Resources, Career Fairs will be moved under a Career Center drop-down at the top of the page.  
What determines the jobs different students see in their dashboards? Through student's Onboarding flow, Career Interest Section, Profile, and their activity on the system we gather a ton of data on students preferences.  We use that data to curate collections for them!
Does Discovery work for all students regardless of field of study? Yes! We're hoping that Discovery will aid all students, regardless of concentration by going beyond major to define potential career paths.
Can a student modify collections they see? While students can't directly remove collections, they can favorite the ones they like so they see them again!  
How can I help enhance my job search experience? Fill out your profile!  The more information we have about you and your experience, the better we can be at recommending jobs!