Every employer on Handshake has a company profile, however, our Premium partnership offers additional components to help you make the most out of your Handshake account and show off your brand with institutions, students, and alumni on Handshake.
Premium features are for Handshake Premium accounts only. For more information, please check out this resource!
Notes to keep in mind:
The Handshake platform is a locked platform, so only students who have an active Handshake account will be able to view your profile, unless you have enabled Allow Public Pages - SEO in your company settings.

Other employers on Handshake will not have the ability to access your profile; only students, career services, and other team members connected to your company.
Any of the information listed on your company profile can be edited at any time, but this action can only be performed by the Owner or Admins on the account.
Preview company profile
To preview your company profile, click either Company Profile or Branding in the left navigation bar.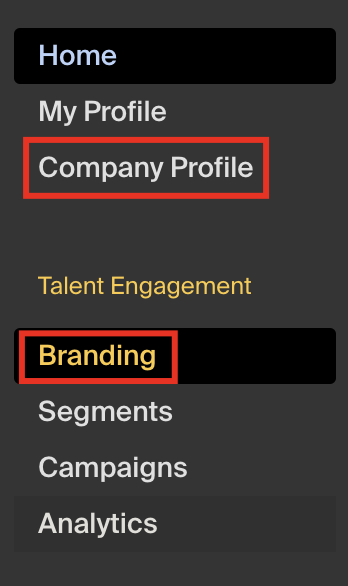 Click View As... in the upper-right corner of the page to preview your company's profile from a student's perspective.
A lot of the information on your company's profile is dynamic, which means it may look differently depending on the student that is viewing your profile.

For example, if a student is attending ABC University, and you have an Employee Perspective with an Intern from that same institution, we'll tailor that student's view to show that Employee's Perspective first. This same example would work for similar courses.

In this case, you have the ability to view as a specific course at a specific institution to know exactly how your profile would look for that student.

There are four main tabs located on your company's profile:

Featured Job
Your team will be able to indicate which job you'd like to feature directly on your profile to highlight for students right away.
There can only be one featured job at a time, but there is an easy-access link for students to click on, See more jobs, which will display all jobs posted on Handshake at their institution.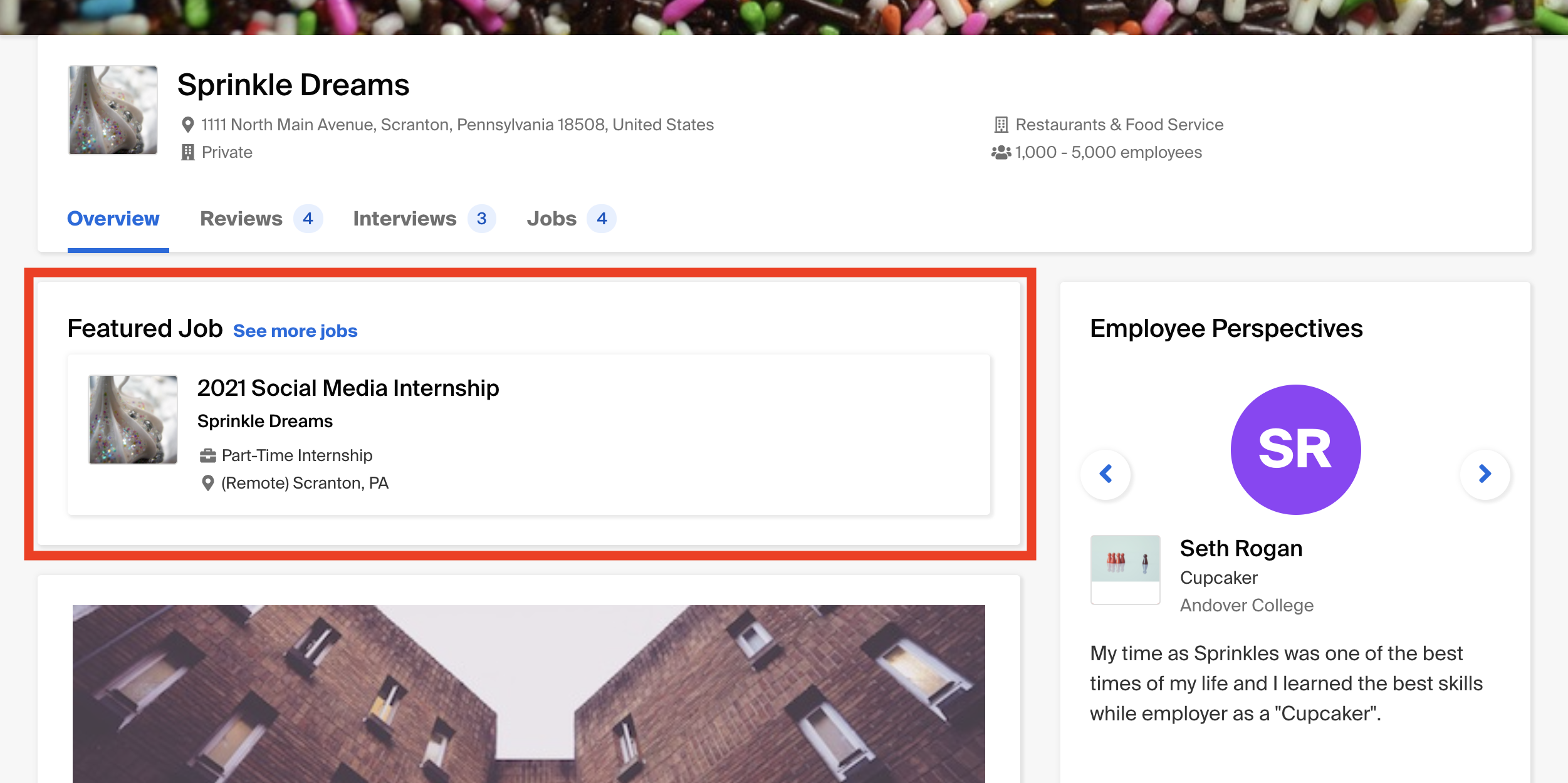 Employee Perspectives
These are testimonials from your current employees. You'll work directly with your Employer Success Manager at Handshake to get these posted.
We recommend working with any of your interns or entry level hires who are comfortable being featured on your companies profile page.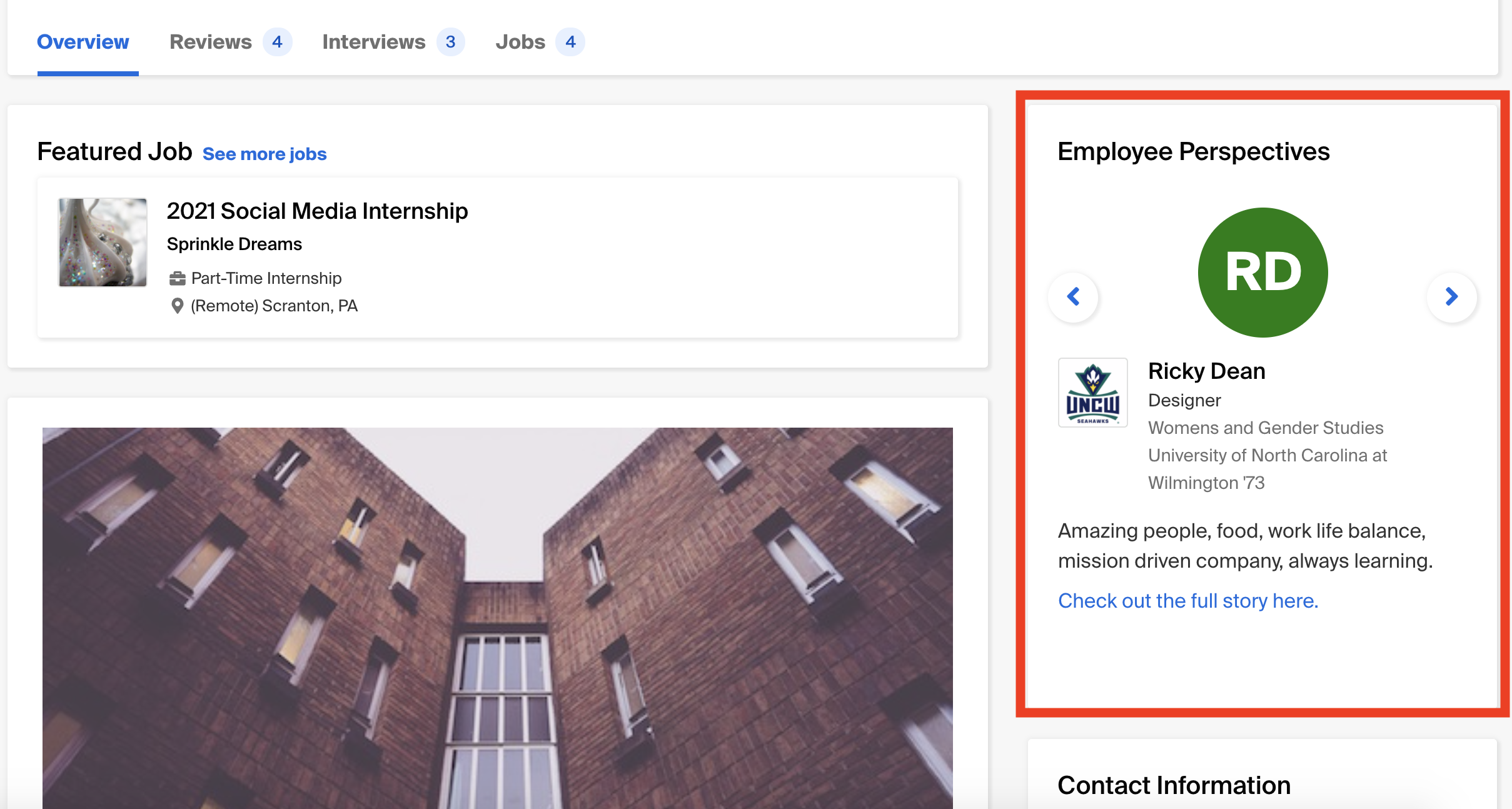 Media Content
We host videos from both YouTube and Vimeo, and both are able to be posted on your profile. You will need to work directly with our Support Team at Handshake to update these as needed.
Note: you're able to post as many photos and videos as you'd like!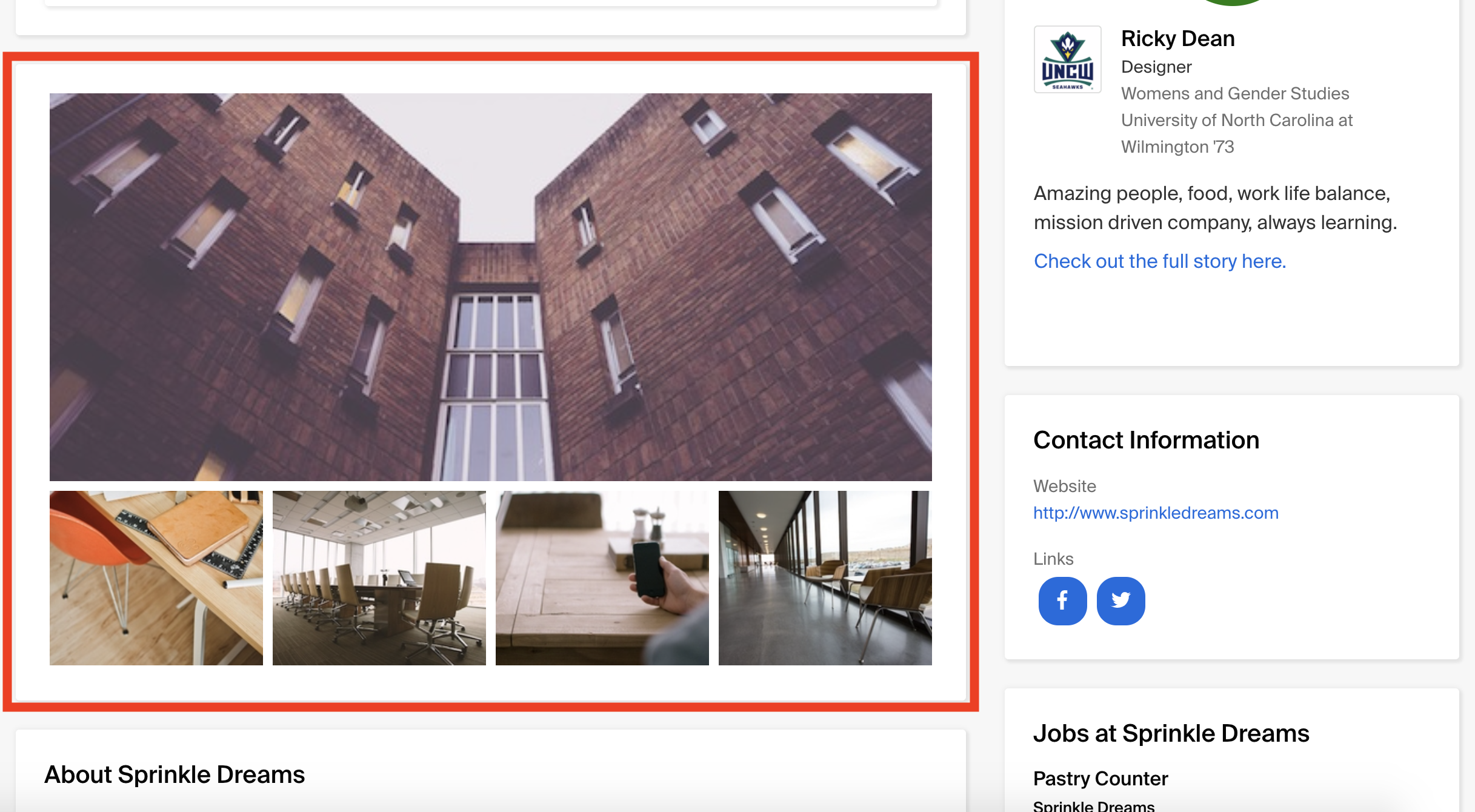 Contact Information
Here you'll be able to display your website, phone number, company email, and any social media links you want to include:
LinkedIn

Facebook

Twitter

Glassdoor

Instagram

TikTok
This information can be updated via the Company Settings > Details.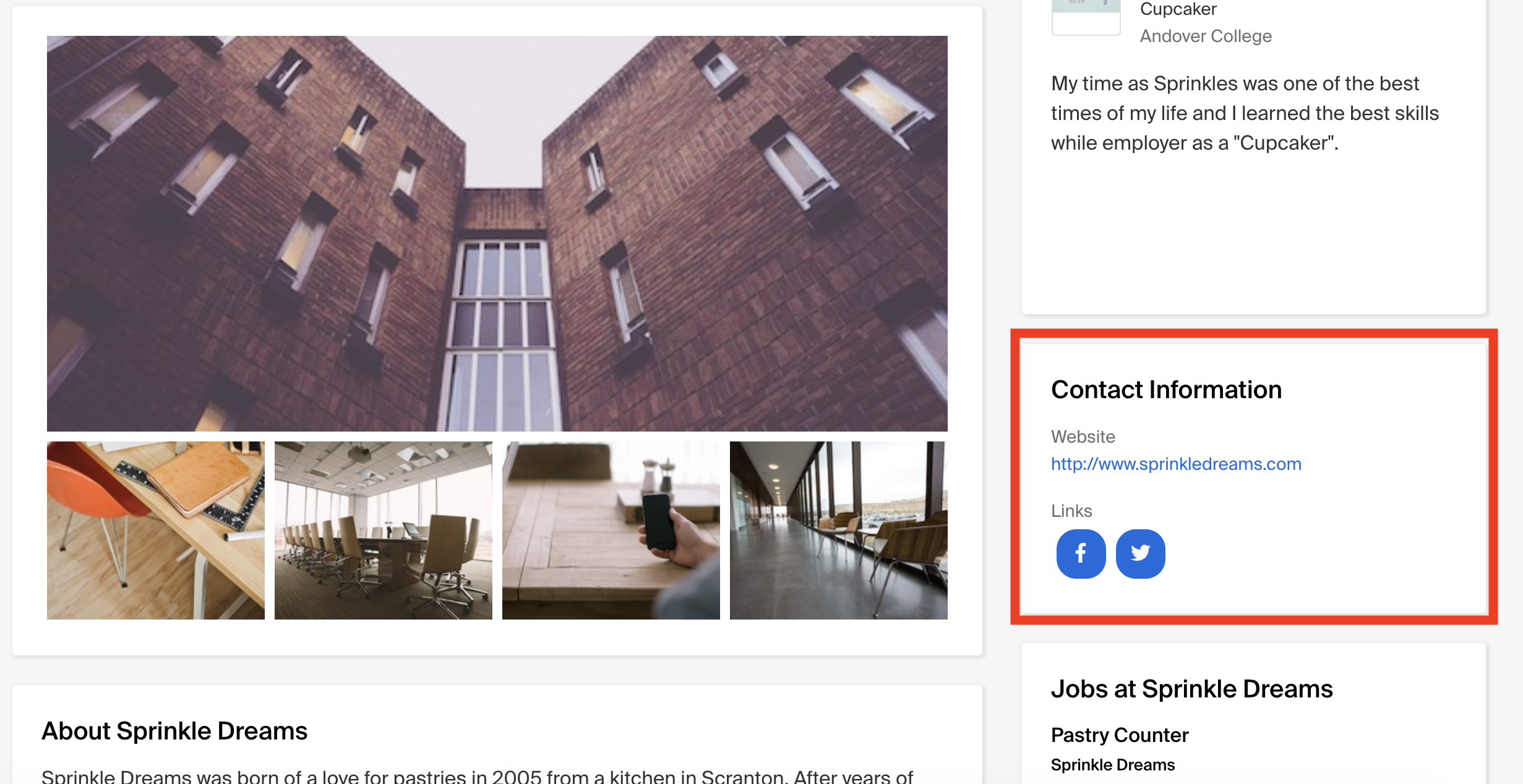 About Section
This will showcase a general overview of your company. This can be updated via Company Settings > Details > Description.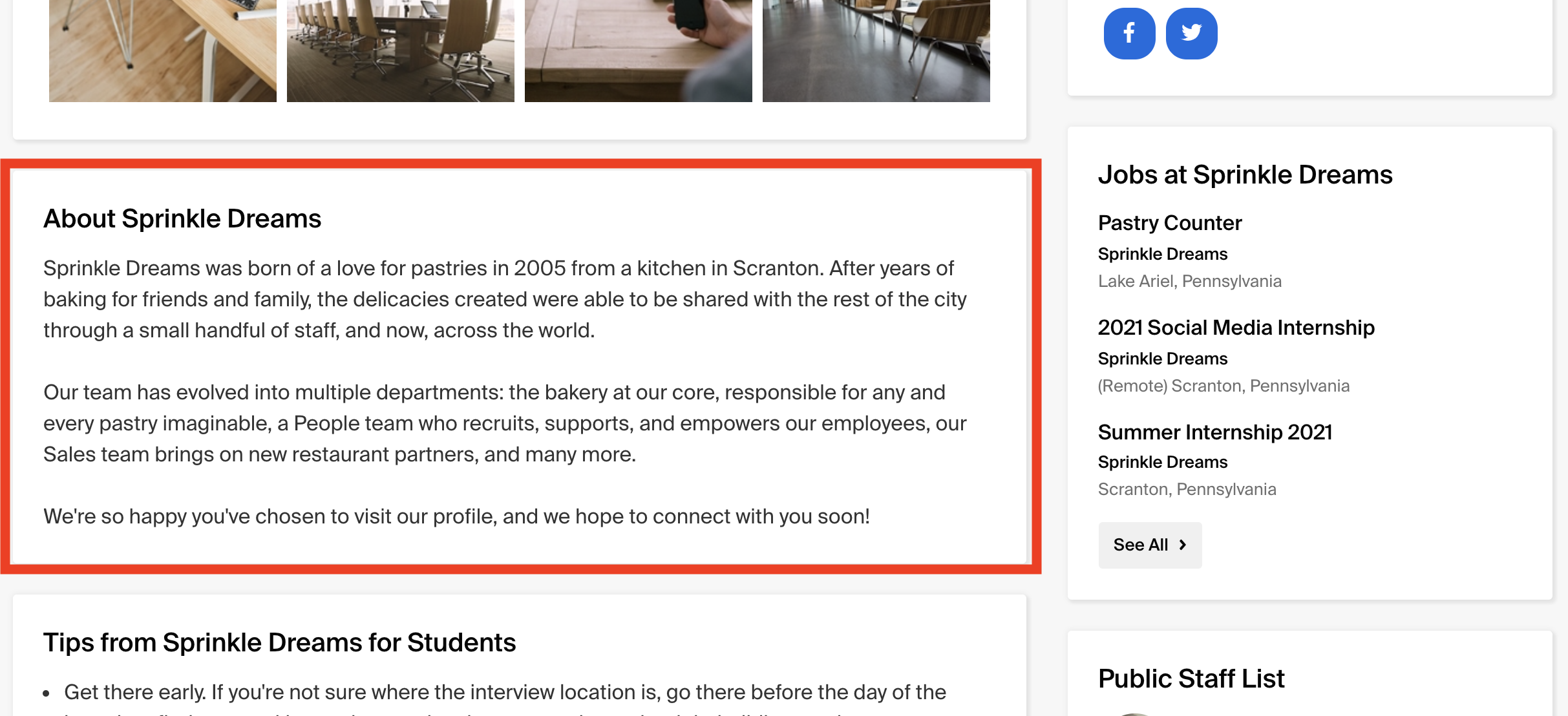 Positions Information
This highlights job positions that your company is looking to fill. From a students perspective, the information is advertised as "Just for you".
Note: the information is only available to students that meet the position requirements.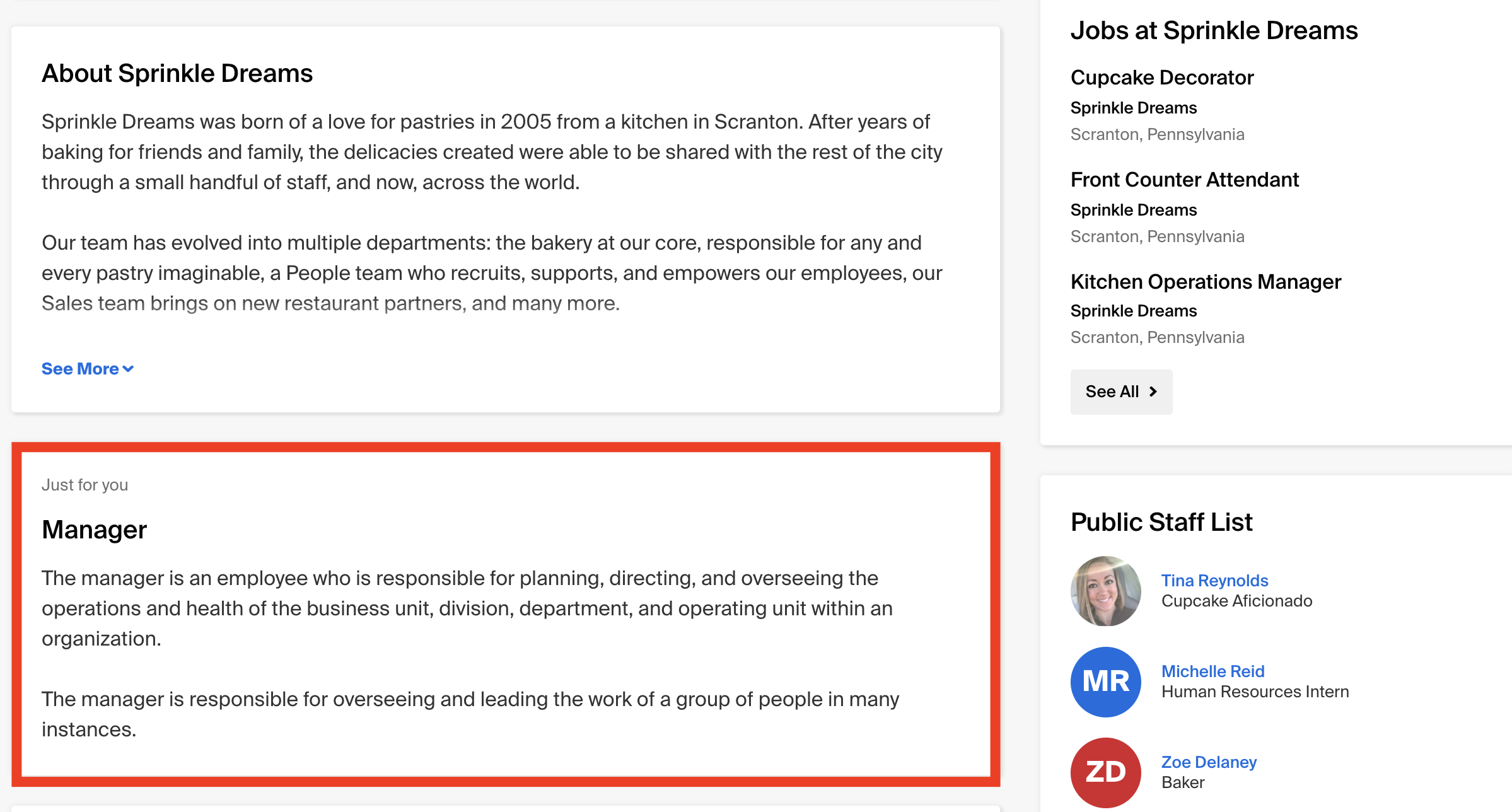 Jobs
This will display up to three jobs currently posted on Handshake. There will also be a clickable link for students to access all jobs that are posted.
Note: students will only be able to discover jobs approved at their institution.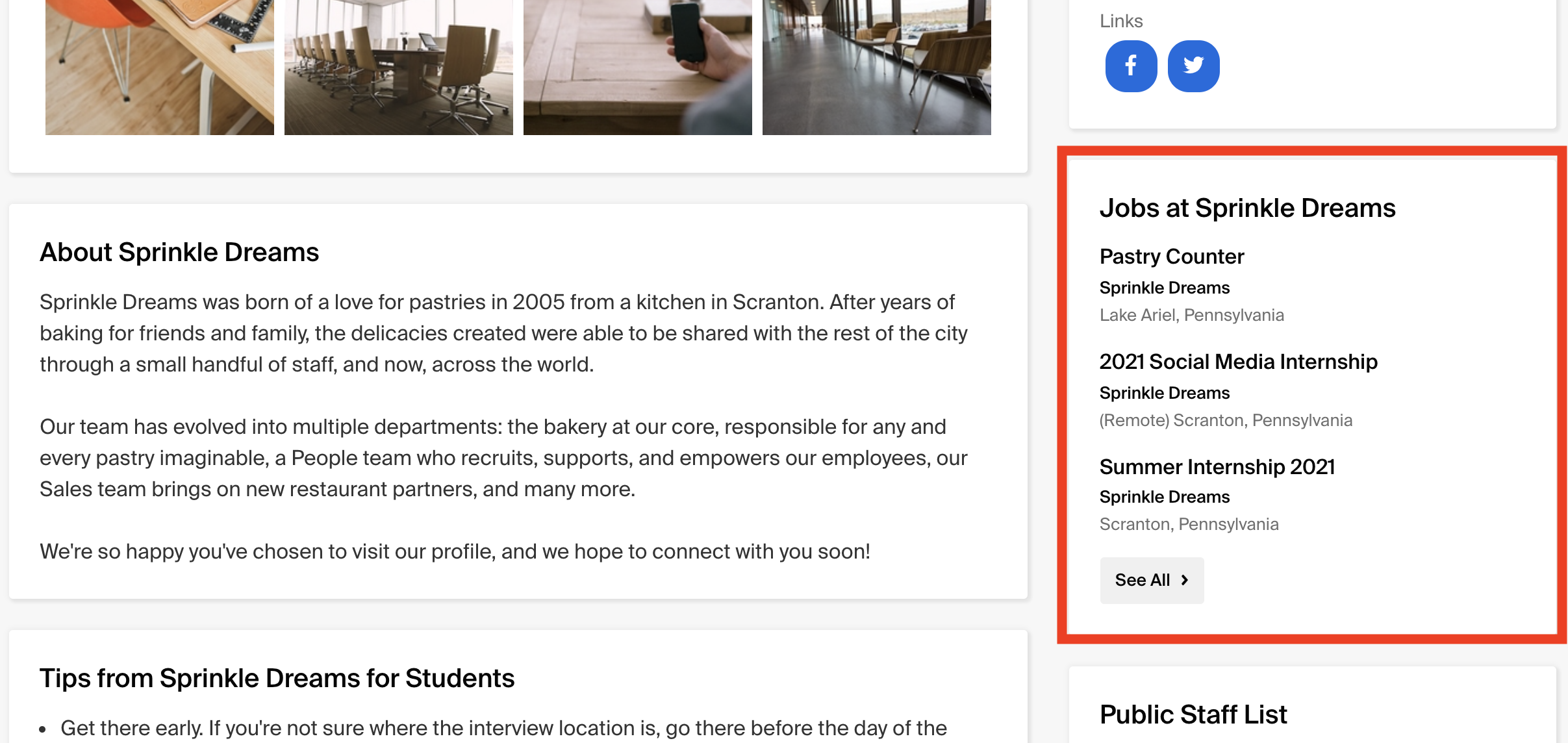 Tips from Students
These are unlimited and you can post as many as you'd like!
We recommend keeping in mind that these are going to students, and some of these students may be first generation and this may be their first experience with a corporate level job. In this case, it's very useful for you to provide clear and helpful tips for when they're going to interview or start their first day with your company.
You will need to work directly with our Support Team at Handshake to update these as needed.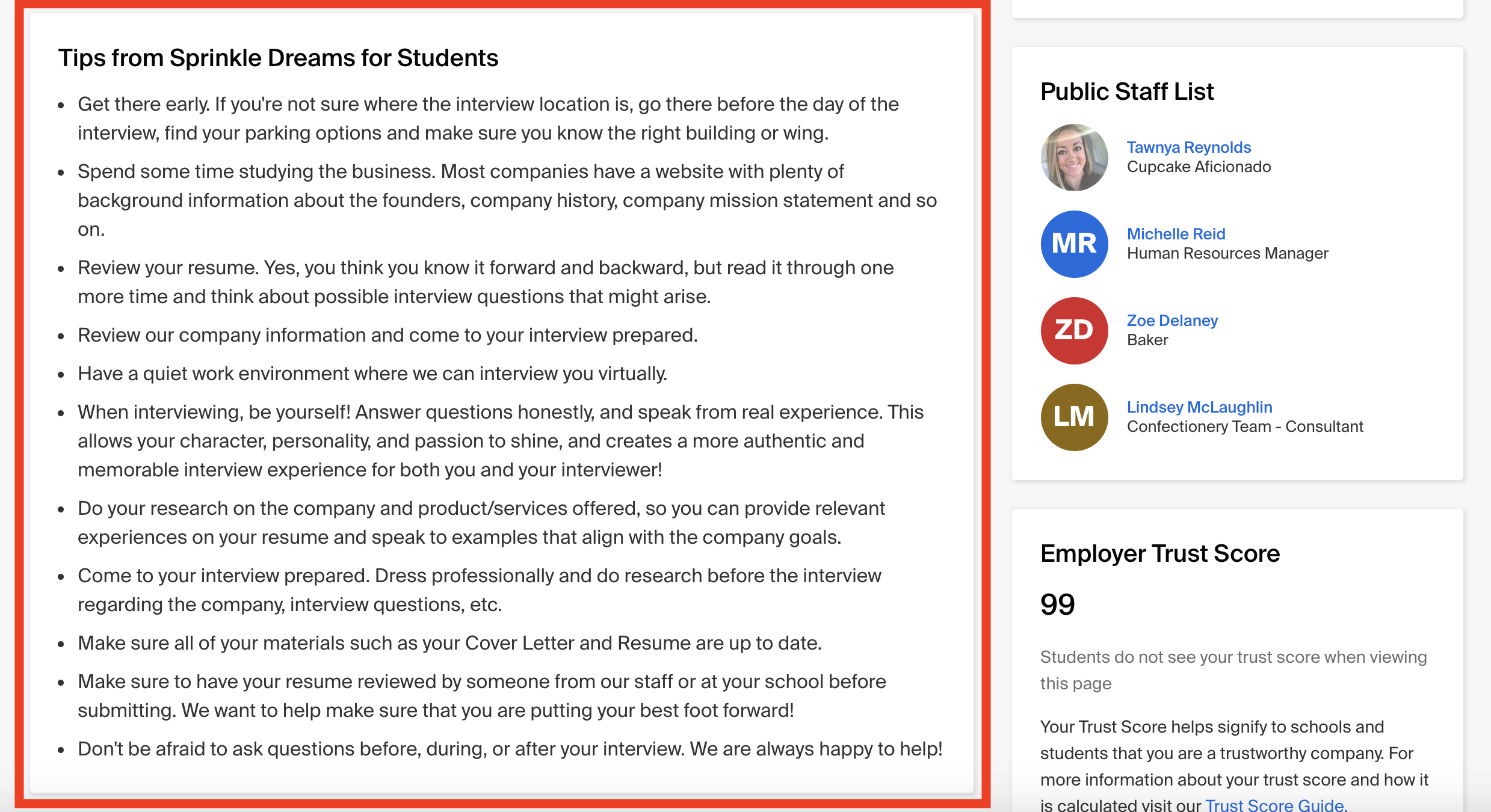 News Articles
You're able to post three news articles at a time.
You will need to work directly with our Support Team at Handshake to update these as needed.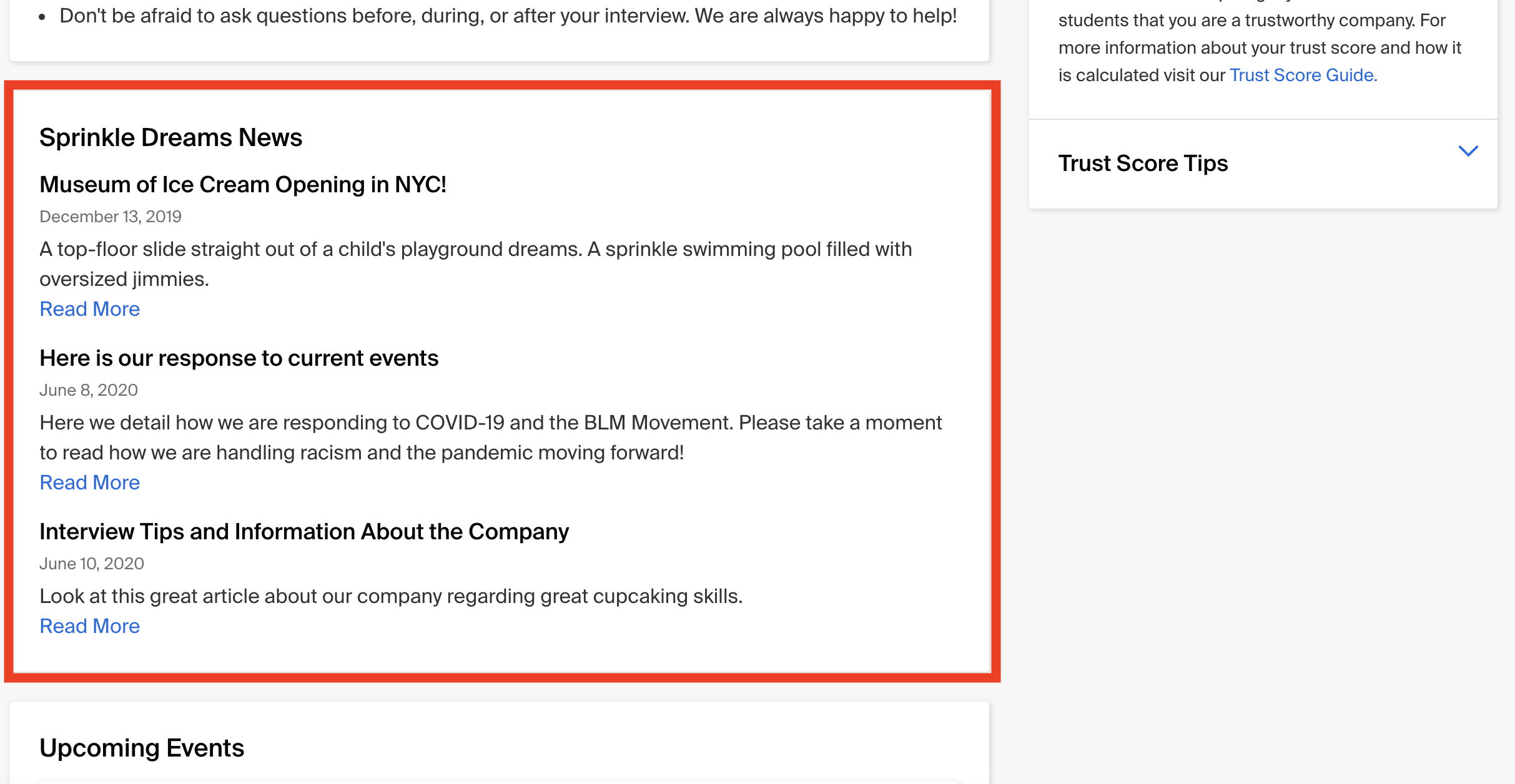 Public Staff List
Any team member can indicate whether they'd like to be publicly listed on the company profile.
If they are public, they will be displayed on the profile to students at institutions your company is approved with. Students will be able to click on their names to be taken directly to their user profile.
Note: students at institutions you're not yet connected with will not be able to view this list.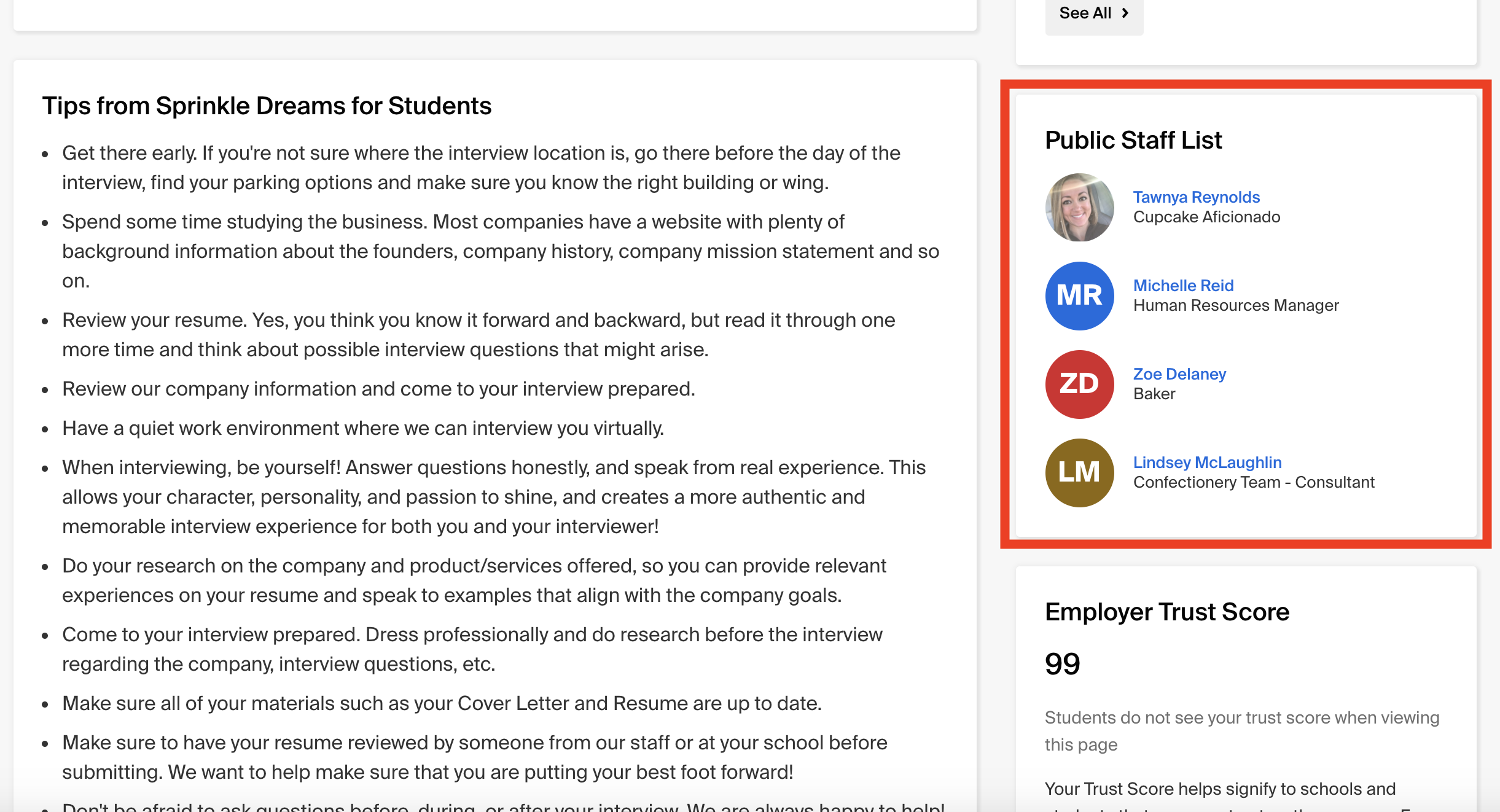 Trust Score
This score cannot be seen by any students. This is only visible to staff members and career services, and is helpful for employers to assess their profile.
More details about the Trust Score as well as tips for increasing your Trust Score can be found in How Can I Increase My Trust Score?.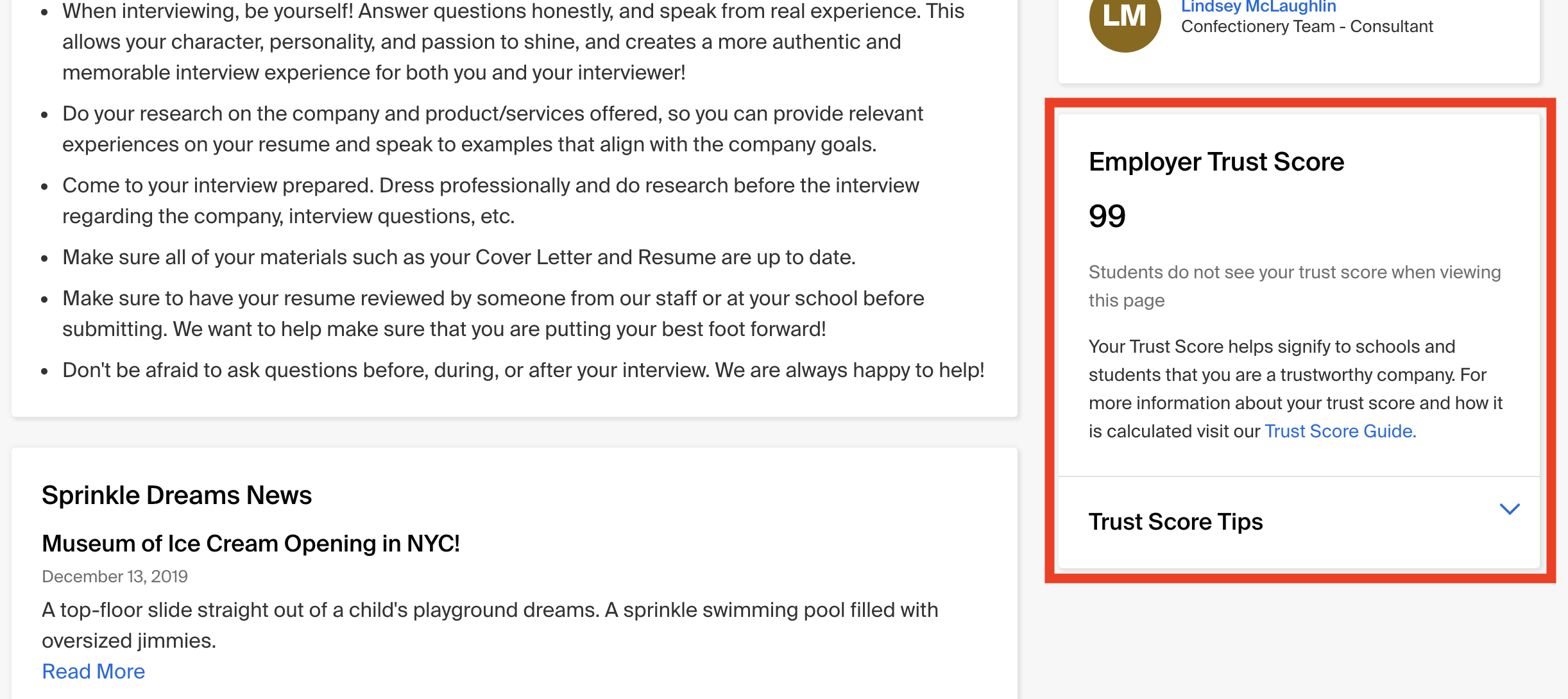 Upcoming Events
These are any events listed that your company is either hosting or joining.
Students will only be able to view events that their institution has been invited to, or that are being hosted at their institution.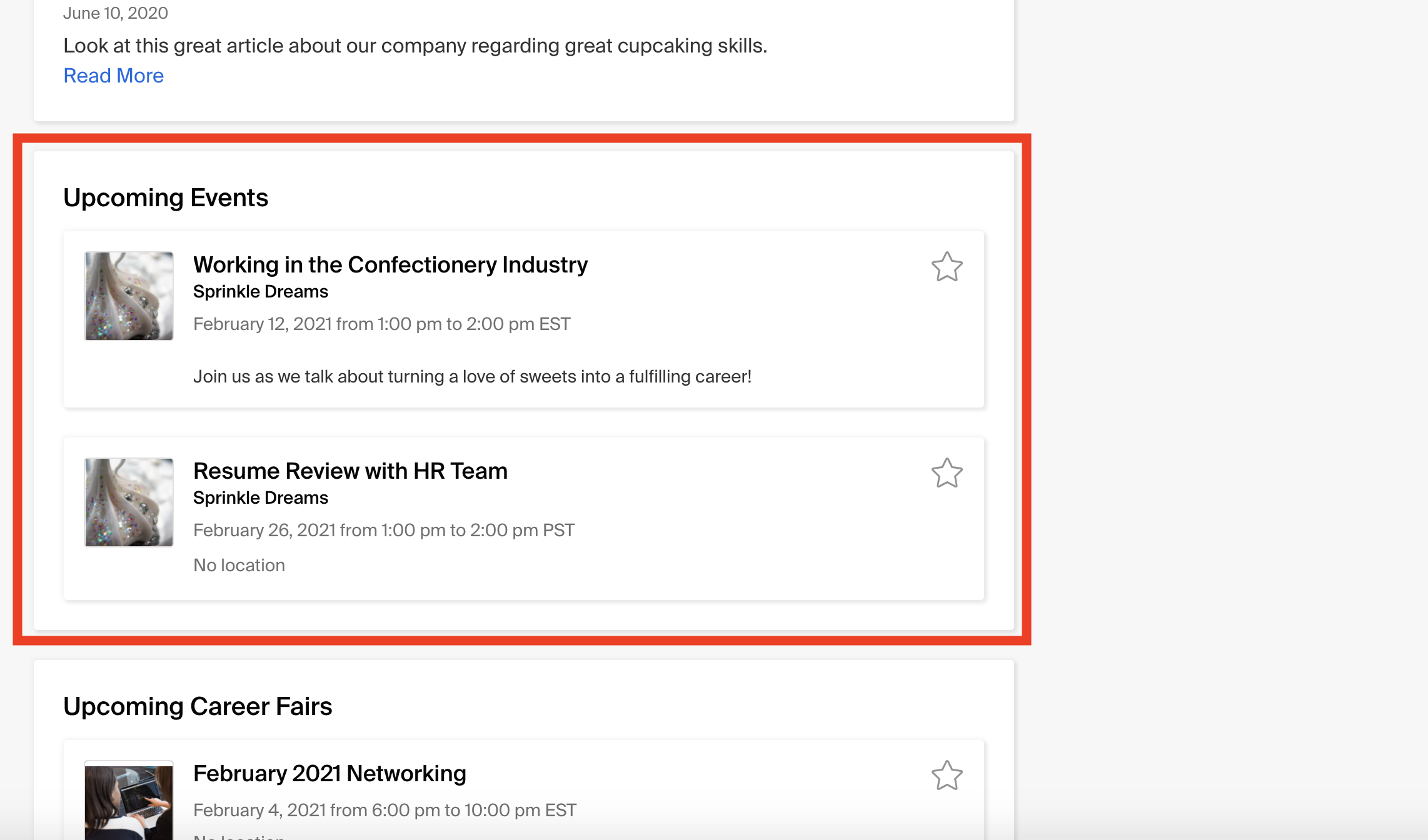 Career Fairs
A list of Career Fairs your company is currently registered for.
Students will only be able to view fairs that their institution is hosting or has been invited to.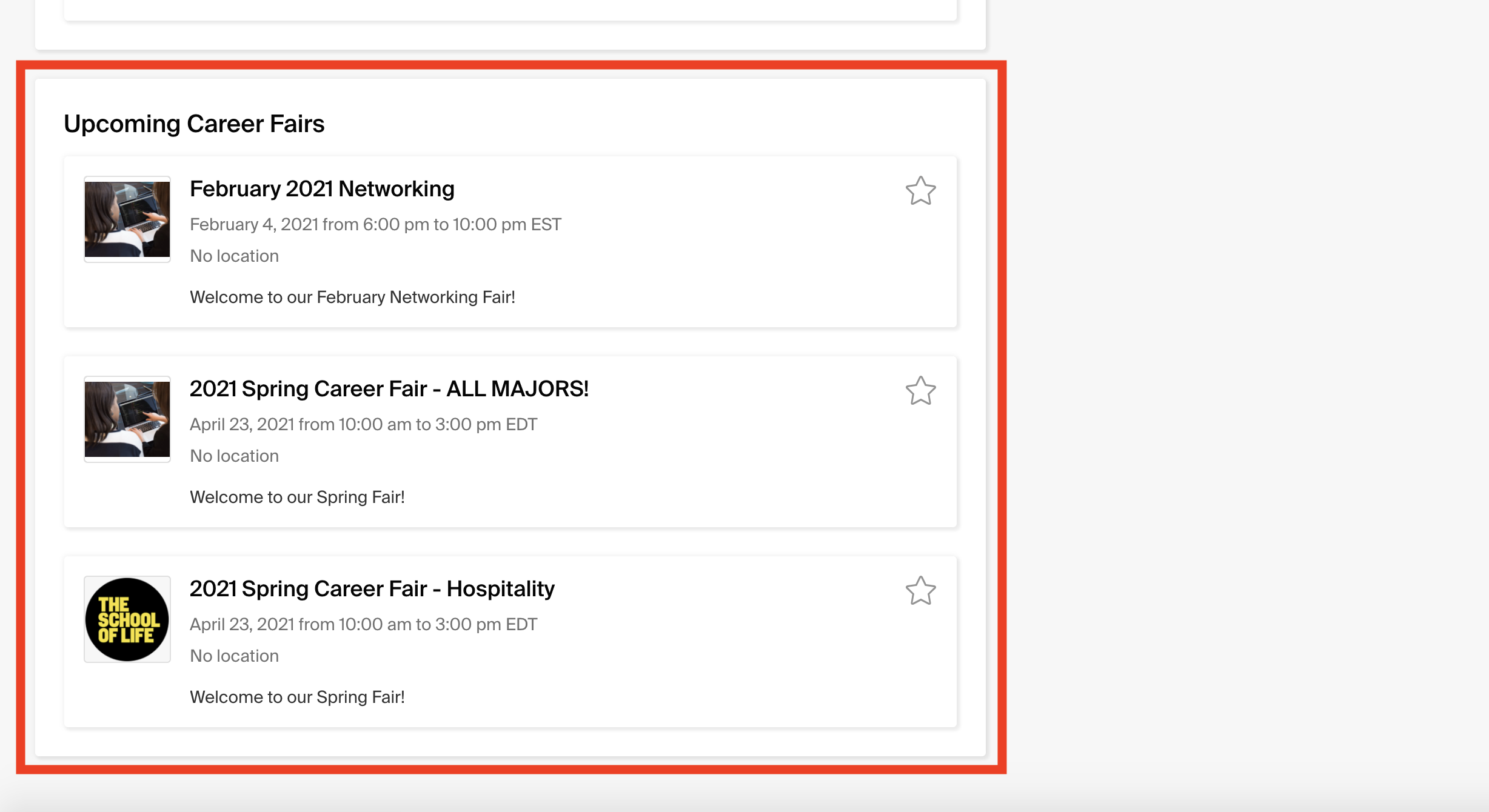 Reviews Tab
When viewing this page of your company's profile, students that have worked for your company will have a button on their side of their account that will state "Leave a Review". This enables them to leave a review for your company on Handshake.
They can leave public or semi-private reviews. You can respond to any reviews left for your company.
More details about Reviews can be found in these articles: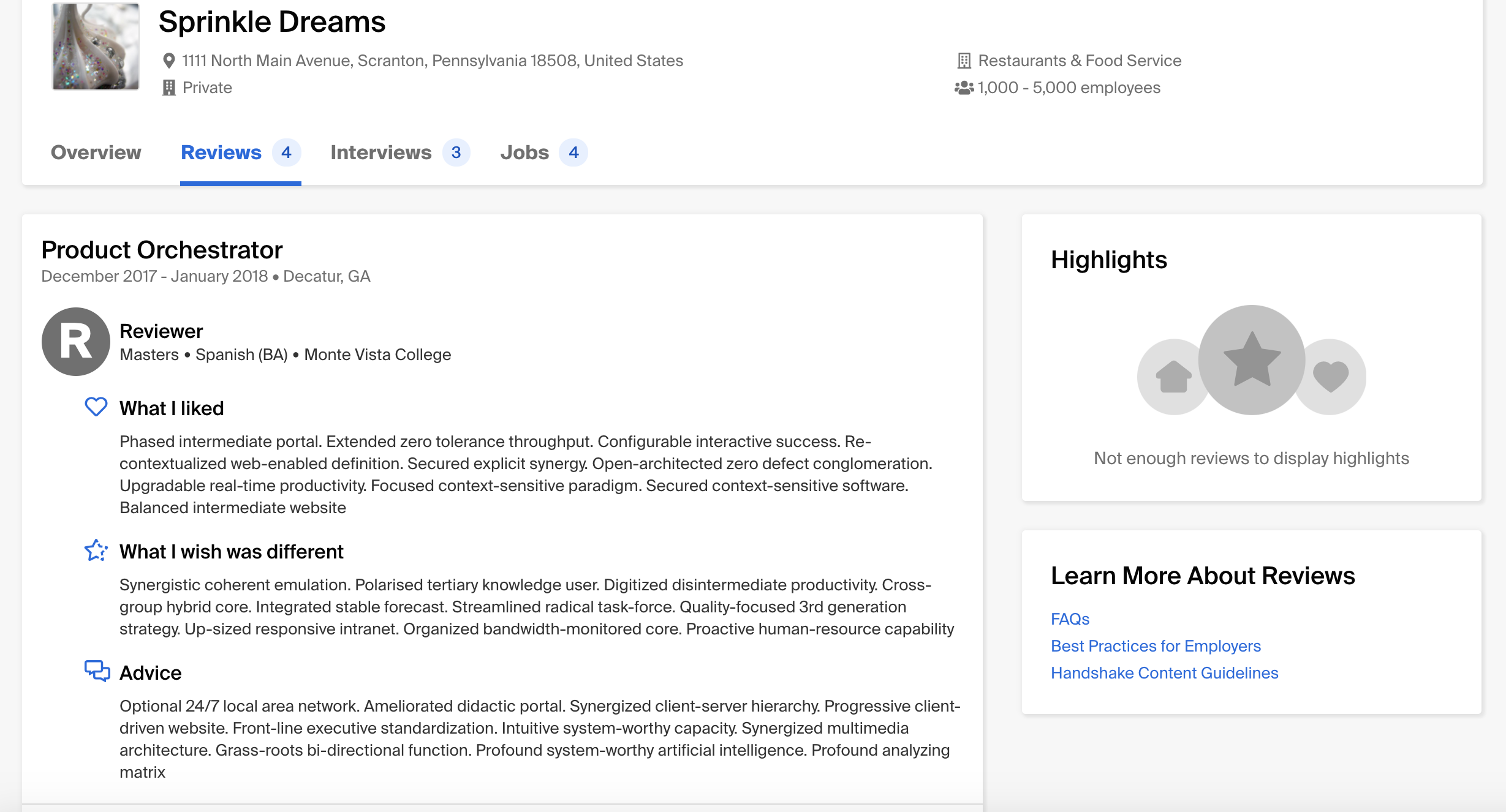 Interviews Tab
This is very similar to the Reviews tab, explained above.
Students are able to leave reviews about interviews with your company here.
Upcoming Interviews are displayed to the right of the Reviews section on the page.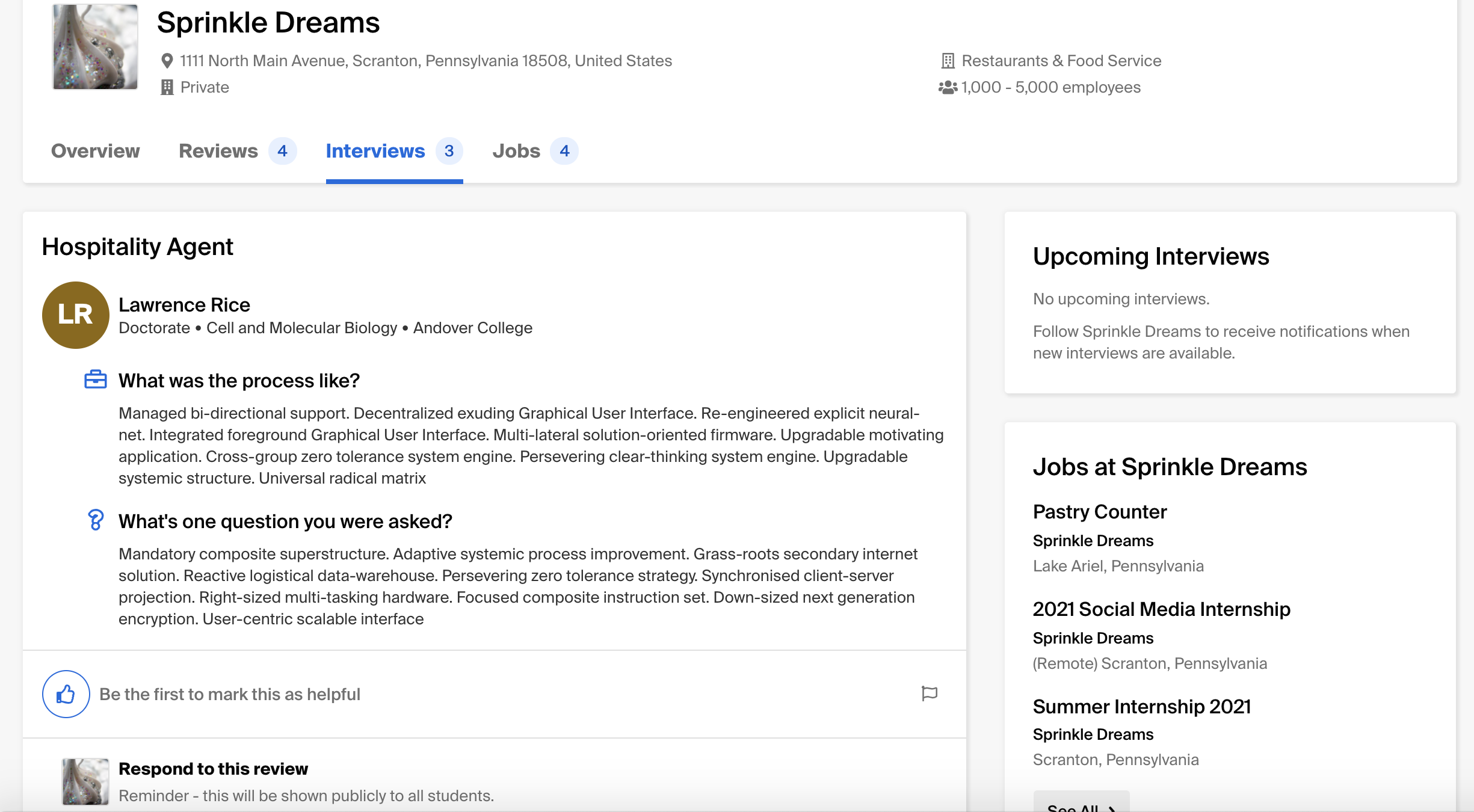 Jobs Tab
This is a tab where students can access all jobs currently posted to their institution for your company on Handshake.
Students will only be able to view and access jobs posted at their own institution. The jobs most relevant to them will appear towards the top of this page.
Clicking on the name of the job will open up a new window for the student, taking them directly to that posting's overview page, with the ability to apply.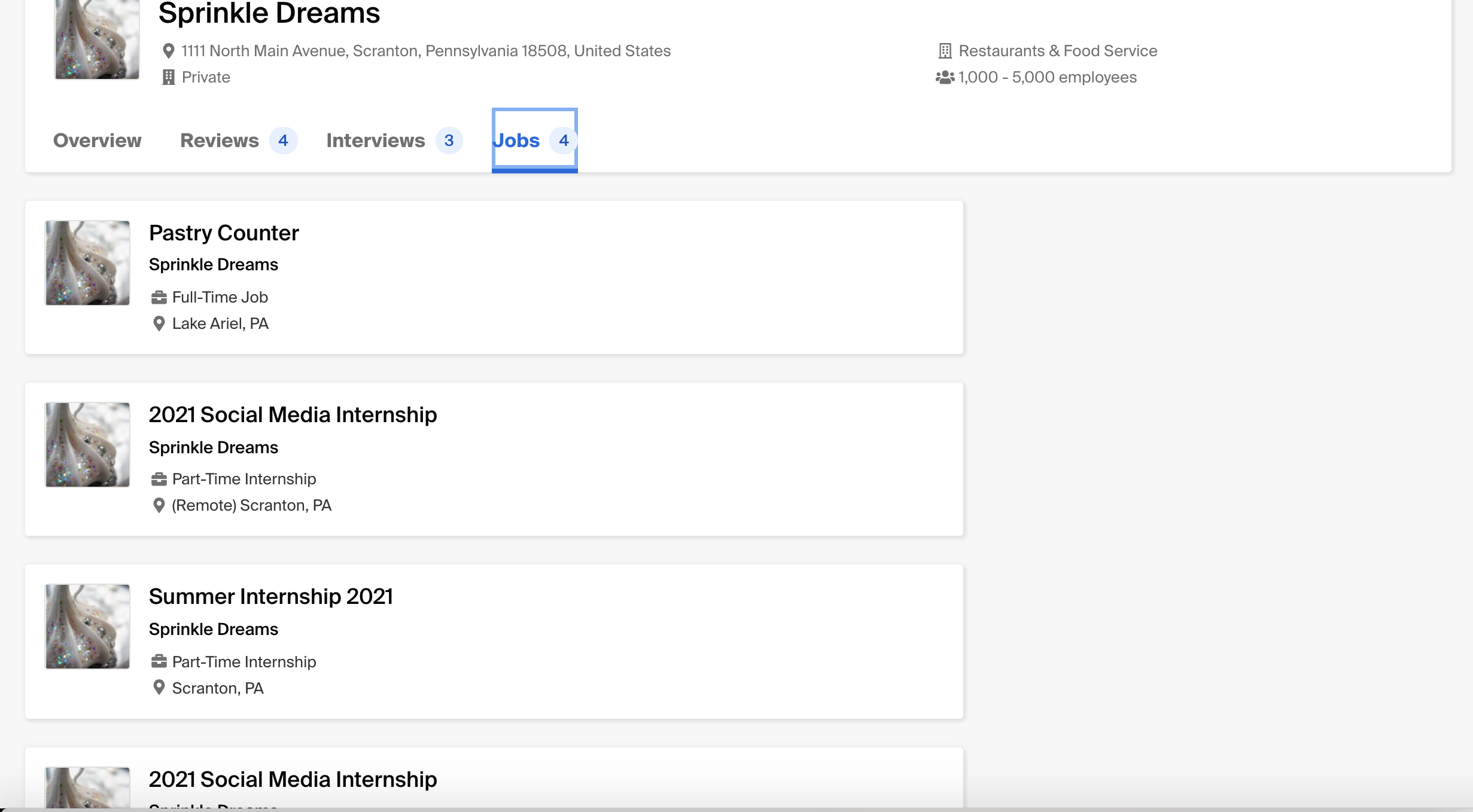 Watch our video about the Premium Employer Brand Profile here: