Handshake provides granular staff permission templates, based on the individual's role within your institution. These templates expedite adding new staff members while ensuring that they have appropriate access to information within Handshake.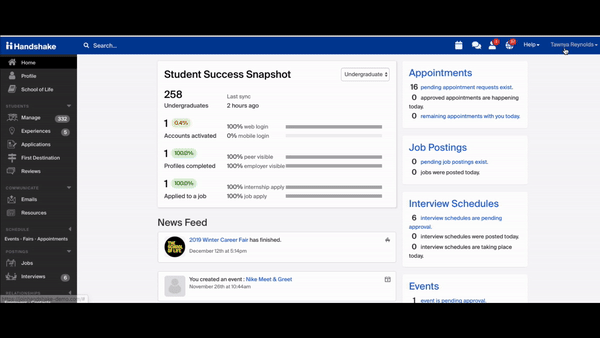 To add a new staff member
1. Click on your name in the upper-right corner of Handshake, then click Institution Settings.
2. From the menu on the left of the page, click Staff Management, then click the blue button Add Staff Member, toward the middle of the page.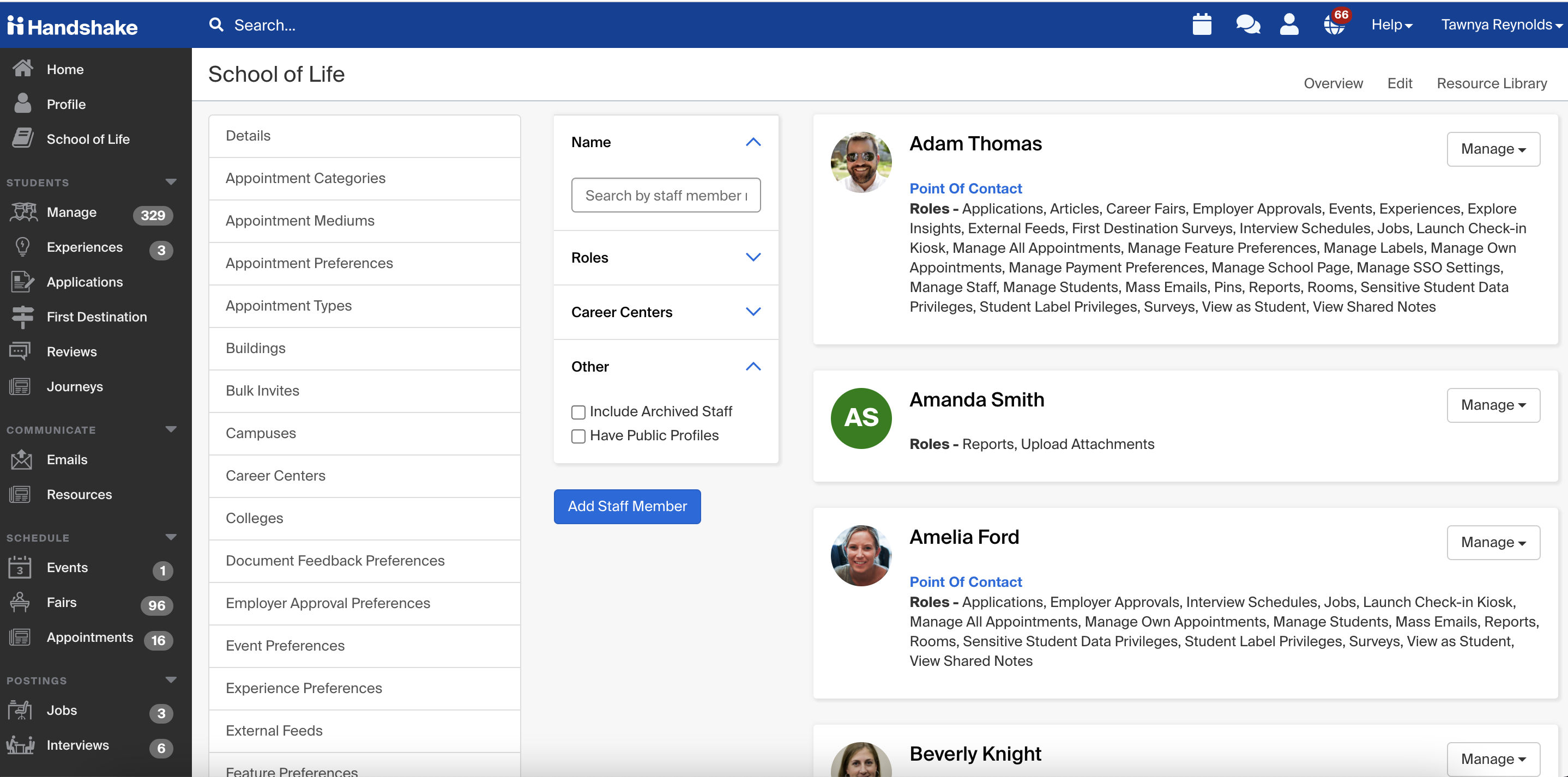 3. This will load to the "Create Account for Institution Staff" page. There are three sections to complete: Account Information, Personal Information, and Roles.
In the first section, enter the following Account Information:
Username (required)
Auth Identifier (optional)
Email Address (required)

Note: if the new staff member has a student account with your institution, you can use their existing student account email address to link the two accounts. Using a different email address can result in some complications if they try to sign in with SSO or existing info.

For example, if your institution uses two different email domains, such as "sol.ac.uk" and "schooloflife.ac.uk", these register two separate accounts. They will not be able use the "Switch Users" functionality. If SSO is setup, it will only link to one of the two accounts.

Message to Include with New Account Details (optional)
When you've completed the form, click on Next: Personal Information.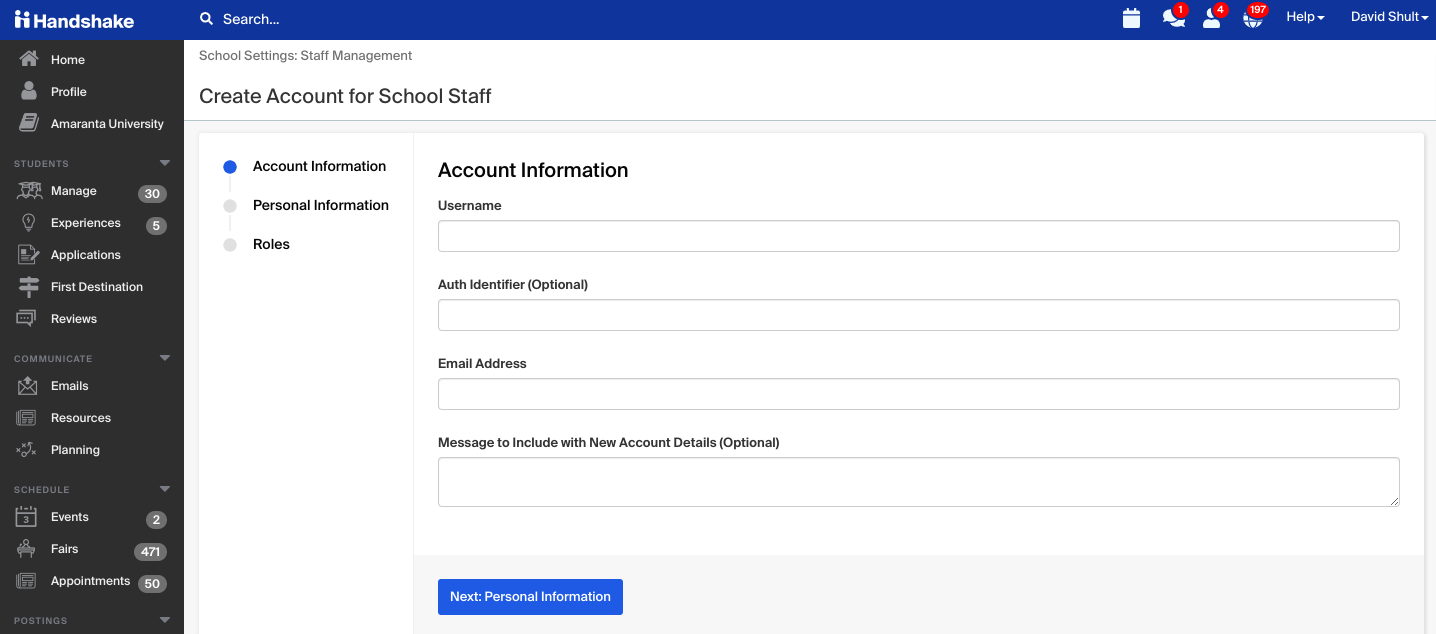 In the second section, enter the following personal information:
First Name (required)
Last Name (optional)
Organisational Role (required) - Select one of the following from the drop-down menu:

Administrative Assistant

Adviser

Assistant Dean

Assistant Director

Associate Dean

Associate Director

Associate Vice Provost

Career Counselor / Coach

Coordinator / Manager

Dean

Director

Executive Director

Faculty

IT

Other

Senior Director

Staff

Student Assistant

Title (optional)
Mobile Phone Number (optional)
Office Phone Number (optional)
Office Location (optional) - choose one from drop-down menu
Career Centres (optional) - choose one or many from drop-down menu
Bio (optional)
Once you are done with these fields, click on Next: Roles to proceed.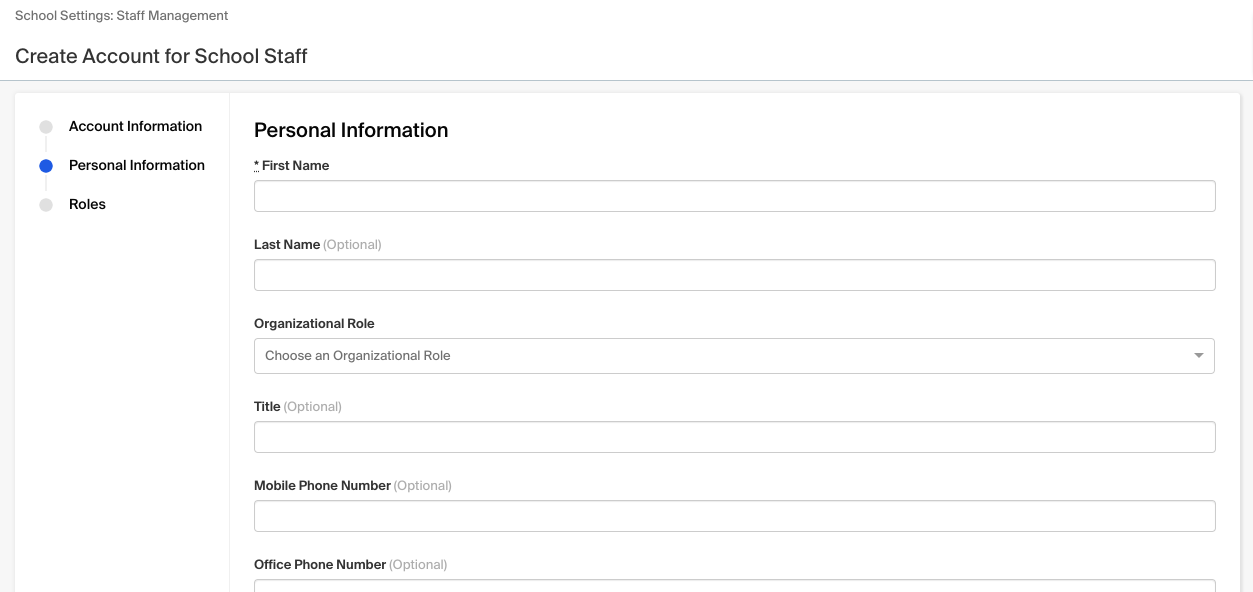 In the third and final section, there are 8 options for Permission Groups. These are preconfigured with certain permissions selected, based on the Permission Group. To review which permissions are selected, click on "Show Permissions".
The 8 Permission Groups are:
Career Counsellor

Employer Relations
Administrative Assistant
Student Employee
Faculty/Campus Partner
IT Specialist
System Administrator
Custom Permissions

This option allows you to set up the permissions you prefer for the staff member being added.

If you select any of the other 7 options, then uncheck/check a permission for that group, the selection will change to Custom Permissions.
Once you've selected the desired permissions, click on Create Account to finish setup and send the invitation email to the staff member.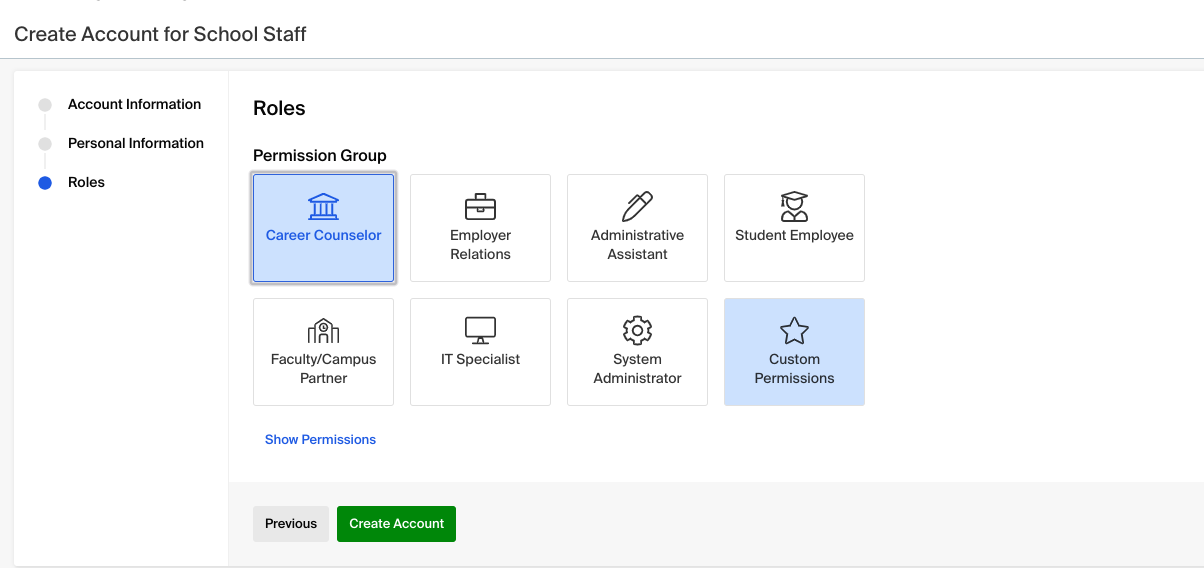 The staff member will need to click on the link in the email received to finish setting up their account password and sign in.
For more information on what each role allows access to, refer to Career Services Roles and Permissions.