To engage students throughout the Spring 2020 season, Handshake is partnering with school teams to send timely and relevant email messages to unactivated undergraduate students. Our goal is to continue supporting school teams in providing a "ready to send" resource while increasing overall student engagement in Handshake. Please see below for additional details:
School Participation & Details:
To manage your opt-in preferences for the Spring 2020 Activation Email Campaign, navigate to your

feature preferences tab to indicate whether your institution would like to participate.


You can opt-in or out at any time for these emails through the feature preferences tab if the timing or content ever does not work for your team.



Please note! Only individuals who have the "Manage Feature Preferences" permission can opt into these campaigns. To learn more about this permission level, please refer to this help center article.


One week prior to an email going out, we will notify members on your team who have "Manage Feature Preferences". You can always opt out of an email prior to it getting sent!


Emails will go to unactivated undergraduate students with a major that your institution has synced into Handshake.


An email will be sent roughly every 3 weeks.  Thus, no more than 2 emails per month will be sent to your students throughout the spring.  We provide a weeklong range for each campaign in the timeline below since we will be sending these emails to 1 million+ students per campaign. With that, our email system needs multiple days to get all of the emails out!



1 email per student going out during the week of January 27th

1 email per student going out during the week of February 17th
1 email per student going out during the week of March 9th
1 email per student going out during the week of March 30th
1 email per student going out during the week of April 20th
1 email per student going out during the week of May 11th
These emails are not customizable. If you would like to customize messaging or send to specific student groups in addition to, or instead of, these emails, we encourage you to leverage our  templates in

 

Handshake's Targeted Email tool. Just navigate to Handshake, click Emails from the left column, and click the "Handshake Templates" button on the right side of the screen. 
Example Content:
We're anticipating that all six emails this spring will feature recommended job content based on the student's major - these types of emails performed the best in the fall.  Each campaign will feature different job recommendations for students, but the general structure of the emails will mirror the example shown below.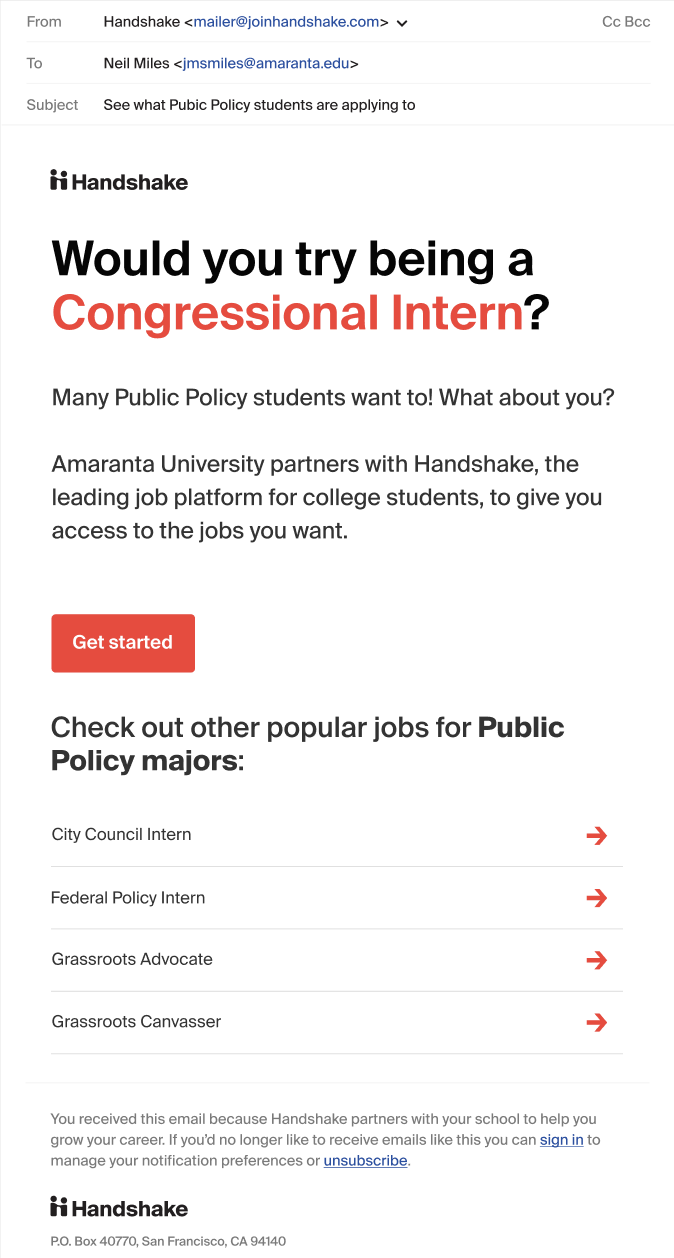 For undergraduate students with no major or an undeclared/undecided major, we will send an email that focuses on the value of Handshake, rather than recommending jobs—this email was the top performing email featuring the value of Handshake from our fall campaigns.

Our campaign during the week of March 9th will include a small test of the following email to help us further refine what types of email content resonate best with students.  Students included in the test will still only receive one email this round.