How can I see which companies do not have a contact at my school?
Use the report link below to see which employers are approved but do not have a contact linked to your school:
https://app.joinhandshake.com/analytics/explore_embed?insights_page=ZXhwbG9yZS9nZW5lcmF0ZWRfaGFuZHNoYWtlX3Byb2R1Y3Rpb24vZW1wbG95ZXJzP3FpZD02dTl0cGp4MlZJUmJkanRYTENyVmt6JmVtYmVkX2RvbWFpbj1odHRwczolMkYlMkZhcHAuam9pbmhhbmRzaGFrZS5jb20mdG9nZ2xlPWZpbA==
Once you've identified the companies, you can use the step in the below section to add a contact!
How do I make a user a contact at my school?
Navigate to that user's account and click "Create Contact for User" under Actions (screenshot below).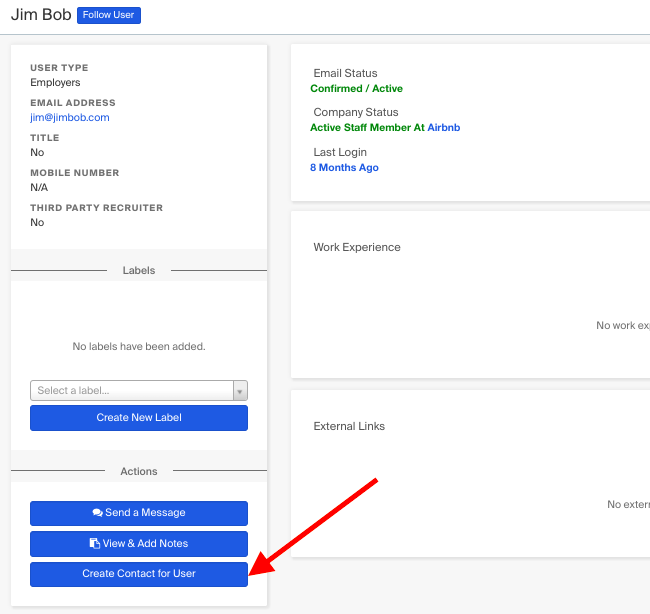 How does the source field get populated?
Blank: This contact was imported with a CSV upload.
Requested Approval: These contacts have requested to be an approved employer at your school. All of the contacts at an employer will not be created when that employer requests approval, only the specific user who requests connection.
Alum: This contact has identified themselves as an alum of your school during creation of their user account.
Attended Career Fair: This contact was added to a career fair registration at your school.
Posted Event: This contact has posted an event to which you were invited.
Posted Interview: This contact was listed as a requestor on an interview schedule at your school.
Posted Job: This contact was listed as a contact on a job that was posted at your school.
Attended Interview: This contact was listed as a contact on an interview schedule at your school.
What will the source of the contact show if the contact has completed more than one of the actions above?
The source will be the first way in which this contact has interacted with your school within Handshake.
What is the difference between Source = Alumni and filtering on Other "Alumni Contacts"?
When an employer signs up for Handshake and selects your school as their Alma Mater, they are automatically added to your contact list with the Source populated as Alumni. If your school happens to create/import a contact for this individual prior to them creating an account, and you indicate that they are an Alum during that creation process, that is what populates the "Alumni Contacts" filter.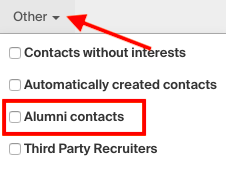 Can I filter contacts based on employer labels?
Yes! Use the Employer Label filter (new in January 2020!) to filter contacts based on labels applied to the employer's company profile.

Please refer to Contacts vs Users for more information!