Handshake Setup
What are the first steps to get your TouchNet account setup in Handshake?
Contact your TouchNet administrator/account manager to start the integration process!

You can also reach out to touchnetready@touchnet.com if you don't know who your contact is

TouchNet can provide you with the following information that you will enter in Handshake:
TouchNet Project Plan
TouchNet requires each school to sign an addendum

Fees vary based on other projects that they have

Submit a request to legal team - send out addendum for signature

Timeline varies widely school to school

TouchNet reaches out to school

Contacts for project internally

Timeline for project

Kick off call is usually 30 mins

Kick off call

Action items for integration

URLs and items we know will apply

Upay site ID

which Handshake needs for integration

School testing

Move to production

Status calls vary depending on integration
How to set this up in Handshake
Touchnet admin should make sure the following IP addresses are unblocked in Touchnet.

Primary IP: 54.88.136.216

Secondary IP: 54.84.188.199

Owner of the school visits the School Settings

To find out who the owner of your school is you can contact the Handshake administrator on your campus

Click

Payment Preferences
Click Touchnet

Enter details provided by TouchNet on the tracking guide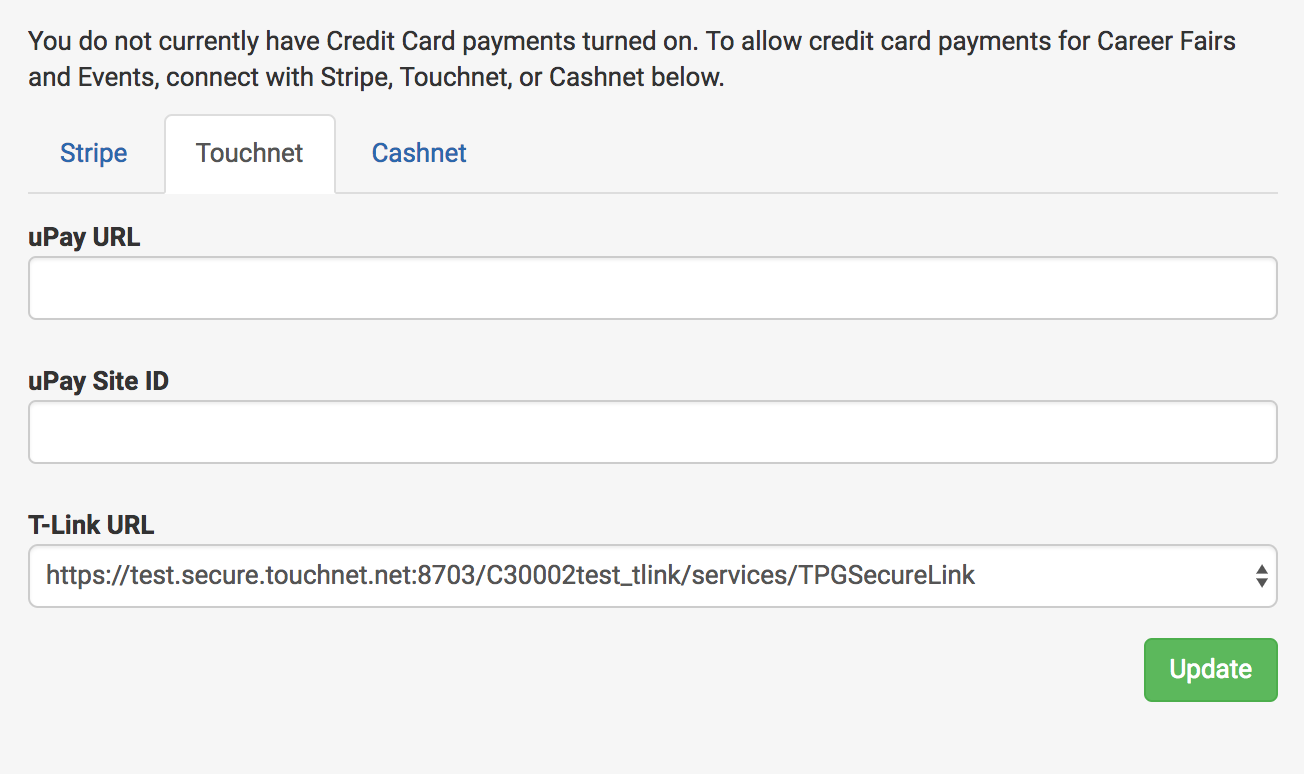 Please note: the above screenshot is an example - in the T-Link URL, the word TEST should not be present. If it is present, then the link will not work and payment attempts will fail.
If you have multiple career centers in Handshake you can add a uPay URL and Site per career center. We will use the default that you set if you do not add them individually.
How to test your TouchNet setup in Handshake
Create a career fair or open an existing one

Create a registration for your on-campus employment account
Select Credit Card as the payment preference
Test a payment
Verify that the payment status is updated correctly in Handshake
What does this look like for users paying in Handshake?
Visit the event, career fair or interview schedule that you are interested in paying for
Click Pay Now
The user will be redirected to your TouchNet site
Once the user submits the payment they will be redirected back to Handshake where you will see the payment status updated to Paid
FAQs
Is Handshake a TouchNet Ready partner?

Yes! Handshake is a TouchNet Ready partner and we can provide documentation upon request.

Is the application hosted on your servers or hosted on campus?

Primary IP: 54.88.136.216

Secondary IP: 54.84.188.199

The Handshake application is hosted on Amazon cloud servers.

Does the application pass the: Success/Cancel/Error URLs or do they need to configure this in UPay application on the TouchNet side?
Yes, the Handshake application passes these three URLs.
Should the IP addresses listed be unblocked on our campus server or the TouchNet servers?
These should be unblocked on the TouchNet servers.
Are their additional parameters that are being passed in a payments call?
Yes, we pass the following information to TouchNet when a payment is created. You will want to work with TouchNet to have these exposed in your TouchNet instance:

user_name

user_id

user_institution_id

user_institution_name

chargeable_id

chargeable_type

charge_name

charging_institution_id

charging_institution_name

charge_event_name

charging_career_center_name

charging_career_center_id
What fields are sent to TouchNet from Handshake?

Event ID or Fair ID or Interview Schedule ID
Event Name or Fair Name or Interview Name
Employer ID (if employer payment) or User ID (if student payment)
Employer Name
Career Center Name
Career Center ID