In order to accept online credit card payments on Handshake, you'll first need to create a Stripe account. 
Note: Only users who have the Manage Payment Preferences role will be authorized to set up a Stripe account through Handshake. Any user with the Manage Payment Preferences role will be able to manage the payment preferences and has the ability to review charges posted to the account.
Confirm your role permissions
First, confirm that you have the Payments role under Advanced Settings. (If you're already certain you have this role, skip down to Connect with Stripe below). If you do not have this role, contact another staff member at your school who has the Manage Staff role. They will be able to add this role to your account.
 
From any page in Handshake, click on your name in the top right hand corner. This will make the account options menu appear.
 Select User Settings from the account options menu.
Scroll down to the Roles section.  Verify that you are the have the Manage Payment Preferences role listed before you proceed.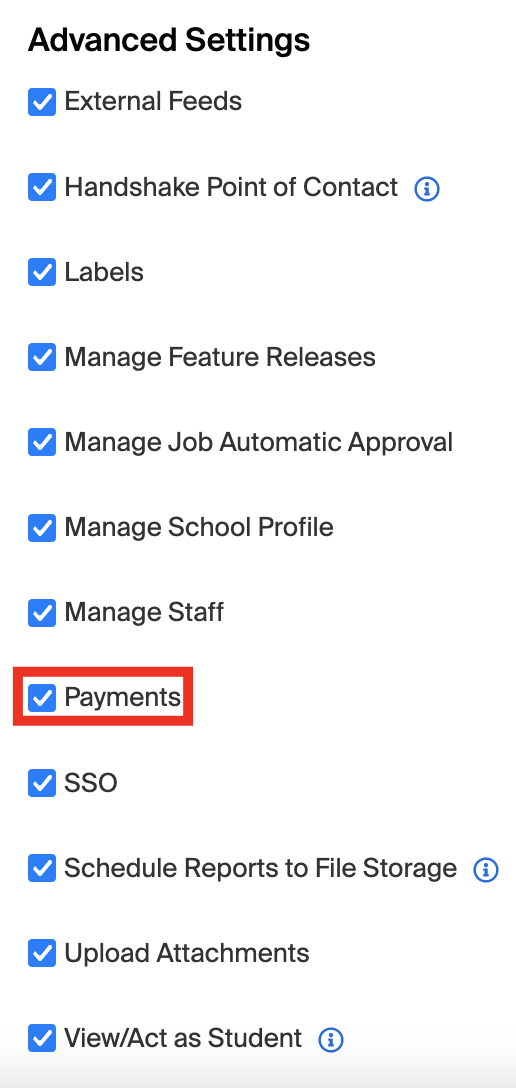 Connect with Stripe
Click on your name in the top right corner and select School Settings.
Scroll down to the bottom of the School Settings list and click on Payment Preferences. 
That selection will bring you to this screen and you will then select Connect with Stripe.

This will direct you to a financial form. Fill out that form, and click Authorize. This processes immediately, so you are now registered with Stripe and can use Stripe to process your payments without delay.
Note:  You can disable Stripe payments at any time by clicking Disable Payments on the Payments tab.
Note: If you need to have an employer or other party pay for your invoice through another page or portal, you can paste the link in your invoice. Please note that hyperlinks cannot be directly clicked on. Instead you can add a note for the employer to copy and paste the link and submit payment there.
For more information about Stripe or to access their support content, please visit https://support.stripe.com/ or our FAQs attached.