If your FDS close date is soon approaching, and you notice that a few students have just a few unanswered questions (for example, if they stopped answering at the salary question), you can manually update the response to submitted. This way the existing data will be included in the NACE reporting download - we'll walk through the steps here!
How complete are students' "in progress" results?
You can find this data in the quick download on the Students and Stats page.
Filter to your in progress students

click the checkbox to the left of the student name

select the bulk action More, then select Download CSV

from the list

This spreadsheet will highlight the student FDS responses - explore the different columns and categories to understand how complete any in progress response might be.
How can I manually update a student response to "Submitted"?
Navigate to the Students and Stats page on your FDS, choose the individual student whose response you need to update, and then click the individual student's response by selecting it on this page:

From the following page, click on the response you wish to update:

You'll see the survey open to the Career Services view of the form: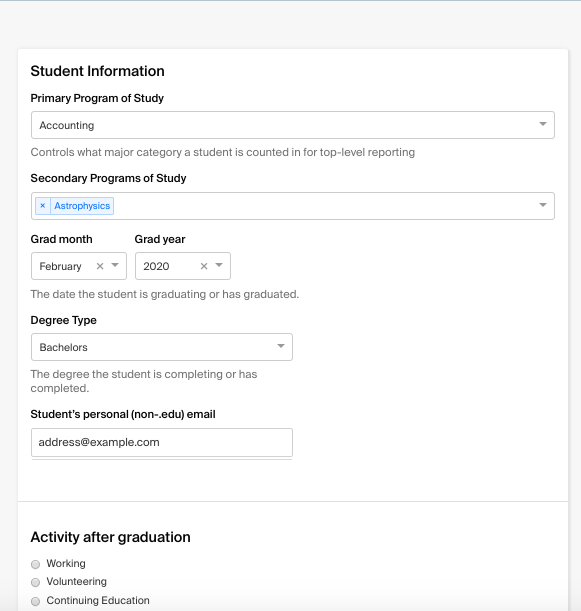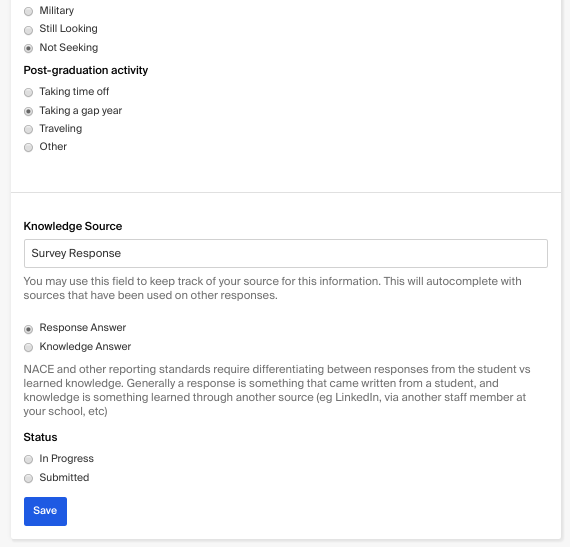 If you do fill in answers, please make sure to update the response type to Knowledge Response. Once the fields are completed, you'll want to update the Status field on any individual responses from In Progress to Submitted:


**Please be aware that this process is for the standard FDS setup. If your school has additional Custom Questions, you will have to submit this status change as a Knowledge Response to bypass the Custom Questions.