Below are the changes to FDS in Spring 2020 - click on the link to jump to that section within the article.
Optional Reminder Emails
This change introduces the ability to select between three possible email configurations for your FDS:
Send reminder emails and include Handshake content
Disable Handshake Content from reminder emails
Do not send any automated emails to recipients for the FDS
If you would like to send reminder emails with custom content, you should check the "Disable Handshake Email Content"

If you would like to completely disable automated invitation and reminder emails, you should uncheck the box for "Send Recipient Emails" in the Survey Details tab.

Optional Salary
If you would like students to be able to submit their response without requiring salary information, you should uncheck the box for "Salary Information Required" on the Survey Details tab.

Skip logic based on profile data
When creating a new survey, you'll be able to choose the audience for specific pages based on profile data: Majors and/or Schools.
To add an audience, put a check next to Audience, then select a Major Group or School from the dropdown, or begin typing to filter results. The choices you can select from are mapped in your School Settings in the Major Groups section and Colleges section.
Please note: Only major groups that have majors mapped to them at your school will display in the dropdown menu. If you are missing a major group, we'd recommend to double-check that you have at least one major mapped to the group.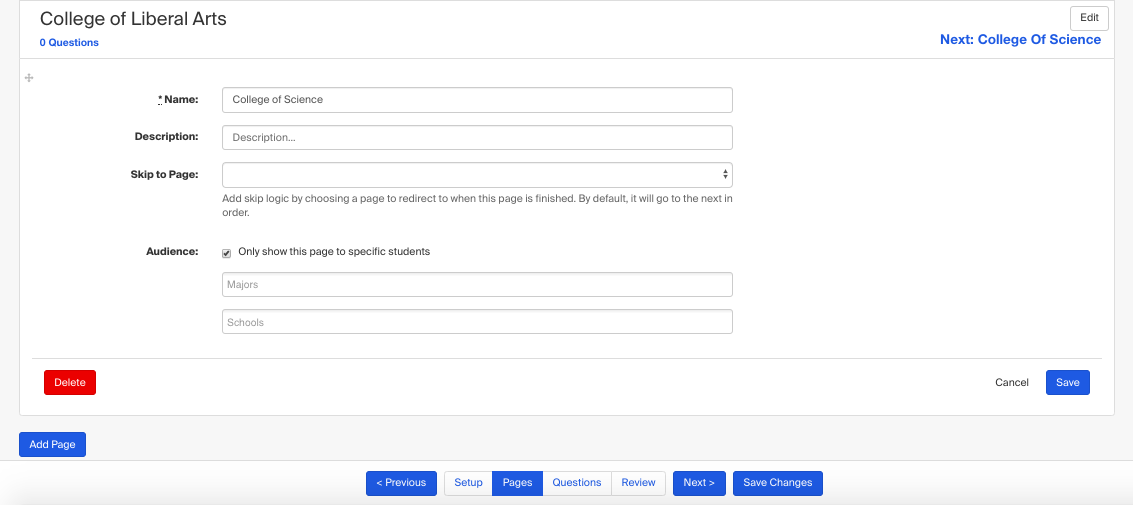 General survey link that doesn't require login for response submission
We've added a new link to the Details page that allows students to complete the FDS while logged out, as long as they have been added to the FDS. In order to complete the FDS via this link, students will need to have an account in Handshake, however, they do not have to be activated in order to complete the survey.
This link will not be provided automatically; students will need to have the link shared with them.

Career services submission form
Knowledge Responses are now a simple form to fill out, unique to the Career Services user view. This allows you to quickly input the student data (with no custom questions required!).
The fields to be filled out are:
Primary Program of Study

Secondary Programs of Study

Grad Month and Grad Year

Degree Type

Students personal (non-.edu) email

Activity after graduation

Working

Volunteering

Continuing Education

Military

Still Looking

Not Seeking

Knowledge Source

Response Answer or Knowledge Answer

Status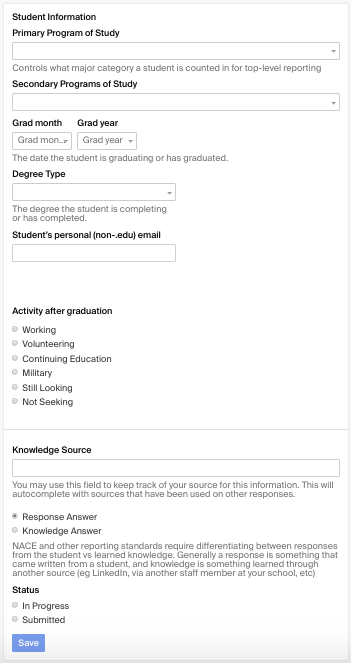 Ready to set up your First Destination Survey? Check out this article to help you get started:
Create a New First Destination Survey