Employer-hosted Schedules empower Handshake's Premium partners to organize and meet with students via integrated video within Handshake or an external platform. Follow the steps in this resource to create a new employer-hosted schedule (Quick Screens, Interviews, and Office Hours).
Note: Employer-hosted Schedules is part of the Virtual Events Module - if you do not currently have this package, check with your Customer Success Manager for more information! This is separate from Availability Calendars for Virtual Info Chats.
Premium features are for Handshake Premium accounts only. For more information on our Premium offering, please check out this resource!
Create a new schedule
1. Click Scheduling from the left menu column, then click New schedule in the upper-right corner of the page.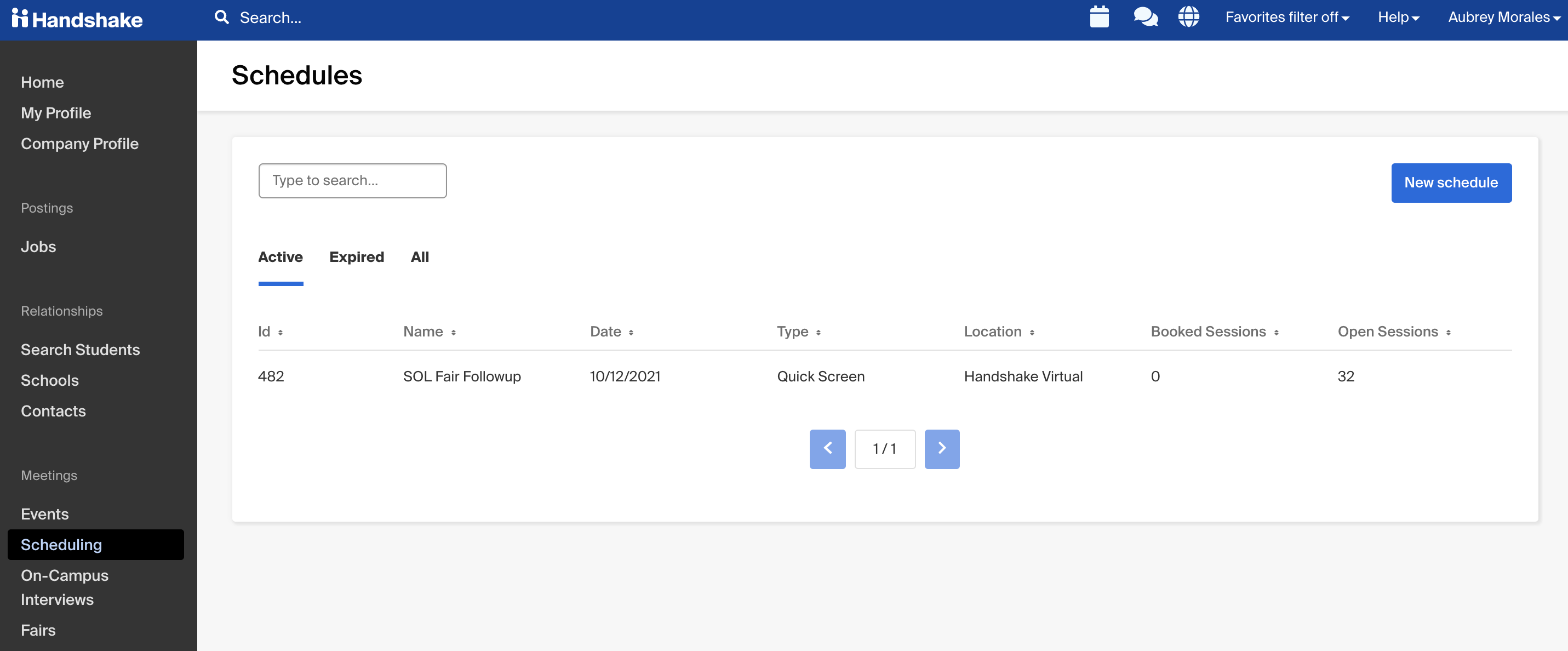 2. In the "Step 1" section, configure your schedule Details:
Schedule Type: select the type of schedule you are creating (choose one)

Quick Screen: Used early in the hiring process to evaluate students or provide insights about an open role.
Interview: Used for evaluating students to make a hire. Invite interviewers on your hiring team to specific scheduling slots.
Office hours: Used for general or specific information sessions at various stages in the hiring process.

Event Name: enter the name of the schedule (this will be displayed to team members at your company and students)
Description: enter a description for the schedule (this will be displayed to team members at your company and students)
Hosting Details (choose one)

Handshake Virtual Session: using Handshake Video

If this is selected, you'll be able to select

Yes/No

to

Would you like to record these sessions?

External Virtual Sessions: add video links to the sessions once created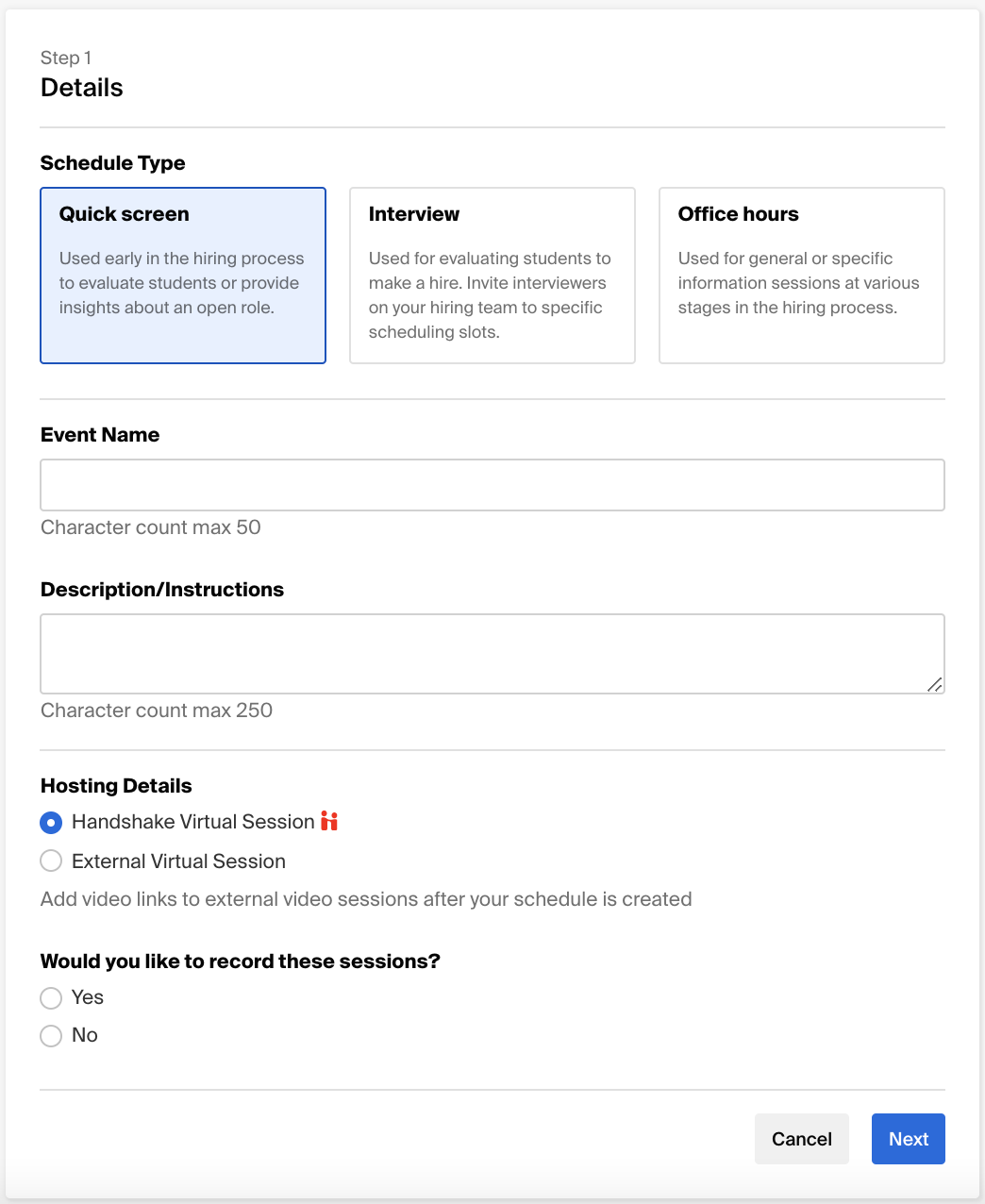 3. Click Next when you're finished. In the "Step 2" section, designate the below information for your Schedule block.
Length of Sessions (dropdown menu, choose one)

15 minutes
30 minutes
45 minutes
60 minutes

Date (textbox) and Time (dropdown menu for start and end times)
Timezone (dropdown menu)
Does this event repeat? (select Yes / No)

If Yes, enter the recurring schedule's repetition frequency:

Repeat every NUMBER (textbox) per Week / Month (select one)
Repeat on DAY (choose one or many)
Ends after NUMBER (textbox) of occurrences

Note: Schedules may not repeat for more than 6 months at a time
4. Click Save in the lower-right corner of the schedule creator to generate the schedule. The page will refresh to load the first session, with all details displayed at the top of the page.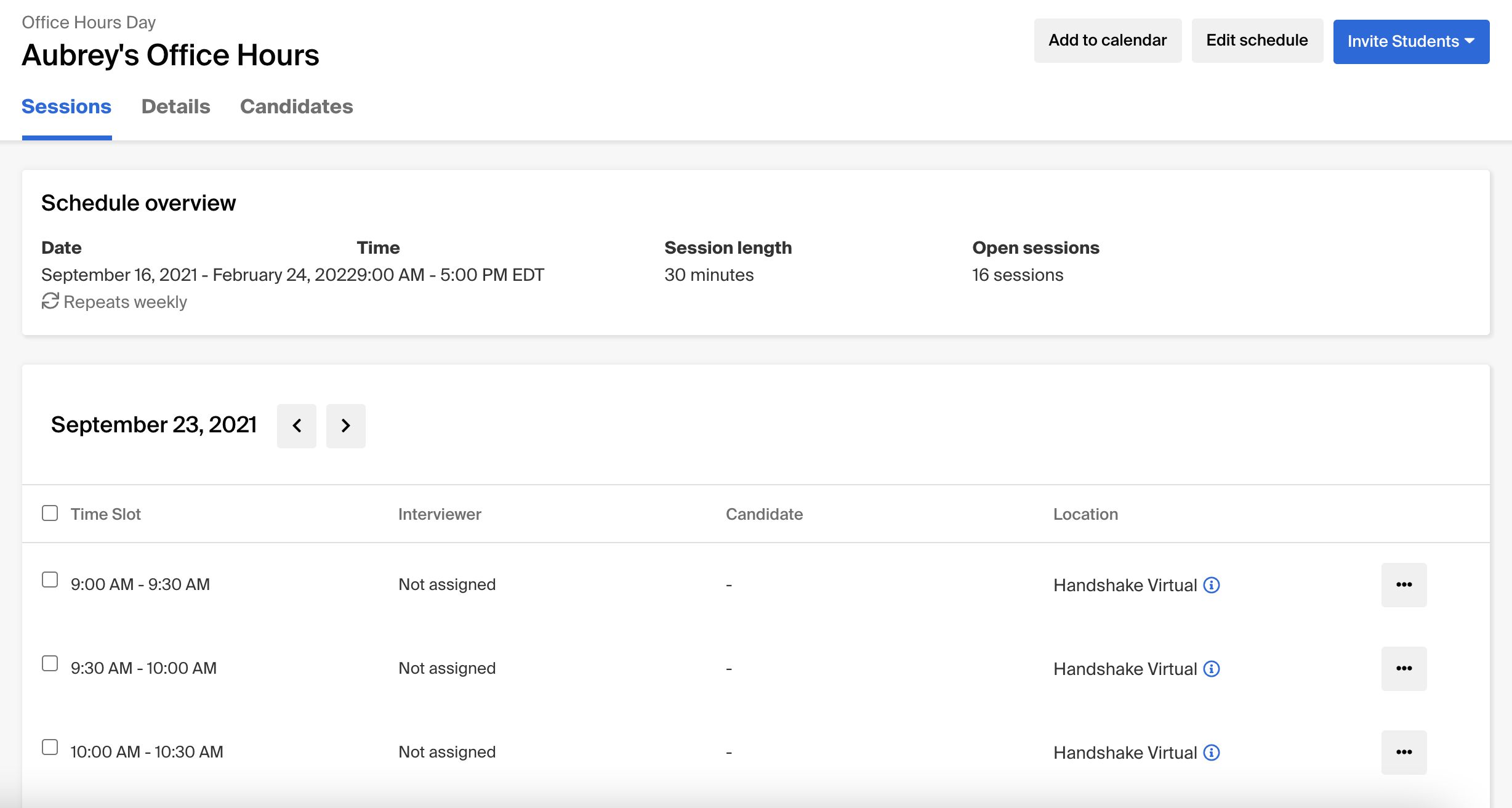 Once the schedule has been generated, you'll be able to mark sessions unavailable, edit the schedule, invite students, and more. For more information, check out Employer-hosted Schedules: Manage a Schedule.