If you need to update your email address on your Handshake account, this can be done as long as the new email address is not currently in use on a Handshake account.
Pro tip: If your colleague is on Handshake but leaving, and you wish to begin recruiting in their place, we strongly encourage you to sign up for your own account rather than take over theirs. You will still be able to access all of the job postings, fair registrations, and interview schedules that your colleague was involved in, as all this data is attached to your company's profile, not to an individual user. You will need to make sure that when you sign up for an account, you select all the institutions that your colleague was recruiting from, in order to be able to view their job postings and other data at those institutions.
If you have already created a new account on Handshake with the email address you wish to have changed to, you will need to email Handshake Support to delete first. This will free up the email for use.


Important Notes:

you will not be able to change your email to a generic email address (

@gmail, @yahoo, @hotmail, etc). Please choose an email address that matches your company's email domain.

If you change your email address to a non-generic email address that does not match your company's domain, you will be reset to a pending status until a staff member approves you.

If you only have one type of user account with Handshake, please follow the steps below:
To update your email address:
1. Click on your name in the right hand corner and select User Settings from the dropdown menu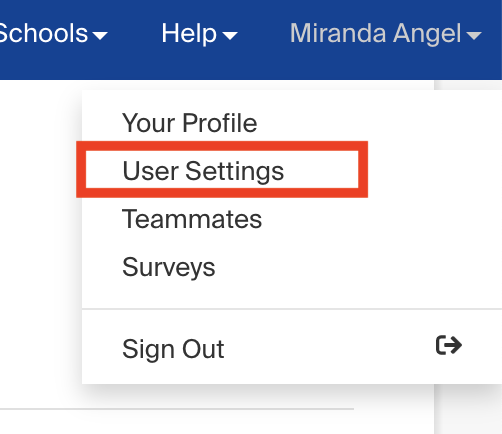 2. Select Change Email next to your current email address.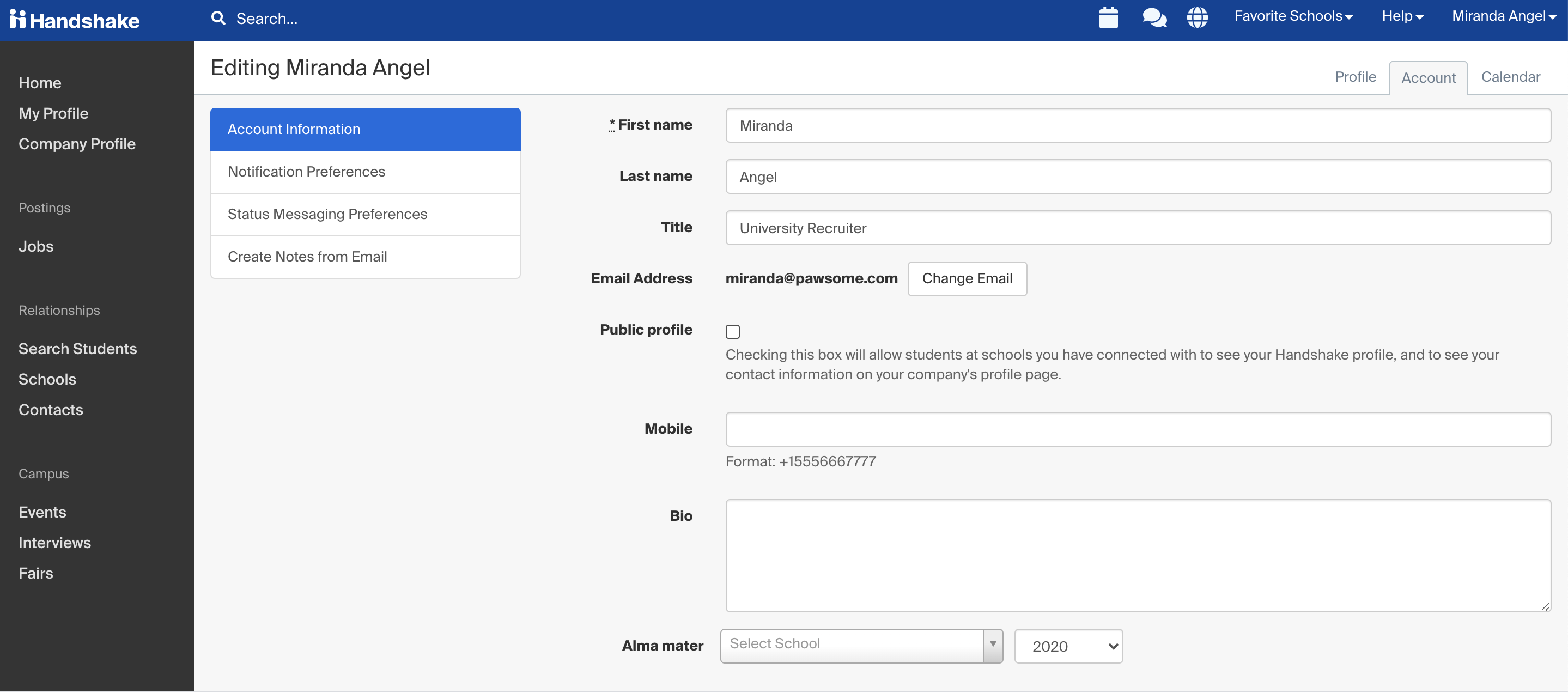 3. Input the new email address and select Submit Request.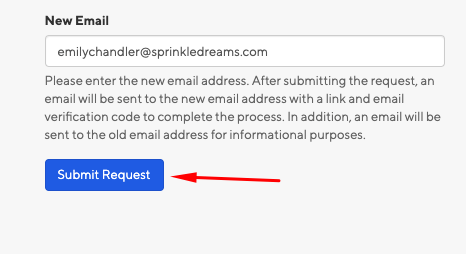 4. You will then receive two emails, one to your original email address used with Handshake and one to your new email address that will be used with Handshake. (Note: There may be a slight delay receiving the emails so please be patient)
What is sent to Original Email: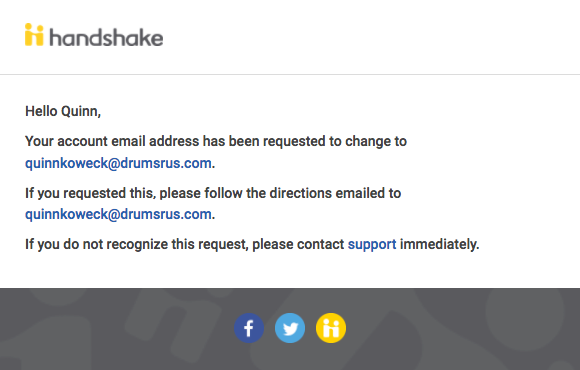 What is sent to New Email: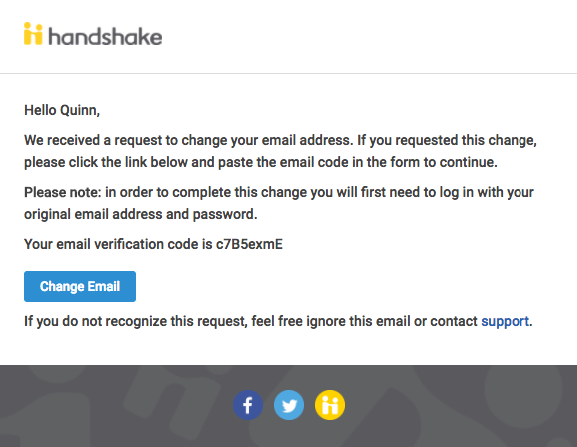 5. You can click Change Email from this email to complete the change.
Please make sure to first log into your account using your original email address and password.
Once you have logged in, you will be prompted to enter the email verification code that was contained in the email.




6. Once you click Finish Email Change the new email will be associated with your account. You will see a message at the top of the Handshake login screen that says "Email Change complete.



You can now login with your new email address and password!
(*) You will have 12 hours to click the link from the time you receive the email.
Possible error that may occur during the email change process:
Issue: I have received the email but am unable to view the whole email, click on the "Change Email" button, or the page opens to a blank page.
Solution: Please try and open the email up in another browser such as Google Chrome or Mozilla Firefox. Sometimes using another email program can help as well.
If you receive an error that is not listed here, please contact Handshake Support and include a screenshot, error message and description of what is occurring.