Each new user is individually responsible for creating their Handshake account, and they will need to create their own Handshake log in credentials to get started. 
Important Note: this action will only be available for company profile Owners. Read more about User Roles here. 
To add new employer staff members to a company's page, you will first need to invite them to become a user on Handshake. Here's how:
From any page on Handshake, click on your name in the right hand corner, then select Employee Directory from the drop down menu. 

This will take you directly to the Staff Management page in your Company Settings. From here, click on Invite Link, located towards the right hand corner of the page.

This will automatically populate a window, providing you with a direct Invite Link to send to staff members you would like to join your company on Handshake. Copy and paste the provided URL link to email to staff outside of Handshake.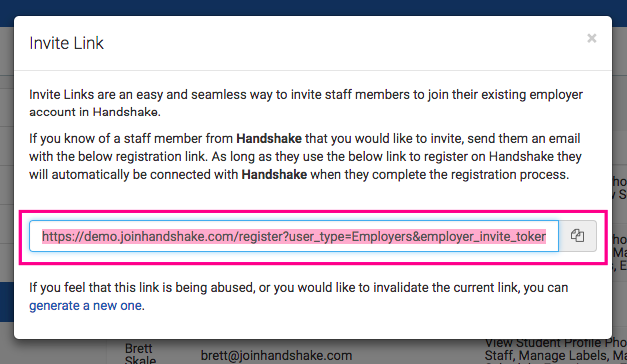 As long as staff members use the below link to register on Handshake they will automatically be connected with your company when they complete the registration process.