Please Read First:
This feature will not work if your colleague has already started the account creation process.
If you'd like to confirm if there's already an account created for your colleague (but maybe connected to a different company profile, or not yet connected to a company):
Open an incognito or private browsing window (to circumvent your account being logged in) and navigate to https://app.joinhandshake.co.uk/login
Enter your colleague's email address in the email field for Employers & Career Centre and click Next.
If there is no account linked to that email, there will be a message that appears that says "Hmmm... Looks like here is no account on file for EMAIL", which means you are all set to proceed with this process!
If there is a prompt to login, then this means your colleague has already created a Handshake account, and the below process will not work.
Manually Adding Teammates:
To manually add a new teammate to your company's profile, you'll need to go to the Teammates page.
1. To do this, click on your name in the upper-right corner and click Teammates from the drop down menu.
2. Click the Add Teammate Manually button in the upper-right corner of the page.

3. Fill out the required* fields on the page that loads. Other fields are available, but not required, and your colleague may edit any of this information after claiming the account:
Email address*
First name*
Last name
Title
Public profile Checking this box will cause this person to appear as a point of contact on your company's profile page and make their profile viewable to students.
Bio
Role*
Mobile Phone Number
Message this is a message that will be included in the invite email sent to your colleague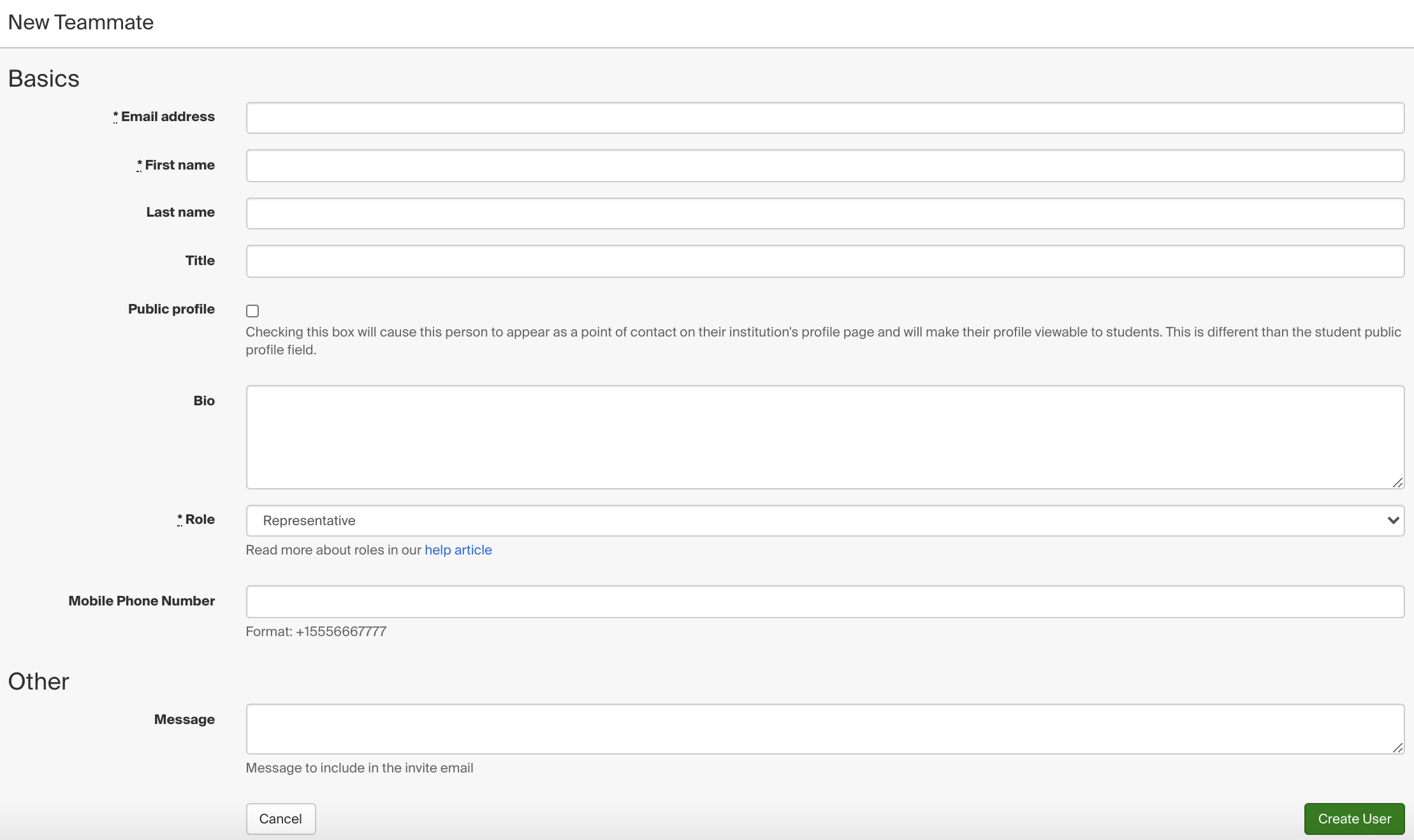 4. Click Create User in the lower-right corner of the page to setup the account and send an invite email. The user you've just added will appear in the Teammates list, and their status will be Pending until they confirm their account.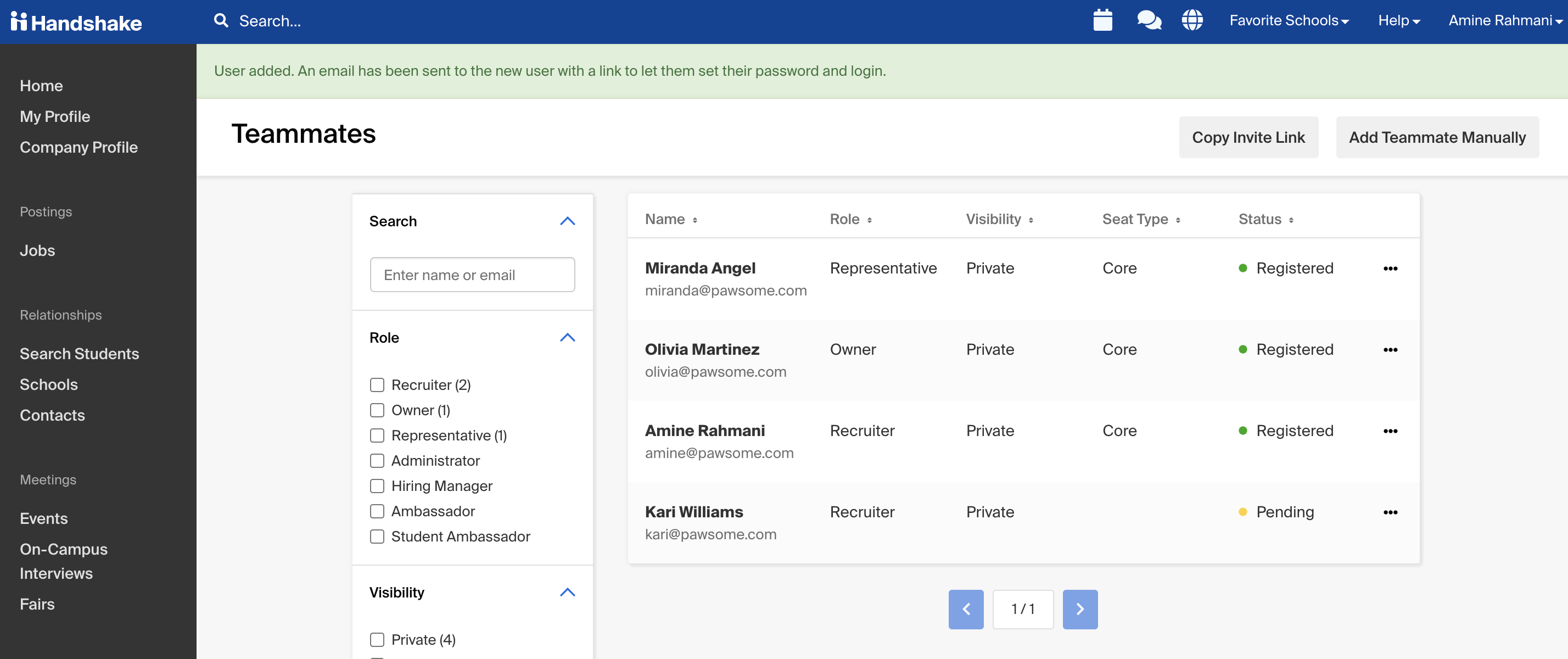 5. Your colleague will receive an email with the subject "You have been invited to Handshake" from: Handshake <handshake@notifications.joinhandshake.co.uk>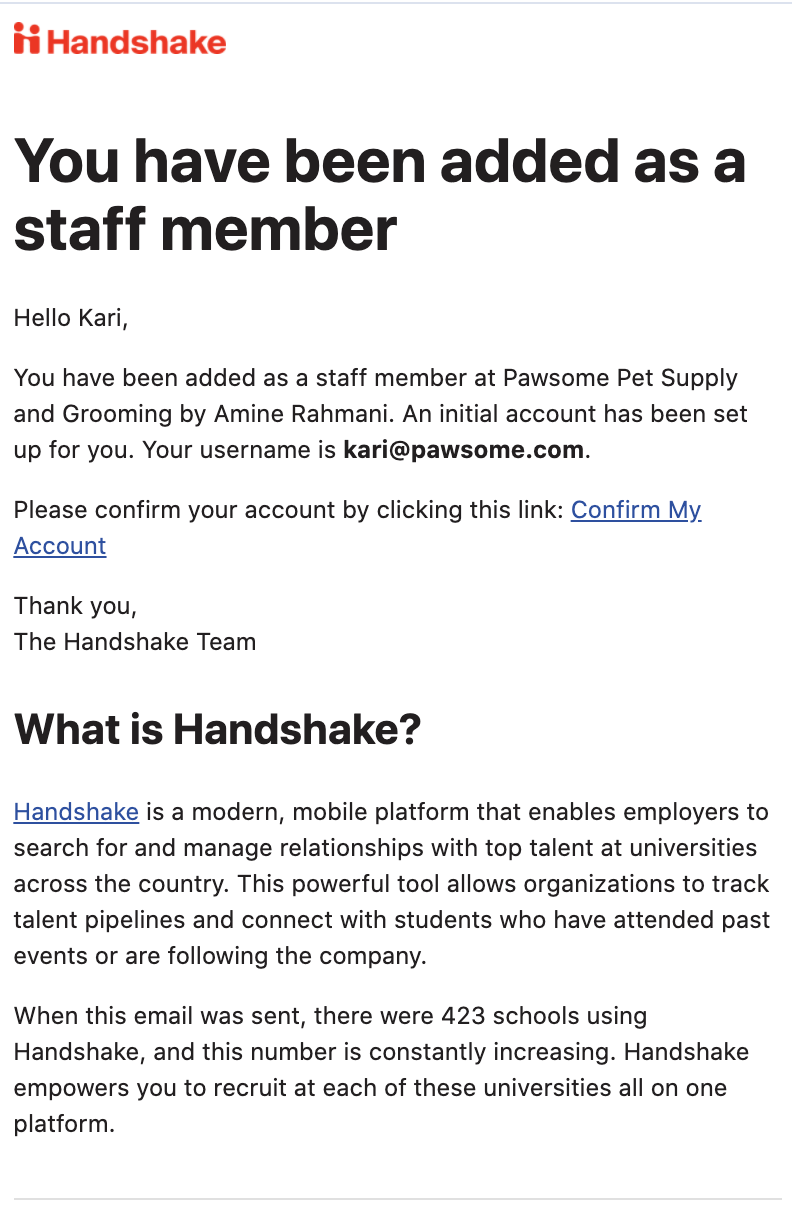 They will need to click the link "Confirm My Account" in order to activate the account and setup their password.
After setting the password, they'll be able to login and agree to the Terms of Service.