What is the Handshake Open Network
Handshake Open allows any student at a UK university to sign-up and use our key services: connect with employers, apply for internships or graduate jobs and leverage the collective knowledge of their peer group.
You can immediately create a personal profile on Handshake, which showcases your skills, experience and lets employers know what you are looking for. This in turn allows employers to proactively contact you with opportunities - provided you are open to receiving such communications, of course.
Who is Handshake Open for?
Handshake Open is for current students who are not attending Handshake Partner institutions. Handshake Partner institutions are the universities connected with Handshake, who uses Handshake as their main career services platform. Currently (January 2022), the Handshake partner institutions in the UK are:
Birkbeck, University of London
Brunel University London
Falmouth University
Hult International Business School
Kingston University
Regent's University London
Sheffield Hallam University
TEDI-London
The University of Bath
The University of Bradford
The University of Exeter
Ulster University
University of Cambridge
University of Central Lancashire
University of Hertfordshire
University of Liverpool
University of the West of England
University of York
If you attend one of these universities, then your university may well have already created a Handshake account for you and you will be able to log into your account with your university single-sign on, or by using your email and creating a password.
If you do not attend one of the Handshake Partner institutions, you can sign up with a .ac.uk address as part of the Handshake Open Network.
How to Sign Up for the Handshake Open Network
Sign-up on: https://app.joinhandshake.co.uk/student_account_registrations/new#/email
with your .ac.uk email address.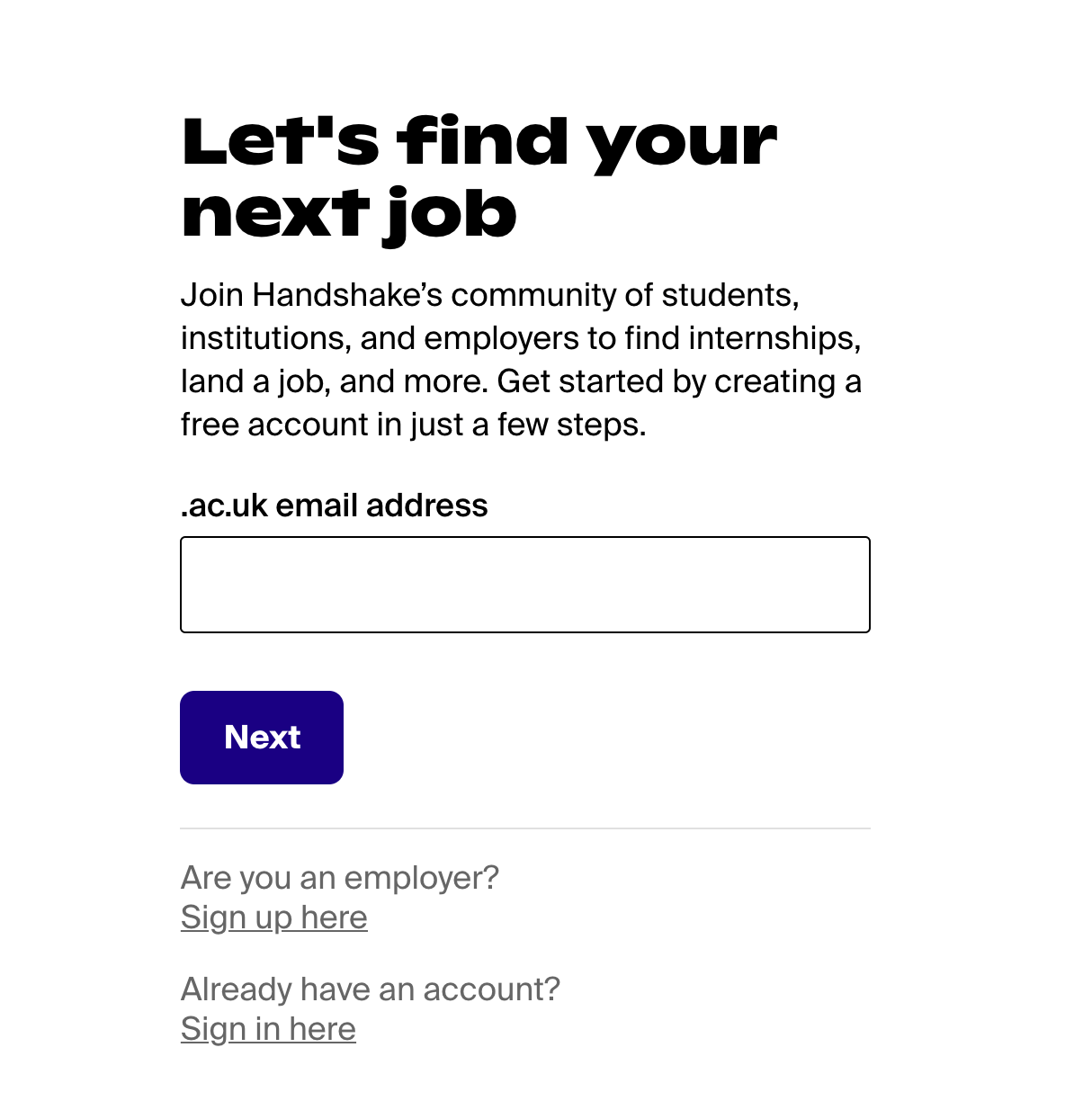 Note: if you don't see your institution listed after you have entered your email, then try navigating to app.joinhandshake.co.uk/login and then first selecting your institution from the list, before inputting your .ac.uk email.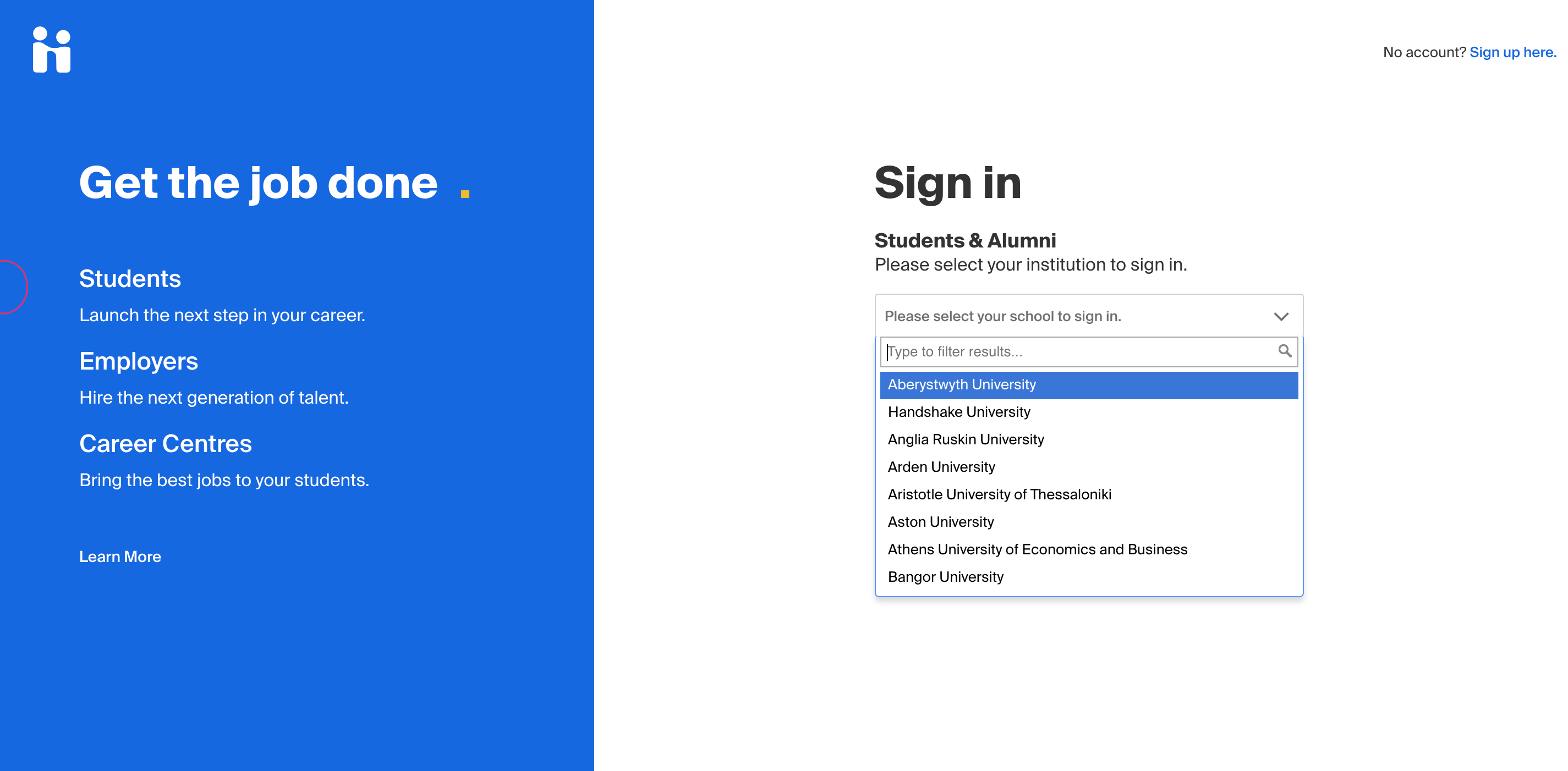 FAQs
Can I sign up to Handshake with my personal email as I no longer have access to my .ac.uk address?
Unfortunately, Handshake does not currently allow students without access to a .ac.uk address to sign up for a Handshake account.
We are hoping to expand access to Handshake for all students and recent graduates, and are currently looking into way of verifying new accounts with non-ac.uk addresses. Handshake is committed to ensuring that employers, institutions and students can trust all other users on the platform.
What can I do as a Handshake Open student?
On Handshake Open you can connect with employers, and apply for jobs and opportunities. You can set your profile visibility settings to enable employers to reach out to you through the Handshake messenger. In addition, you can reach out to other students who have made their profile visible and contact them through the Handshake messenger. You can also participate in events and fairs that have been made available to the Handshake Open network.
How does being a Handshake Open student differ from being linked to a Handshake Partner institution?
Unless your university is a Handshake Partner, you won't be able to see specialist content from your university or interact with your university careers service. For these services, you will need to go through the relevant platform used by your institution.