Handshake provides multiple opportunities to easily upload a new document, including:
when applying to a job
when signing up for your first session at a virtual fair
from your profile
through your account icon > Documents (process below)
Each prompt includes the same fields: name the new document, select the document type, and either drag and drop a file, or click Select from computer to browse files.
💡Note
: you can upload up to
30 documents in Handshake. If you have reached the limit, you'll need to delete a document before uploading a new one. Follow the steps outlined in How to Edit or Delete a Document
to do this.
Click on the expandable headers to learn more about uploading a document in Handshake. Check out a video walkthrough of the process in Video: How to Upload a Document.
Handshake Supported Documents
Uploaded documents can be CVs, cover letters, transcripts, work samples, or other documents requested by the employer.
Document uploads must be 20 MB or less, and files should be in PDF (preferred), .DOC, or .DOCX format.
Handshake will automatically attempt to convert any .DOC or .DOCX format into PDF. You will need to review and approve the converted PDF version of your document prior to using it apply for a job.
1. Click on your account icon in the upper-right corner of Handshake, then click My Documents.
2. If you haven't uploaded a document before, you can drag and drop your file to the screen, or click the blue button Select from Computer, located toward the middle-bottom of the page, then choose the file on your computer.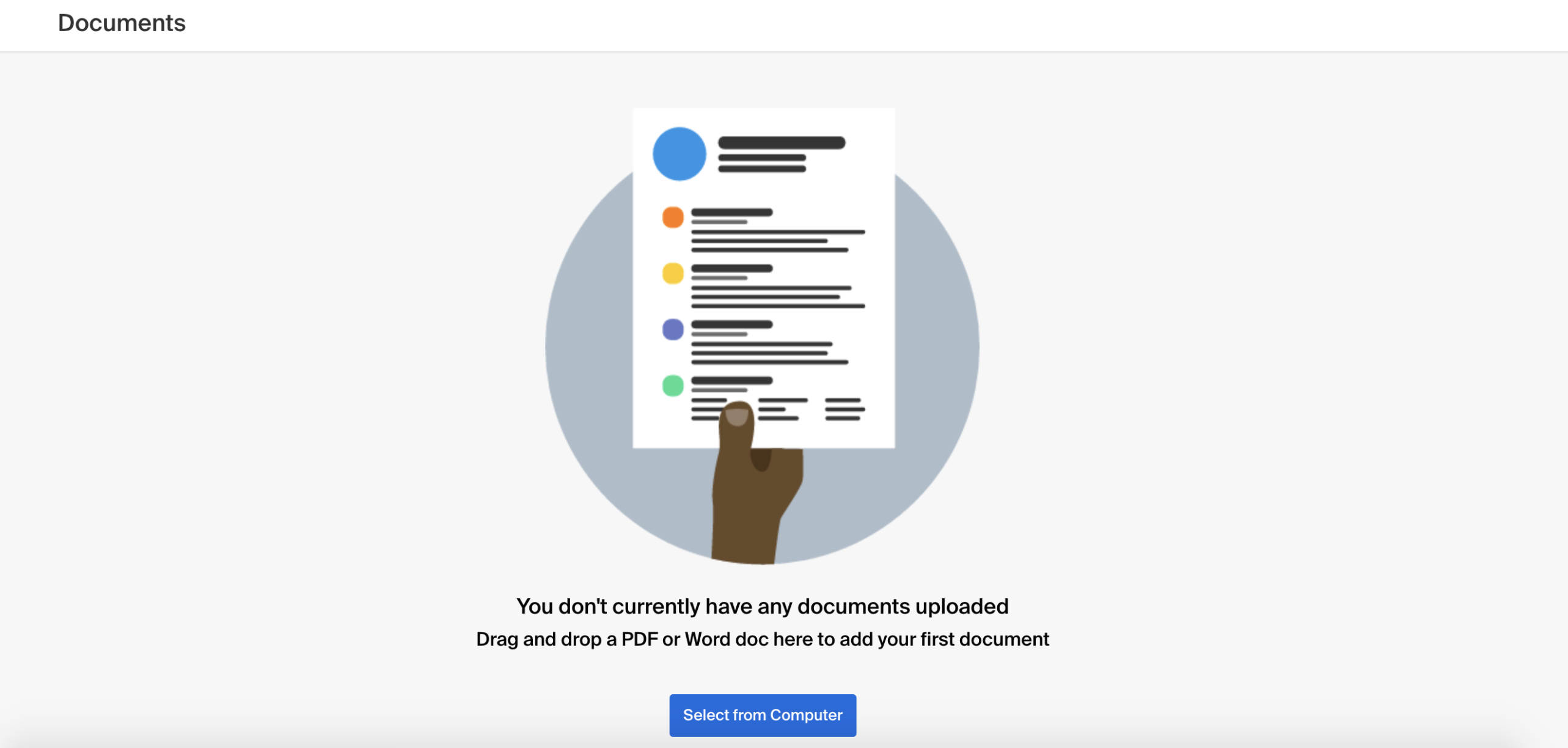 If you've already uploaded at least one document, you can click on the blue Add New Document button, located in both the upper-right corner and lower-right corner of the page, then click Select from Computer within the pop-up.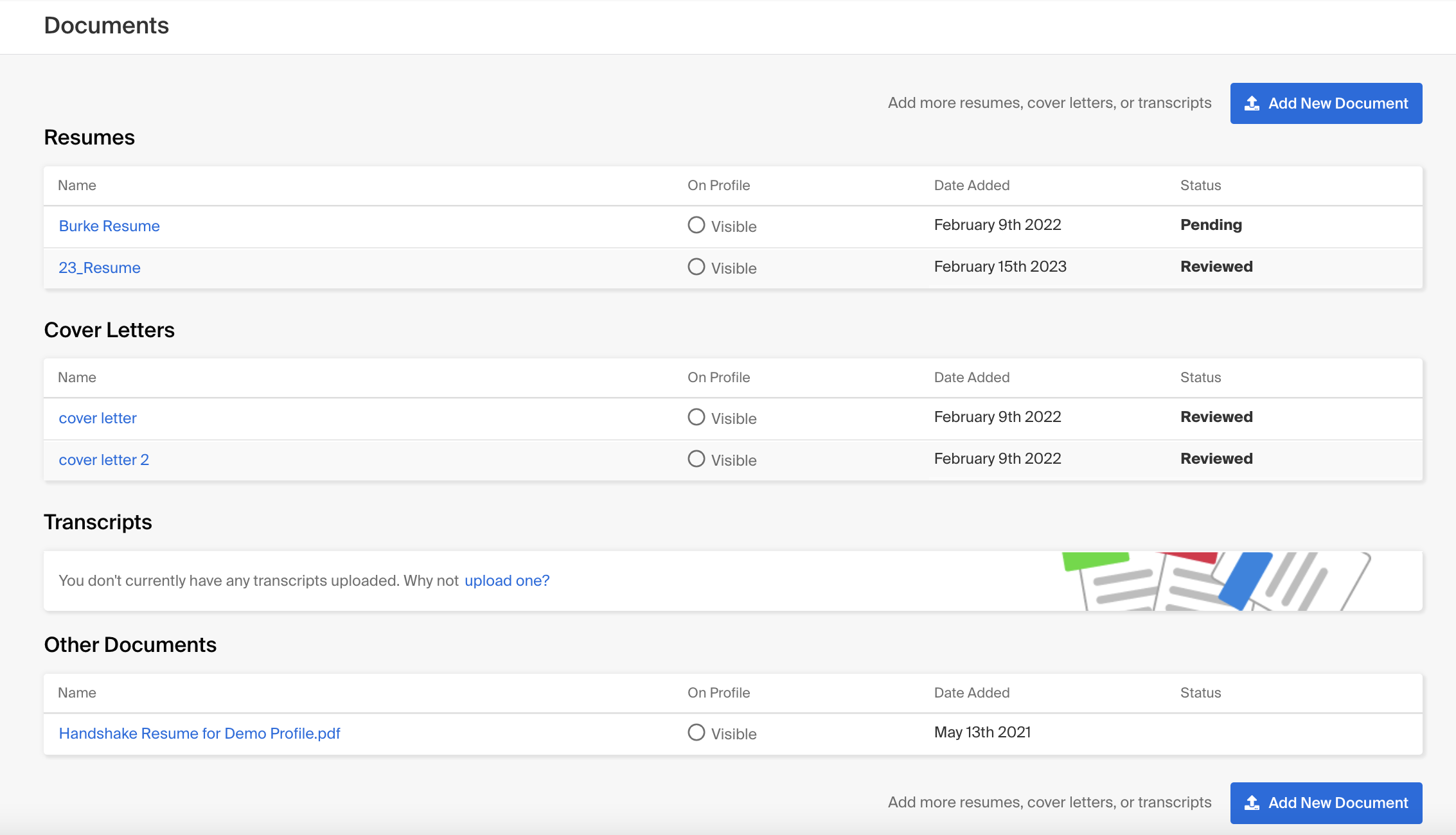 3. Once the document has been selected from your computer, take the following steps in the pop-up:
Review the

Document Name

text field - it defaults to the file name on your computer, but you can make changes as desired.

Tip: If you're uploading a CV for a specific application, include the company name in the Document Name for future reference!

Select the

Document Type

from the dropdown

Pay special attention to the document type! If you upload a transcript but set the document type as CV, it won't be included in your list of transcript documents when applying to jobs. Make sure the document type accurately represents the document.

Click

Add Document to complete the upload.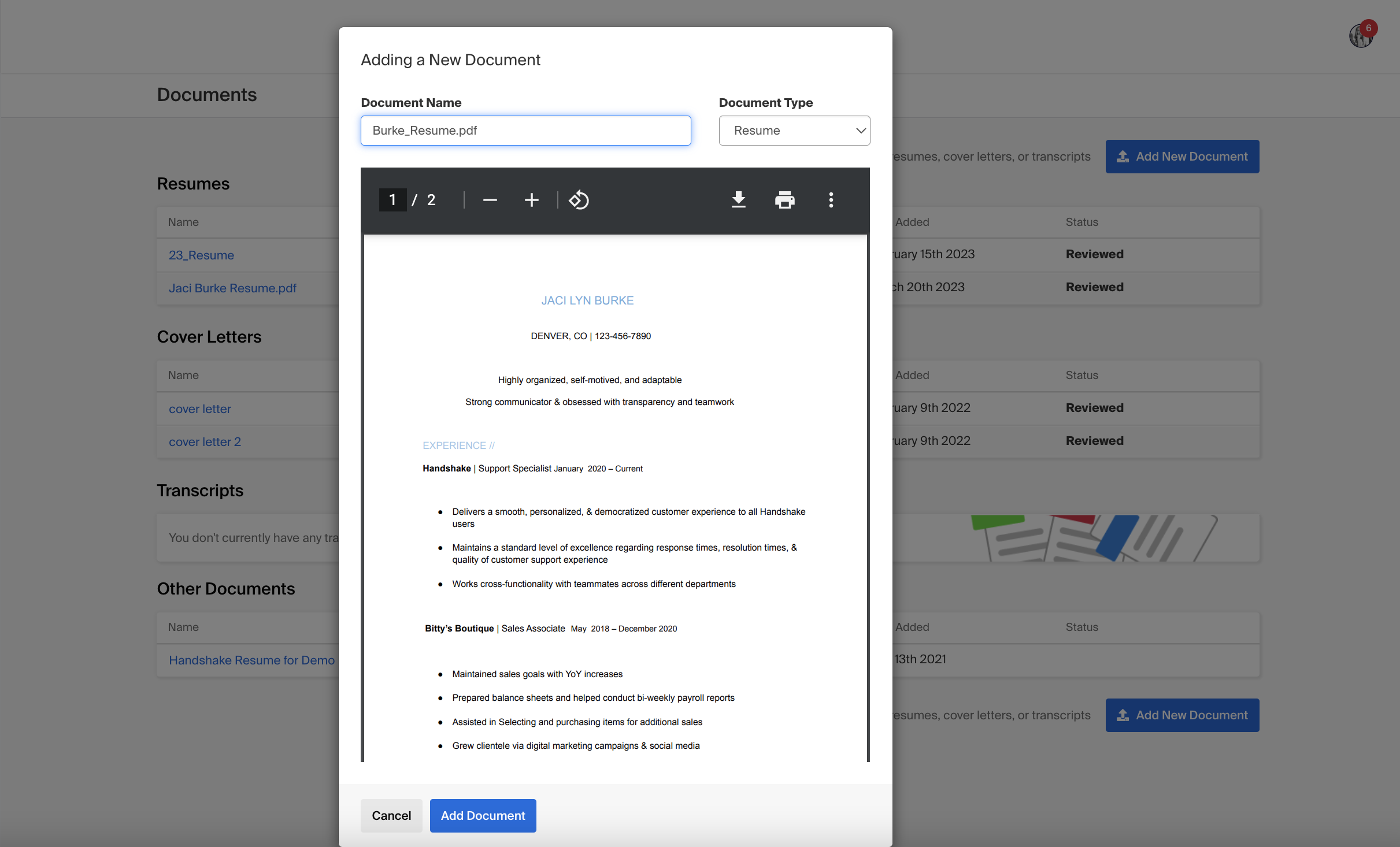 While the document uploads, the page will have a placeholder. When the upload is finished, the PDF of your CV will be available to review and manage on the document overview page.
From this page, you can Feature on Profile, edit or delete the document, and if you uploaded a CV, you can Build Profile from CV.