Need to edit or delete documents you've uploaded?  Follow the steps below and you'll be good to go. You may also want to check out:
Click

 

Documents 

in the drop down menu under your name in the top menu bar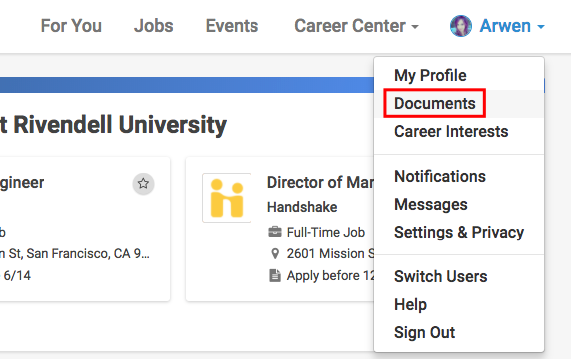 Find the document you want to edit or delete and

click on it.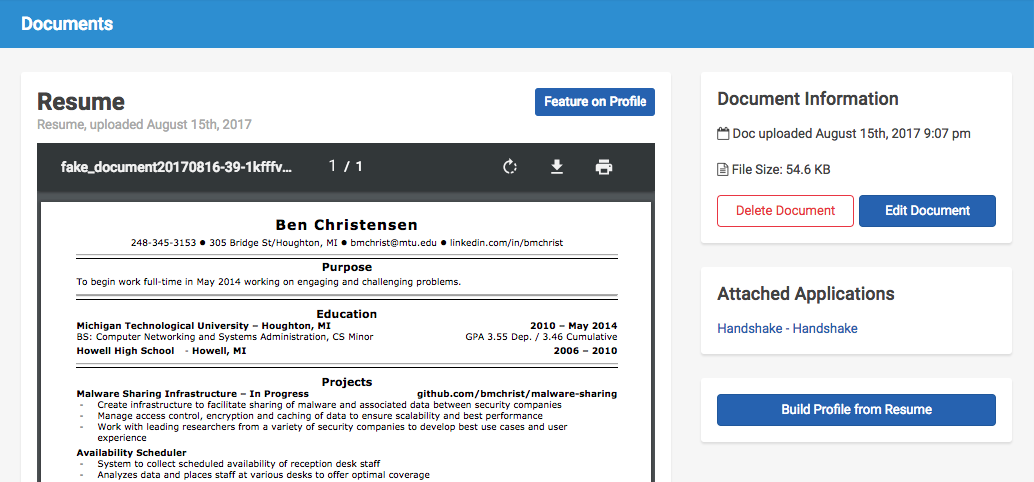 On the Editing page, you have the option to edit information about your document, feature it on your profile, or delete the document. 

To edit/replace a document: Documents stored in Handshake are in .PDF format, so you cannot make a change to the document directly within Handshake. You'll need to first make the change in original document (on your computer), save it as a .PDF, and upload it as a replacement.

You can, however, make edits to the document name, type, or edit the description. Make sure you save any changes you make!

To feature on profile: 

all you need to do is select this option, and the document will be set as visible, or public, on your profile page. You can select featured on profile at any time to remove this document from your profile page.  

For deleting your document: Once you click Delete, you will be prompted to confirm this deletion. Handshake does not store old versions of your documents, so if you edit or delete a document you think you might want to reference in the future, please keep a copy of that document in your own files.