To add the following items to your institution in Handshake follow these steps (
Note:
If you have a large number of any of these items, Handshake can import them into the system for you. Learn more about submitting a ticket for importer requests here
Handshake Resources and Contacting Support
):
Office Locations (Rekhi Hall, Admissions Building...)
Terms (Spring 2023, Winter 2022...)
Rooms (McNair 217, Christensen Hall 25B...)
Buildings (McNair, Christensen Hall...)
Campuses (North Campus, Main Campus...)
Colleges (College of Engineering, College of Fine Arts...)
Note: You must have configured Buildings prior to creating Rooms. 
1. Click on your name in the upper-right corner of Handshake, then click on Institution Settings. 
2. Click on the name of the item you want to add from the menu that appears on the page.
3. Click Add Item in the upper-right corner of the page. 
Make sure you click Create or Save when relevant to save your item!
Example: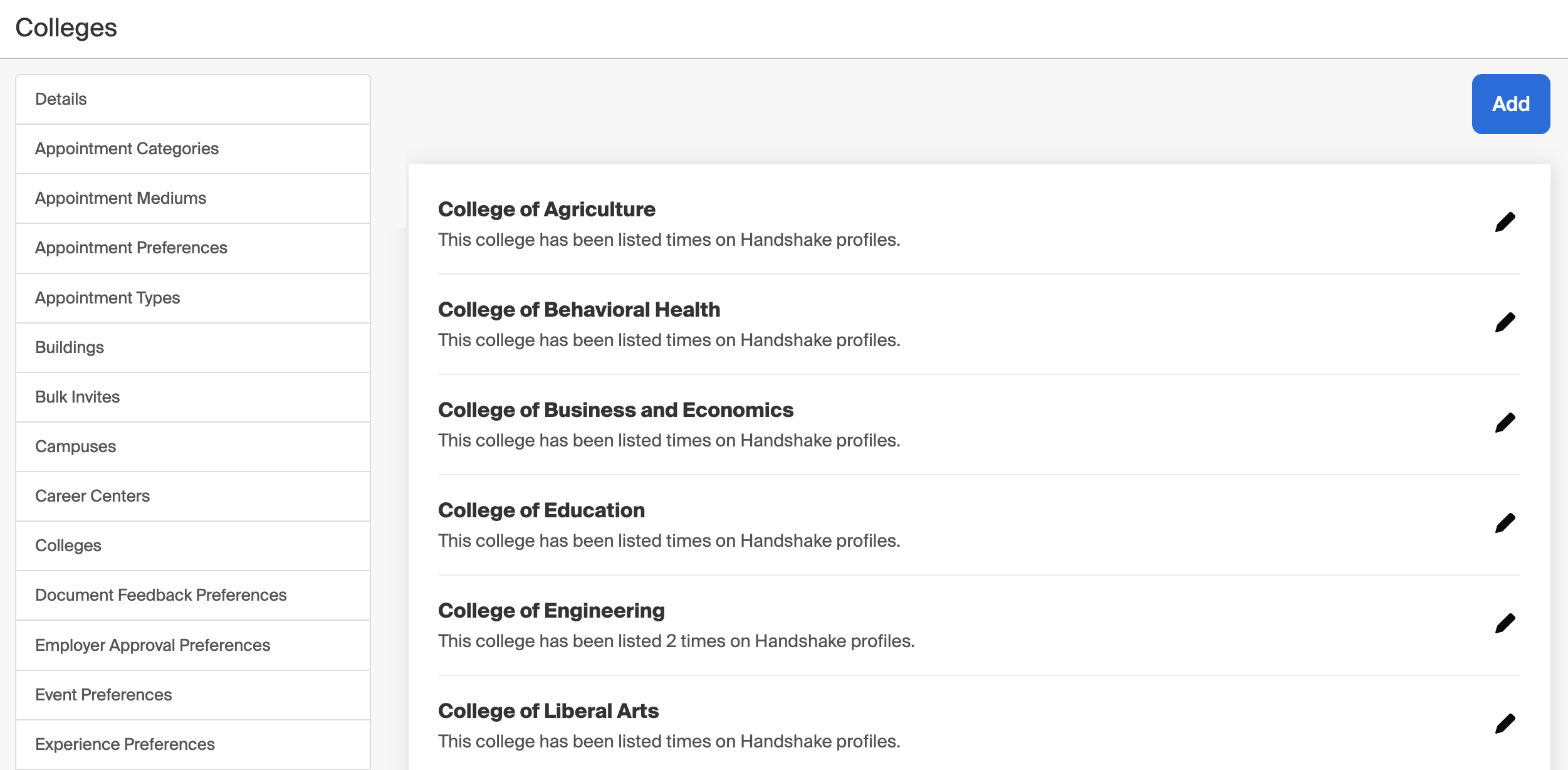 Delete a College
If you'd like to delete a college, here is our recommendation:
Create a report of the students in the college(s) that will be removed, and download the report. You'll need to move the students to a new or different college. 
Use the importer to change student's colleges in bulk; the field should be "primary_education:college_names". For more information, refer to Importing Student Data.
From there, once all the students have been moved, and you have verified the changes, you can either change the name of the college(s) to a variant of "DO NOT USE - "College Name", or simply delete them as with no students present in those colleges.

All reporting data will be preserved, just remember to use/reference the new college name(s) on the updated student profiles.
Video Example: