Your career centre may choose to approve the documents you upload, whether or not those documents are visible on your profile.
To see your uploaded documents and status of each, click on your account icon in the upper-right corner of Handshake, then click on Documents from the dropdown menu.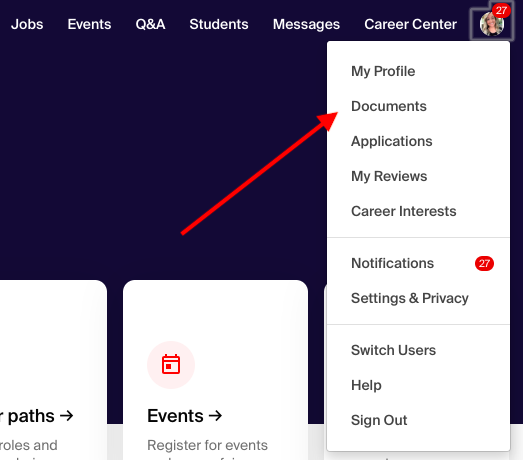 Document statuses
There are four possible statuses your document can have within Handshake: Pending, Approved, Changes Required, and Changes Suggested.
Pending: This indicates that your document is pending review by your career centre. You can still apply to jobs with a pending document, but please note that depending on your career centre's preferences, your application may not be fully submitted until the document is approved. This means that the employer likely won't see your application until the document is approved. For additional information, you should reach out to your career centre.

If your document has been pending for over a week, you can click on the name of the document, and on the following page, click on the button for Reach Out, located in the yellow banner at the top of the page.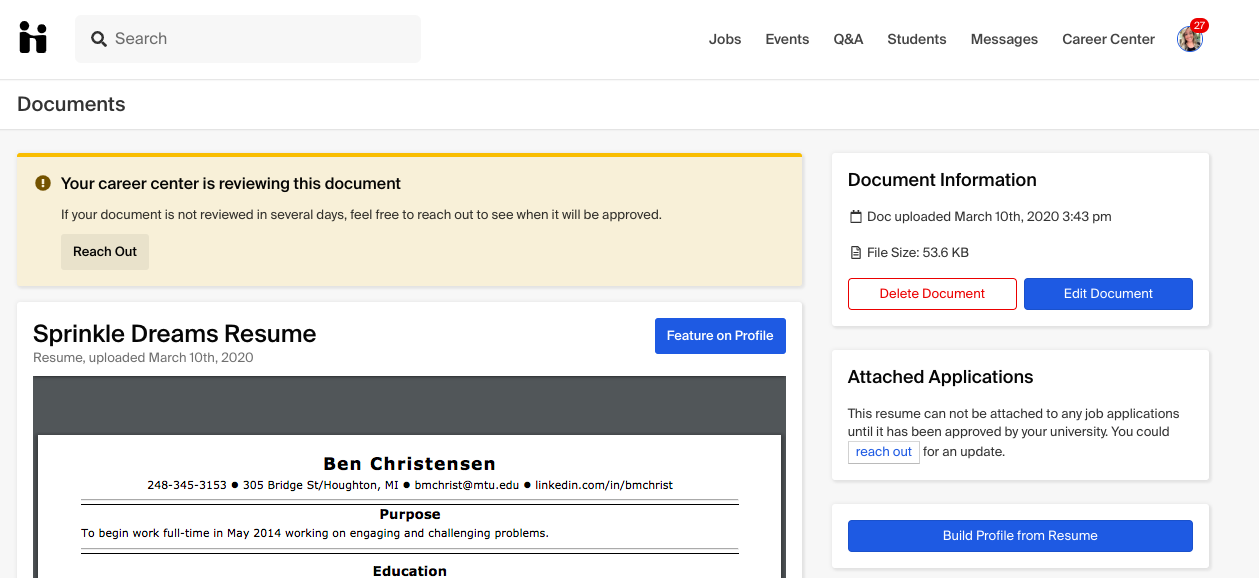 Note: If the documents aren't approved before by the career centre by the application close deadline, the application is withdrawn, and you will be notified.
Approved: This status indicates your career centre has reviewed your document, and it is approved for normal usage.
Changes Required: This indicates that your career centre requires changes to be made to the document. Once the changes have been made, you can upload the new version to Handshake.

Note: Some institutions do have a setting enabled that blocks unapproved documents from being submitted with an application. You can click on the document and look under the Attached Applications section - if it says "This document can not be attached to any job applications until it has been approved by your university. You could reach out for an update.", then this means the document must be marked as Approved in order to fully submit applications using it.
Changes Suggested: This status shows that there are recommendations suggested by your career centre, but they are not required in order to use your document in Handshake.

Activity and Comments
Career Services users can also leave comments on your documents. Click on the document name, then scroll to the bottom of the page to see the comments made.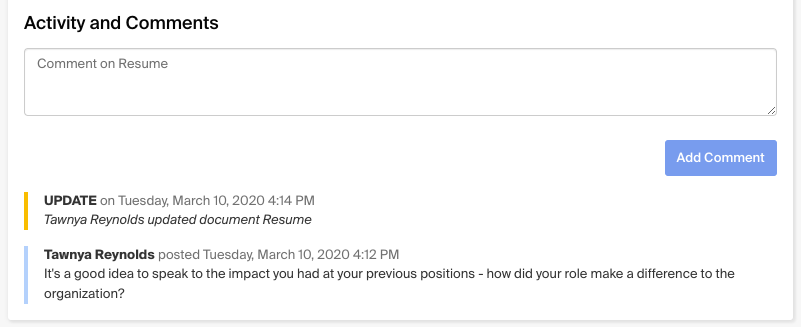 Ready to apply for a job? Check out Apply for a Job in Handshake for more details!