Your institution's default employer approval settings will determine what roles (if any) an employer is automatically given when you approve them for your institution. The more role approvals you grant automatically, the less manual work your staff will have to do to grant specific role approvals, and the faster employers will be able to engage with your students and institution.
For example, if you tend to be selective about which employers can post interview schedules, you'll want to require manual approval for this role. If you allow any employer approved by your institution to post jobs, you'd want to automatically approve this role. As a reminder, Handshake provides a Trust Score for each employer on the platform. You can use this score to help you decide which permissions to grant. To learn more about the Trust Score, read this article.

The choice is yours and really depends on how much time you spend manually approving roles and whether or not you plan to grant different employers different roles.

To set your institution's default employer approval settings:
From any page in Handshake,

Click

on your name in the upper right corner to display the

Account Settings Menu.

From the list of options,

click

Institution Settings

This will bring you into your institution profile page.
From the options on the left,

click

Employer Approval Preferences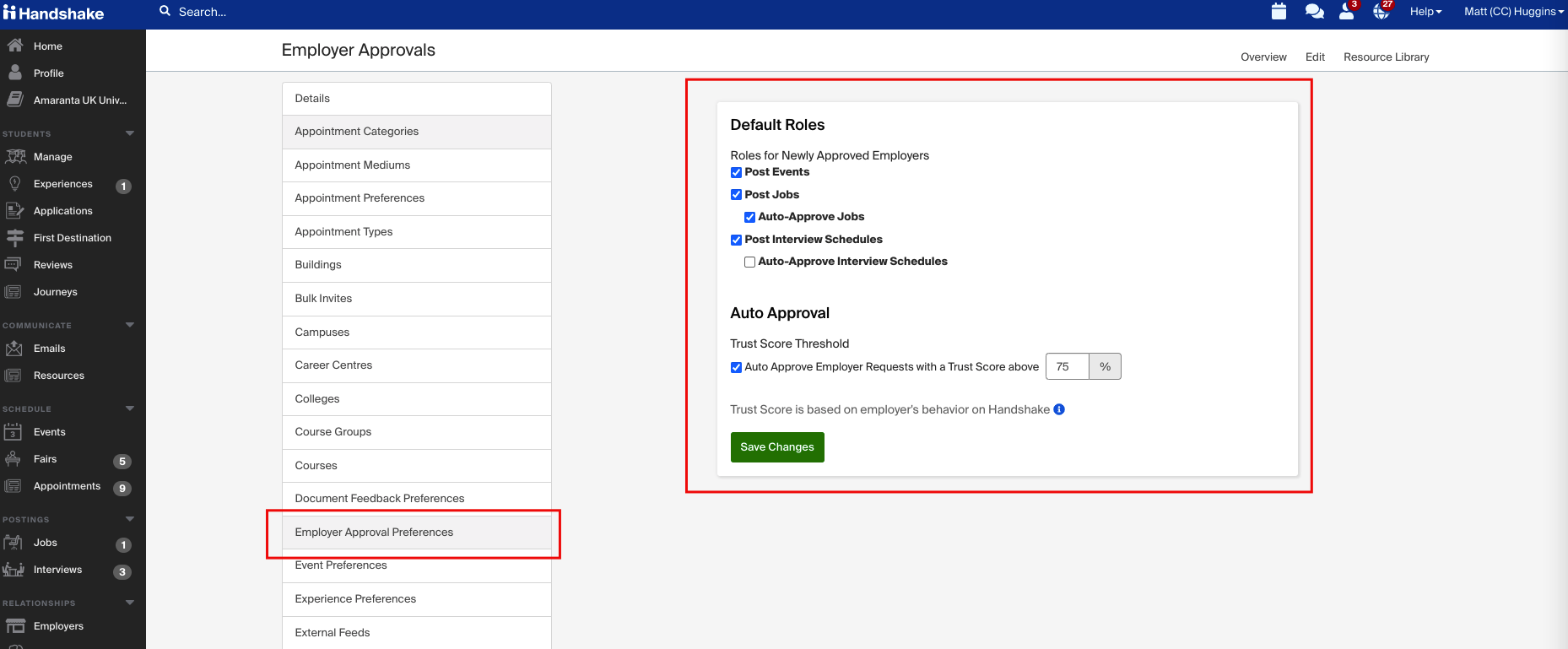 Click

the

box(es)

next to the roles you would like to grant employers automatic permission to.

Click

Save Changes

Notes
By selecting Post Interview Schedules or Post Events you are granting employers the permission to request these items. The career centre will still need to approve these unless you select Auto Approve Jobs or Auto Approve Interview Schedules.

You can edit your automatic approvals at any time by repeating these steps

You can bulk edit your employer roles in the Employer bulk action section
From the employer perspective, once the connection is approved, your institution will also need to be added to their Favourites list in order for them to see your institution appear as an option for Events/Jobs/Interviews.