Why Syncing Data into Handshake Matters
In order to get the most out of Handshake, and to ensure your students are accurately qualified, it's critical to sync in data to Handshake. This student data import is a vital step in implementation and ensures that:
Data is is up to date.We will be exporting this information directly from your student information system (SIS).
Your students have the best shot at amazing jobs and internships. Students with University mapped data are much more likely to be contacted by an employer. Most students don't want to enter this information themselves.
Employers can trust student qualifications. Course and Level of Study are all functionally tied to requirements on job postings in Handshake. Importing this information will ensure that students are qualified for positions, and employers can quickly rely on the accuracy of the application. This in turn increases employer engagement across the platform.
Students have a great experience upon their first login. Since many student fields are tied to job qualifications, importing this information will ensure that students are qualified for positions that they should be qualified for - and aren't confused when they don't seem to meet the requirements. This first experience is crucial for long term student engagement.
Analytics and reports are relevant. Institutions

that don't sync a robust dataset see less students engaged and have a much harder time reporting on their impact.

Importing even the most basic required fields empowers you to build reports and explore activity by particular cohorts.
Profiles & Data
Explore a few key principles around how students use Handshake and what data is shared:
Students can use most features of Handshake, including applying to jobs and scheduling appointments, without making their profile public.

In order to participate in virtual fair sessions, students will need to set their privacy to:

Community: in order to participate in group sessions and 1:1 sessions OR
Employers: in order to participate in 1:1 sessions only

Student profiles are automatically set to

private

, whether they are uploaded by the institution or created by the student.
In the account activation process, students are clearly and explicitly given the option to make their profile public to employers that are approved by their university. Here are the options the students will see after agreeing to the Terms of Service and Privacy Policy: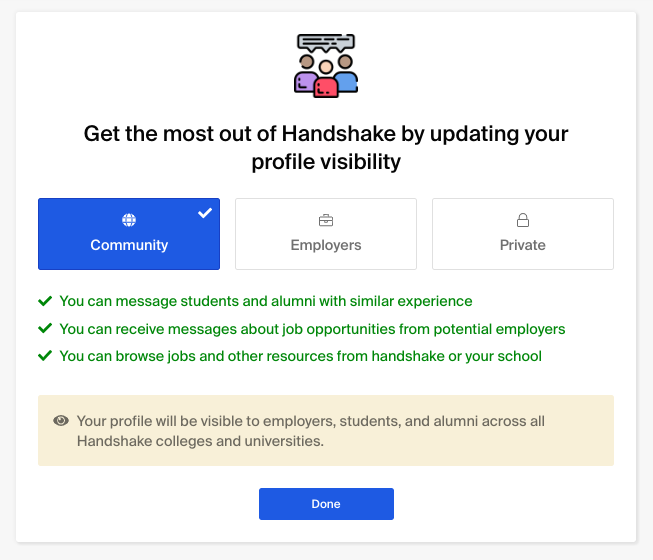 Students can have four states they can be in regarding sharing their data. They are outlined below.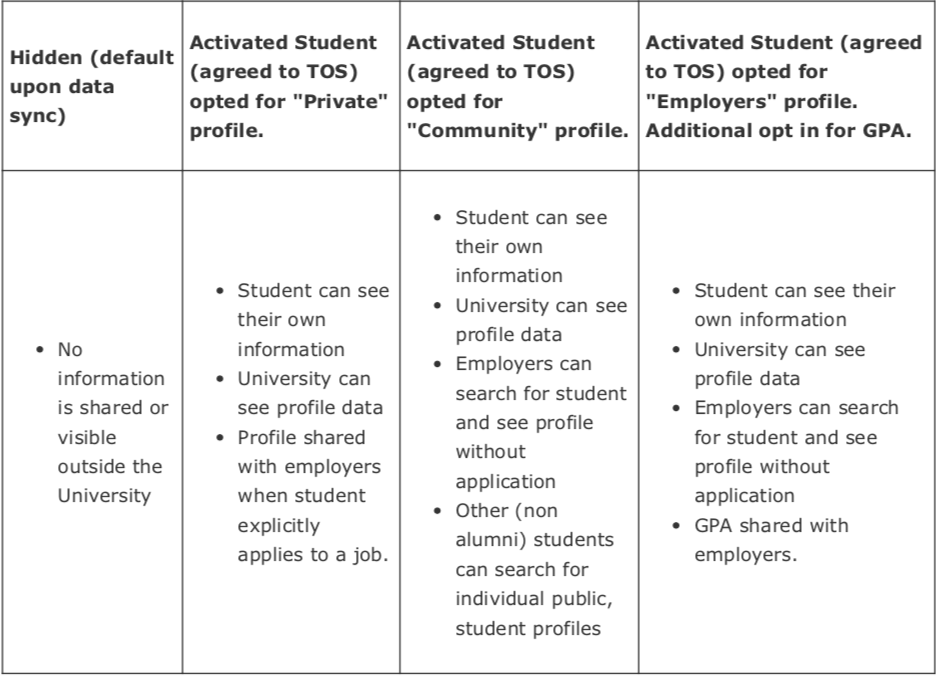 Imported Data Fields:
Even thought students are in control of this data, we know that demographic and identifying information can be sensitive. We have a variety of measures in place to ensure this is protected from employers or other students. Review our documentation on the Student data fields here.
Additionally, here is a quick refresher on the required fields:
| | | | | | | | |
| --- | --- | --- | --- | --- | --- | --- | --- |
| Email | First name | Username | Auth ID | School Year Name | GPA | Major | Education Level |
Data Ownership:
Students own the data that they upload and enter into Handshake. We only use data as described in our Privacy Policy and Terms of Service, and in accordance with the agreements we have with our University Partners. Data and IT teams might also be particularly interested in our Security site. Explore these links to learn more.
Onboarding Deep Dive from the Student Perspective:
Explore this article to review (with screenshots) a student's journey through the onboarding process, and where they can enable the different privacy settings in Handshake.
When a student is invited by their institution to join Handshake, they will log in, set a password, and be prompted through the onboarding process.
Additional Resources:
Explore these article to take a closer look at the next steps: