Employers have the ability to request to host events with the various schools that are on Handshake. These events may be hosted at the University's campus, off-site, or virtually.
Important Note: Events can only be requested to post to one school per event. You will need to create separate events if you'd like to post request more than one of the same event. 
Here's a walk-through on how to request events via Handshake! 
1. Click on Events in the left hand navigation bar
2. Click on Request Event tab in the right hand corner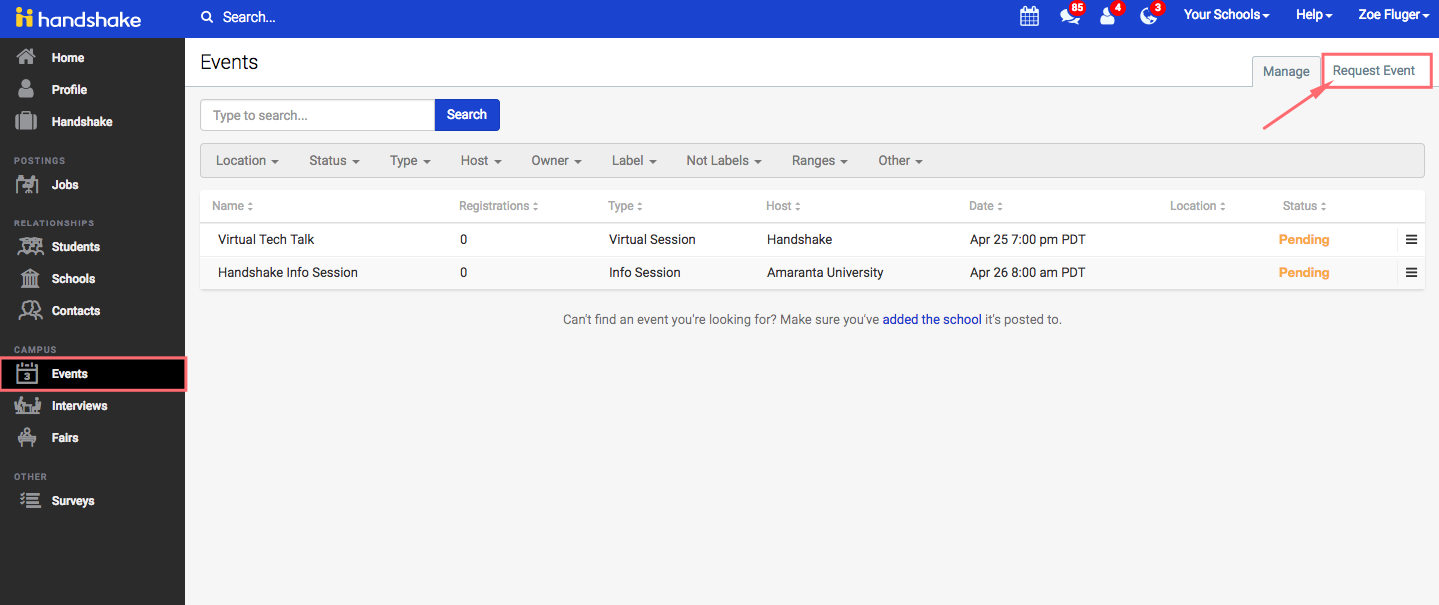 3. Enter the required Event information into the following fields:
Event Name 
Format

School-hosted: School-hosted: A school is booking space for this event. In other words, your event will take place on campus at the selected school.
Company-hosted: Company-hosted: Your company is hosting this event and booking space off-campus. 
Virtually-hosted: Your company is holding this event virtually. 

Host School

only one school per event created can be requested. 
TIP: If you aren't seeing the desired school listed, make sure you've add the school to your Favorite's list - if you're approved to post events at the school, but it's not on your Favorites, you won't see the school as an option!

Contact

Multiple contacts may be added here. The user creating the event will be auto-added as the initial contact. If you need to add a contact that is not yet added to your company in Handshake, we recommend clicking on Contacts in the left hand navigation bar to create a new contact. 

Type


A type does not need to be selected if opting for a company-hosted or virtually-hosted event. 

Start & End Dates


We recommend clicking on the small calendar icon to easily select the desired start and end dates for your event 

Time Zone
Branding Image

Whichever logo your company profile currently has on Handshake will be automatically added here. However, you may change the branding image by clicking on the small pencil icon towards the right corner of the image. Check out our Image Size guide here.

Description
4. Click on Save to save and request your event!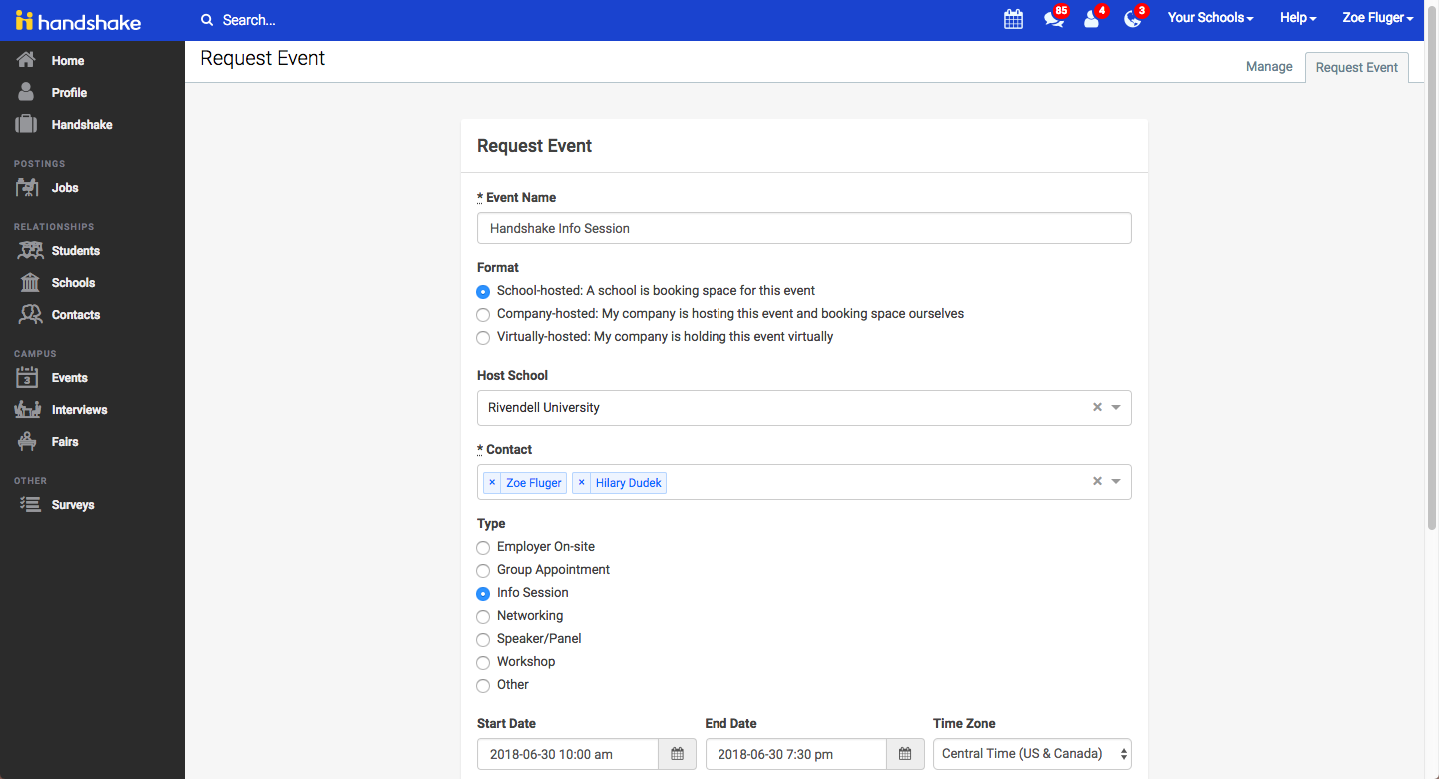 Once your Event has been created: 
You will be brought directly to the Overview page of your event.



Here you can view the general event information including: date, time, location, description, activity and comments.
 You can also view a quick snapshot of your RSVPs in the box towards the right of the Overview page.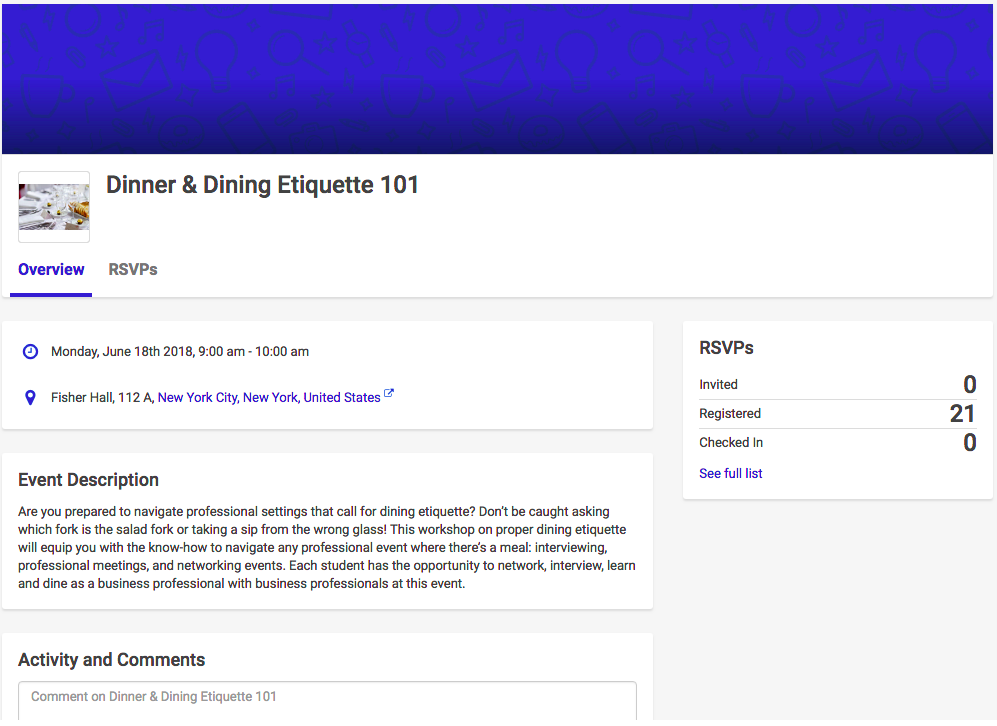 Tab over to the RSVPs tab to view any students that have RSVPd to your event.

Utilize the filters toward the left of this page to organize and sort your event RSVPs. 
Read more here on how to message your RSVPs directly in Handshake: How to Access and Message Event RSVPs