Using Handshake's Greenhouse integration can streamline your team's hiring processes, and provide an efficient application experience for early talent applying for your jobs!
Some of these benefits include — completing your hiring activities in one system by reviewing Applicant information that comes from Handshake into Greenhouse, and keeping up-to-date on how your applicants are moving through the process within Handshake.
To learn more about using Handshake's Greenhouse integration, check out the information below! 
Note: Handshake's Greenhouse integration doesn't support custom demographic questions.
If you need to set up your Greenhouse Integration, refer to How to Integrate Greenhouse with Handshake.
Premium features are for Handshake Premium accounts only. For more information, please check out this resource.
Newly created jobs in Handshake, or jobs that don't have applications attached to them can be setup with Greenhouse. 
Existing jobs in Handshake (that have applicants) can't be linked to Greenhouse Recruiting postings.
If you would like to sync applications for an existing job, you'll need to expire the job and create a new posting for it. Do not duplicate any existing/expired jobs you wish to re-post, as this will result in an unsuccessful connection between Handshake and Greenhouse. 

For guidance creating a new job, refer to How to Post a Job.
1. Once your job is in Handshake, use the Select Greenhouse job to link dropdown to select the job from a list of available postings in your Greenhouse Recruiting account, then select the job you wish to link!
The job must be marked as Live and Public in Greenhouse for it to be available in Handshake! 
Note: the integration doesn't automatically cross-post Greenhouse jobs in to Handshake, so a job must be selected.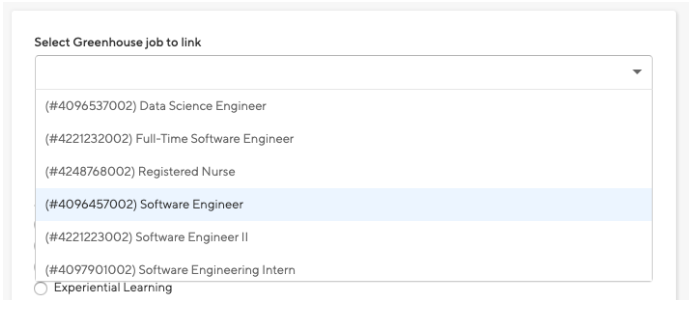 2. When a job is selected, Handshake will also retrieve the following details from Greenhouse Recruiting to make the posting process more efficient:
Job Details
Number of Positions
Employment Type
Paid / Unpaid
Required Documents
Tip: make sure to look over the posting details to ensure that all of the above information has been retrieved correctly, and fill in any missing details.
3. Decide whether to require documents (such as CV or cover letter).
If a Greenhouse job requires a document, that'll automatically be selected in the Handshake job details when posting. Required documents must be checked in the Handshake job details for them to sync in Greenhouse. If they are left unchecked, applicants won't be prompted to submit a document, and their application won't have a document in Greenhouse regardless of the Greenhouse job settings.
Note: Including this requirement will enable you to receive Applicant packages from Handshake as well.
4. Post your Handshake job to institutions by filling out the rest of the job details and choosing the institutions to post the job to. Once you have posted the job to institutions, you're finished! 
Note: if you expire your job posting in Greenhouse, the job posting will also expire in Handshake, unless the job is attached to an Interview Schedule in Handshake!
Greenhouse jobs should sync instantaneously once configured. If jobs aren't appearing within a few minutes, the configuration may not be working. Reach out to our Tech Support Team by submitting a ticket.
Student Application Process
Students will browse jobs that you've posted and apply directly from Handshake! 
To learn more about how students find jobs on Handshake, check out How to Search for Jobs & Internships.
Tip: you can use Campaigns to source the most qualified candidates for your job postings! 
Student application flow
Once a student finds your job, they can apply for the job directly in Handshake. Students will be able to upload a CV and/or cover letter as specified on the job posting.
They'll also have access to the required, and optional questions configured in Greenhouse. Once the required details are entered, students will submit their applications to Greenhouse Recruiting via Handshake.
Once submitted, the application will appear in Greenhouse automatically (within a few minutes)!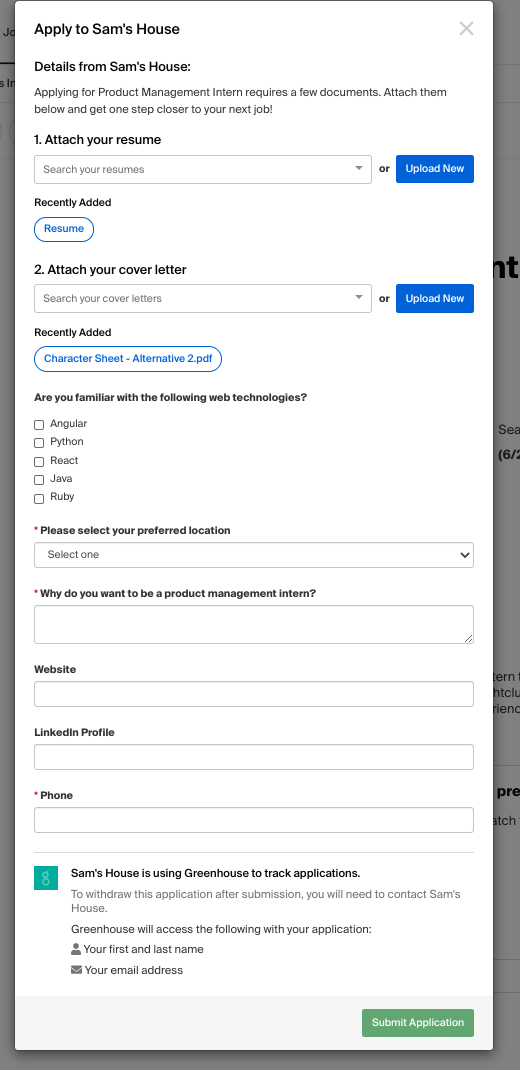 Review Applications in Greenhouse
Once a student has applied in Handshake to a linked job, the student's application will appear in Greenhouse Recruiting automatically within a few minutes.
The application will include the following candidates:
First name, Last name, and email address 
Source as Handshake 
CV and Cover Letter (if required for the application process)

under the

 

Application or Details tab > Source & Responsibility section.

Responses provided for any required or optional Job Post Questions.
Note: Applicant Education information (like degree, institution, and discipline) aren't pulled into Greenhouse. 
Application Status Syncing
The Greenhouse Recruiting / Handshake integration uses real-time application status syncing, which means Applicant statuses update in Handshake as they are hired or rejected in Greenhouse Recruiting. This status updates within moments of being updated in Greenhouse.
With these statuses synced, you can more accurately source new applicants and analyse past recruiting efforts.
If you would like to know when the last sync between our two systems occurred, we recommend checking the Status column icon in Handshake.