Applicant Analysis allows Premium partners to calculate the ROI of various engagement activities on Handshake.
All role types except for Representatives and Recruiter (Standard) can access Analytics reports in Handshake. If you do not have access, reach out to your company's Owner or Admin to request a role change or permission. For more information, refer to Who is the Owner of My Company's Profile?
Premium features are for Handshake Premium accounts only. For more information, please check out this resource!
Applicant Analysis consists of two distinct reports that allow you to analyse candidates accordingly:
The

Handshake Applicants

report shows you which activities contributed most to your applicant pool, including a summary of your interactions with candidates through Handshake.

External Applicants

provides an overview of how an employer has engaged with applicants or hires who applied to jobs posted outside Handshake. Handshake identifies matching profiles from the anonymised data set and reports on how the employer has interacted with these applicants on Handshake in the past.
Topics
Handshake Applicants report
The Handshake Applicants report provides an overview of all candidates who applied to jobs posted on Handshake and your interactions with them. The report allows you to identify which recruiting activities contributed the most to influencing the size and quality of your applicant pool.

The report tracks:
your brand presence on Handshake

campaign messaging activity

events and career fair RVSP interactions

most common applicant institutions and courses

applicant representation
To access this report, click Analytics from the left navigation bar in Handshake. The Handshake Applicants tab will automatically load.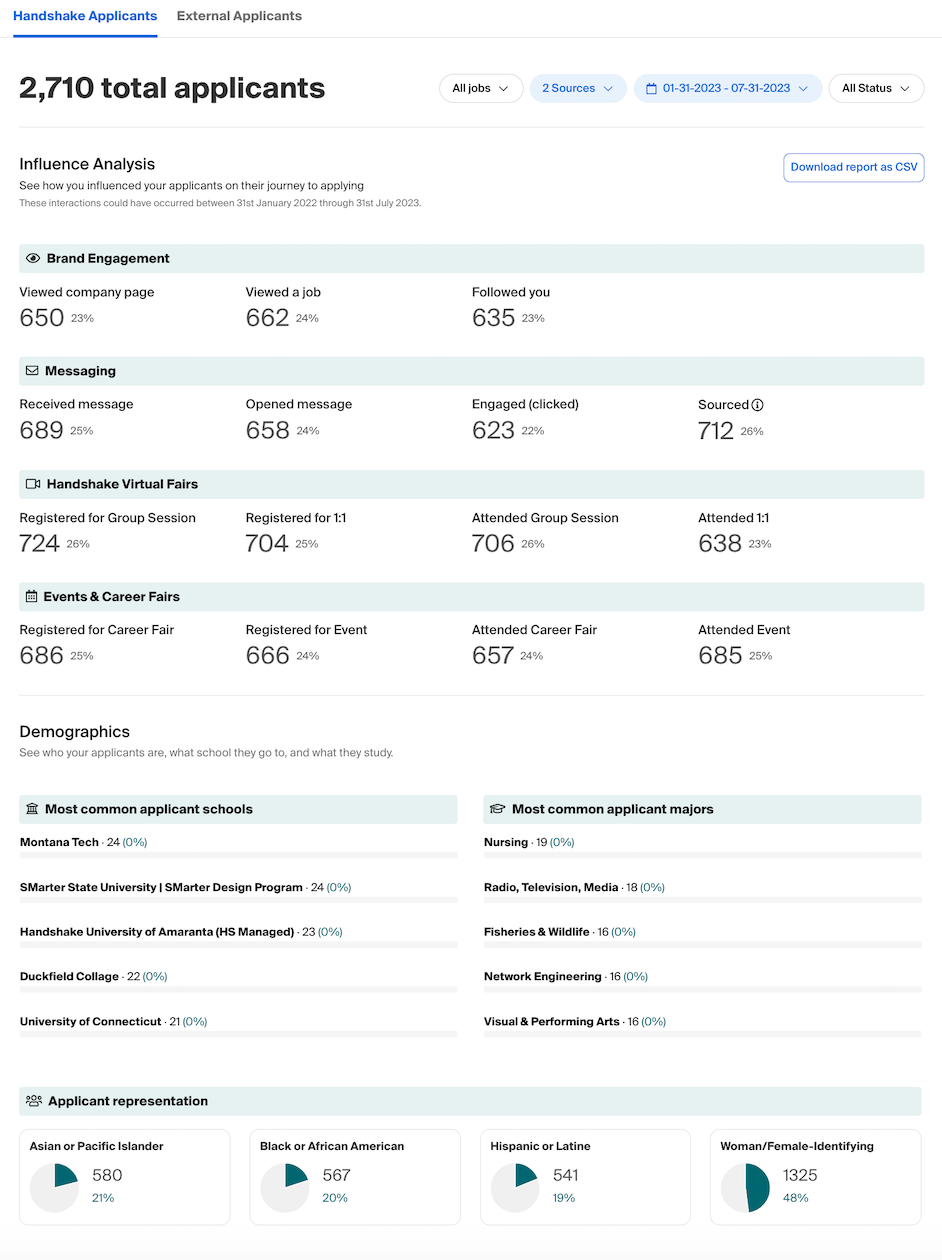 Use the filters on the top of the page to narrow and customise your search results:
All jobs

Type to search, or select a job from the dropdown.

Sources

External job campaigns

Clicked "Apply" on a job that was promoted with a campaign but not listed on Handshake.

Handshake

Clicked "Apply" on a job listed on Handshake.

ATS (only visible to employers who have integrated their ATS with Handshake)

'ATS' applicants completed an application to a job you posted in Handshake outside of the Handshake platform, but have engaged with you in Handshake in the last 12 months.

Application Date Range

Select a start and end date in the calendar modal.

Applicant Status

Note: to filter on status, exclude applicants from External Job Campaigns.

Pending Reviews
Reviewed
Rejected
Hired

Download Handshake Applicants report
Click the white button Download report as CSV to the right of the page to download a copy of the report. The report includes the following data, broken down by applicant count and applicant percentage.
Total applicants

Viewed company page

Viewed a job

Followed you

Received message

Opened message

Engaged (clicked)

Sourced

Registered for Group Session

Registered for 1:1

Registered for Career Fair

Registered for Event

Attended Group Session

Attended 1:1

Attended Career Fair


Attended Event

Percentage breakdown of applicants per date range selected (100% of applicants)

Courses

Institutions

Applicant representation




The count and percent of applicants within the underrepresented group are displayed when there are more than 50 applicants.

External Applicants report
The External Applicant import allows employers to define which applicants (such as applicants or hires) they want to analyse, upload a list of candidates, and receive an output of how they have interacted with these applicants on Handshake in the past. Learn more about the Applicant List Upload.