Applicant Analysis allows Premium partners to calculate the ROI of various engagement activities on Handshake. This feature is made up of two distinct features that allow you to analyse candidates:
The

Handshake Applicants report, which shows you which activities contributed most to your applicant pool, including a summary of your interactions with candidates through Handshake. Described in more detail below - scroll down for details!
External

Applicants

provides an overview of how an employer has engaged with applicants or hires who applied to jobs posted outside Handshake. Handshake identifies matching profiles from the anonymised data set and reports on how the employer has interacted with these applicants on Handshake in the past.

This allows you to input your own lists of applicants, hires, or offers to view who you interacted with on Handshake and how. Best of all, this tool anonymises candidates' information before any data is uploaded. For more information and steps, refer to Applicant List Upload.
With these tools, you'll better understand how Handshake drives the sourcing of applicants to your external ATS. You will be able to view the activities that are most successful at shaping your applicant pool and help improve those that need added attention.
Premium features are for Handshake Premium accounts only. For more information, please check out this resource!
Applicant Analysis Report
The Applicant Analysis report provides an overview of all candidates who apply to jobs posted on Handshake and your interactions with them. This report enables you to quantify which recruiting activities contributed most to your applicant pool.
Note: this report includes external job campaign applicants (candidates that clicked Apply on a job that was promoted with a campaign but not listed in Handshake).
To access this report, click Analytics from the left navigation bar in Handshake, and the Applicants tab will load by default.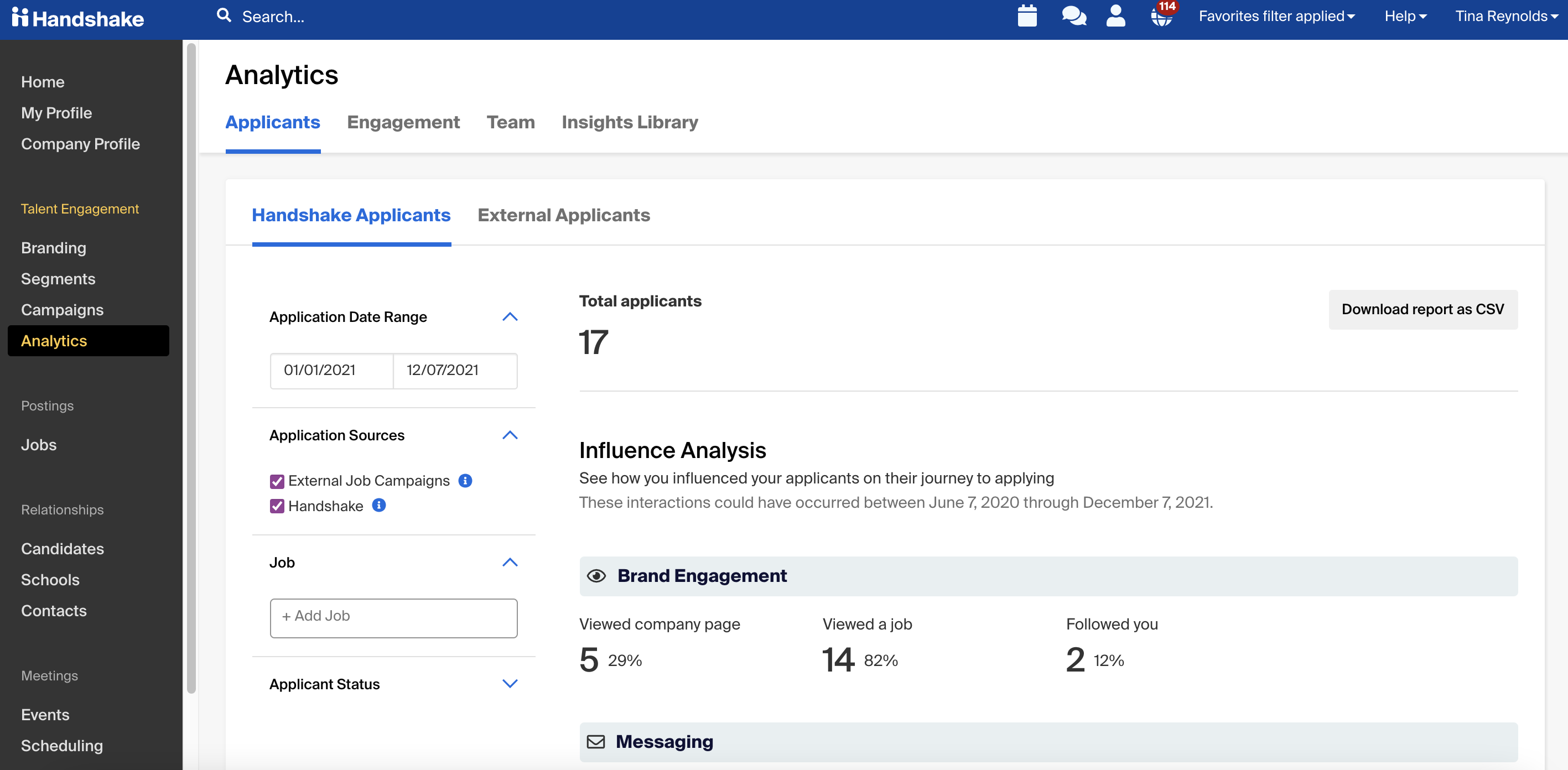 This report tracks your brand presence on Handshake, campaign messaging activity, interaction touch-points for event and career fair RSVPs, and the five most common applicant institutions and courses.
Use the filters on the left of the page to modify displayed results:
Application Date Range
Application Sources

External Job Campaigns

Students clicked "Apply" on a job that was promoted with a campaign but

not

listed on Handshake.

W

hen the Campaign

was created

, the user selected the "My job is not listed above" option, and then

manually

added the job.

Handshake

Students clicked "Apply" on a job listed on Handshake. This includes jobs that are posted as

"Apply in Handshake" and "Apply through external system".

Job
Applicant Status

Note: If you have an ATS integration setup or otherwise update applicant statuses in Handshake, you can view this data filtered by the accurate applicant status.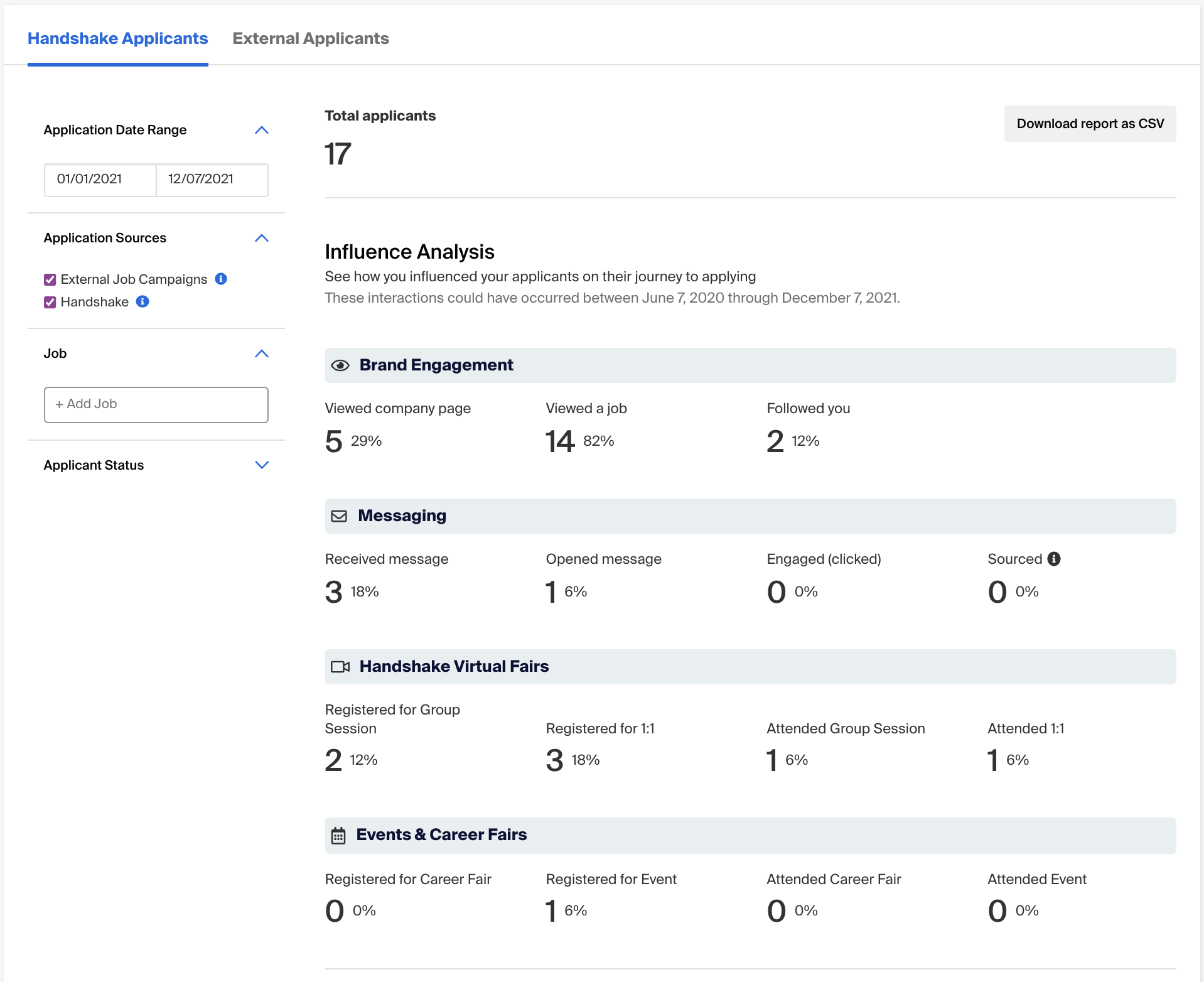 Click the grey button Download report as CSV to download a copy of the displayed data. This report includes the following data, broken down into count of applicants and percentage of total applicants:
Total applicants

Viewed company page

Viewed a job

Followed you

Received message

Opened message

Engaged (clicked)

Sourced

Registered for Group Session

Registered for 1:1

Registered for Career Fair

Registered for Event

Attended Group Session

Attended 1:1

Attended Career Fair


Attended Event

Percentage breakdown of applicants per date range selected (100% of applicants)