Advocates can increase the bandwidth of your recruiting team and strengthen your talent pipeline by creating one-on-one relationships with qualified candidates. 
As a digital approach, virtual Advocates mimic sending business employees to on-campus career fairs and events.
Premium features are for Handshake Premium accounts only. For more information, please check out this resource!
Create an authentic sourcing experience with Advocates
You can seamlessly add non-recruiters to your Handshake page, attach them to relevant events, and even attach their profiles to outbound messaging campaigns. A great way to differentiate your candidate experience is to pair current or former interns with prospective candidates.
Since candidates prefer to hear from individuals with similar qualifications and experiences, Advocates should be diverse and have a variety of backgrounds and experiences who represent the candidate pool.
Launching an Advocate program
An Advocate program is an intentional, structured approach to involving employees from throughout your organisation in the recruiting process. The primary purpose of an Advocate program is to identify, engage and retain top talent by developing authentic relationships with candidates. 
Define your goals 
Identify what goals you are looking to achieve with the Advocate program. Are you looking to increase brand awareness at a specific institution? Or a specific internship program or role? With the goals defined, you can better identify the employees who can serve as Advocates within your organisation. 
Types of Advocates
Alumni 
Former Interns 
Employee Resource Groups (ERGs) 
Hiring Managers 
General tips and best practices
Choosing the right Advocates 

Advocates will serve as an extension of your company and recruiting team. Selecting individuals who are outgoing, personable, and are genuinely enthusiastic about your company is key. 

Setting clear expectations

Once you've found the right people, make sure they're clear on how and when to engage with prospects, so connections can be made and followed up on. It may be helpful to provide general talking points and facts about your company that they can share with candidates.
Leverage Advocates in Handshake
Step 1: Add your Advocates to Handshake  
You can invite users outside your recruiting team to join your company on Handshake by inviting them to create a user profile. Learn How to Invite Staff Members to Join Handshake.
When inviting users to join your company on Handshake as an Advocate, make sure to select the Advocate role from the role dropdown.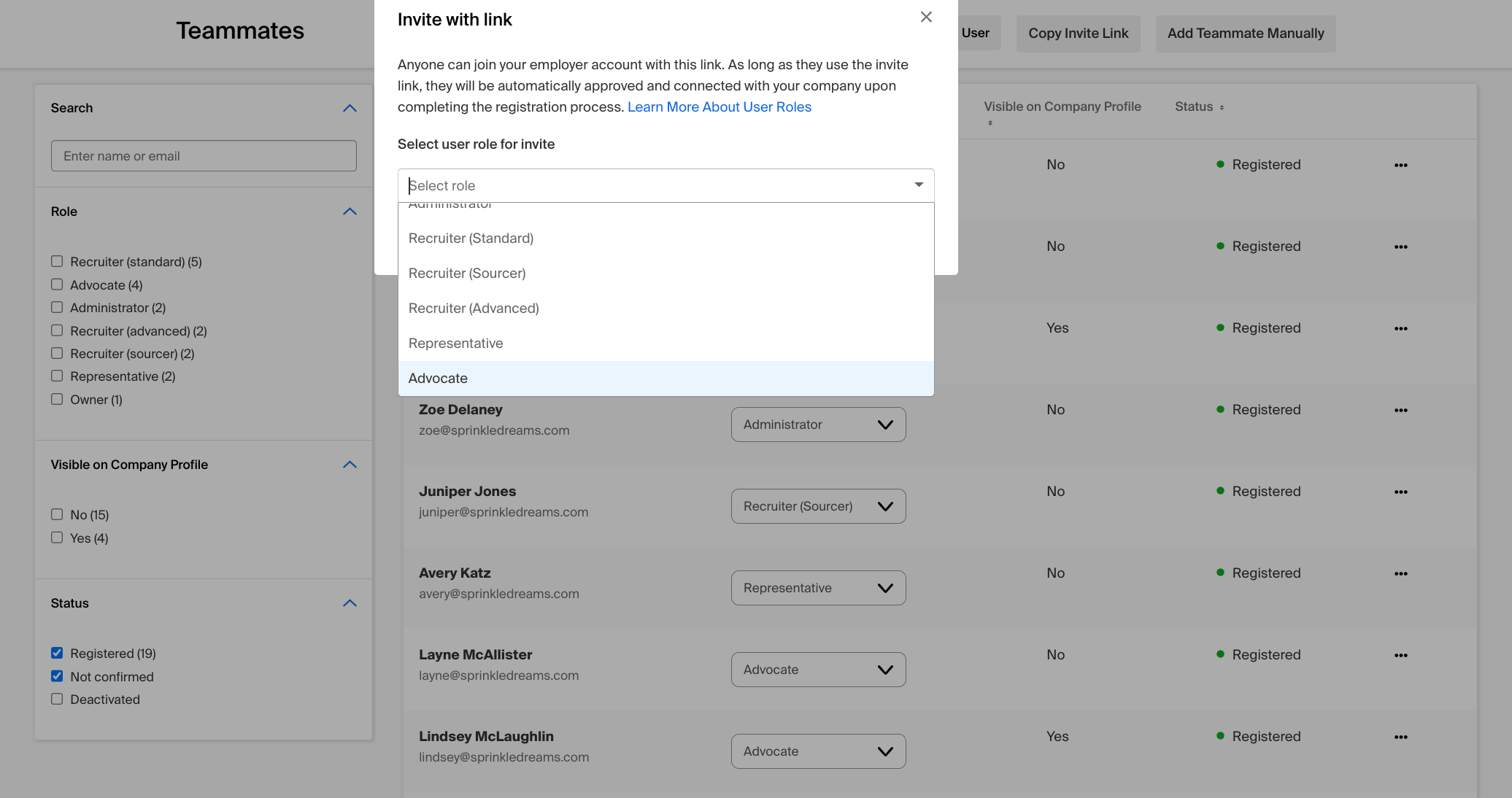 Once they create a profile, they'll automatically connect with your company on Handshake with the Advocate role. Learn more about Employer Role Types: Advocate.
Tip: from the Teammates page directory, click the three dots menu to the far right of the teammates name, then click Set to public. This will allow students to view your Advocate's profile.
Advise Advocates to fill out their profile (Photo, Bio, and Title), as students will be looking to them for guidance and advice.
Step 2. Tag Advocates in Campaigns  
Click the downright arrow to the far right of the Related teammate field to select the Advocate. 

To personalise the candidate experience, we recommend adding an Advocate that's relevant to the campaign message. For example, you can add an alumni of Amaranta University if you're messaging potential candidates at that university, or you can also add a recent graduate who works in your Sales department if you're messaging potential Sales candidates.  
The Advocate selected will display in your Campaign Preview, along with your message.  We recommend you craft your campaign message to share more about the person you've included.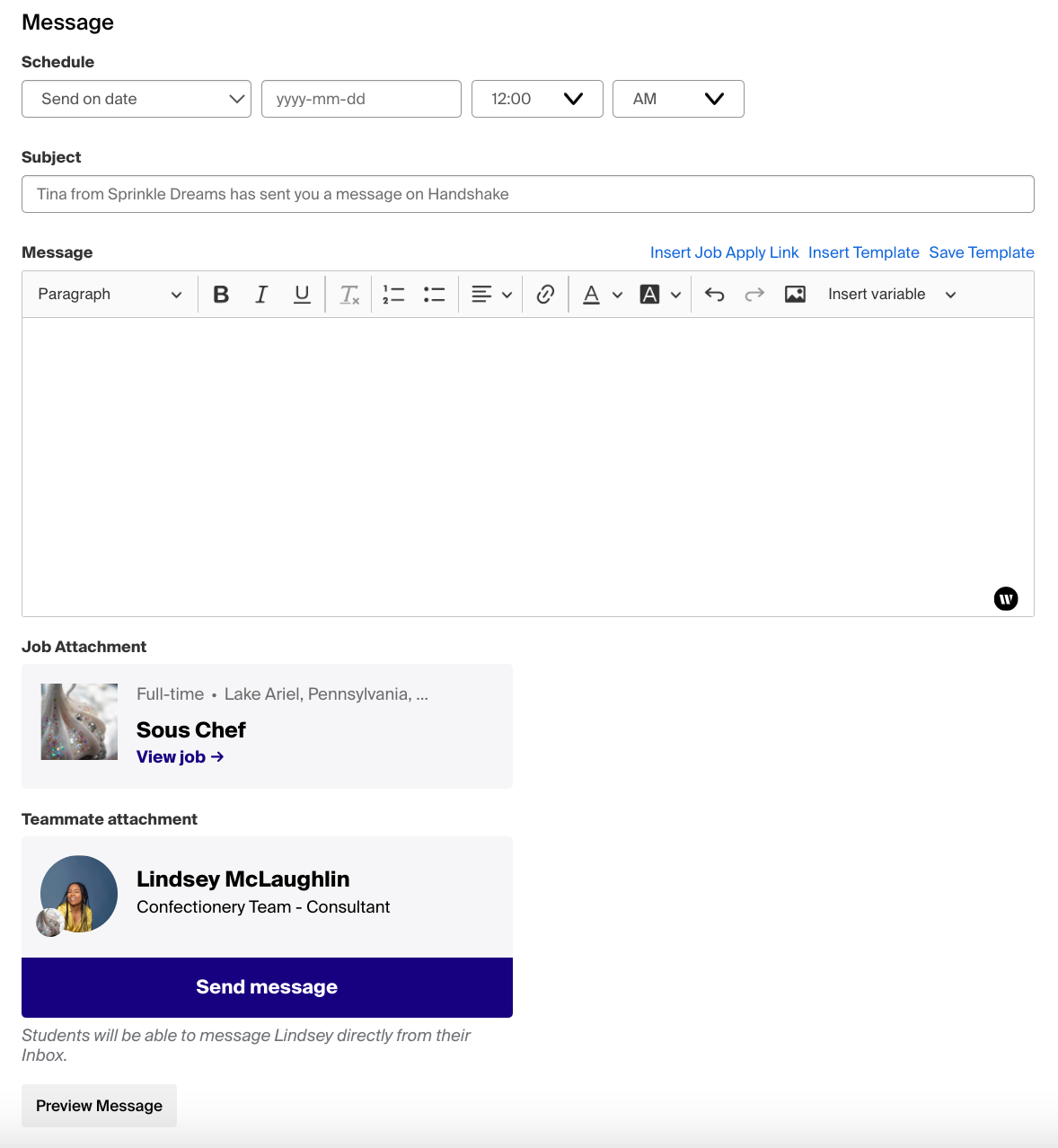 Candidates can also be introduced to Advocates via direct messaging. Refer to Messaging Students: Attach a Team Member.
Step 3. Students will receive the campaign and be able to click through to your Advocate's profile.
Students can review the Advocate's profile to learn more about their experience, and proactively send the Advocate a message if they have a question about their experience at your company.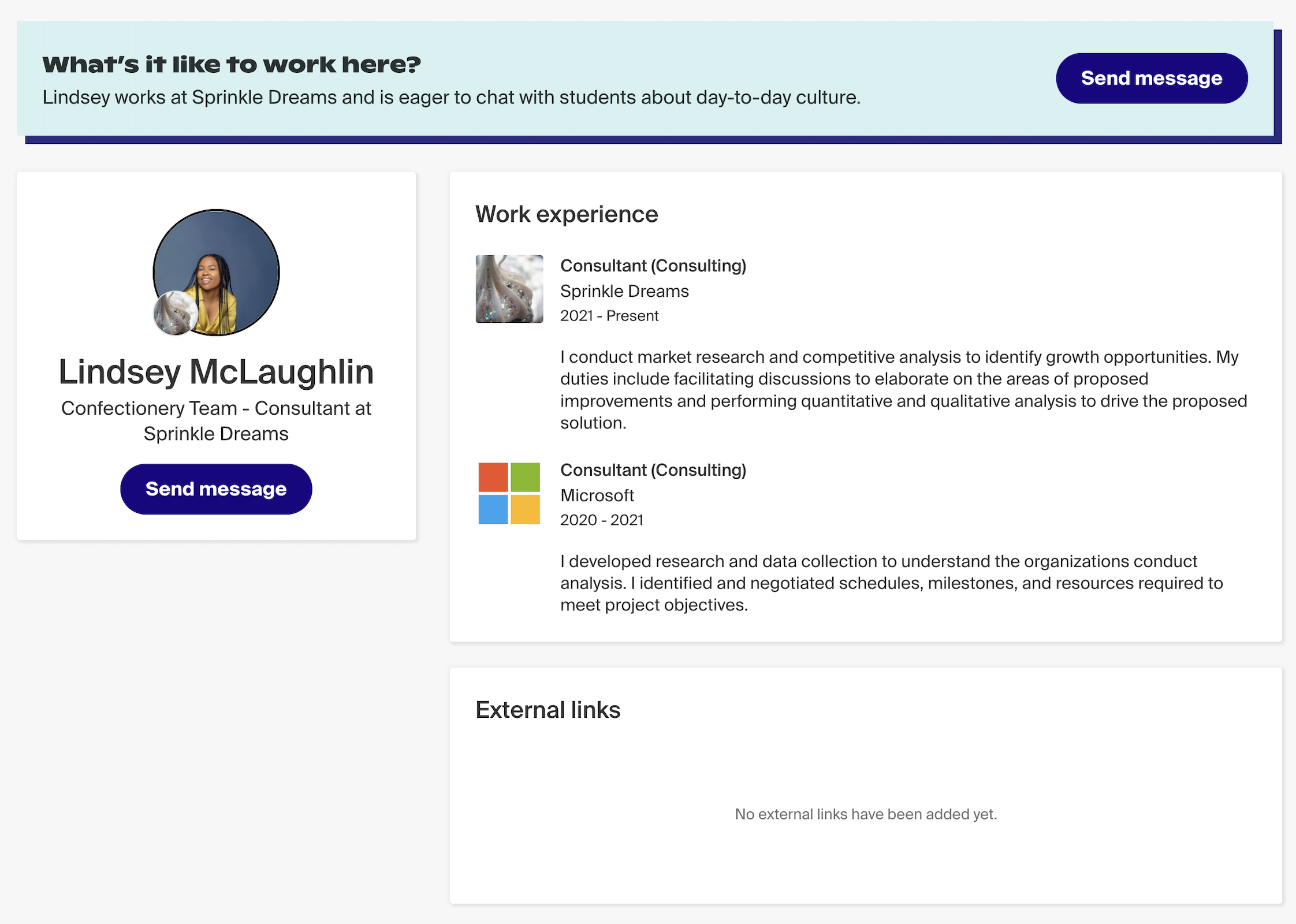 Step 4. Mobilise your Advocate as extensions of your recruiting team.  
Student advocates receive email notifications when they receive student messages, and they can reply to create authentic 1:1 connections, which is a great way to scale your recruiting team.

Advocates can also leverage various features in Handshake to find candidates who are actively pursuing an opportunity with your company. Check out A Guide to Talent List.
Host an Event with Advocates
Connect students with like-minded peers outside of your recruiting team to create more authentic experiences. Hosting your first virtual event? Check out Handshake's Guide to Hosting Virtual Recruiting Events.
Step 1. Tag Advocates as a Host or Speaker at the event
When creating an event, you can include Advocates as speakers, so they can speak about their experience during employer-hosted events. Advocates will then be able to view and interact with RSVPs.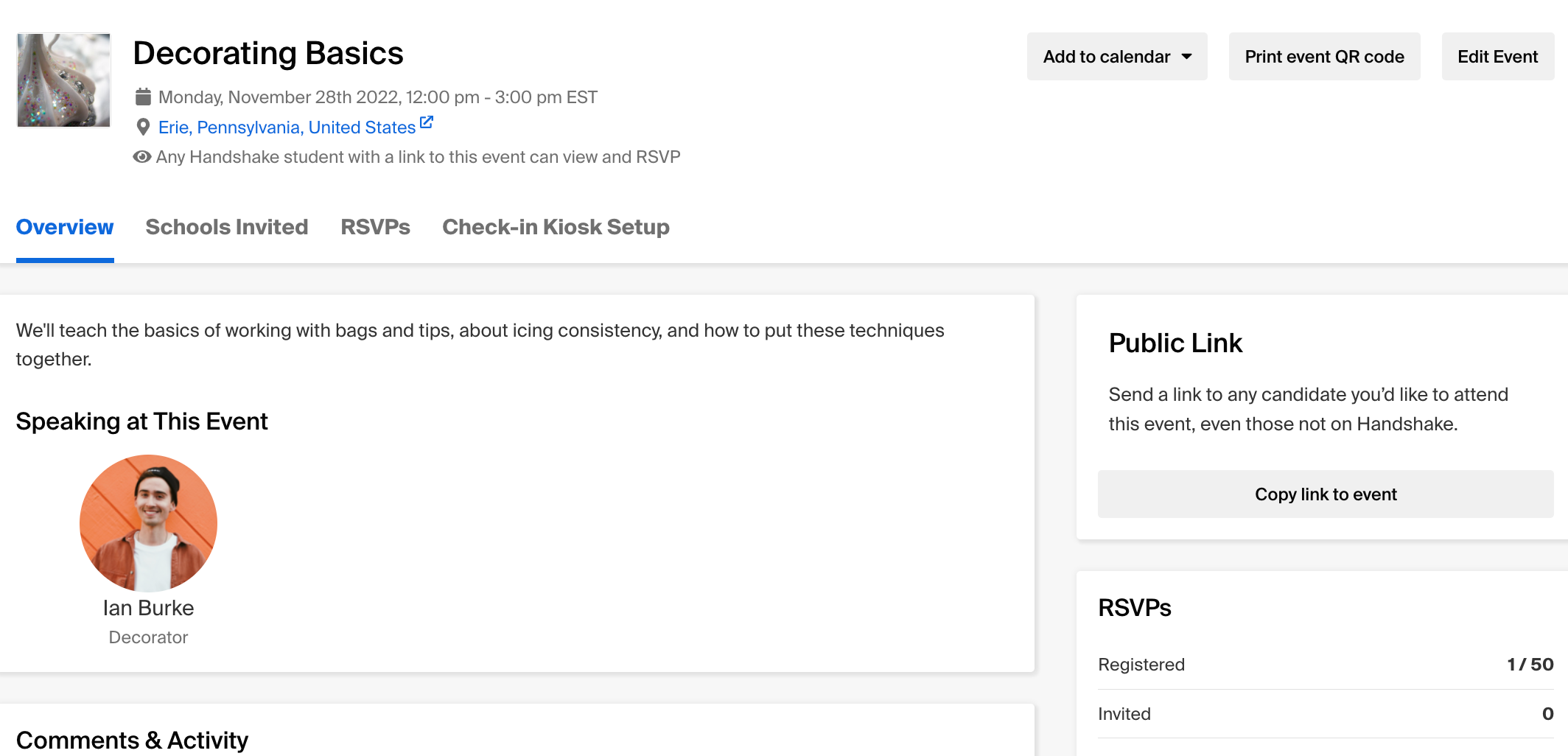 Step 2. Launch the check-in kiosk
Advocates will be able to launch Handshake's check-in kiosk for both in-person and virtual events to track attendees. For additional details, refer to Save and Launch a Check-in Kiosk.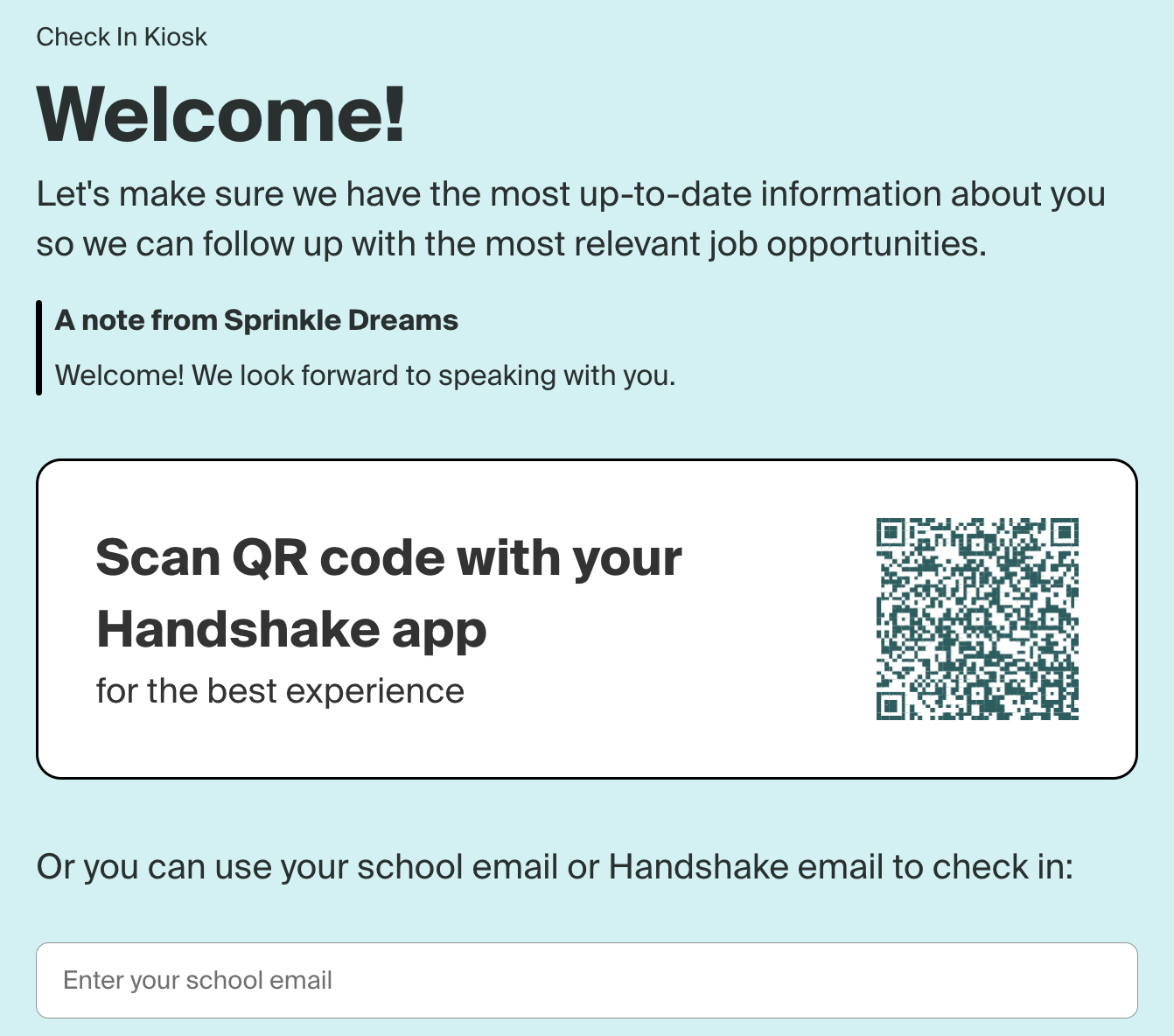 Step 3. Follow up from the Event
Advocates can message students after the event to keep the dialog open, help answer any questions they may have, and highlight any opportunities with your company. Learn more about Messaging Event and Fair RSVPs.
Check out Handshake's Advocate Playbook.