Your Candidates is a resource that enables Premium employer partners to discover more candidates.
Please note: Premium features are for Handshake Premium accounts only. For more information, please check out this resource!
Topics:
Your Candidates
Click Candidates from the left navigation bar to access the Your Candidates page.
Note: If Search Students is displayed instead of Candidates, this indicates that you do not have the required role and/or seat type. In order to access this page, your account role must be designated as Recruiter, Owner, or Admin, and you must have a Premium Seat.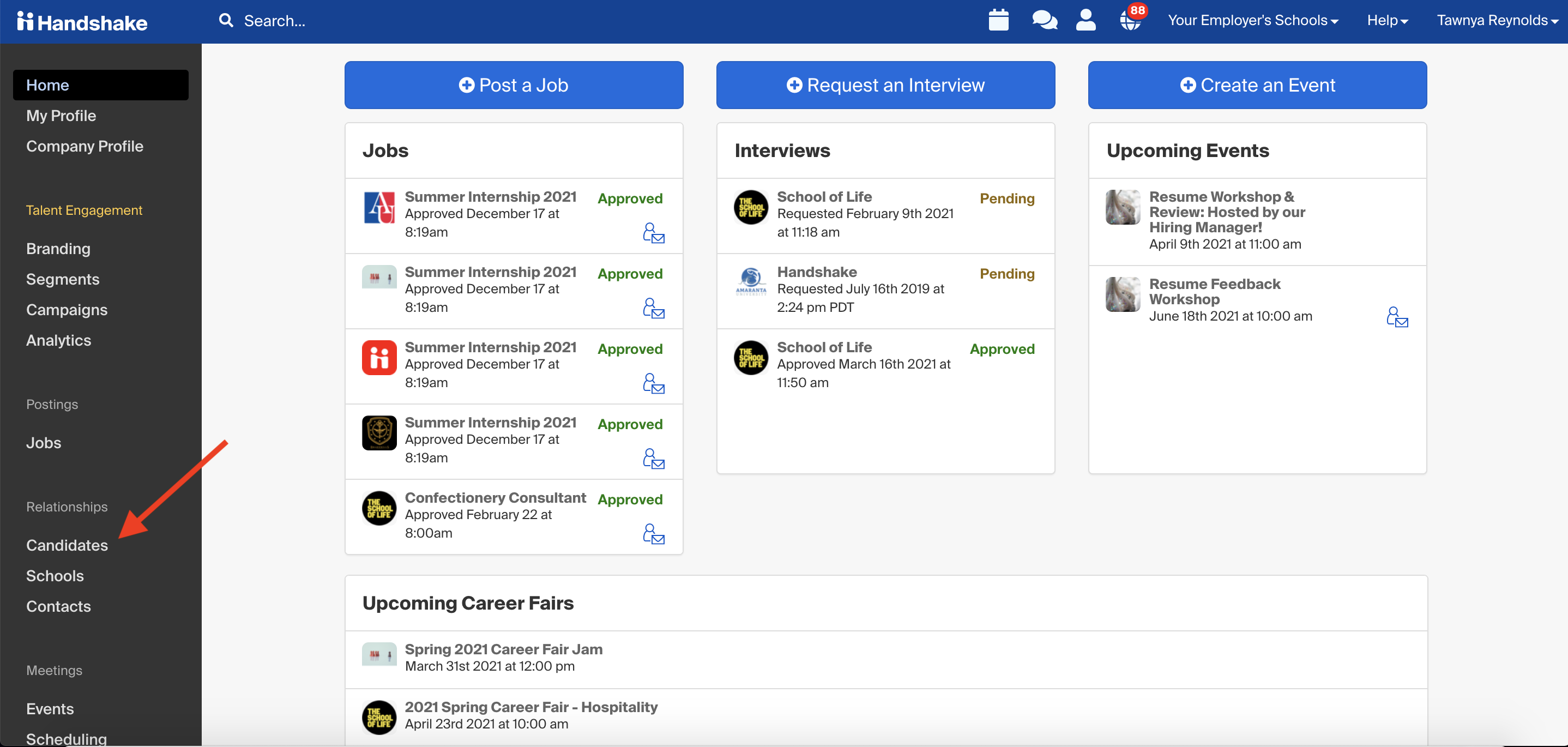 The Your Candidates page displays a list of students from your company's approved institutions that have engaged with your company in Handshake via following your company, applying for a job, RSVPing to an event or fair, or checking into an in-person event or booth at a fair.
Use the filters on the left of the page to narrow down the displayed results based on:
Segment (add a segment)
Keyword Search
Candidate engagement

Followed you
Applied to a job
RSVPed to an event
Checked into an event
RSVPed to a fair
Checked into a fair

Recruiter activity

You've never messaged
Your employer has never messaged

Labels
Exclude labels
Use the advanced filters at the top of the page to identify candidates that have engaged with your company within a customised date range or via a specific event, fair, or job.

Click the dropdown menu text "Any engagement with my company", then select the desired engagement type:
Followed me
RSVPed to an event
Checked into an event (Event Manager required)
RSVPed to a career fair
Checked into a career fair (Event Manager required)
Applied to a job

Click the grey button Customise date range to the far right in the filter row to specify a date range for the selected activity.
When filtering on a fair, event, or job, click Specify event / fair / job.
Profile Engagement
Click on a candidate name from the Candidates list to view the candidate's profile. On the left of the page, below the Message button, the Engagement section displays historical interactions per student with your company:
Messages: Date sent, recruiter who sent the message
Applications: Job Title, date applied