Welcome to Handshake! We've put together this article to show you how to create an event, how to invite students and to see how the sign up process looks from the student perspective. Please also feel free to explore all of the other articles we have in our Help Centre (please note that although the language used may be different in places, the articles do reflect accurately how the platform works).
The Handshake network will continue to grow, so you can expect the number of universities and students available to continue to increase.
Creating an Event
In short, the steps to create an event are as follows:
Click on Events from the left menu column.
Click on Request Event.
Select Virtual and include the relevant URL.
Complete the rest of the form.
PLEASE NOTE - in order for students to see your event, you will need to add institutions. To include all students in the Handshake Open network (those registered students not at Handshake partner institutions, but who do have an institution email address), please tick the relevant box:

Inviting Students to Your Event
The first step to inviting students to your event is to ensure you have added institutions to your event request, and have included students in the Open network (see above). The Handshake Open network can be used by any student in the UK that has an institution email address.
Once your event is made available to students, they will be able to see it when they login to Handshake (see below)
You can see who has registered for the event - refer to Messaging Event and Fair RSVPs for further details.
From the Student perspective
When a student logs in to Handshake and clicks on 'Events', they will be taken to a list of upcoming events: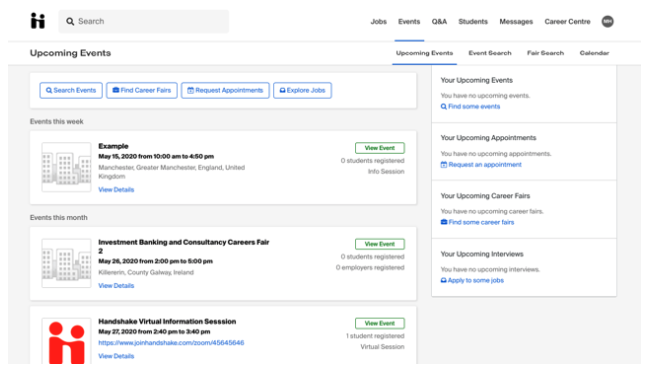 They can then click on any of the events for further details: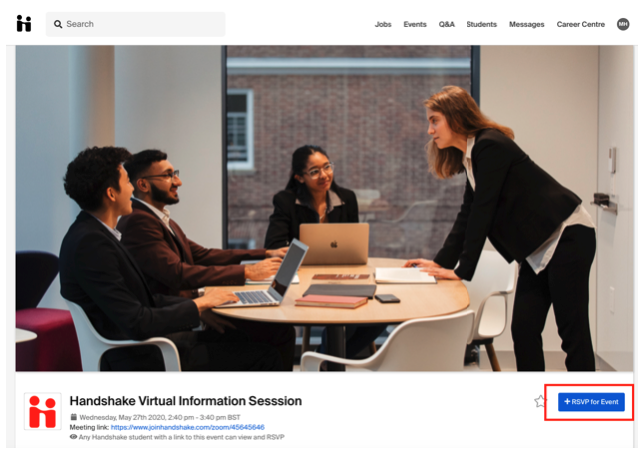 From here, they will be able to RSVP for the event, and also 'favourite' the event if they wish.
Handshake Video
We have produced a short video on creating a virtual event, which can be found at the following link:
Reference: