Hosting video sessions begins when you've clicked to launch (start) a video session and a new tab has opened in your browser. 
Note: Handshake uses Twilio Programmable Video, which is built using WebRTC. All multimedia traffic is routed through Twilio media servers. Because of this, there are some settings that may need to be adjusted in order for you to host a session. 
On the day of the session, you are able to launch a session up to an hour early to test connectivity and performance. 
Launching a video session will open a new tab, so make sure your browser allows pop-ups. In the new tab, your browser may prompt to allow access to your microphone and camera. You'll need to allow this access in order to use audio and video in the session. 
Topics: 
On the Join now page
On the right of the page is a preview of your video. If your video is not on, your profile photo will display instead, or if you do not have a profile photo, a circle with your initials will appear.
Mic and camera buttons are at the bottom middle of the video–click either of these to turn your audio and video on or off. 
The three dots menu in the lower-right corner of the video provides access to: 

Audio Settings, Video Settings, and Report a Problem

These are described in more detail below!
Note: In Chrome, a blurred background is on by default. If you'd like to display your normal background instead, you can toggle this setting off in the upper-right corner of the video preview. 
Blurry background also works on Edge, however, Chrome is Handshake's recommendation for the smoothest experience with all of our features!
On the left of the page are the session details. This includes: 
name of the session (i.e. event title, appointment type, etc.)
session host(s)
date and time of the session 
note indicating your audio is muted upon joining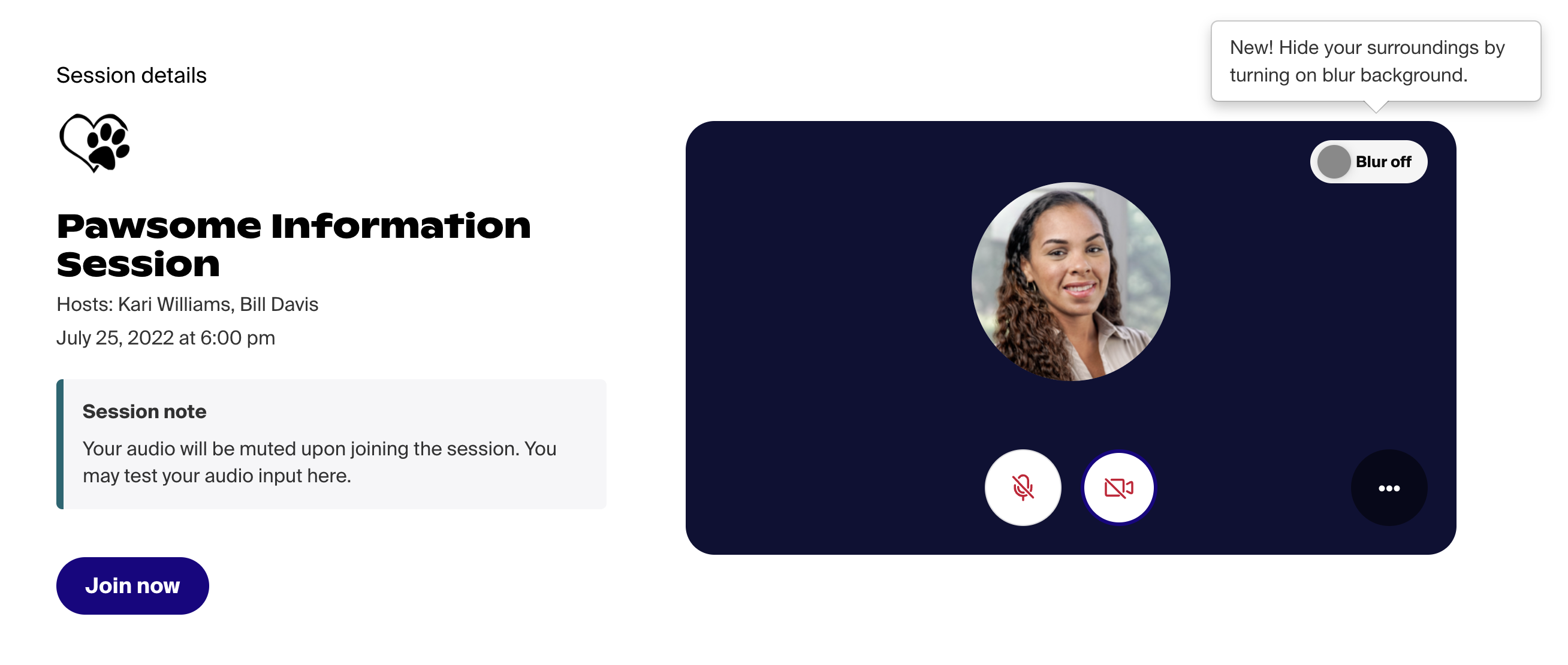 Click the blue Join now button below the session details to join your session.
After starting the session
If any students have already joined (up to 5 minutes prior to the start of the meeting), they will be able to participate upon you joining.
After starting the session, the following options appear:
Settings (in the lower-left corner): allows you to manage your audio and video or enable participant screen share 

If an attendee has their video on, Settings disappears and is replaced by a gear icon in the upper-left of the video display.

Microphone, Camera, and Screen share (at the bottom middle of the page): enable or disable your own audio, video, or screen-sharing
Leave session (in the lower-right corner): end the session for all participants
icons for Raise hand, Participants, and Chat (in the upper-right corner): click each icon to expand or collapse the side panel display

these are described in more detail below
Here's an example of how this page is displayed, with the (settings) menu expanded: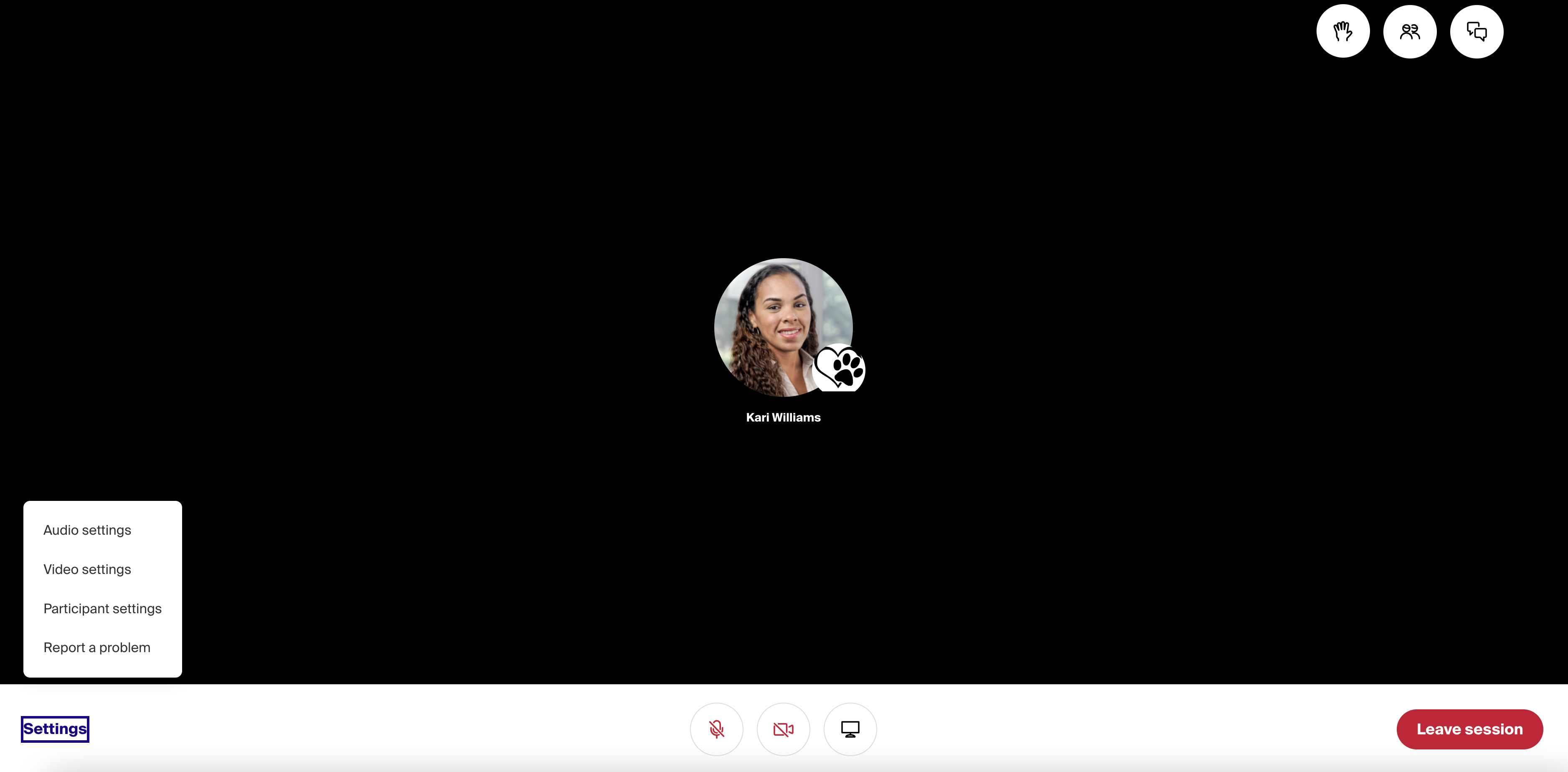 Session Settings
Click Settings (or the gear icon) to access audio, video, and participant settings or report a problem.
If you encounter any unexpected audio or video issues, check out our troubleshooting steps in Hosts: Audio & Video Issues.
Audio Settings
In the audio settings, make sure the correct devices are selected for your Microphone and Speakers, or select alternative devices if needed.
Click the microphone icon to test your input, and click the word Test to test your sound output.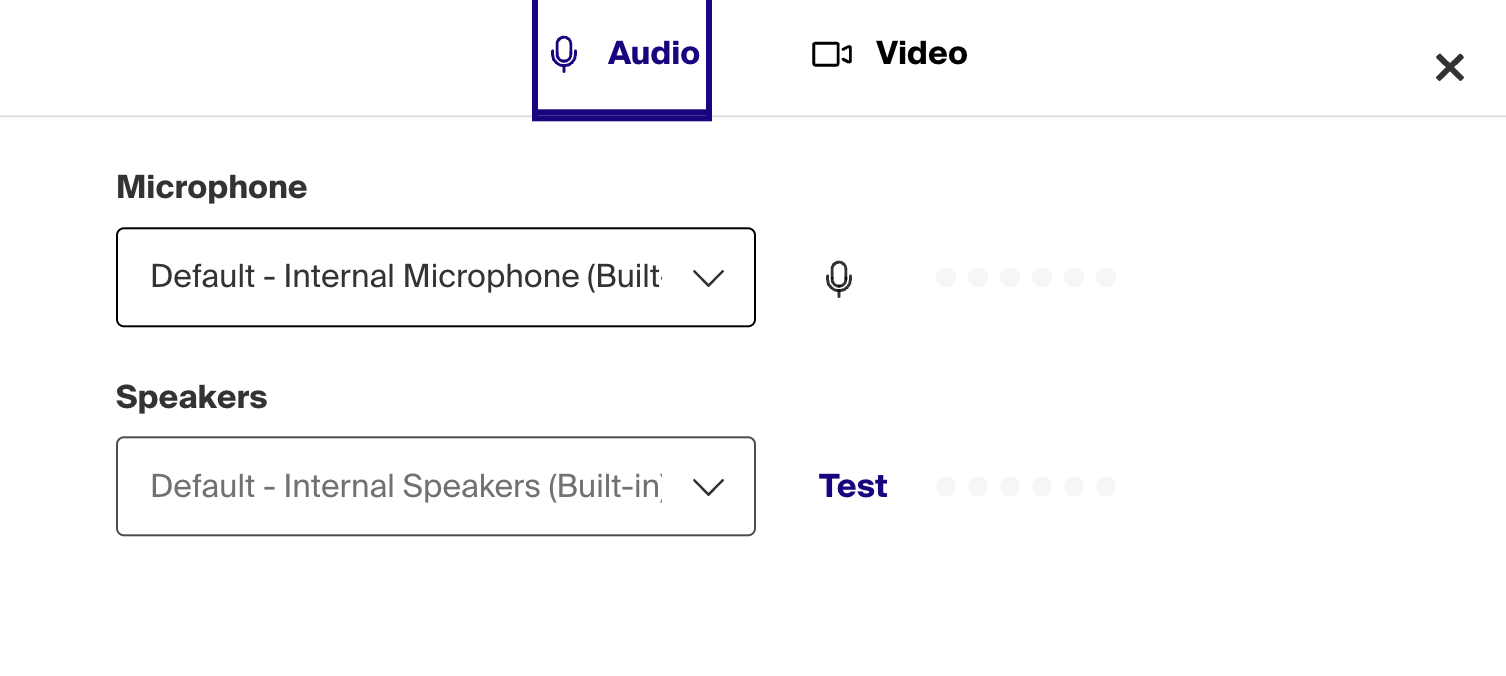 Video Settings
In the video settings, make sure the correct camera is selected from the dropdown menu or select another video source if needed.
A preview of the video is displayed if your video is also on in the session. If your video is off in the session, no preview is displayed.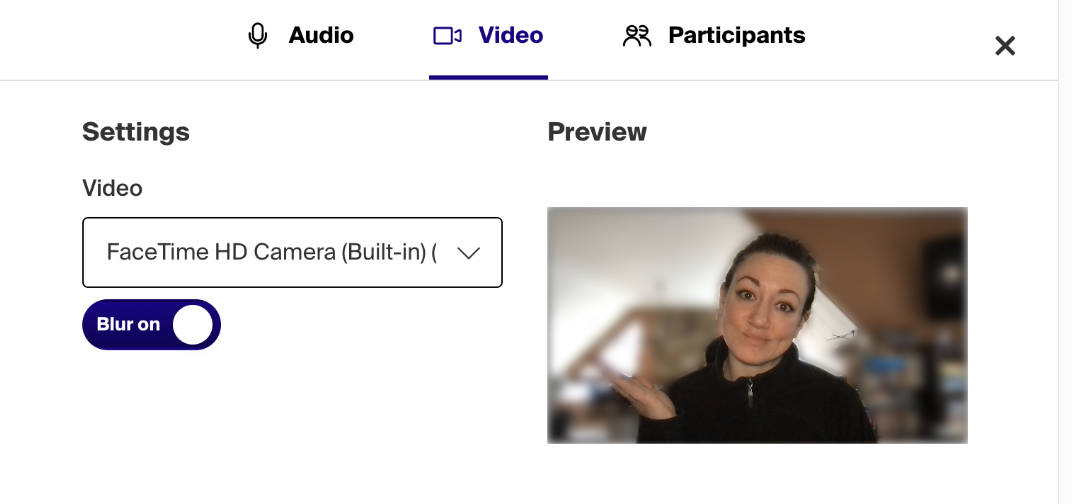 Participants settings (allow participants to share their screen)
Check the box to allow participants to share their screen.
Hosts will also be able to "End Presentation" for participants at any time.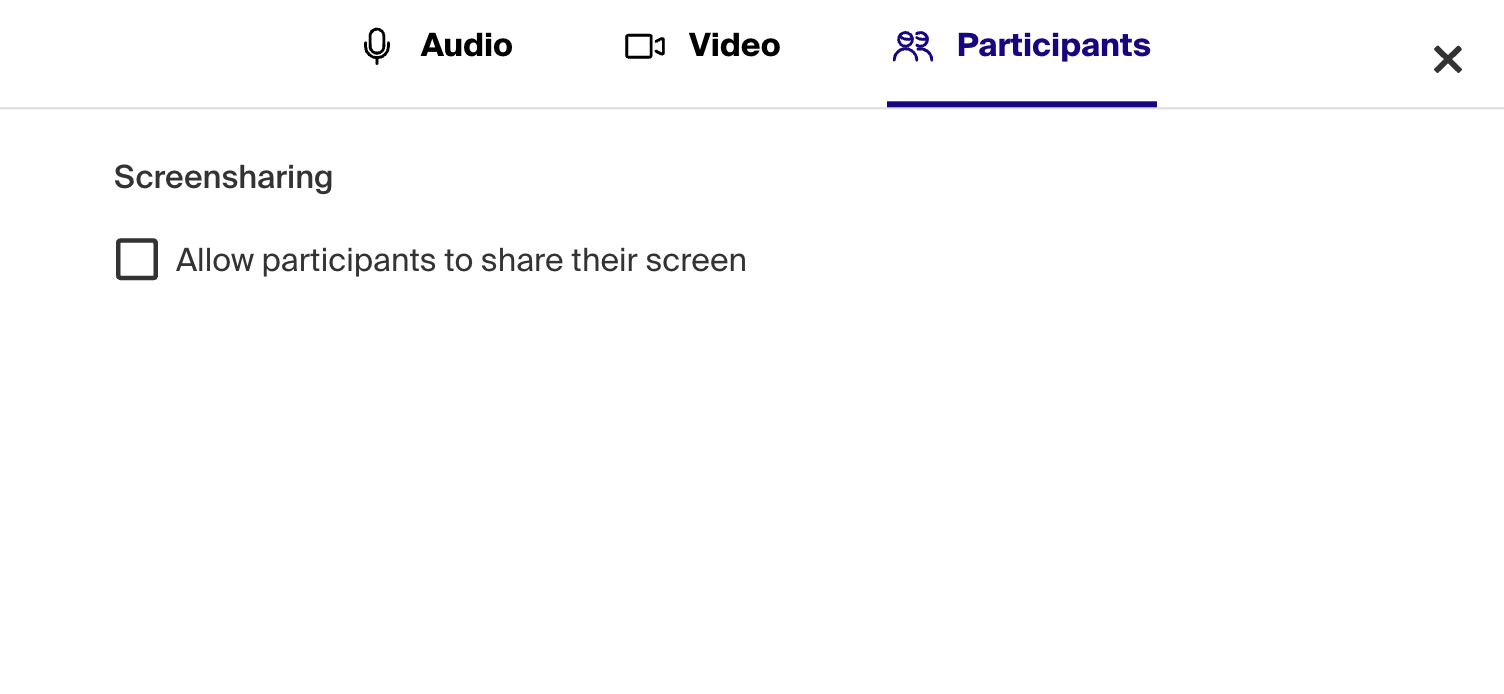 Raise Hand feature
The Raise Hand feature is available in video sessions that allow multiple attendees, such as an event or virtual fair group session, and is off by default. When a host enables this feature, it is for that session only–not a set preference for future sessions.
For group sessions with 15 or more total participants (including hosts) registered, we automatically disable audio and video for attendees - this is to preserve your audio, video, and screen-sharing quality! 
After attendees select Raise Hand, they can be "called on" by the host, then they can interact via audio and video. 
Click the hand icon to access Raise Hand details (on the left of the 3 icons in the upper-right corner).

When you click the hand, a pop-out will load on the right with more information. Check the box for "Allow students to raise their hand" to enable this feature. This is also where requests are shown.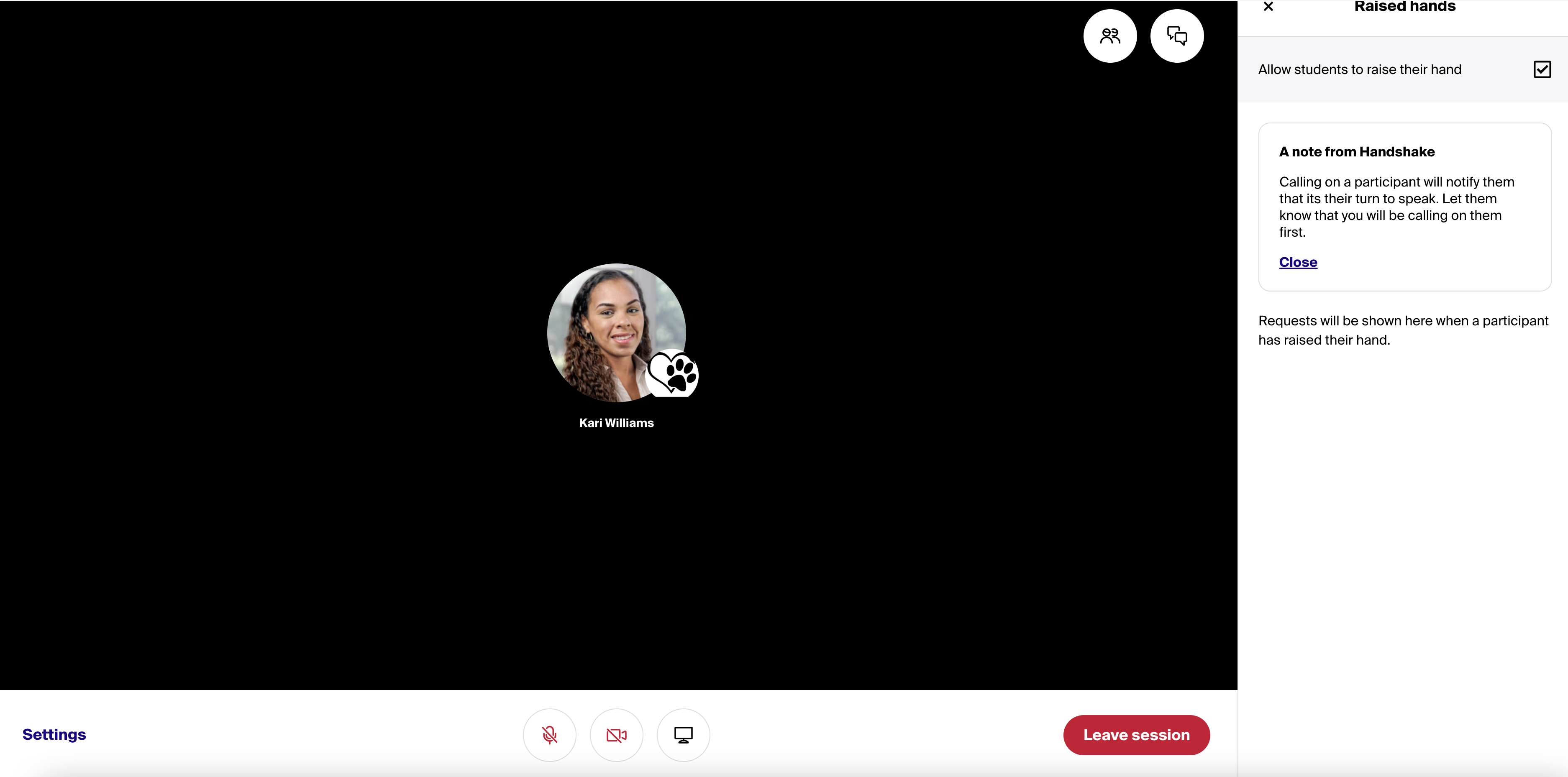 Students are able to select Raise Hand (a hand icon on their video screen as well), which will add them to the queue. If the side panel display is collapsed or the chat or participants list is open instead, a number notification badge displays on the hand icon, alerting you to a raised hand. 

Click the blue button Call on participant to allow them to notify them that it's their turn to speak. Let them know that you will be calling on them first! 
Alternatively, you can click the grey button Dismiss to cancel the request.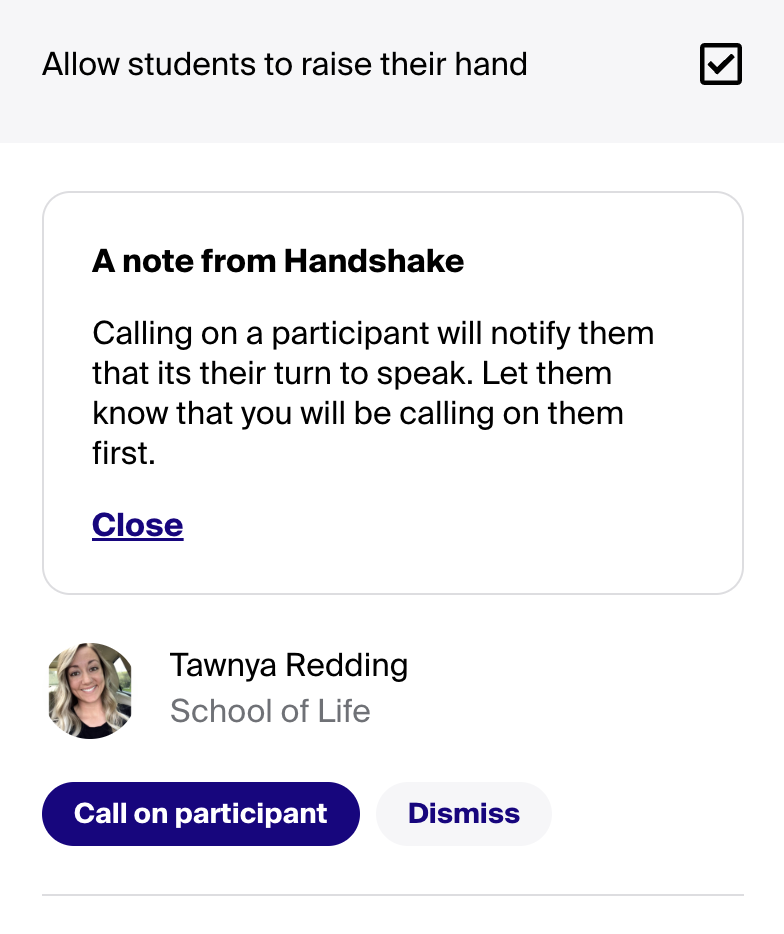 When an attendee is finished with their turn, click the red button End turn.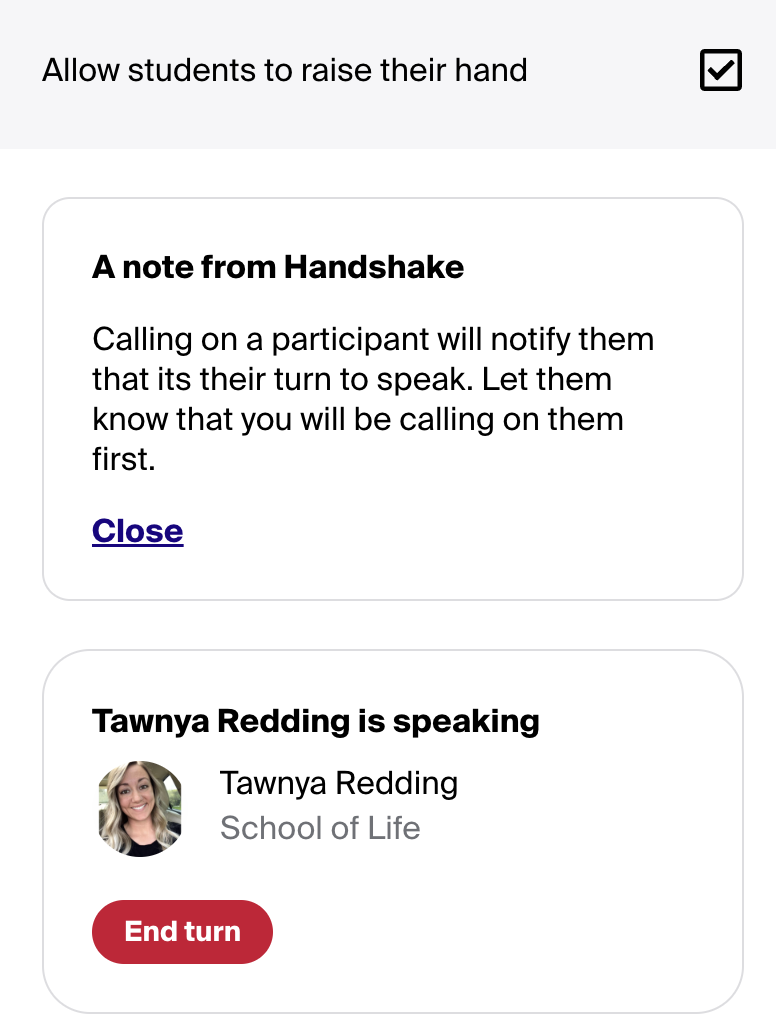 Review Participants and Chat
Click the person icon to access the participants list (in the middle of the 3 icons in the upper-right corner).
All session attendees are listed with their preferred name and last name, institution name, and their audio and video status. A mic or camera icon that is red with a line through it indicates audio or video are off.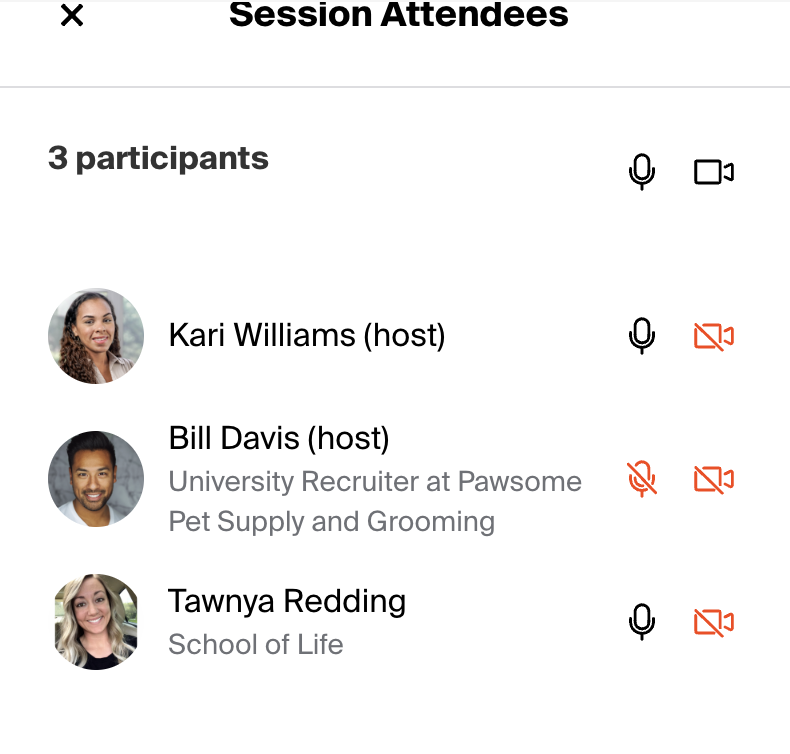 Click the message bubble to view and participate in chat (on the right of the 3 icons in the upper-right corner). 
Messages sent display the sender's icon (profile photo or initials), name, and institution (university or employer) above the message.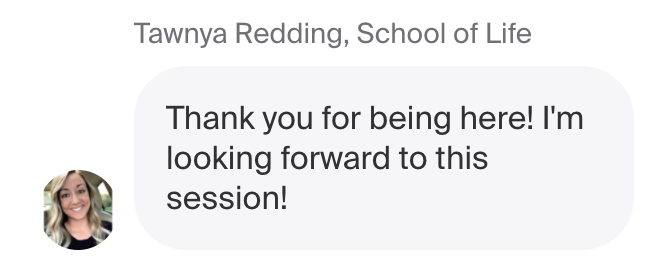 Report or remove participants
As session host, you have complete control to report participants or remove participants from the session. You can report or remove a user from either the participants list or the chat window. 
In the Participants side panel, click on their name from the list, then click Report user or Remove from session.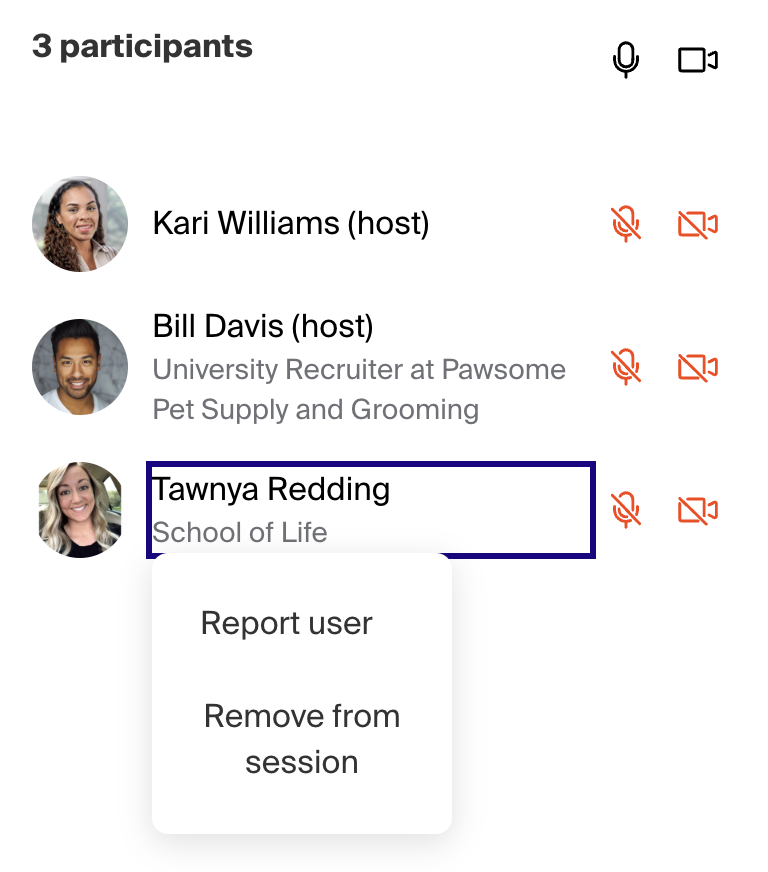 In the Chat side panel, hover your mouse over the message, then click the three dots menu that appears to the right. Choose from Report user or Remove from session.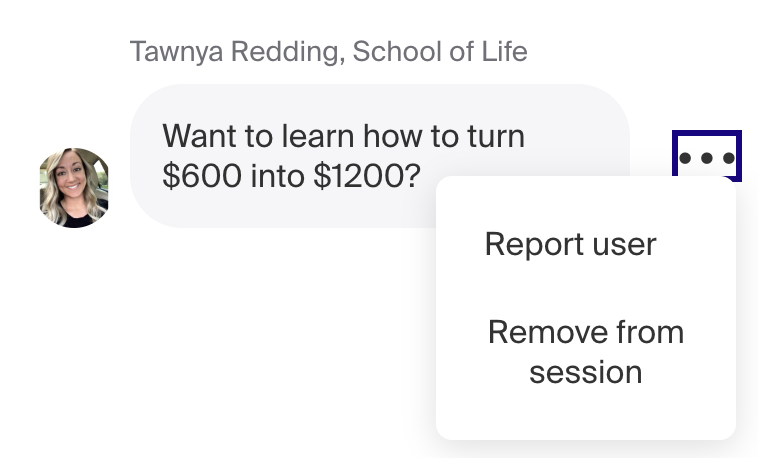 If you choose to remove a user, that user will not be able to re-join the session. They are not notified they were removed, but if they attempt to re-join, an error will appear "Something went wrong. Please try again!"
If you choose to report a user, a pop-up will appear asking for more details. You'll need to choose one reason, and you can provide additional details in the text box.
I think this user is fake or fraudulent
This user is harassing me or someone else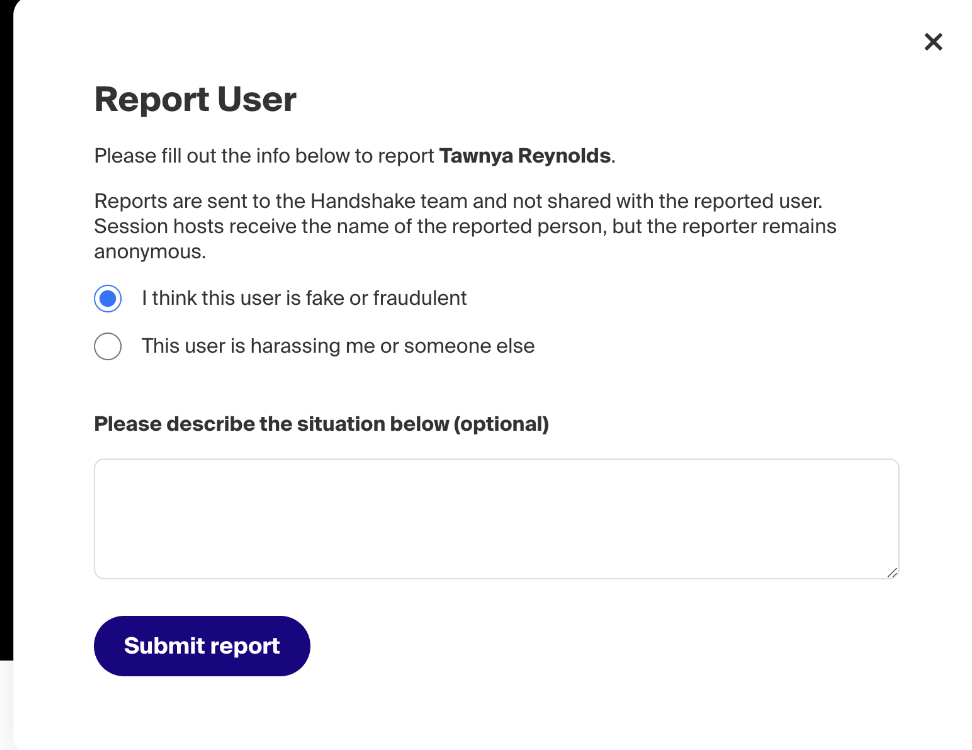 These reports will be investigated by our Trust & Safety team. 
Share your screen
If you'd like to share your screen, click the computer monitor icon, to the right of the video icon in the bottom middle of the page.
Sharing options vary between browsers and additional permissions may be required to share. For example, the first time you share your screen, you may have to grant access for your computer to share the screen successfully. 
These details and more are available in a dedicated resource, Share Your Screen in a Video Session.
Ending a session 
When you are ready to end the session, click Leave session in the lower-right corner of the video window. A confirmation will appear with a prompt to End session for all or Cancel.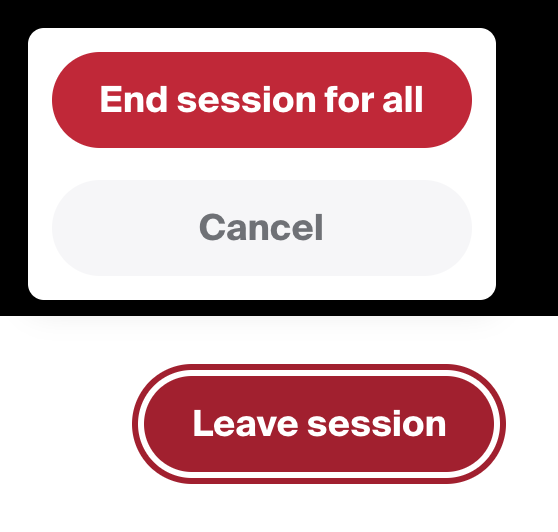 If you accidentally end the session early, you will be able to re-join until the scheduled end time!
A countdown appears 1 minute prior to the scheduled end of the session. Sessions automatically close 20 minutes after the scheduled end time to allow for ongoing conversation.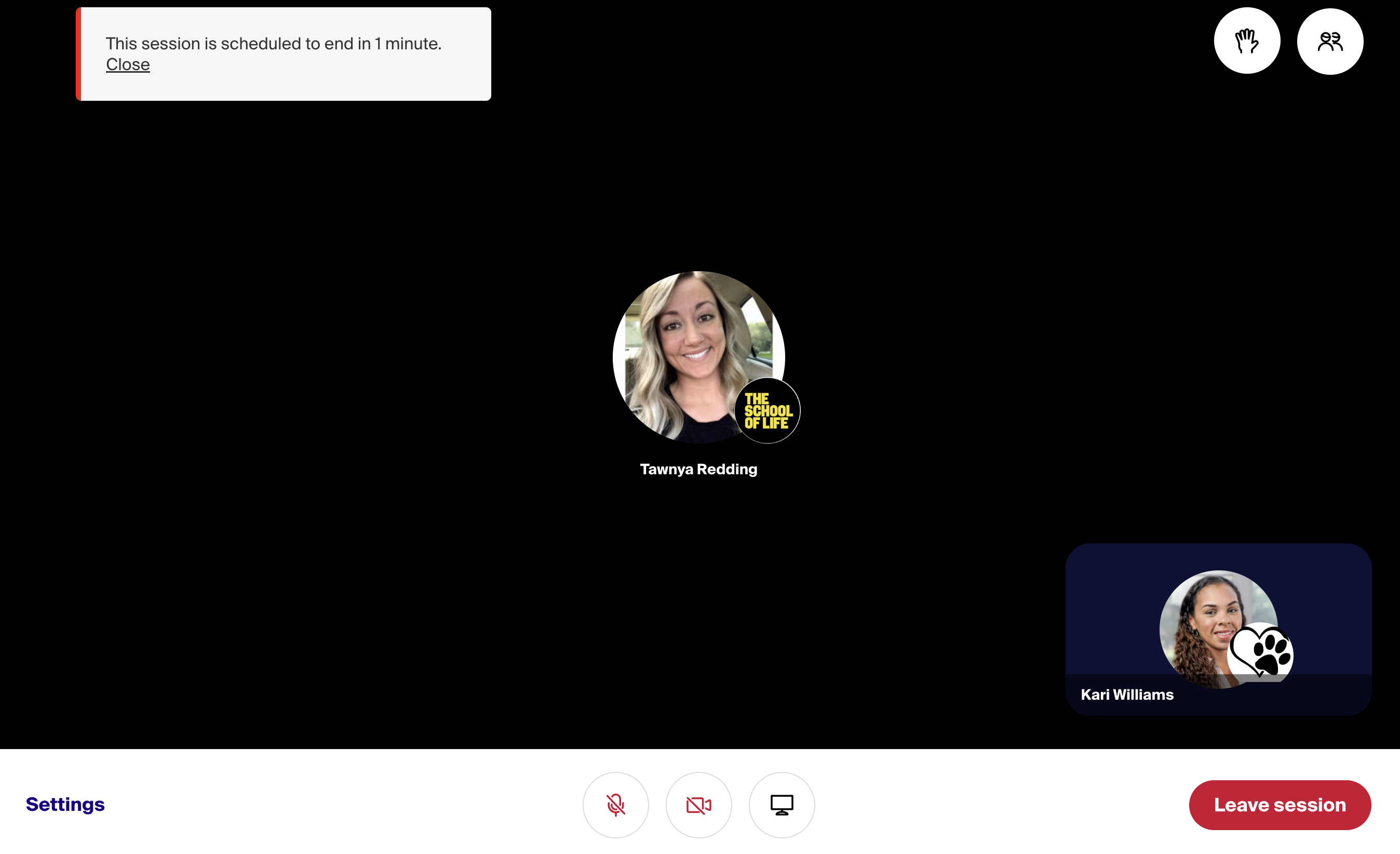 When you've ended the session, you may be prompted with a brief survey for feedback on the session quality. Our team will use these results to continue improving our product!