You can test your Handshake video prior to joining a session to ensure your audio, video and screen-share settings are configured properly.
Note: this is only available for career services and employer users on Handshake. If you're a student or alum, refer to Attendees: Test audio and video.
To test your settings, follow the steps below:
1. Sign into Handshake, then click this test link. The page will load to a single text box and button.


2. If you have teammates who can join you, type in at least one other teammate's name in the participant tab. This will allow you to test your audio, video, and screen-sharing with another participant.
Note: this is not required, but other users won't be able to join your session unless you add them here.
This person should be someone who also has a Handshake user account with your company.

You must add all names that you want to use in this test session - if the person hasn't been selected in the dropdown field, they'll receive a permissions error when they try to join.

3. Click Create test session and send your colleagues the test link that populates on the page.
Note: the session will only be live for 30 minutes. If you run out of time, you can generate another session as needed!

4. Click the three dots menu in the lower-right corner of the video preview to access audio, video, and screen share settings.

From the three dots menu, click on either Audio settings or Video settings to review.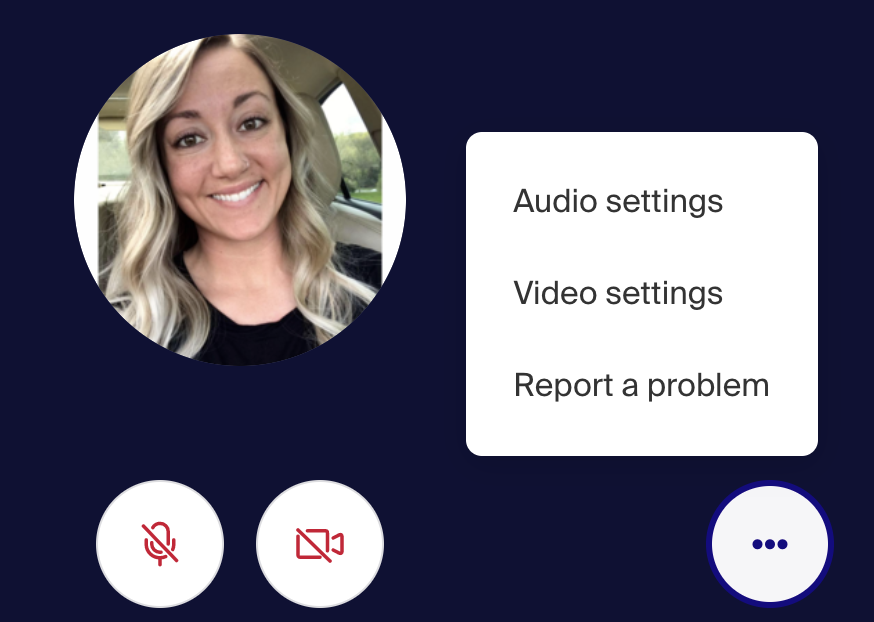 Tip: make sure to disconnect any Bluetooth devices that you aren't intending to use!
Audio Settings
In the audio settings tab, make sure the correct devices are selected for your Microphone and Speakers. Click the microphone icon to test your input, and click the word Test to test your sound output.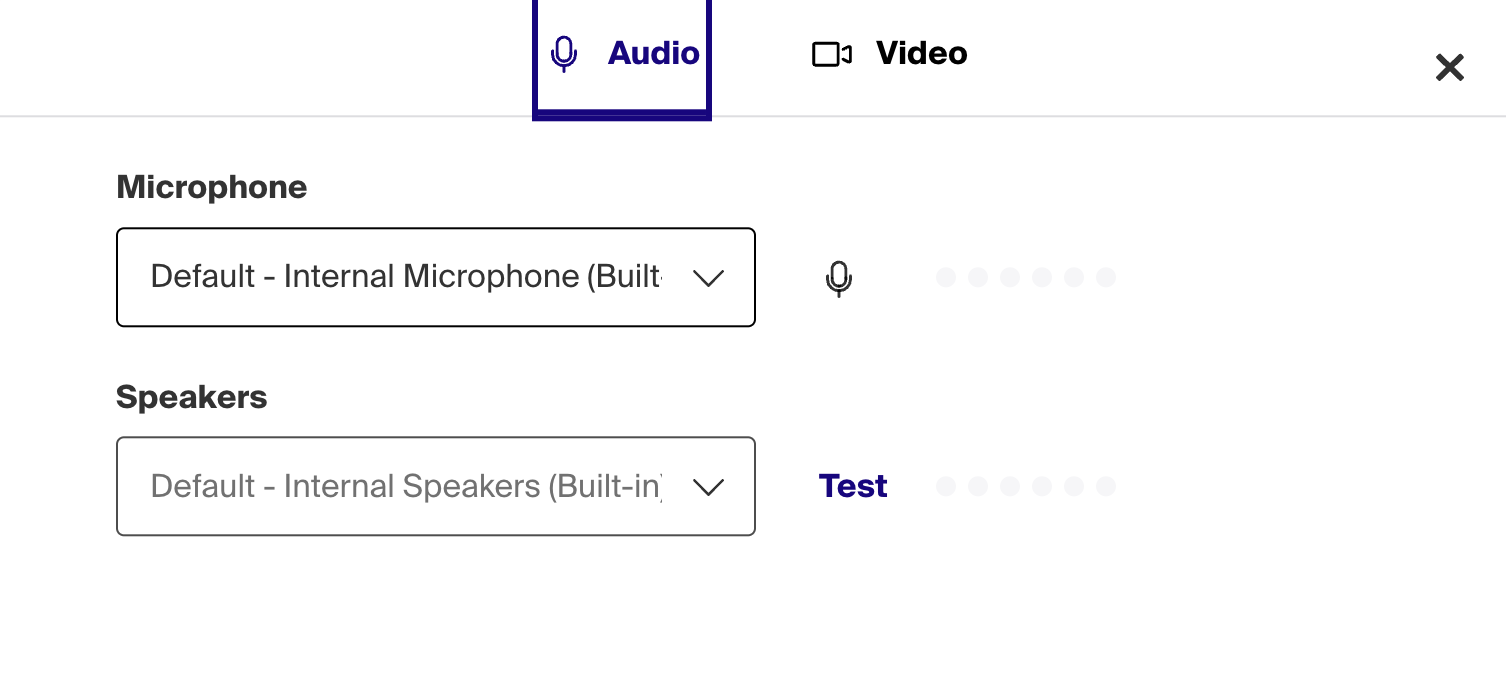 Video Settings
In the video settings tab, make sure the correct camera is selected from the dropdown menu.
A preview of the video is displayed if your video is already on in the join page or in the session. If your video is off, no preview is displayed.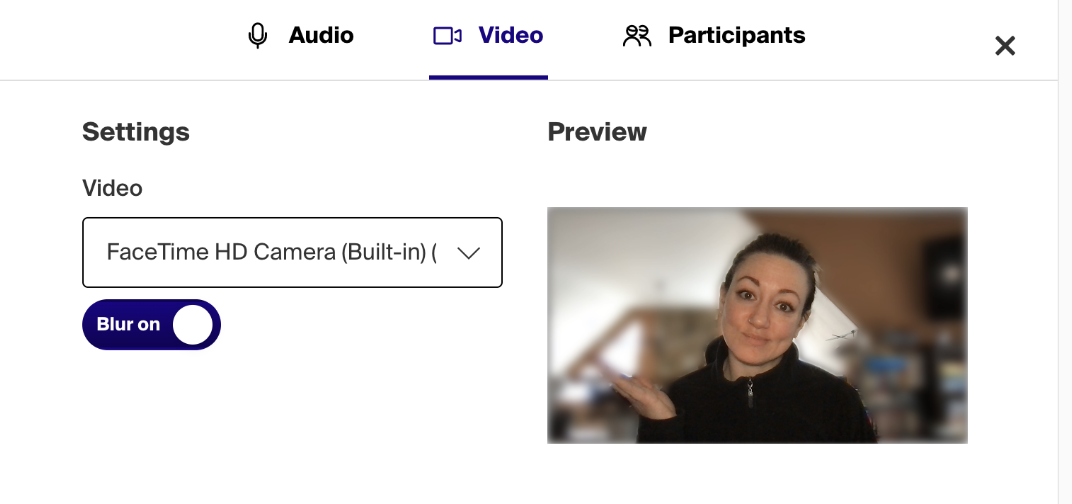 If you're using Chrome, a blurred background is on by default. If you'd like to display your normal background instead, you can toggle this setting off in the upper-right corner of the video preview.
Note: Blurry background also works on Edge, however, we recommend Chrome for the best experience with all of our features!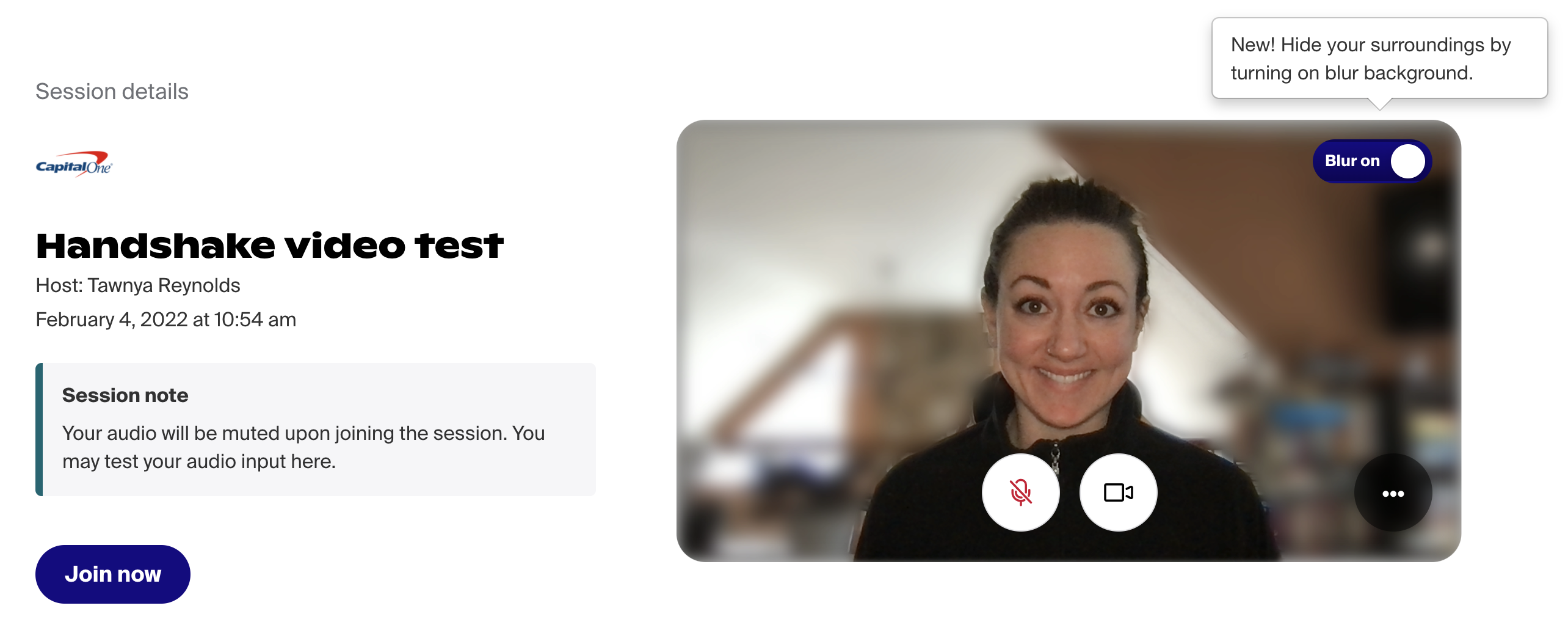 Screen share settings
To allow participants to share their screen, check the box next to "Allow participants to share their screen in the Participants tab. Leave the box unchecked to disable the function.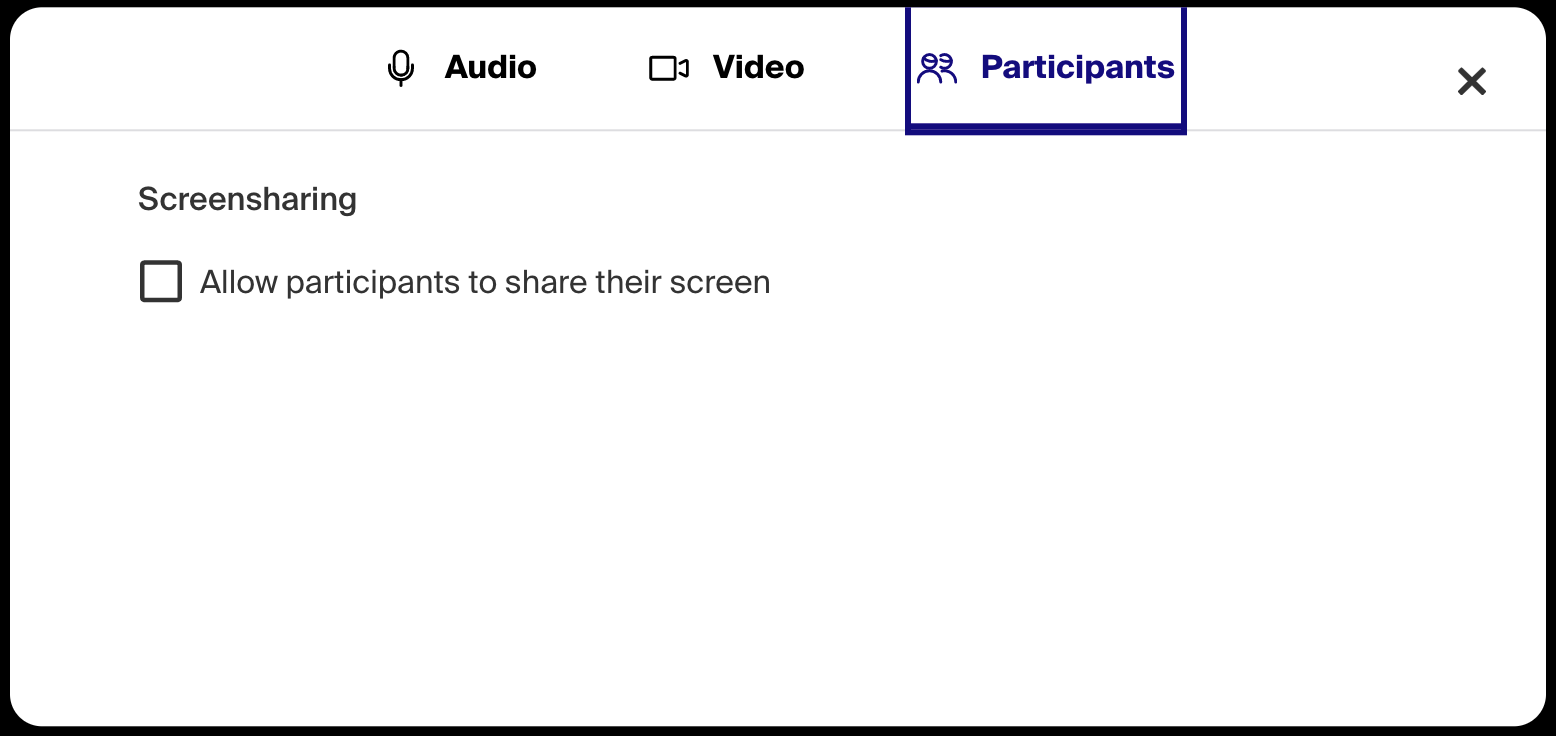 Once you're in the session, use the round buttons at the bottom of the screen to enable/disable your audio, video, or to start sharing your screen. Make sure the video, sound, and screen-share work for you and your colleagues.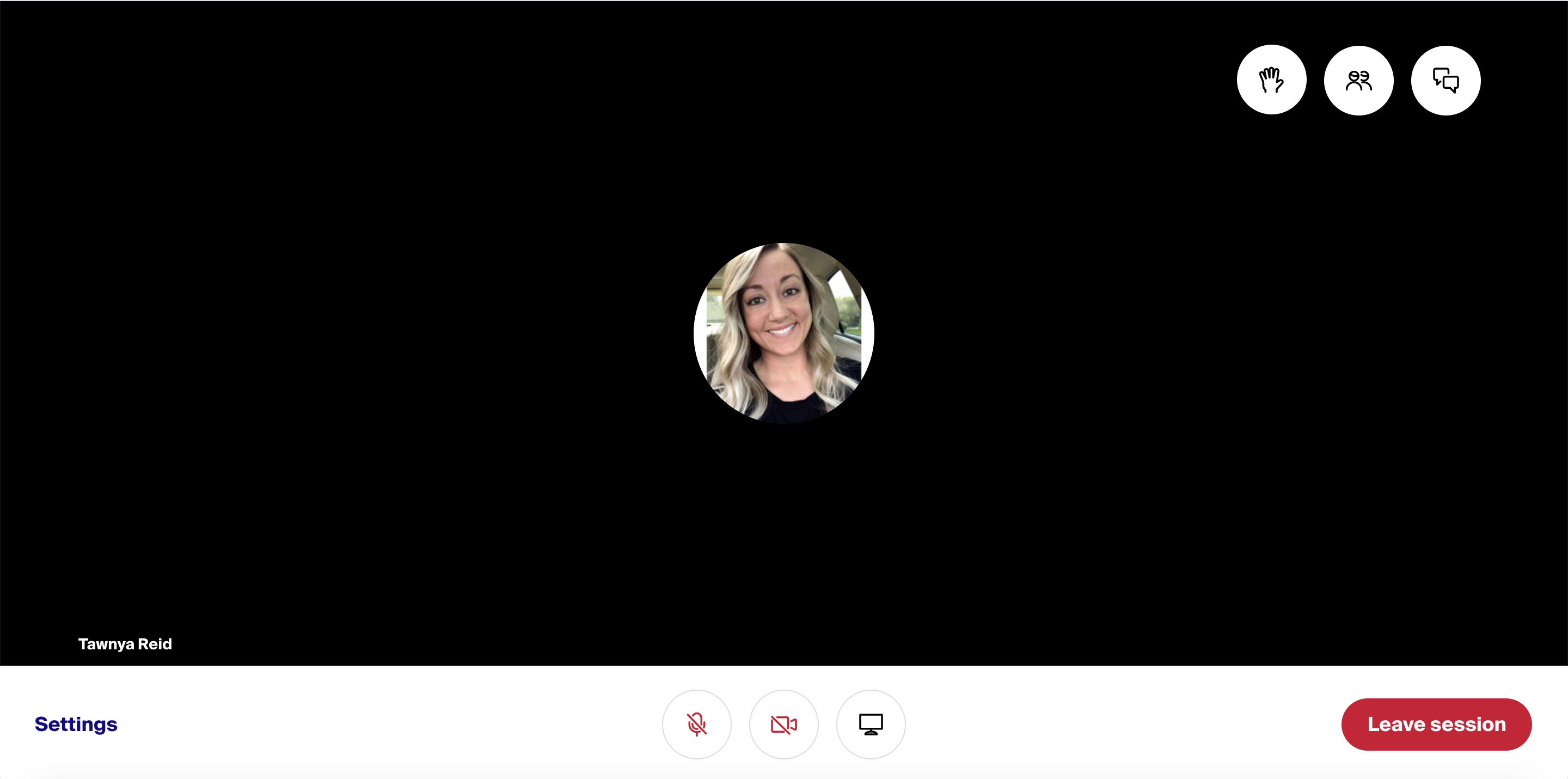 For more information on sharing your screen during a session, refer to Share Your Screen in a Video Session.
Once you've completed your test, refer to Hosting via Video on Handshake for a more thorough breakdown of all the available features!
If anything isn't working as expected
If there are any issues with hearing, seeing, or chatting with your colleagues, you should address these issues prior to the fair to ensure that your experience is as seamless as possible on the day of the fair. You may either try using another device, troubleshoot your current setup, or get in touch with your IT team. Your company's IT team will likely need to resolve firewall or permission issues in order for your device to work for the fair.


Please feel free to use the below template when reaching out to your company IT contact:
Hello,
My colleagues and I are joining a career fair hosted on Handshake on[X date.] We will be using a Handshake's virtual fair tool (hosted by Twilio) and it will be used by employers at our company and students at [Y University.]
We have tested this tool and it currently looks like there may be firewall or permission issues with our connection. Could you please review the requirements and troubleshooting in this article? Handshake also recommends ensuring that we've unblocked app.joinhandshake.co.uk for audio and video permissions within Chrome and Firefox.
Happy to set up another test once any updates are made.
For additional audio and video troubleshooting steps, refer to Hosts: Audio & Video Issues.