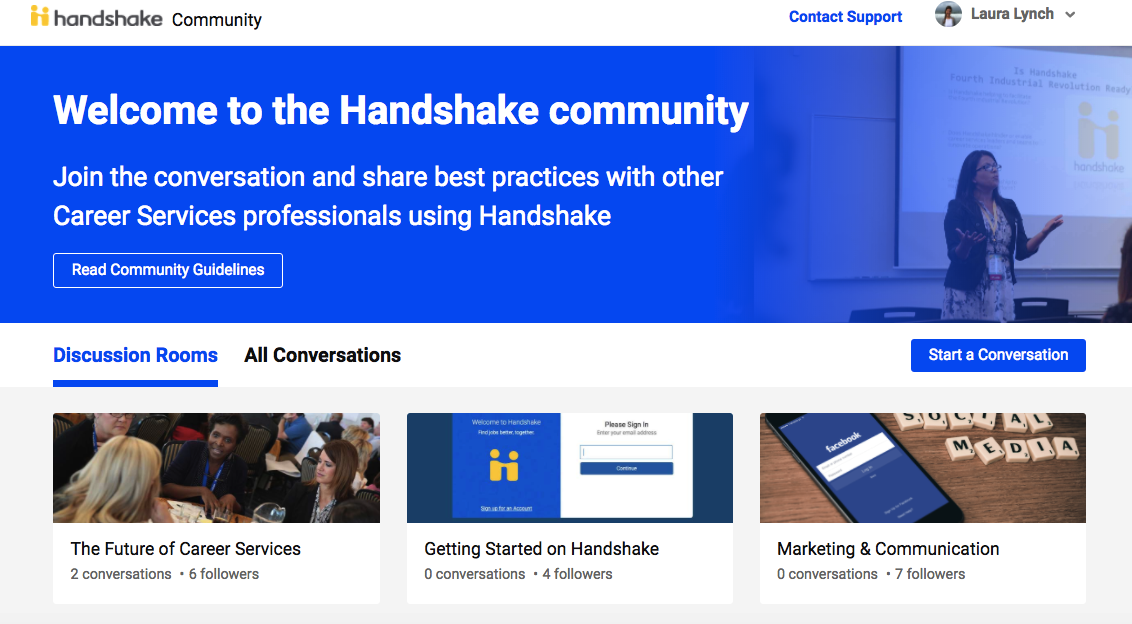 About
We're so excited to have you on the Handshake Community! Thank you for joining us in creating a space where schools can connect to share best practices and strategic initiatives and empower each other.
Policies
Identity
For privacy reasons, other career services users cannot see any information about you, except for your name. However, conversations are always better when we know who we're talking to, so when engaging in the Community, make sure to include your school name, your job title, and anything else you think might be relevant.
Content
In order to make sure we create a helpful and relevant space, we ask that you please use the Community to ask and answer questions pertaining to best practices and/or strategic knowledge sharing (i.e.: "What appointment types do other schools have?" or "What are some successful ways of marketing Handshake to students?").
If you have troubleshooting or product-specific questions (i.e.: "How do I set up payments?" or "Why am I getting an error message?"), please refer to our help center or submit a support ticket. In the interest of creating distinct value for universities on the Community, content that is troubleshooting- or product-oriented could be repurposed.
Handshake will monitor all posts but not comment on all of them. We'll chime in if a feature or workflow best practice needs to be confirmed or if there's a sensitive issue.
How-To
Join:
All career services users in Handshake have access to the community.  You can access the community through the help menu in Handshake.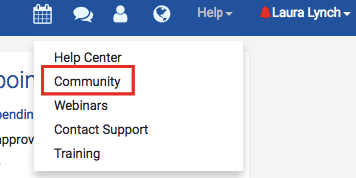 Set Notification Preferences:
In the Handshake community, you can manage which discussion rooms you get emails about.  You can subscribe to all new posts or all new posts and comments.  You can do this by clicking into a discussion room and clicking on "Follow" .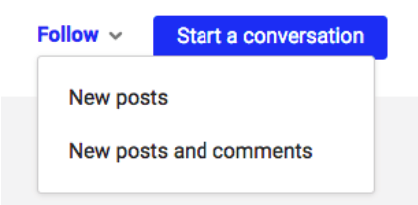 Create a Post:
You can create a new post by clicking "Start a conversation".  This will bring you to a form where you can create a post.  The post will ask you for a subject.  This subject should be used similar to email and be a general overview of what you want to start a conversation about.  There will also be a box where you can add more details, pictures, or links.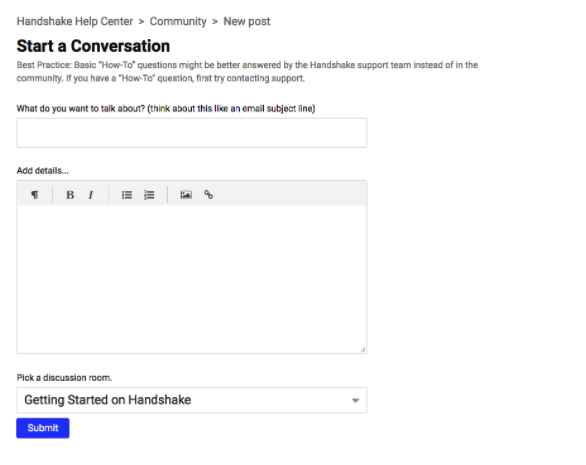 Respond to a Post:
To respond to a post in the community, you can click into the box below the post.  Once you click into this box you will see similar formatting options seen when creating a post.