On Handshake, you can easily download applicant resumes, often referred to as a 'resume book'.
To help manage your job applicants in Handshake, check out our Job Applicant Management Guide.
1. To access your applicants on Handshake, navigate to the relevant job or interview, then click the Applicants tab.
on a Job, the Applicants tab is to the right of Matches.
on an Interview, the Applicants tab is in the upper-right corner of the page.
2. Click to check the box next to any applicant name, then click Select all from the table header bar to check all Applicants.

3. Click on Download applicant packages (PDF) from the table header bar, or click More to download the packages as a CSV or Zip file.
Note: alternatively, you can also click the gray button Download all in the upper right corner of the page to download the applicant packages as a PDF file.

The file will either download to your computer immediately, or a popup will appear on the screen. If the popup appears:
Check the boxes for each type of document you'd like to include in your Applicant Package.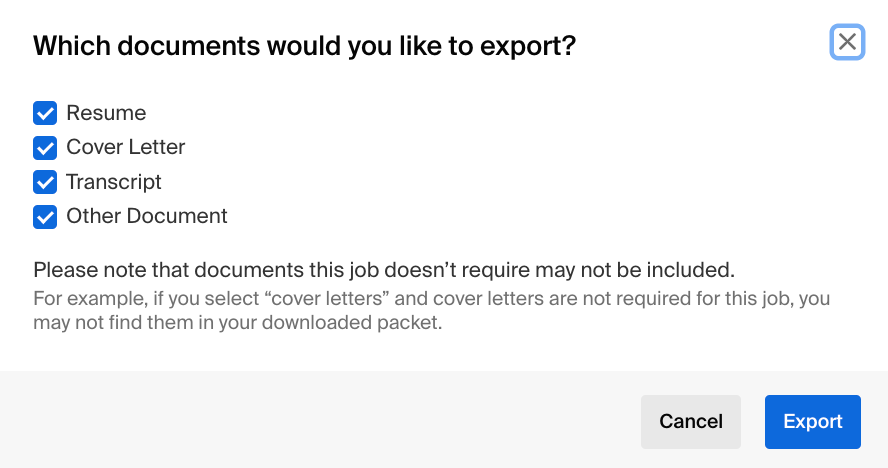 Next, click on the blue button Export to process the request. A confirmation will appear in the lower-right corner of the screen that reads "We are processing your request and will be emailing you a link to download the results."

The applicant package file is sent to the email address on your Handshake account. The email has the following details:
Subject: Handshake download: JOB TITLE Applications
From: Handshake <handshake@notifications.joinhandshake.com>
Content:
"Hello NAME,
The bulk download you recently requested has completed. You can access the file below.
Bulk Download
(blue hyperlinked)
File type and size
Thank you,
The Handshake Team"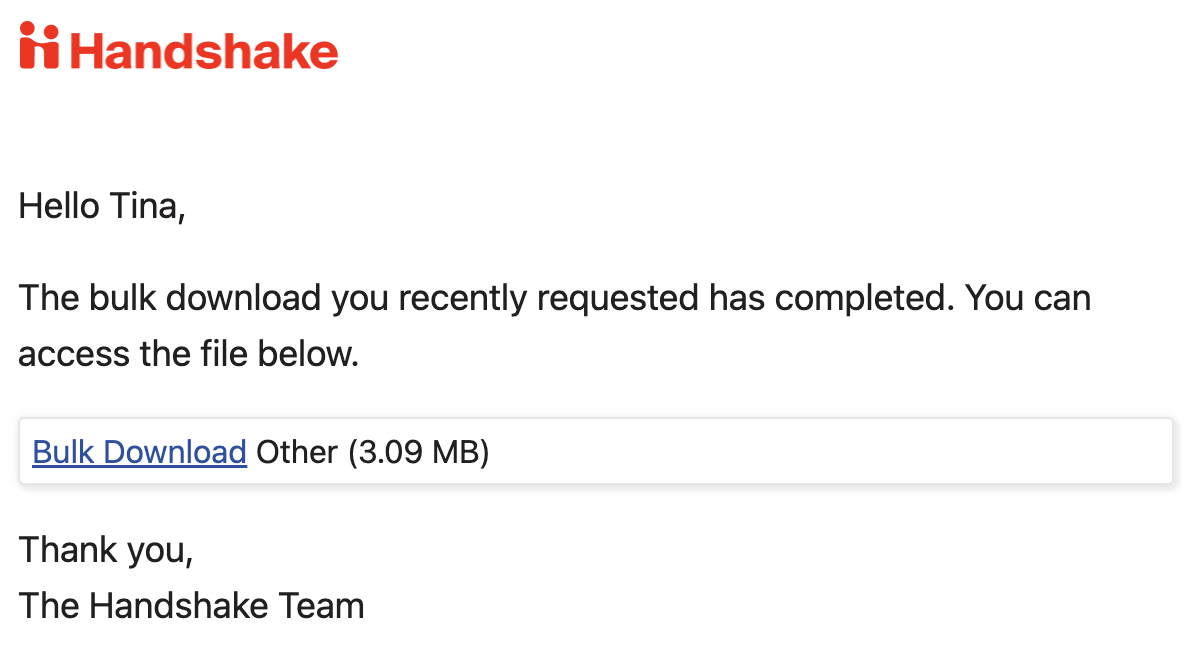 Application packages will include a cover page listing a student's name, email address, school, school year, and major sorted by last name. Learn more about Reviewing Applications in Handshake.