A First Destination Survey allows you to gain valuable insights into where your graduates are going after graduation. This data can be used to track trends in the job market, and identify emerging career opportunities.
To learn best practices for FDS use, check out Handshake's Guide to Using the First Destination Survey.
To access Handshake's First Destination tool, click First Destination on the left navigation bar, then click the blue button Create First Destination Survey in the upper-right corner of the page.
Click on the expandable headers to learn more about each step!
This section includes adding Key Dates and Details for the survey.
Key Dates
On the Key Dates tab, fill in the following fields, then click Next in the lower-right corner to move on:
Report Year: The year that you will be reporting on
Survey Name: Make sure your first destination survey has a descriptive name that you can refer back to when analyzing.

Note: you'll be able to set a different name for students to view on the next tab.

Graduation Groups: These are the different sets of graduating students that you will be sending the survey to. Refer to

First Destination Graduation Groups

for additional information.

Example: send two different invitation and reminder emails to spring undergraduates and graduate students.
Survey Details
The Survey Details tab is next to complete. Fill in the following fields:
Survey Name: How this survey appears to students in emails and questionnaires. This is helpful if they are added to multiple first destination surveys.
Survey Type: Choose from one of the four dropdown selections (click the link below to see standard questions for each type):
Is this survey mandatory?

(Check the box if mandatory) This is only used for reporting purposes and will not be reflected in the student experience. This field will help track how making a survey mandatory impacts response rates.
Salary Information Required

(Check the box if required) Leave the box u

nchecked to allow students to submit responses without salary and pay schedule information.

Disable Handshake Email Content? (Check the box to disable Handshake's content and enable fully-custom email content, with no Handshake default content besides a 'Take Survey Now' button.)
Include Handshake Incentive? Each August and December, Handshake will choose 10 students from participating schools to receive $250 Amazon gift cards. You may also specify custom incentives when setting up your emails.

Note: While the drawings are done in August and December, student emails will have a custom date that maps to your survey launch to ensure completion in a timely manner.

Send Recipient Emails?

(Check the box to enable Handshake reminder emails) If unchecked, all invitation and reminder emails will be disabled.
Minimum Graph data points: Students will see data compared to their classmates for their type of work and salary information, this will be the minimum responses necessary for students to see the information.
Sender Info: Invitations and reminder emails will appear to be sent from this person. Sender info can be further customized for each email.
Custom Questions: If you would like to ask additional questions on your first destination survey you can do so in a survey that you can attach here. You can also create a survey from this page if you have not yet added your additional questions in the surveys section.

Set Skip Logic based on outcome by clicking on "Use Skip Logic". Refer to Use Skip Logic in Your Additional Questions for FDS

for additional information.

Note: t

o avoid lengthy load times for students, it is recommended that your custom survey does not exceed 125 questions.

Advanced Options - Customize emails for each graduation group: If you are interested in setting custom invitation and reminder messages for each graduation group that you have setup please review the instructions in

Send Custom Invitation and Reminder Emails to Each Graduation Group.
Once you're ready to proceed, click the blue button Next.
This section includes finalizing a timeline for the survey to be sent, and adding custom messages to your emails.
Timeline
Review the Timeline and Emails section of the First Destination setup. Make sure to check each graduation group email invite and reminder dates using the drop-down.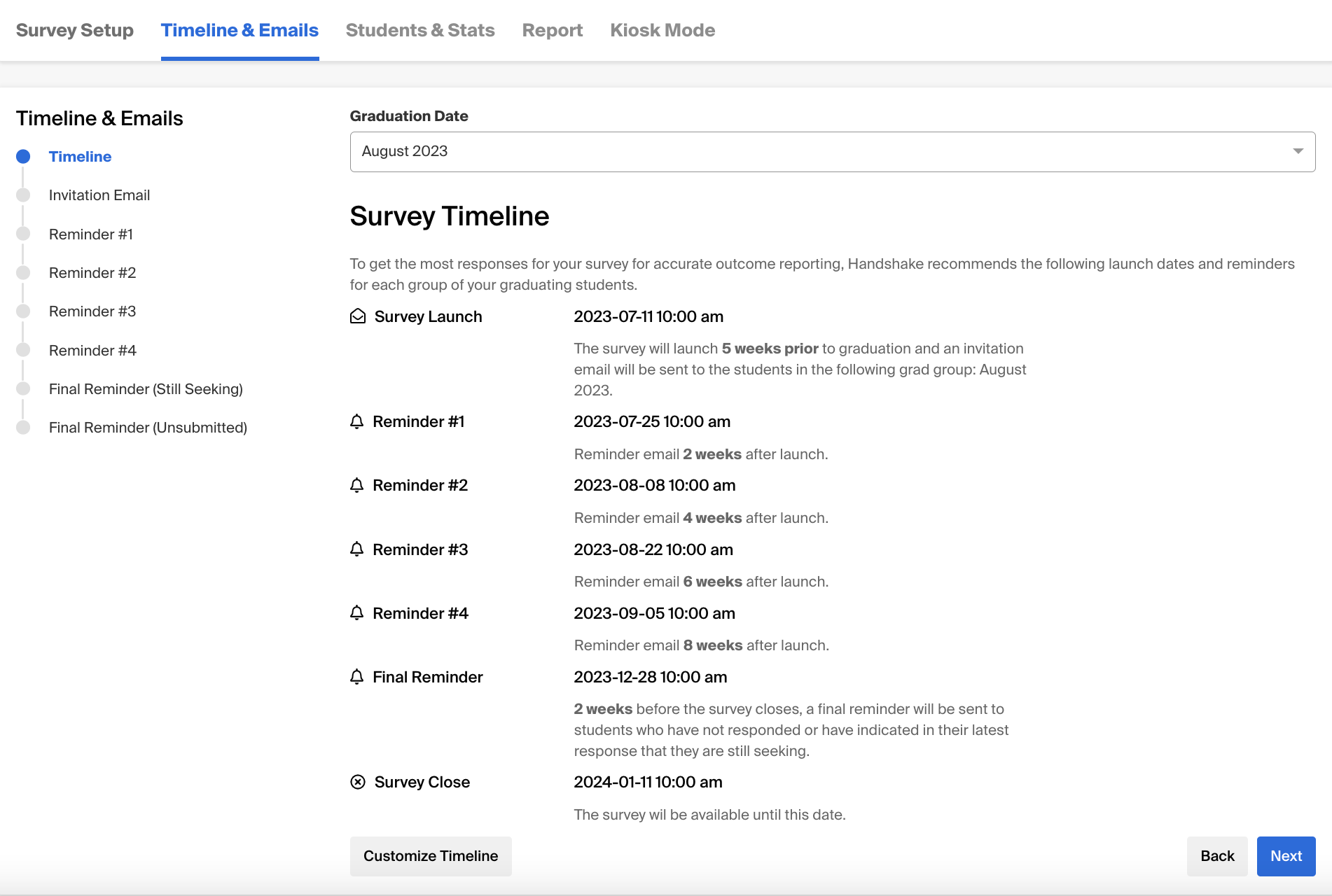 If you would like to change the dates of any of the emails, click Customize Timeline, then fill in the dates for each email.
Once you're ready to proceed, click the blue button Next.
Emails
Enter in your custom message for the Invitation Email, and then choose your default sender, or enter a custom one.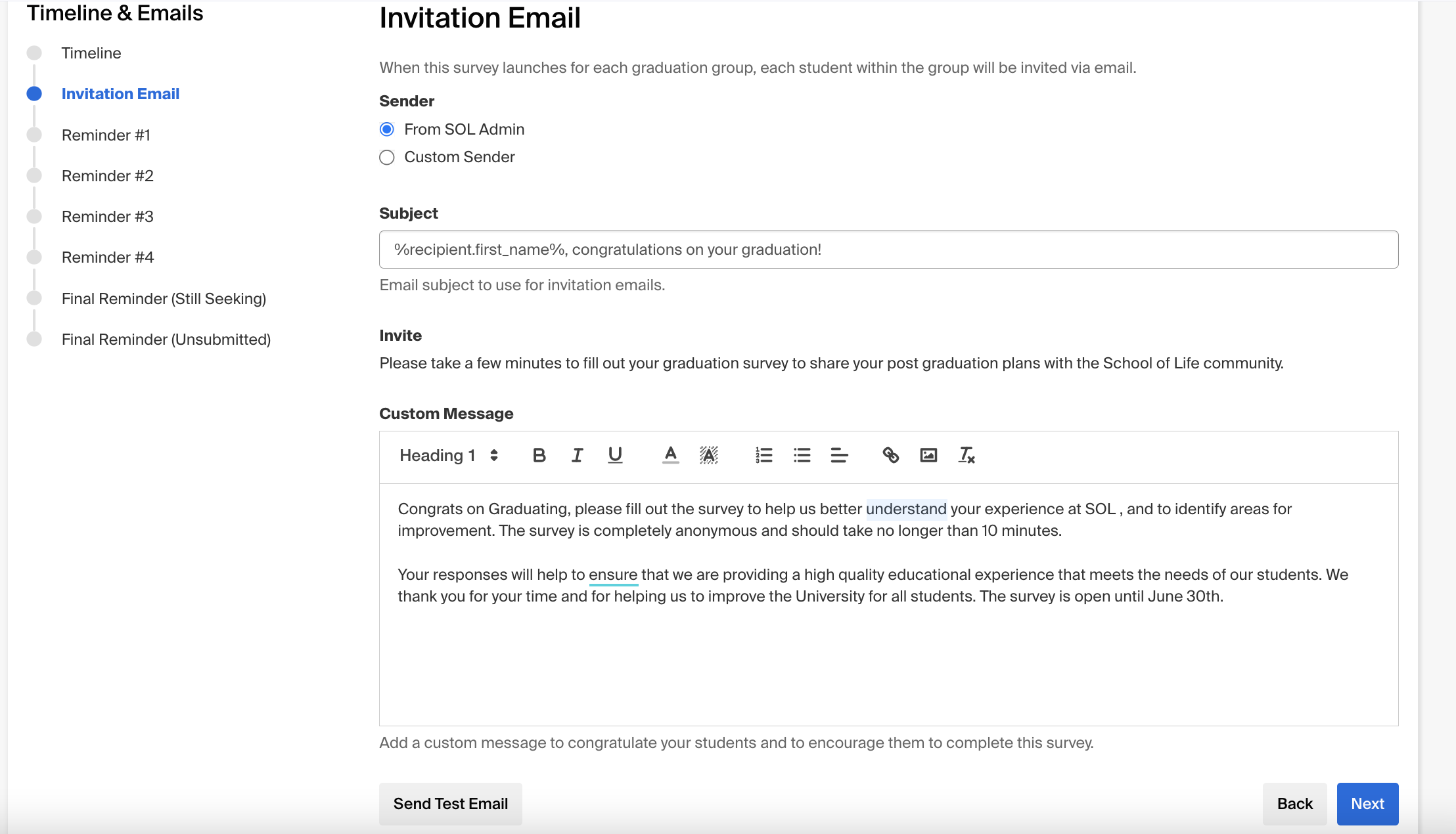 Repeat this step for each of the following reminder emails:
Reminder #1
Reminder #2
Reminder #3
Reminder #4
Final Reminder (Still Seeking)
Final Reminder (Unsubmitted)
Note: if you would like to view the email, click the gray button Send Test Email, located in the lower-left corner of the page.
If you choose to enable Handshake content, refer to First Destination Student Email Previews.
When you've finished customizing the emails as necessary for each graduation group, click Update in the lower-right corner.
This section includes adding students to your FDS (and to appropriate Graduation Groups).
Click the gray button Add Students located in the upper-right corner of the Students & Stats section, and in the bottom-middle of the page.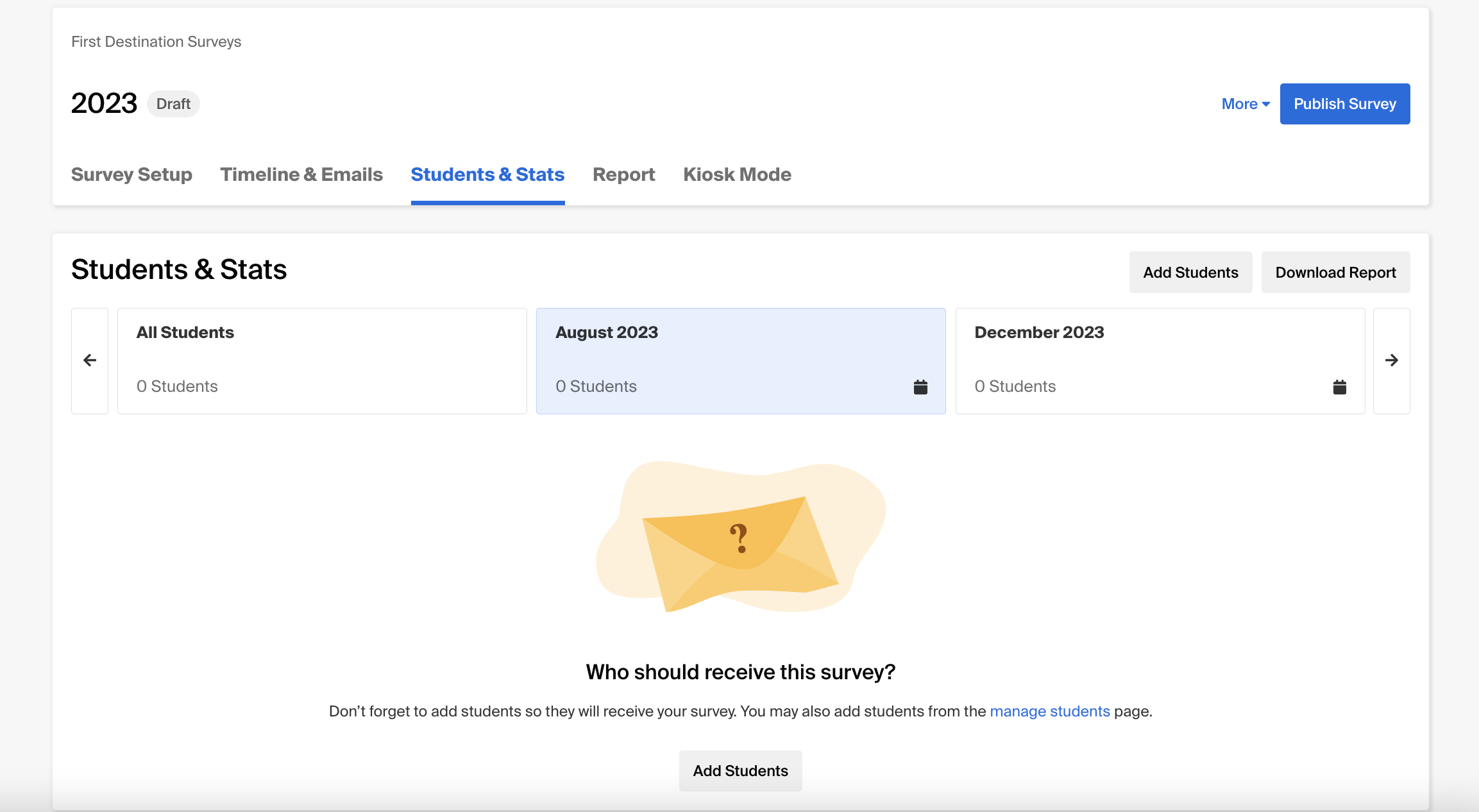 In the pop-up, choose a Graduation Group from the dropdown, then add the students email in the text box, located below Student emails - You can either type the emails individually or copy/paste them.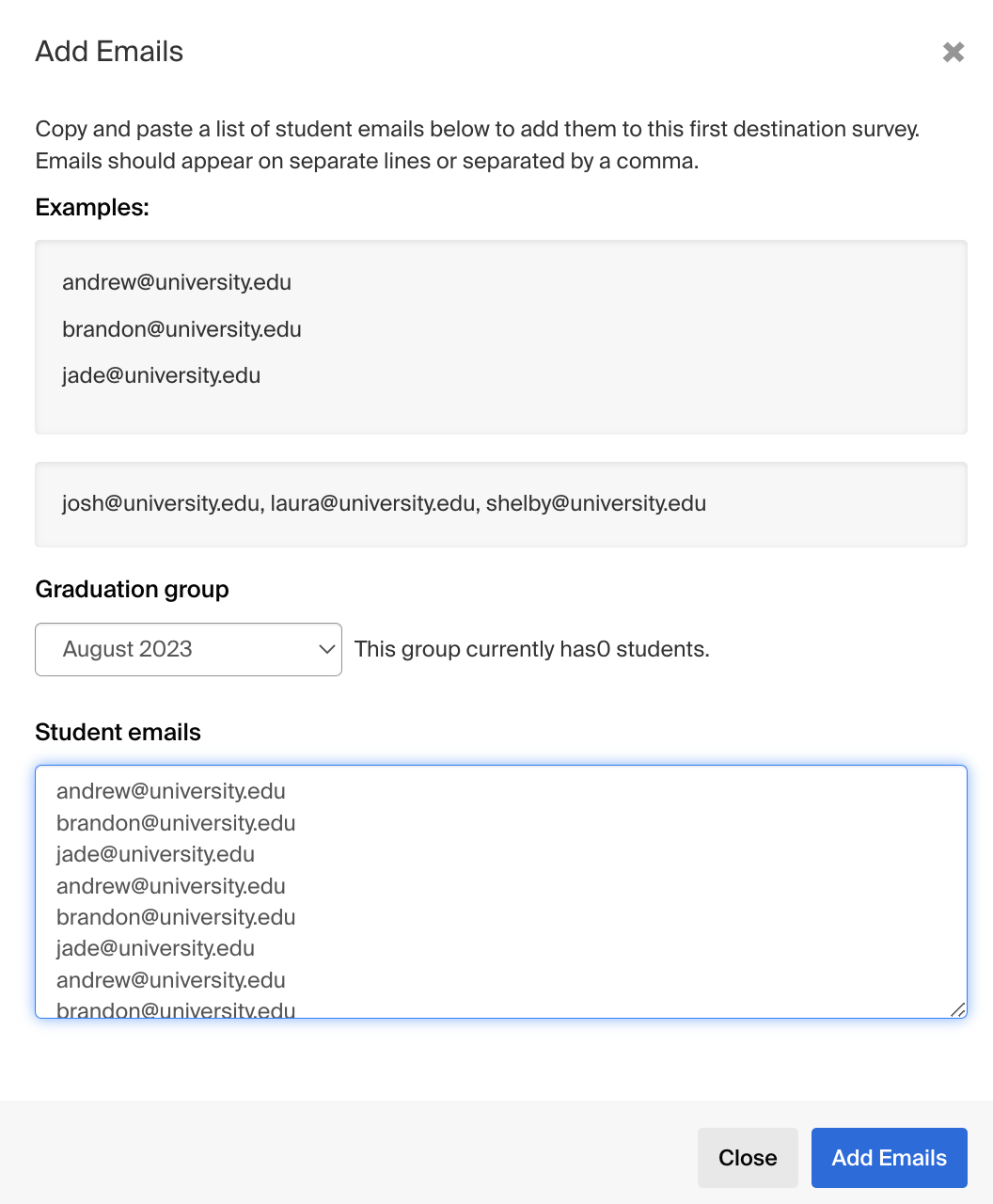 Note: you may also add students to the FDS via the Manage Students page. To do this, use the filters accordingly to narrow down your results (Example: Seniors or Graduation Date Range = May 1, 2023 - May 31, 2023), then put a check next to the students name. Click on the bulk action "More", and click on "Add to First Destination Survey". You'll need to select a survey and a graduation group, then confirm the addition.
Once all sections have been added to your survey, click the blue button Publish Survey in the upper-right corner of the page.
Important: once your survey is published, you cannot unpublish it.
After publishing, we recommend testing and confirming the functionality of the setup. For more information on testing your survey, refer to First Destination Survey (FDS) Testing Guide.
Once you are done with any testing, if you've selected to send recipient emails, you can simply wait for your invite and reminder emails to kick off for the graduation groups that you have added!