If you have Importer Access:
Format file (see below)

Upload to importer, selecting file-type "Labels"

Once the analysis completes, click "Submit and Request Run"
If you do not have Importer Access
Format file (see below)

Reach out to a coworker with importer access to have them upload the file, or complete this course and brief quiz on Talentlms to generate a request to be added to the importer so you can upload the file on your own (an importer invite will be sent within 24 hours, once reviewed and approved)


Example File: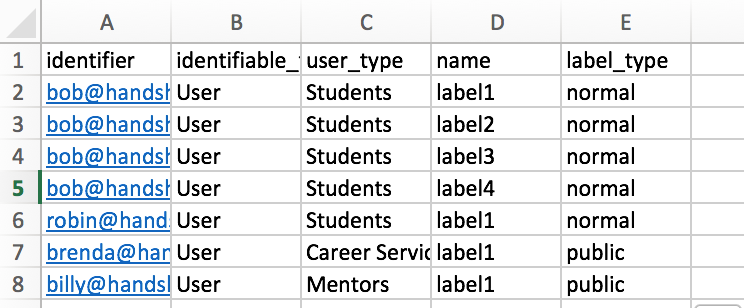 .CSV Formatting:
Fields in BOLD are the headers and ITALIC are predefined values; They are case sensitive and must match exactly, but the order of headers is not essential to successful import.
identifier

This is the student or contact's email address

This cannot be the username (unless the username is the email address)

If the account (email address) is not in Handshake, the label will fail to be applied

If uploading Employers, this is the Employer ID

identifiable_type
user_type

Students
Mentors
Career Services
Blank if you are uploading Contacts, Employers

name

This is the name of the label you want to use

Only one label per row is allowed
Optional Fields:
label_type

normal

Default

This is a private/institution-only label

public
Note: This is for NORMAL labels. For system labels, please reference the student syncs section.
Additional Resources: