To ensure the success for all University partners, we've updated our University Technical Support guidelines and resources.
Technical Documentation and Resources
Please refer to the Importer and IT Docs segments of our Help Center for information on SSO, Student Sync, Importer, associated errors, and best practices. Documentation includes our SSO setup guide, SAML/LDAP/CAS guides, and Student Sync Setup. Feel free to share these resources with your IT team as well.
If you would like to request access to our API, please submit your request here.
Note:
We will only allow API access to our Career Services partners at this time.
Our API is in an 'as-is' state at this time - meaning, no changes/updates will be made to the API in the near future (based on product requests, etc). If you are interested in learning more about how other institutions have utilized the API, you can post/share your thoughts and questions in our IT community forums here.

Our API IP Address is subject to change at any given time, so we do not recommend the use of an allowlist for unblocking specific IP addresses with our API.
Contacting Tech Support
If you need help after reviewing our materials, please visit our Contact Form and select the "Tech Support" Category when prompted and choose the subcategory that best fits your question. Here's a screenshot of what this looks like: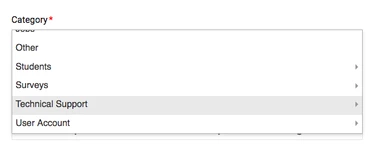 Tech Support Calls
If you'd like a call with your IT team, please take the following steps:
Use our Help Contact Form and select the "Tech Support" Category when prompted
In your submission please include the following details:

What actions have you taken and what was the result? Any specific error message(s)?
Is your issue preventing a launch?
Are there access issues or a major outage at your school?

Our Tech Support team will review and address your submission. If a call is appropriate for your question, they will provide a link to schedule a call.
If you need information on general processes, AWS credentials, or errors please refer to our documentation here.