All employers have the ability to request to host events with the various schools that are on Handshake. These events may be hosted at the school's campus, off-site, or virtually.
*Please note: Premium features are indicated with an * and are for Handshake Premium accounts only. For more information, please check out this resource.
Here's a walk-through on how to request events via Handshake!
1. Click on Events in the left navigation bar.
2. Click on the Request Event tab in the upper-right corner of the page.



3. Enter the required Event information into the following fields:
Event Name
Format

School-hosted: School-hosted: A school is booking space for this event. In other words, your event will take place on campus at the selected school.
Company-hosted: Company-hosted: Your company is hosting this event and booking space off-campus.
Virtually-hosted: Your company is holding this event virtually.


Web Host URL: This is where students will go to attend your event (e.g. a link to Zoom, YouTube, Bluejeans, or WebEx). Students will find this link where they would normally find the location of an in-person event.
Non-Handshake Registration URL: This is where students will register for your event if they are not registering in Handshake (e.g. a CRM, web form, or scheduling tool like calend.ly).
*Hosting Details: Handshake Premium partners with the Event Management module have the ability to host events using Handshake Video. These sessions have a participant limit of 50 total attendees.

If choosing to use Handshake Video, you'll need to select yes/no for Would you like to record this session?
Premium partners may choose to use the Virtual Event Check-In tool for all virtual events.
Premium partners may also choose if they want all students to access their event in Handshake. Select the Allow any Handshake student with a link to this event to view and RSVP option to make the event "public".

Note: the event will still need to be approved by the schools before students can discover the event.

School

For Core Employers, only one school per event created can be requested.

*Handshake Premium partners are able to select multiple schools or choose

a School List, if you're hosting an event for a group of schools, like HBCUs. For more information on creating School Lists, refer to

How to Use School Lists

.

TIP: If you aren't seeing the desired school listed, make sure you've added the school to your Favorite's list - if you're approved to post events at the school, but it's not on your Favorites, you won't be able to select the school!

Contact

If there is a dedicated employee at your company who should be the point person for this event, select their name.

Multiple contacts may be added here. The user creating the event will be auto-added as the initial contact.

If you need to add a contact that is not yet added to your company in Handshake, we recommend clicking on Contacts in the left navigation bar to create a new contact.

Type


A type does not need to be selected if opting for a company-hosted or virtually-hosted event.

Start & End Dates


We recommend clicking on the small calendar icon to easily select the desired start and end dates for your event.

Time Zone
Registration Limit:
Branding Image

Whichever logo your company profile currently has on Handshake will be automatically added here. However, you may change the branding image by clicking on the small pencil icon towards the right corner of the image. For sizing information, refer to our Employer Logo & Banner Guide.

Description
*Featured People: Handshake Premium partners may choose to a

dd information (Name, Title, Bio, Short Description, Photo) about speakers or special guests. Will appear with Description.
4. Click Save in the lower-right corner to save and request your event!
Once your Event has been created:
You will be brought directly to the Overview page of your event.


Here you can view the general event information including: date, time, location, description, activity and comments.
You can also view a quick snapshot of your RSVPs in the box towards the right of the Overview page.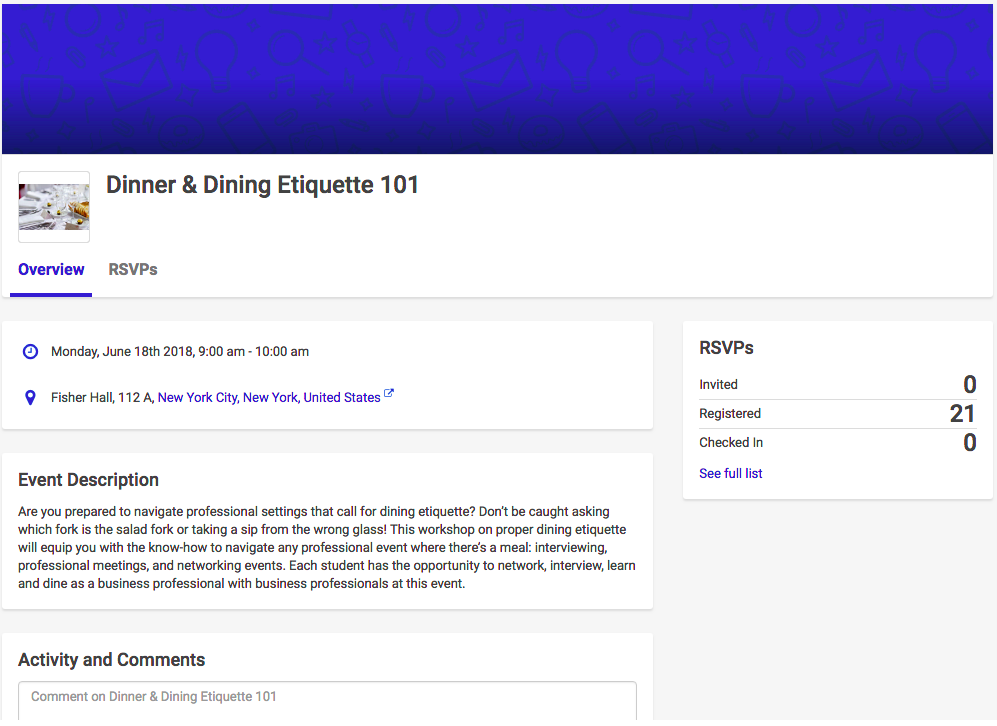 Tab over to the RSVPs tab to view any students that have RSVPd to your event.

Utilize the filters toward the left of this page to organize and sort your event RSVPs.
Read more on how to message your RSVPs directly in Handshake in How to Access and Message Event RSVPs.
If your company has any active job postings, and the requested event is less than 60 days away, the event will be promoted on all job postings at the schools that approve the event.