If you encounter an employer that elicits concern, you can alert our Trust and Safety team by flagging the employer in Handshake.
Employers won't be notified that a flag has been submitted for review. In the event a job or specific user is suspended as a result of the review, a notification will be shared with the employer, alerting them to the suspension due to a Terms of Service violation, with details on the violation.
Click on the expandable headers to learn more.
Employers can be flagged two ways on Handshake:
The Employers Company Profile: click Flag this Employer for abuse

, located in the lower-right corner of the page.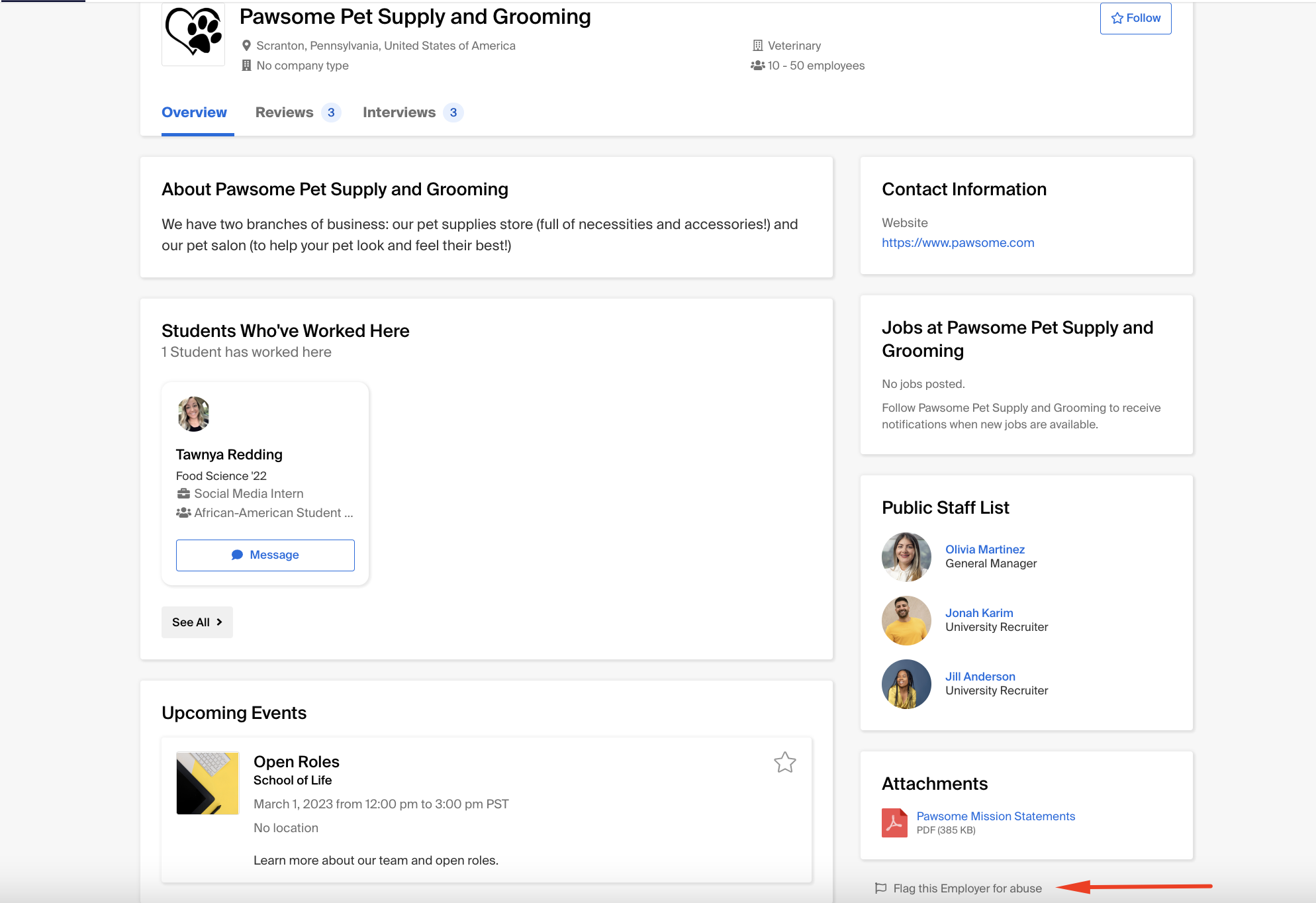 The employers Job Posting: scroll to the bottom of the page, then click Flag this Employer for abuse, located below the Reviews.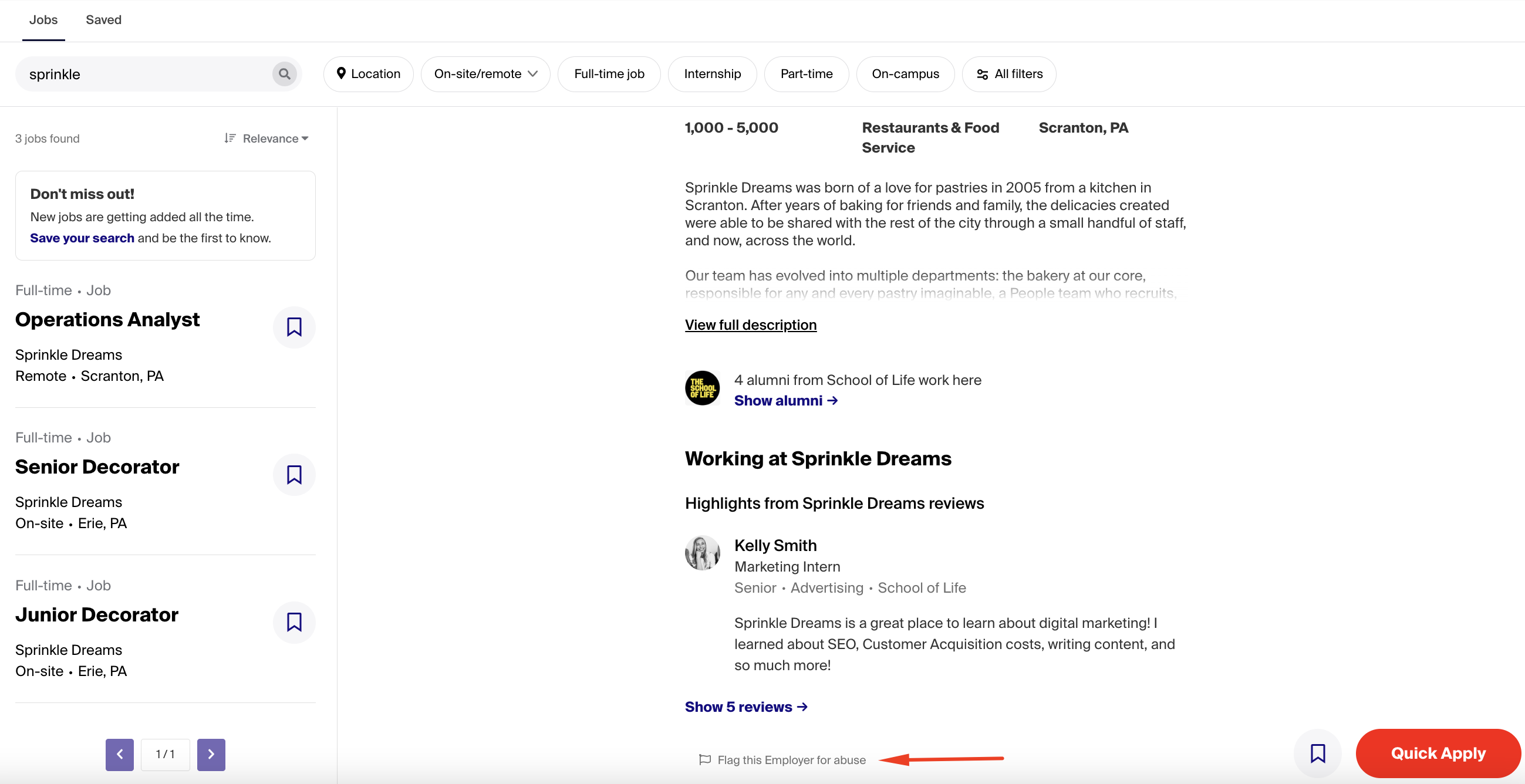 In the popup that appears, choose all the reasons that apply:
Fraudulent or fake employer

Ex: this employer or job is fake or misrepresenting itself

Scam, phishing or malware

Ex: this employer or job is a scam, asking for private personal information or posting suspicious links

Promotional or advertising

Ex: this employer or job is for something other than hiring

Discriminatory practices

Ex: this employer is discriminating against me

Offensive, abusive or harmful conduct

Ex: this employer offers a negative hiring experience, abusive work environment or is harassing students

Exploitative, unethical or illegal practices

Ex: this employer is operating in an illegal or unethical manner

Adult content

Ex: this employer or job post promotes nudity, sexual scenes and/or adult language
Below the reasons, complete the following fields as appropriate:
Flagging a specific job? select below (optional)

select a specific job posting from the dropdown (if relevant to the flag)

Note: this field is only available if you flag an employer via their company profile.

Please describe the situation below

add all relevant details pertaining to the flag to help our Trust and Safety team review

Are you OK with Handshake sharing your information with your career center so they can support in the investigation? Handshake will never share your information with a flagged employer. (required) (dropdown, select Yes or No)
Click the blue button Submit Flag in the lower-left corner to send the flag to our Trust and Safety team.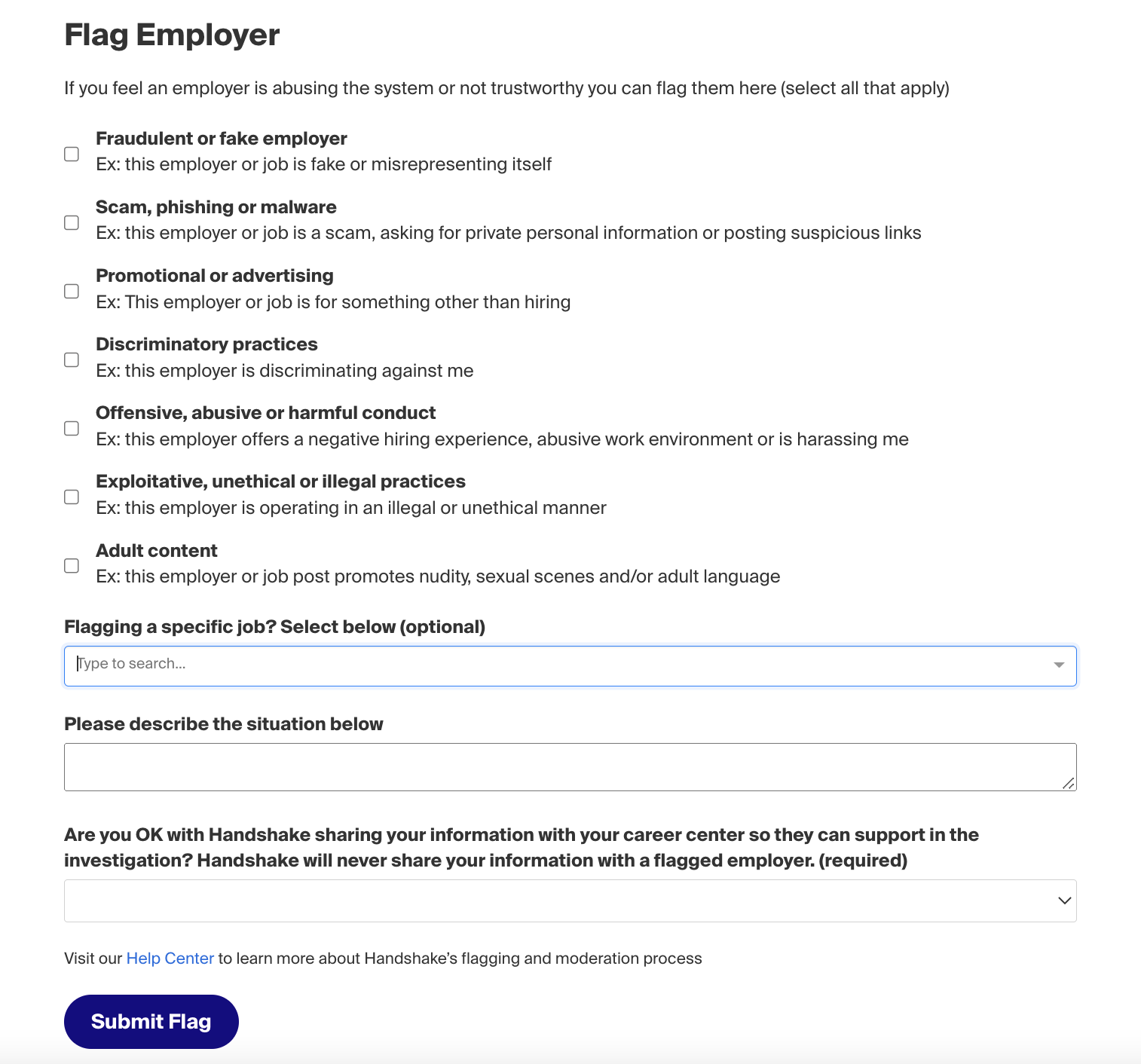 Review and moderation process
Once a flag is submitted, our Trust and Safety team will begin the review within an hour up to 1-2 business days max. This exact timeframe varies based on the severity of the allegations and if the flag is submitted during our business hours (5am-5pm PST).
In the event a job is removed due to a Terms of Service violation, any students that applied to that job in Handshake will receive a notification of the removal with details including the job title, the company, and resources you can use to stay safe and protect your information.
Email body: "Hello [RECIPIENT NAME]
A job you applied to has been removed for a violation of our Terms of Service. The job posting is no longer accessible at this time.
As always, remember to safeguard your personal information and please report any suspicious or concerning activity. If you believe your personal information has been compromised for any reason, here are a few steps you should immediately take. Our dedicated team of Trust and Safety experts work around the clock to keep Handshake the safest place for students and alumni to connect.
Job Posting Removed: [JOB TITLE]
Associated Employer: [EMPLOYER NAME]"