Student profiles are automatically set to private. Students must opt-in for the profile to be seen by employers that are approved by their university. Additionally, those with private profiles will not be seen in employer searches. Students can use most features of Handshake, including applying to jobs and scheduling appointments, without making their profile public.
Note: Virtual fair sessions may require an update to student privacy settings. We recommend using Community to make the most of your Handshake experience!
Group sessions will need the Community privacy option, as both employers and other students will be participating in these sessions. Virtual fairs mimic the in-person fair experience by students being able to see participant names in the group session and the speaker's video (employer host or student speaking on audio with video enabled).

If students have selected Community, then no further action is needed to participate in 1:1 sessions.
If students prefer to not be visible to other students/alumni, and will not be attending group sessions, then they may select the Employers privacy option. These sessions are limited to one employer representative and one student.
When a student first creates a Handshake account, they can choose to make their profile visible to Community, to Employers only, or private, and they can change their profile visibility settings at any time through their User Dashboard.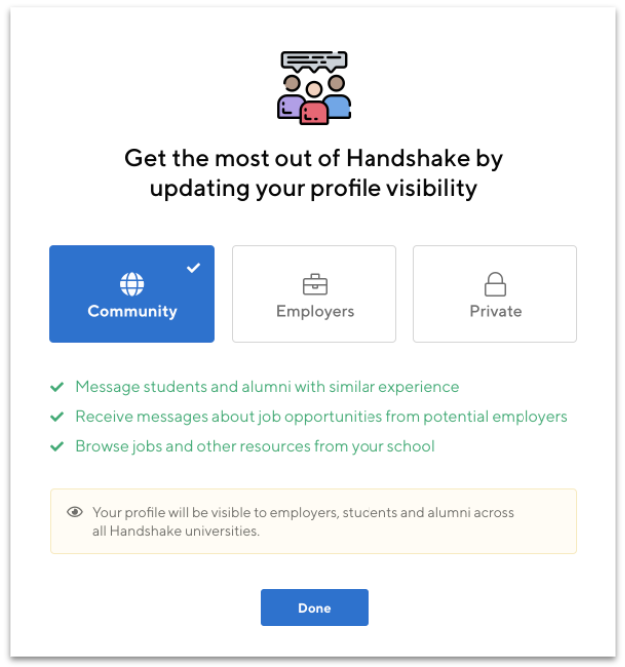 Community: This option will give you access to Peer Messaging! Choosing Community will make you visible to other students and alumni across all Handshake schools, as well as to employers approved by your school. This will allow students to participate in all sessions at virtual fairs.
Employers: This option will make you visible to employers approved by your school. You will not have access to Peer Messaging. This will allow students to participate in 1:1 sessions with employers at virtual fairs.
Private: Choosing this option means that you are not visible to other students, alumni, or employers. You still have access to Handshake jobs and to other resources provided by your school.
If a student wants to sign up for a virtual fair session and needs to update the privacy setting, this prompt will appear: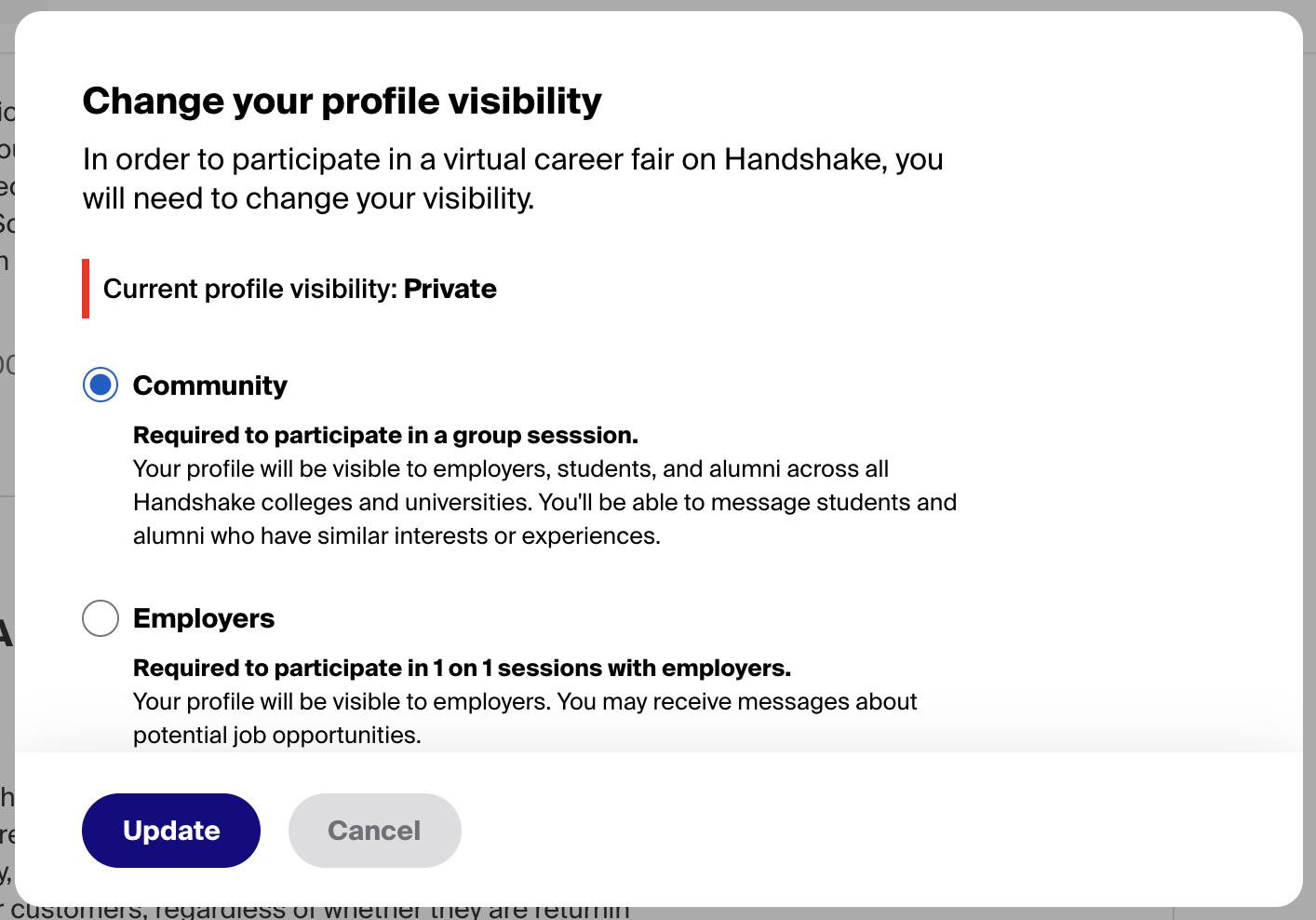 Student GPA is never public unless the student expressly opts-in to make it public. If a student does choose to make their GPA public, this information is visible to employers only. Other students or alumni will not be able to view other students' GPA's, even if the GPA's are visible by employers.
If a student would like to increase their visibility to employers, they should fill out their profile completely, and also make it public (and thus viewable to employers). This way, university-approved employers can search and contact students that have made their profile public.
For steps on how to update your settings, please refer to How to Change Your Student Profile Privacy Setting.