When employers begin registering for your fair, we recommend processing your approvals as soon as possible. 
For Virtual Fairs, the sooner the registration is approved, the sooner the employer may begin building their schedule! 
To approve employer registrations, follow the steps outlines below. 
1. Click Fairs from the left navigation bar, then click the name of the fair from the list. 
2. Click View Employers from the fairs overview page.  

3. All registered employers will be listed with the registration status, located to the right of their name. 
Tip: if you have multiple registrations to process, click the filter Status, then select Pending to only view pending registrations!

Employers that have not yet been approved to recruit at your school can register for your school- hosted fairs.
If an employer has either not requested to connect or their request is pending, there'll be a warning indicator next to the employer name. Hover your mouse over the warning indicator for the message "This employer has not been approved".



Employers attending a virtual fair must be approved at your school to view student RSVPs within their schedule. If the employer isn't approved at your school, they'll be unable to view students that have RSVP'd to their sessions, therefore unable to download public resumes, send followup messages, or allow students to apply to an active job. 
Note: if you decline an employer, this will cancel any existing career fair registration regardless of status. 
4. There are two ways to process the registration approval: 
From the registration list 
Directly on the registration 
From the registration list
Locate the employer you'd like to approve, click the three hashmarks located to the far right. Click Approve from the options.
For in-person fairs or virtual fairs hosted externally, you won't have access to the columns for Schedule Representatives, Group Sessions, 1:1 Sessions Filled, or Required Preferences.

Directly on the registration
On the employer registration page, click Edit in the upper-right corner. Scroll down partway to the Basic Information section, then click the radio button for Approved.
To save the update, click the blue button Update Registration in the lower-right corner of the page.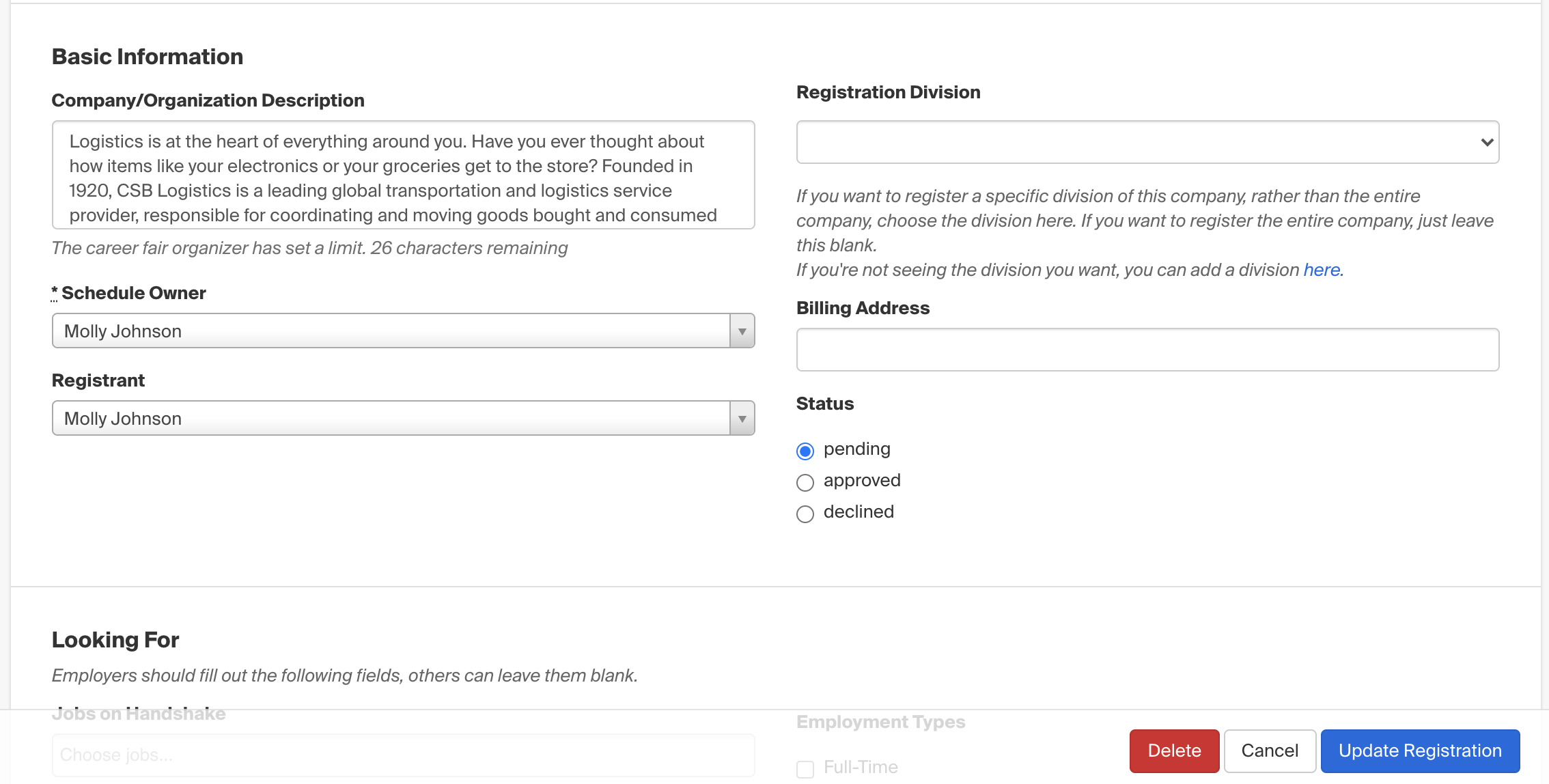 5. Once the registration has been approved, you may generate and send an invoice for the registration. Check out How to Send an Invoice for sending an invoice from the registration or How to Send an Invoice to Multiple Registrants for sending via a bulk action. 
If the fair is virtual and facilitated in Handshake, the Schedule Owner will receive an email alert to set their company schedule.
If the fair is hosted in-person or if it is virtual and facilitated outside of Handshake, students will be able to view the company name in the list of employers attending the fair.