To prepare for a session with integrated video on Handshake, make sure you review the requirements in this resource and adjust your setup as needed. After, you can test your setup using our Handshake Video Test.
Minimum system configuration and setting requirements
An internet connection — broadband wired or wireless (3G or 4G/LTE).
Speakers and a microphone – built-in, USB plug-in or wireless Bluetooth.
**Optional, but required if you'd like to use video: A webcam or HD webcam — built-in or USB plug-in.

Tip: if you're using a webcam that isn't built in to your device, make sure any additional permissions/settings are configured before your scheduled virtual session.

Desktop or laptop computer — mobile devices (smart phones and tablets, e.g. iPads) are only supported for students using our mobile app on iOS and Android.
Modern desktop web browser which supports WebRTC — make sure pop-ups are allowed in the browser.

We support the latest versions of:

Chrome
Safari

Note: Safari users can only share the full screen and can't select individual apps/browser windows.

Firefox
MS Edge

Note: older, non-Chromium versions of Microsoft Edge (versions less than 79) do not support screen sharing capabilities.

The security and privacy settings of each browser may require you to grant Handshake permission to use your microphone and camera.
Note: Hosts may be able to launch sessions via mobile web (via a smart phone or tablet, e.g. iPad) successfully; however, this isn't officially supported by Handshake and has several limitations:
Hosts are unable to share their screen on any mobile web access.
As Apple doesn't allow third party browsers access to the device's camera or microphone, hosts on iOS devices will only be able to use Safari.
Any browser on an Android device should be able to access the camera and microphone.
Required firewall and network settings
These domains should be unblocked:
app.joinhandshake.com
joinhandshake.com
*googleusercontent.com
Browsers must communicate with Twilio's cloud, in addition to the standard Handshake domains. The following hosts, ports/protocols and IP ranges are required:
Host Name / IP Range

Port and Protocol

global.vss.twilio.com

443 WSS

us1.vss.twilio.com

443 WSS

us2.vss.twilio.com

443 WSS

ie1.vss.twilio.com (UK)

443 WSS

global.vss.twilio.com

443 WSS

34.203.254.0 - 34.203.254.255

54.172.60.0 - 54.172.61.255

34.203.250.0 - 34.203.251.255

3.235.111.128 - 3.235.111.255

10,000 - 60,000 UDP/SRTP/SRTCP

34.216.110.128 - 34.216.110.159

54.244.51.0 - 54.244.51.255

44.234.69.0 - 44.234.69.127

10,000 - 60,000 UDP/SRTP/SRTCP

(UK)

52.215.253.0 - 52.215.253.63

54.171.127.192 - 54.171.127.255

52.215.127.0 - 52.215.127.255

3.249.63.128 - 3.249.63.255

10,000 - 60,000 UDP/SRTP/SRTCP
Additionally, browsers should be able to connect to the services at the following hostnames:
sdkgw.us1.twilio.com (WSS/443)

endpoint.twilio.com

mobile-endpoint.twilio.com
Windows 10 camera and microphone setting requirements
Windows has its own privacy settings for microphone & camera that are independent of the browser. Usually, this is turned off by default.
Note: you'll need to have administrator access to the computer to adjust these settings.
There are two settings pages:
Settings > Privacy > Microphone
Settings > Privacy > Camera
Both pages have two toggles:
Allow apps to use my microphone/camera (used for built-in Microsoft apps from their app store)
Allow desktop apps to use my microphone/camera (used for things like browsers and Zoom)
The second toggle (for desktop apps) can only be enabled if the first is enabled, so be sure to turn both toggles on to allow your browser to access their mic and camera.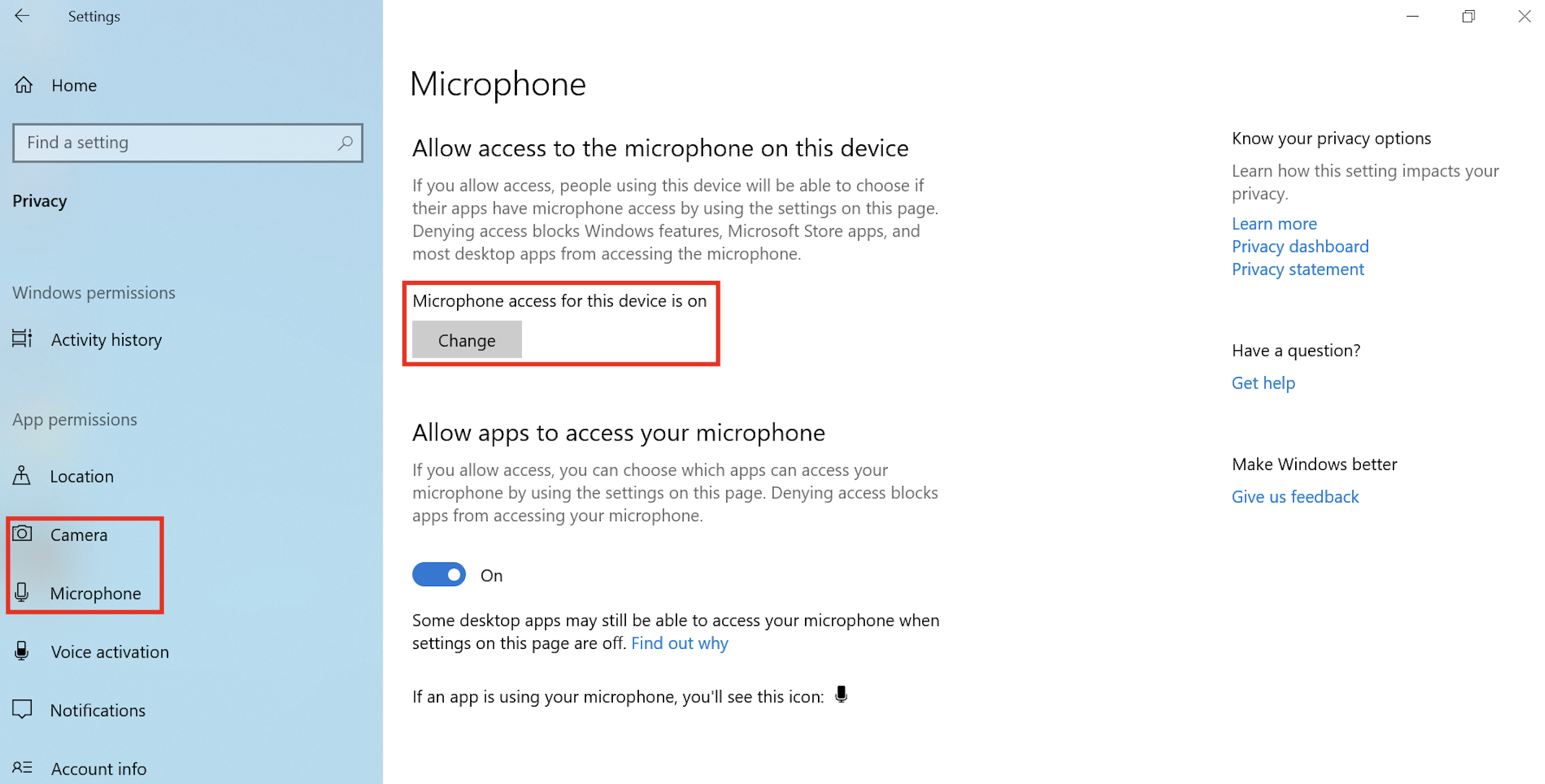 Learn how to Share Your Screen in a Video Session.