Handshake's flagging system gives higher education partners the ability to alert our Trust and Safety team of any fraud or abuse regarding a company, user, or job posting in Handshake. 
Once a flag is submitted, it will remain in a pending status while our Trust and Safety team reviews it. Employers found to be in violation of our terms of service may have their company fully suspended, or individual users and/or jobs may be suspended. Our team will notify the user that placed the flag, as well as any other users impacted.
In the event of a suspension of a job, user, or the employer, our team will send notifications in Handshake and via email to impacted institutions. 
Note: if an employer or job is not a fit for your institution due to moral, ethical or legal reasons, please use our employer or job decline reasons to highlight the lack of fit. Please refer to the following articles for more information: Processing Employer Approval Requests, Employer Tags, Processing Job Posting Requests, Using Job Decline Reasons
Topics:
Flagging an employer or job
1. Click the blue button Flag this Employer, located on the left of the page when viewing a company profile or a job posting.
On a job posting, the button is in the Actions menu: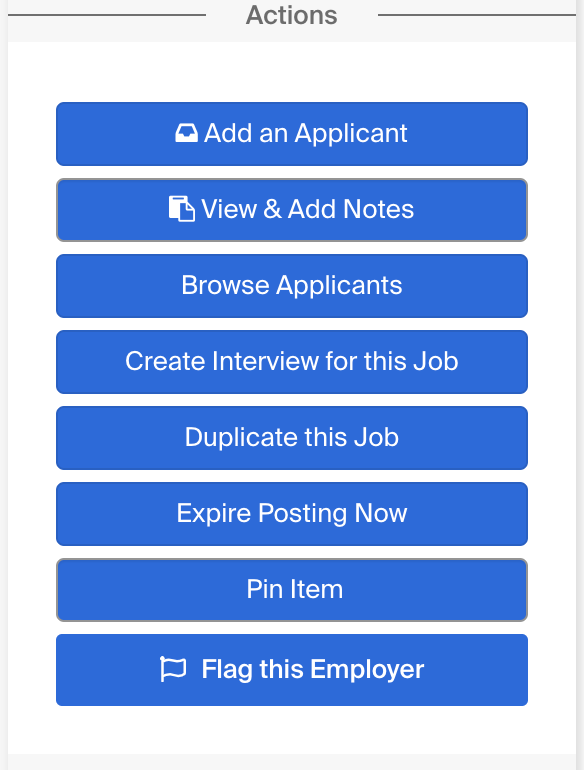 On a company profile, the button is under the contact information: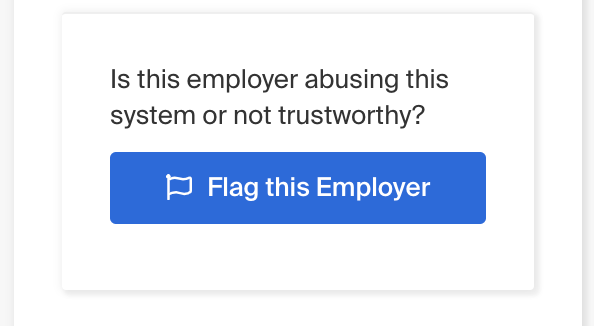 2. In the pop-up that appears, you can select a flag reason, specific job and/or user, add additional comments, and if the employer is approved at your institution, you can choose to revoke the approval.
Choose the best representation of concerns (select all that apply):

Fraudulent or fake employer


Ex: this employer or job is fake or misrepresenting itself

Scam, phishing or malware


Ex: this employer or job is a scam, asking for private personal information or posting suspicious links

Promotional or advertising


Ex: this employer or job is for something other than hiring

Discriminatory practices


Ex: this employer is discriminating against certain students

Exploitative, unethical or illegal practices


Ex: this employer has been charged with a crime

Adult content


Ex: this employer or job post promotes nudity, sexual scenes and/or adult language

Offensive, abusive or harmful conduct


Ex: this employer offers a negative hiring experience, abusive work environment or has harassed students

To flag a specific job or user, use the dropdown menus for each. A list of jobs and users associated with the company in Handshake will be displayed. 
Please describe the situation below (optional)
Revoke this employer's approval at my institution prior to Handshake validating the flag. If the flag is confirmed, this employer may be suspended.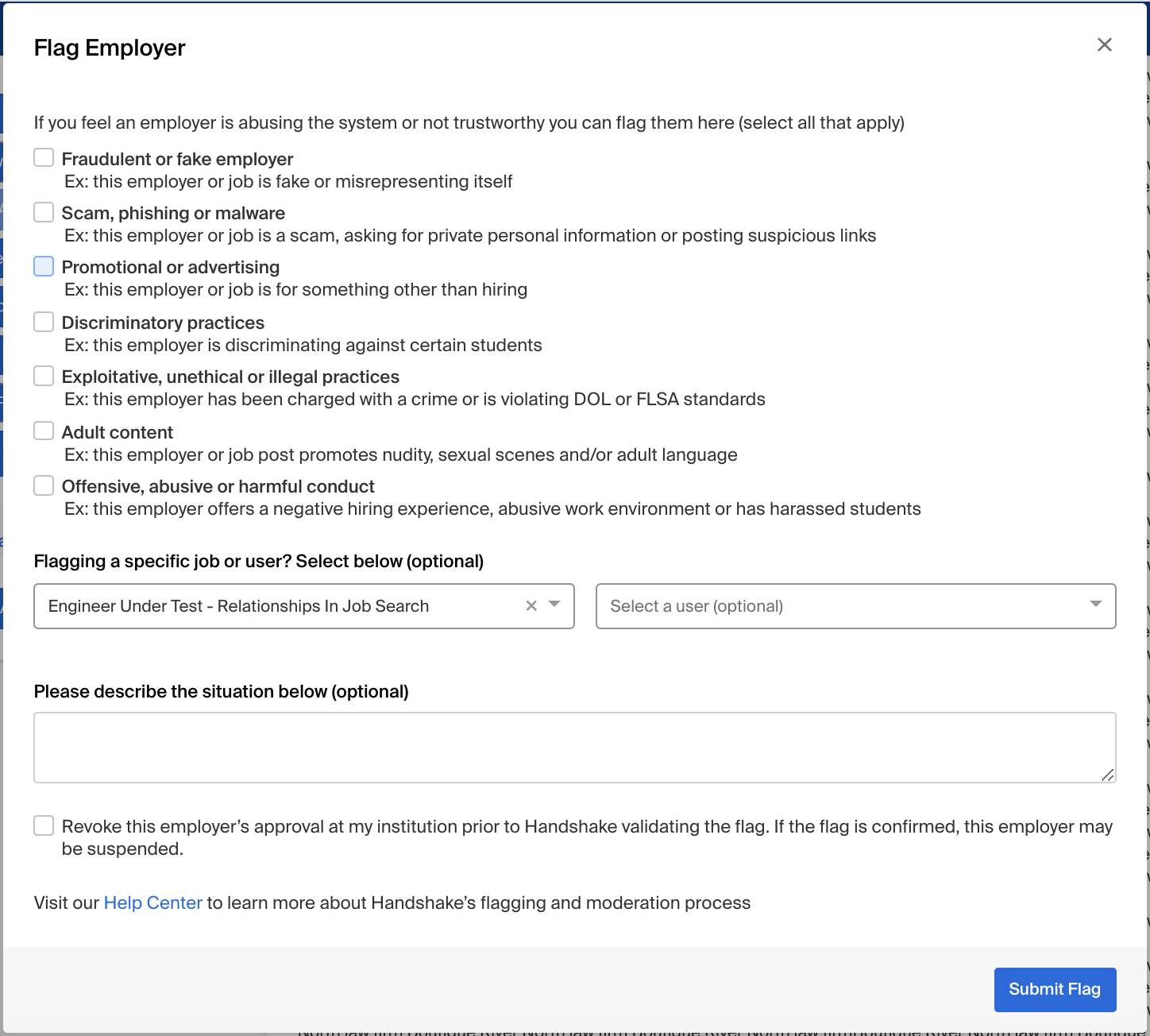 3. Click the blue button Submit Flag to submit the flag to our Trust and Safety team for review. You'll be sent a confirmation of the submitted flag to the email address on your Handshake account. 
From: "handshake@notifications.joinhandshake.co.uk"
Subject: "You have flagged ABC Company"
Here's an example of the notification email: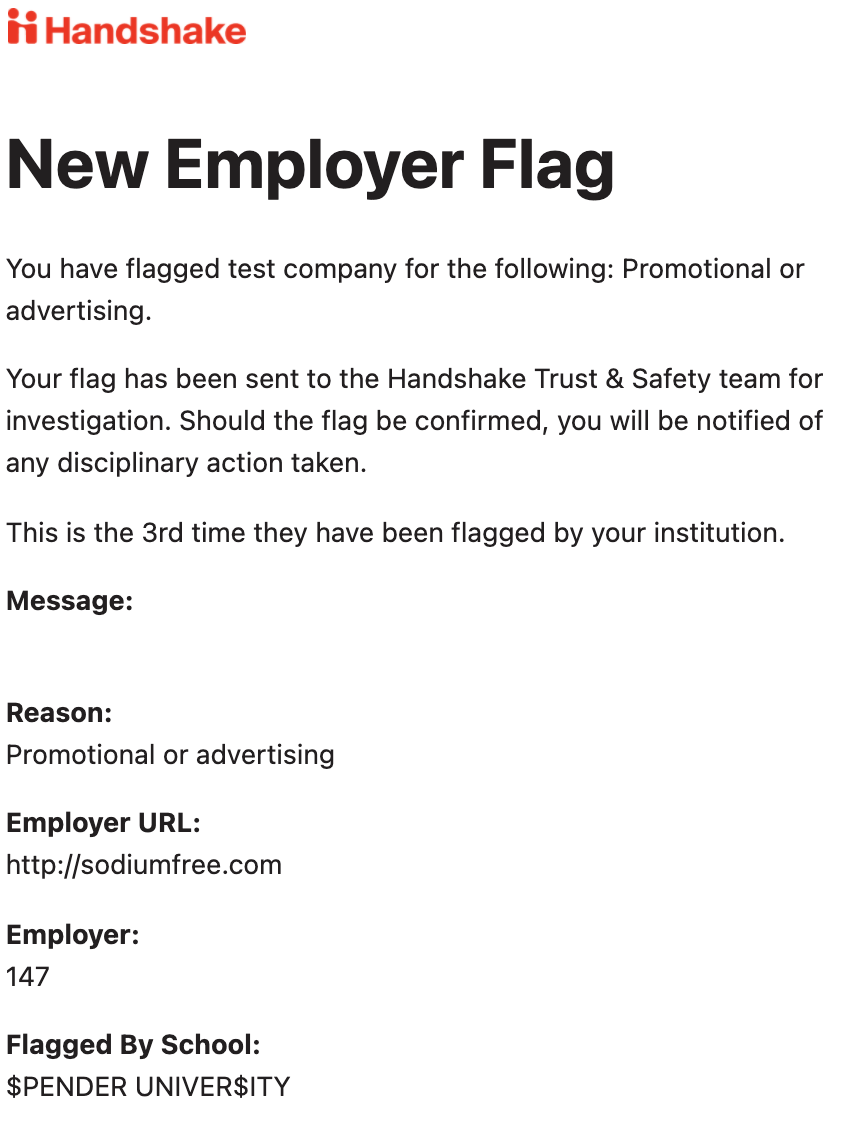 For the student perspective on submitting a flag, refer to Safety: Flagging an Employer on Handshake.
Flag review and moderation
Once a flag is submitted, our Trust and Safety team will begin to review. Afterwards, the Trust and Safety team will reach out to any parties necessary and take appropriate action according to our policies and terms of service. The exact timeframe varies based on the severity of the allegations and if the flag is submitted during our business hours. 
Outcome notifications
Our Trust and Safety team reviews flags before we notify you of the outcome – notifications are sent if any flag results in suspension of a job, user, or the company. 
To Career Services users: 

After reviewing a flag, if the flag is not confirmed, our Trust and Safety team will follow up with the Career Services user that placed the flag to close the loop. 
All active staff members in Handshake will receive the notification of suspensions in Handshake. You may choose to enable an email notification as well, or you can disable the in-app notification (via Notification Preferences in your user settings). 

User suspension example: 

Note

: Career Services users may still be

able

to view the user's profile while the user is suspended. When a user is suspended, the account is not removed from Handshake, however, individual access to Handshake is revoked. This is to maintain information for reporting or documentation purposes.

There may be some cases where Career Services users are

unable

to view the user's profile and are directed to a 404 error page. This may be because the company the user's account is connected to was suspended permanently or because the company is currently suspended due to review of a flag. Jobs that are removed will also direct to a 404 error page.

Job suspension example:
Company suspension example:

To Students: (No notifications are sent to students for suspension of a user or a company.) 

Notifications are sent to students that applied to a job that has been removed.

To Employers: (Employers are not notified when a flag is submitted) 

If a job or user is suspended, the Owner of the company profile will be sent an email notification of the suspension and the specific violation. 
Additional resource: