With over 500k recruiters on the platform wanting to connect with your students, managing employers and job postings can be a lot of work. Follow this system setup checklist and these best practices on managing workflows to make sure students are having access to great opportunities! 
Step 1: Configuring approval settings and workflows

Configure Employer Approval Preferences
Click your name > "School Settings" > Choose "Employer Approval Preferences"'
Here you will set the default roles that employers will have after they have been approved by your office. Click here for more information and guidance on employer approval preferences.
Best Practice: We highly recommend setting preferences to:
Post Events
Post Interview Schedules
Post Jobs
Best Practice: We also recommend using Auto Approve Jobs for your trusted employers to cut down your workload.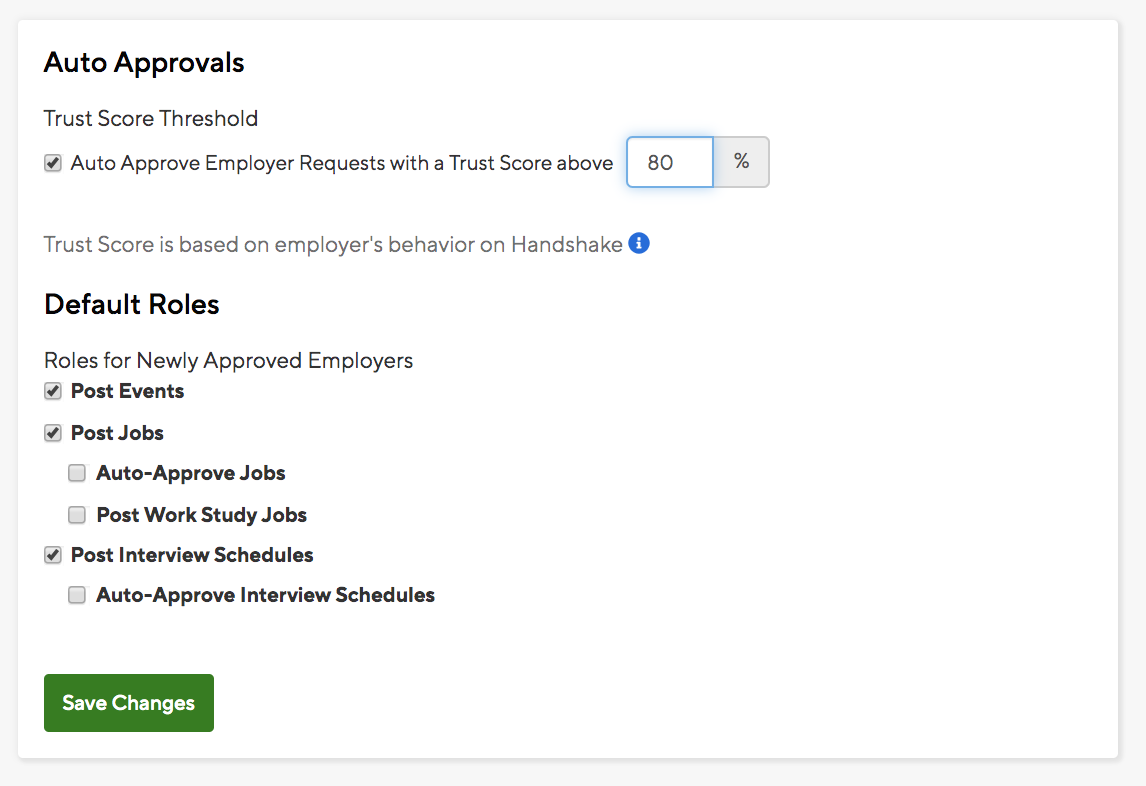 Determine your employer approval strategy
Determine how your office will decide which employers and jobs are approved. When deciding which employers will approved we recommend to look into ALL of these categories:

Trust Score

# of Approvals/Declines
Staff member email domains
Company contact information and address
"About" details
Best Practice: Add labels to track "white glove" partners and setup saved searches
Click here for more employer approval best practices and tips
Click here for some tips for vetting employers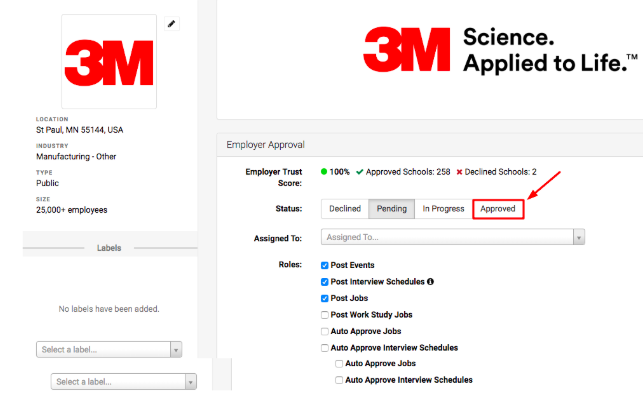 Checking for fraudulent employers
Check your pending employer requests for possible fraudulent employers. Our Fraudulent Team recommends taking a look at a few key things to help in determining how to vet your employers on Handshake:

Keep an eye out for a working website
Look for a company (non-generic) email domain of the user(s) connected to the company profile
Check to see if the profile is full and filled out. A location, company description, company email address and phone numbers are all great things to look for
Check for a high number of declines and any flags on the company.

You may end up accidentally approving a fraudulent employer. Here are a few tips that would be great to share with students:

If something feels "too good to be true", it probably is. For example, "Make $300 a day from home"
Never cash a check for, or give any money to, an employer
Question if an employer says they're hiring based on resume alone
If a student ends up giving info to a fraudulent employer, Click Here for steps you can take

Managing Job Approvals
Once employers are approved on Handshake, they will be requesting approval to post their jobs. To view all approved and pending employers click "Jobs" under the "Postings" tab on the left toolbar. We recommend setting aside some time each day to go through the new pending jobs!
Tip: To help make this process faster for you, we've updated the Jobs page to show you the Pending jobs by default.

Auto-approving

: You have the option to auto-approve all jobs from an employer, though we recommend being very careful in which employers you give this role to
Best Practice: Start Small; allow auto-approval for only your most trusted employers at first which might be: Alumni, Employers that attended your career fair, Fortune 500, or local/recruiters you have worked with in the past
Bulk Action

: Filter your pending job approvals on qualifications like trust score, location, industry, size, labels, etc. and take bulk action to approve multiple jobs at once
Step 2: Managing Employers
Here are a few things you can do to be more prepared to manage employers

Label Your Employers or Contacts
Determine your strategy for managing employer outreach.  You can easily add labels to identify certain types of employers or specific contacts that you want to email for your outreach.  Some common labels used are:

Career Fair Attendee

Employer Sponsor

Alumni

Local Employer

Interview on-campus

Use the Employer Activity Snapshot
Your employer activity snapshot is an overview of a specific employer's interaction with your school on Handshake.  This is a great way to tell how a specific employer has been involved with your school in the past. To access the snapshot navigate to a specific employer profile page > click "View Activity Snapshot"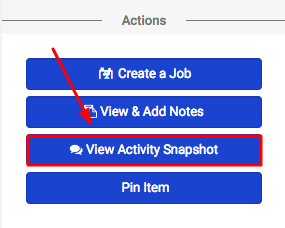 Have an understanding of employer roles
Employer users can have three different roles, owner, administrator or recruiter.

 

Owner

- One user per company profile may be the Owner. This user has the ability to all roles, including editing the company's branding page and managing staff.

Administrator

- Same rights as the owner and can be multiple people

Recruiter

- The most common role among users connected to a company profile. Recruiters have all roles and abilities, with the exception of editing the company's branding page and managing staff.

View platform from employer side
Create a test employer account, if you have not created one already. This will allow you to browse around their side of the platform and better prepare yourself to answer questions they may have and work with them better.

Click here

for help on creating an employer account associated with your career services account

Understand Employer FAQs
*Note: If employers ask "How Can I Increase My Trust Score?", reference this article
Additional Resources: