The Employers page in Handshake is designed to help improve and speed up the process of employer approvals for your staff, detailed below.
Employer Approval Status Tabs
Employer approvals (accessible via Employers in the left navigation bar) are organised into status tabs to save you time. The default status tab is the Pending tab for increased approval review and processing speed.
Click on Approved, In Progress, or Declined to display relevant employers for each status.
The tab you are on when you close your browser or navigate to a different area of Handshake is the tab it will reopen to next time you access it.
Employer Summary Side Sheet (Approved Employers)
When viewing approved employers, click on the name of an employer to open the Summary Side Sheet on the right of your browser window.
The Summary Side Sheet highlights key information about the employer, including:
Industry
Location
Size
Website
Number of Alumni at this company in Handshake
Number of Contacts in Handshake

Click View Contacts to load the list in the Contacts page.

Premium Employer status (Yes / No)
Active Job Summary with your institution
Employer Activity with your institution
Student Engagement with this employer
First Destination Survey
Employer Collections and Labels
More Information

approval date with your institution
Click View Company Details to load the Company Profile
Data within the Summary Side Sheet is updated on a nightly basis.
Quickly Vet Pending Employers
On the Pending status tab, columns of employer approval information are listed directly in the results table. This provides a more helpful idea of the employer requesting approval, without having to click into the company profile:
Website
Date Requested
To the right of Date Requested, a small blue circle with an "i" may appear – if present, this indicates the employer has been tagged.
Approve Employer? (Yes / No)
View More Information for Declined Employers
To review previously declined employers, click on the Declined status tab. The reasons selected and any additional details provided on the pop-up notice will appear in the Reason For Declining column.
Note: if N/A is displayed in the Reason for Declining column, this indicates the decline occurred prior to Handshake collecting decline reasons.
Tip: you can also report on these decline reasons in Analytics via the Employer template. Dimensions are listed under the Employer Approvals heading, Decline Comment and Decline Reasons.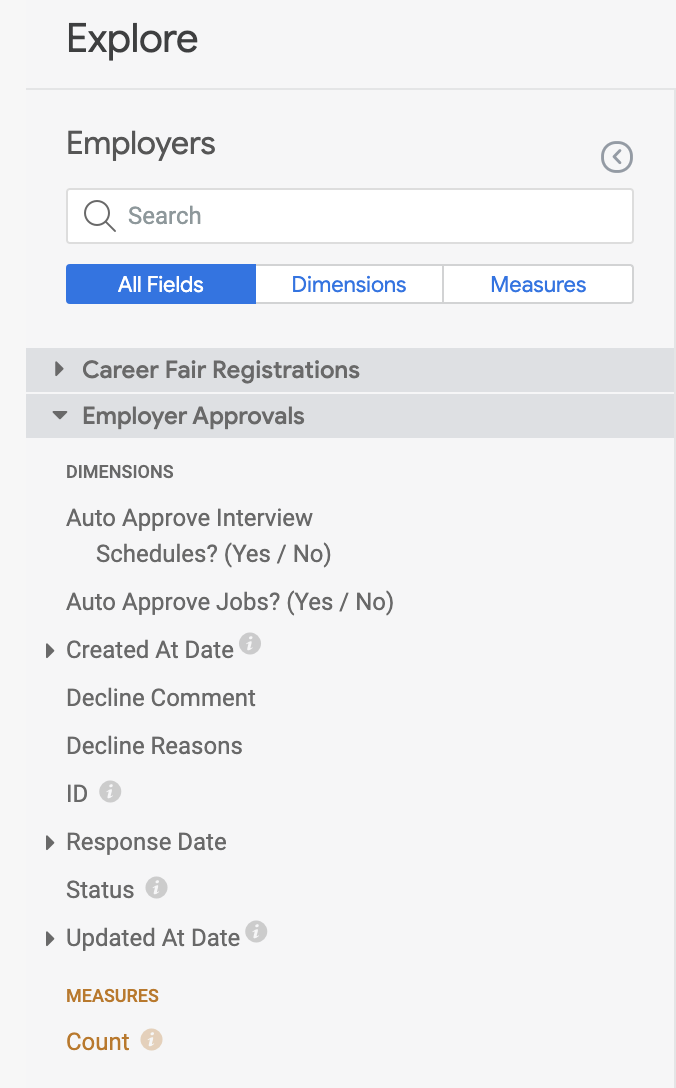 Search Filters
Filters are available on each status tab and can be found on the left of each page:
Search
Role
Employer Tags
Second Requests
Employer Collections
Industry
Location
Label
Not Label
Size
Type
Assigned To
Other
"Other" Filters
The Employers page includes special filters to help you more easily find employers. These filters are available on each Status tab and can be found under "Other":
Has Document Download Permission: (resource linked below)
Premium Employer
*System Approved: this filter will only show on the Approved tab, and will indicate which employers have been approved via the auto-approve process
Flagged Employers: easily filter to flagged employers per Approval status - no more custom reporting! (resources linked below)
Alumni Work at Employer
Posted on Campus Jobs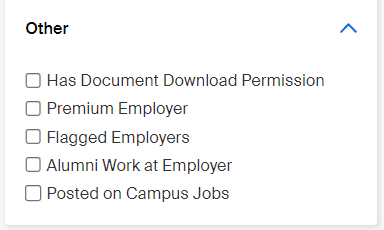 For more information on document download permission, please refer to this employer resource: Downloading Public CVs.
For more information on flagged employers, please refer to these resources:
Create a Saved Search
Handshake makes it easy to save search criteria so the search can be run again in the future. If you would like to setup a saved search, please review the Create a Saved Search article to enable and apply saved search filters.
Once created, a new filter called "My Saved Filters" will appear below "Save These Filters" on the left column of the Employer Approvals page.