Users can perform searches in many areas of Handshake. Career services staff frequently need to run the same searches again and again (for example, a search for all second years studying law who have scheduled a career services appointment). Handshake makes it easy to save search criteria so the search can be run again in the future.

Note: When saving a search, please be aware that you are not saving your search results. You are saving your search criteria. When you re-run a search at a later date, your results will likely change as searches are always run on real time data.

There are many areas in Handshake where Career Services staff can create and save searches. Searches that are created in most of the tabs on the left-hand navigation bar can be saved. While the search criteria will vary in each of these tabs, the steps you will follow to create and save a search will be similar.

We'll use the Manage Students tab for this example.

First, create your search:

Click

Manage

on the left-hand navigation bar.
You will see toward the top of the screen a list of filters you can use to create the criteria for your search (filters in other tabs in Handshake may be located on the left of the screen). Filters include items such as level of study, course, graduation date etc.

Select

the criteria for your search. You will see that the list of students changes as you narrow your search by adding additional criteria.


Next, follow these steps if you'd like to save your search results:
To save the results of your search (i.e. save the resumes of students that meet this criteria),

check

the Name

box

to select all students that meet your criteria.

Next, if you think this is a search you'd like to perform again in the future, you may save your search. Remember, by saving your search you are saving the

criteria

for the search, not the data the search yielded. The students meeting this criteria could possibly change from day to day.
Once you've selected your criteria, you may save your search:
Click

the

+

sign next to the Saved Searches box.
A Save Current Search window will appear.

Enter

a

Name

and

Description

of your search and

click

Save

.
Finally, to conduct a saved search (one you have previously saved):
Click

Saved Searches

at the top of your screen.
You will see a list of searches you have saved.

Click

the saved search you'd like to run.

Your search results will appear.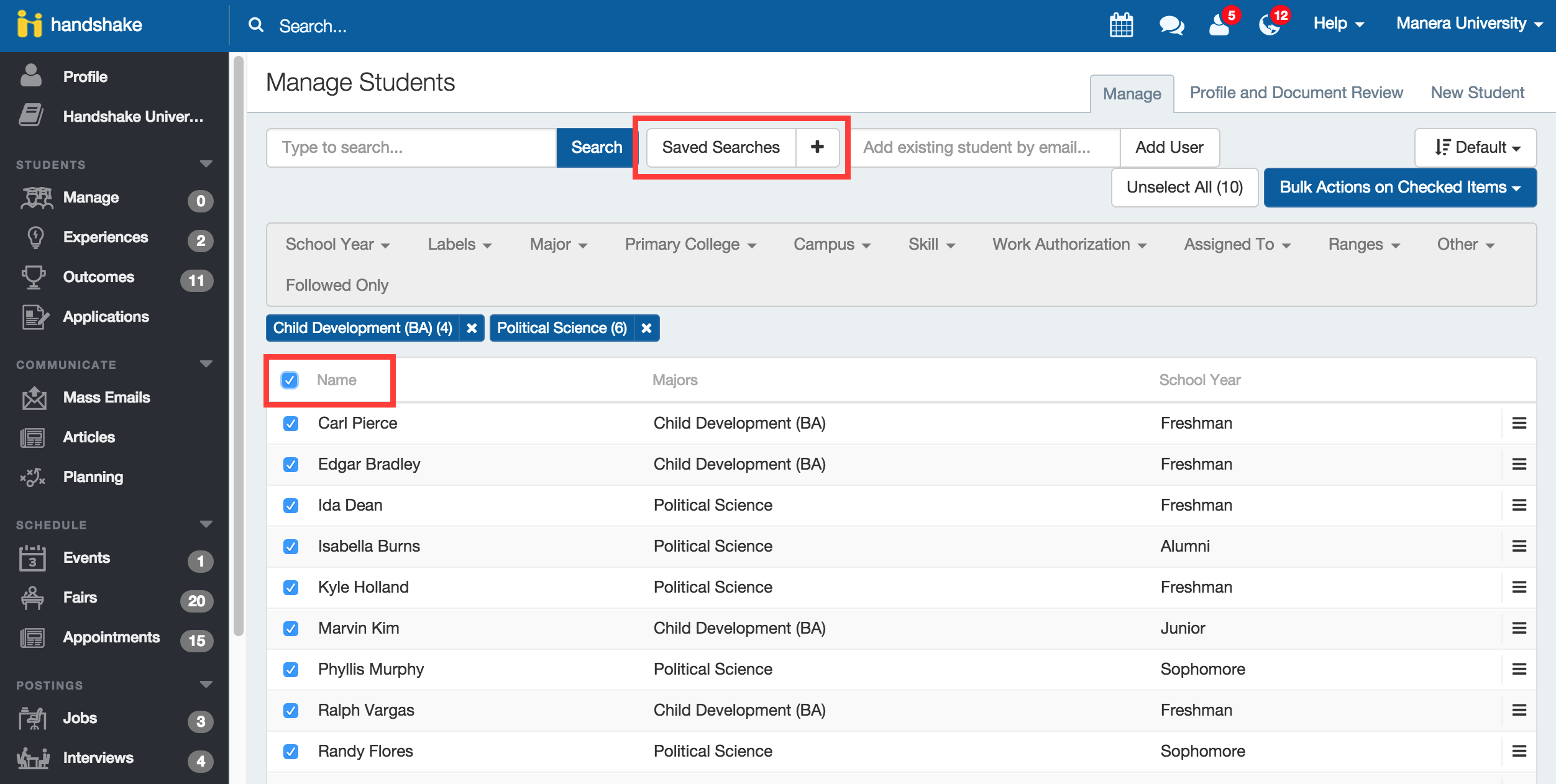 If you would like a Saved Search to be your default search when pulling up Students, you can click on your Saved Searches, then from the list of Saved Searches, click the three hash marks to the far right, then choose the option Make Default.