There are a number of opportunities to gather information from students and employers by using surveys in Handshake. You can embed surveys in emails (for example, pre and post counseling appointment emails for students) and in forms (for example, career fair registration forms for employer or student participants).
Creating a new survey:
Click

Surveys

on the left hand navigation bar. Then

click

New Survey

on the upper right hand corner. You will see 4 tabs at the bottom of the page:

Setup, Pages, Questions

and

Review

which represent the steps you'll follow to create the survey
In the

Setup

section,

enter

a

Title

,

and if you'd like, a

Description.

If you want the survey to be required when it's shown to a recipient, and

check

the

Required

box.

Check the

Ask the employer

box if you'd like the survey to appear in the employer's survey tab. If you'd like to apply a completion label to students that submit a survey response, you can select one from the drop down.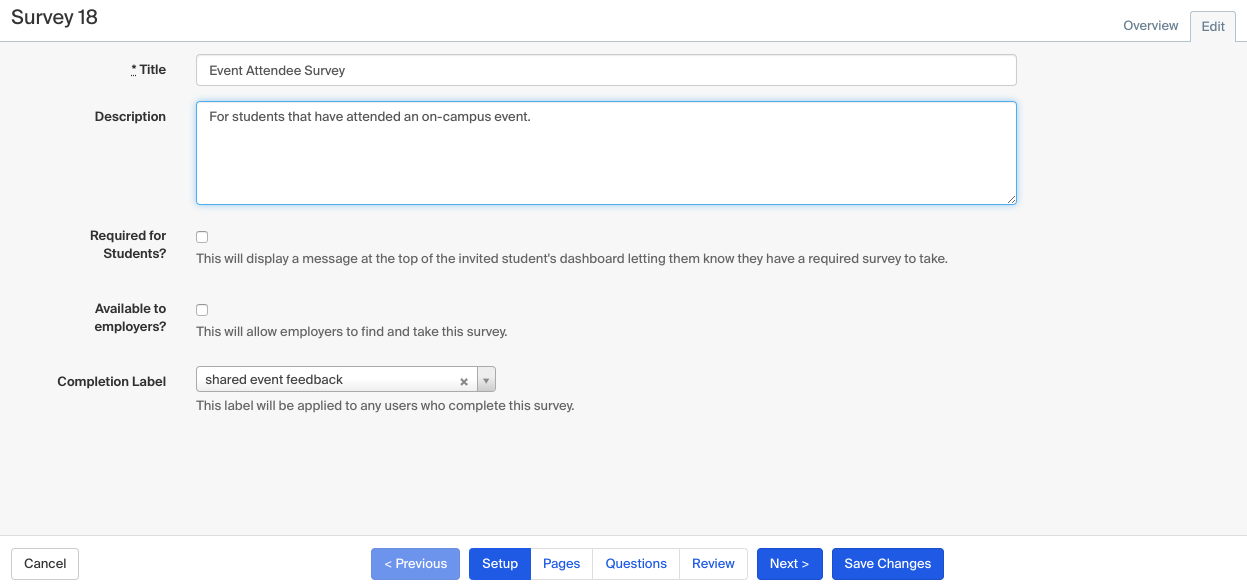 Use the

Pages

section if you'd like to create a multi-page survey. Don't paginate your survey if it's going to be embedded in an email or a form. (For example, a survey being used in a pre-appointment email to students should be a single page survey as should a survey being included for employers on a career fair registration form. You can use multiple pages if you're going to use skip logic or if you're creating a long survey.)

In Pages, you can now filter student's page visibility based on Major Group and College, eliminating the need for more complex skip logic! Note: dropdown menu items are based on majors mapped to major groups in your school settings, and colleges created in your school settings. If you aren't seeing a particular major group appear as expected, double-check that you have at least one major mapped to that group in your school settings!

In the

Questions

section

click

Add Question

Enter

your

Question

in the field provided

C

heck

Required?

if you require that the recipient answer that question
Then

select

your

Question Type

A Short Answer question will provide a small box for the participant to type a short answer.

An Essay question will provide a larger box for the participant to use to type a longer answer.

A Choose Many question is a multiple choice question where the participant can check multiple answer options.

A Choose One question is a multiple choice question where the participant has to select a single (radio button) answer option

If you select Choose Many or Choose One, you'll need to add at least two answer options (called "Options") for the participant to choose from. If you'd like, you can add skip logic so that participants are taken to specified questions based on their answer to this question. If you leave the Skip To box empty, the participant will automatically be taken to the next survey question.

Note:

If you use skip logic on a question that allows multiple answers, the participant will be taken to the closest page the survey directs to based on their selected answers. For example, on a Page 1 skip logic question, if a participant chose one answer that would skip him to Page 2 and one answer that would skip him to Page 3, he would be taken to Page 2 upon submitting his answers.

Click

Add Question

for each additional question you'd like to add

Click

Save

when finished
Next,

Review

the survey you've created and

click

Save Changes

when you're satisfied that the survey is ready for use.
If everything looks correct,

click

Create

in the lower right hand corner to add this survey to your survey library so it can used in emails and forms.

Note: make sure to save your changes!

You can save changes after you add a new page, questions, or any other edits by selecting "Save" *and* "Save Changes"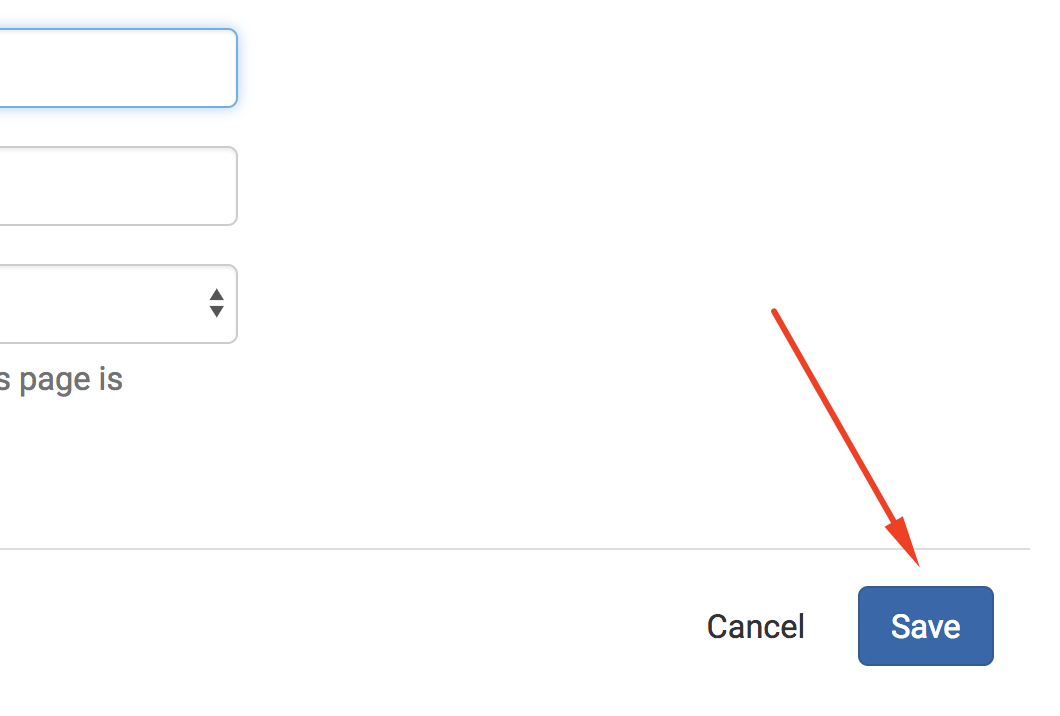 Testing the survey
If you'd like to test out your newly created survey, you'll want to make sure you have a student account created. You can copy the link from the browser when viewing the survey overview page, then switch to your student user account, and paste in that survey link. You'll be able to click through each page and test the questions and skip logic. When you reach the end of the survey, be sure not to "submit" your test response. If you submit the response, you'll no longer be able to edit the survey.
Viewing responses
To view responses to any survey, click Surveys on the left hand navigation bar. Click on the relevant survey to be taken to that survey's overview page. You can review responses here or click the Download Results button to receive a .CSV file of all results. You can also send a follow-up email to survey recipients.