Social Media Strategy Talk
Quick Tips From DePaul University Career Center

Compiled by Tara Stephens, Digital Media Manager, DePaul University Career Center, November 2016
Looking to launch social media accounts for your department? Do some research and ask yourself these questions:
How are other institutions using social media?

What social media platforms should my department be on?
Tips on how you can perhaps find the best platform for your office:
Start researching social media accounts of other career centres that inspire you or have been recognized for their social activity to see the potential. Next, consider examining or auditing the different social media platforms that exist, narrowing down to one or two that would make sense for your office to be on.
DePaul Career Center's approach to engaging the community:
Reestablishing our voice was a top priority. Across all of our social channels, we created and now maintain a tone and personality that's friendly, approachable and encouraging yet still professional and knowledgeable. Students sometimes view the career or job search process as intimidating – by using an approachable, light tone, we are creating a more open environment for students to perhaps feel more comfortable connecting with our establishment and further discussing topics that cause anxiety.
To engage our employers, we always tag them in any of our job or internship tweets. Employers who use Twitter are incredibly grateful when we share their listing and tag them as it gives their company as well as their job opening more exposure and further connects their brand with our student base.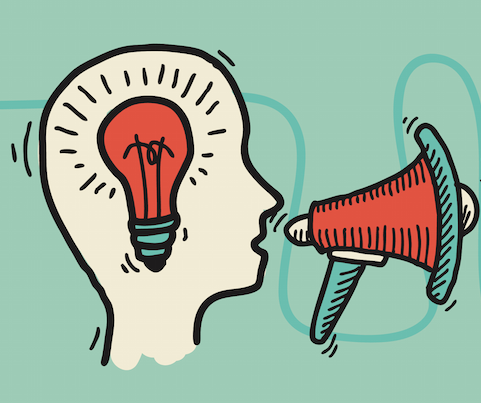 How does the DePaul Career Center use Instagram?
To help humanize the Career Center, our Instagram account is used to show the positive and encouraging environment we create for students in and out of the office on a daily basis as well as introduce staff, advisors and employers in fun, engaging ways.
How does the DePaul Career Center use their blog?
The new HireDePaul blog introduces career advisors as contributors, thought leaders and subject-matter experts. Advisors that contribute to the blog further their reach and exposure to students as well as their impact within the community. Aside from our advisors, mentors and students can contribute posts. The blog encompasses a few series; one series titled "Handshake Hacks," for example, highlights tips and tricks for navigating the platform as a student.
How does the DePaul Career Center approach Twitter & Handshake listings?
Twitter hashtags coincide with Handshake's

Labels

. So, when students are in Handshake looking for jobs, they can search by our Twitter hashtags to find opportunities related to their college.

We utilize Handshake's

Preview Links

when sharing jobs or internships on social media.
Take a look at the Career Center Twitter page to see their approaches and strategies come to life.
Takeaway tips:
Quality over quantity

should always be top of mind. Don't feel you need to be on every social platform that exists. Choose one or two platforms to start, that you know your audience is using, and do those channels well.

Establish your voice and personality.

Before you even jump on social media, detail the tone or voice you want to have.

Constantly

refine your social strategies

to best cater to your audiences, and monitor digital conversations. Social media and our audiences are constantly changing – so our strategies and approaches should be changing as well.