We are so excited that your institution has chosen to use Handshake for all of their Career Services needs!
Besides having access to an exceptional Career Services platform like Handshake, it's essential that students know about it and use it! This is one of the most important steps to ensure a successful launch and adoption of the platform for students.
To help promote Handshake at your institution, check out these resources:
Locate our Brand Guidelines and download a Logo Package here
Use our UK Marketing Toolkit to download logos and get fliers, one pagers, table tents and posters here
Quickly download a Logo package here
To create further awareness and excitement of Handshake, here are some recommendations:
Use our sample emails here to send to your students, faculty and employers notifying them of the switch to Handshake
Introduce Handshake to students with this intro presentation
Post, email, or share this testimonial video to encourage students to use Handshake
Register for upcoming informative webinars and watch past ones here
Draw inspiration from others or share your own initiatives in our brand new partner-only online UK Community. Log in via the "Help" > "Community" link in the upper-right corner of your Handshake home page as below: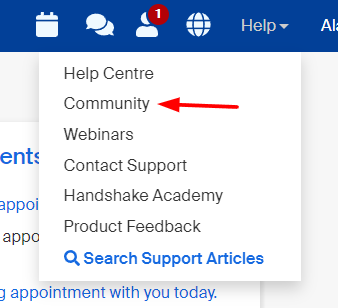 Although there is no requirement to use our new branding, you are welcome to implement it at your institution if you feel this is beneficial for you. Please take inspiration from our friends in the US:
If you'd like to share other great ideas to help others be successful, please partner with your Relationship Manager!