Labels are a useful tool in student accounts in order to help organize students based on on-campus recruitment eligibility, required survey completion, or employment eligibility based on US visa. 
These labels can be easily added using your Career Services account and going to the Manage Students tab on the left navigation menu.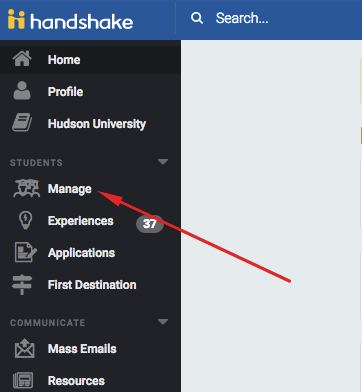 Let's pretend that you would like to add a label to the freshmen class so that you may inform them about new opportunities available to them at the university. You would search under the parameter of School Year, and then select Freshman to view all freshmen students in your system. 

To select all of these students, you may click the check box at the top of the list. Then select the "Bulk Actions on All Results" button in the upper right corner of the screen, and from this dropdown menu that appears, select "Add Label."

On the screen that appears, you may use a previously existing label to apply or create a new one for these students. If you choose to use a previously used label, select it from the drop down menu, select Next, and then verify your choice on the following screens. To create a new label, select "Create New Label"

In this screen, you may name a new label, describe for what parameters it is used, and choose if it is private or normal label as described. Select "Create," and use the following screens to verify your decision to label these students, and you are now set!