This article outlines various resources you can use to learn more about Handshake and find answers to your questions.
Article Contents:
Looking for Virtual Fairs Support? Check out Virtual Fairs: Support Options!
Where to Get Help
1. Help Centre
This site is your first line of defence. It contains a wide variety written and video resources for Career Services, Employers and Students! For more information and tips on navigating, refer to this guide.
Questions like "How do I post a job?", "How do I mass email students?", and a lot more are answered in the Help Centre.
Check it out at https://support.joinhandshake.com/hc/en-gb!
2. Office Colleagues
For office or institution-specific workflows, tips, or policies
3. Community
For high level best practices and custom solutions from other Handshake Partners. You can access the community per these instructions.
4. Support
Contact Support if you need further assistance (after checking Help Centre articles), reporting or troubleshooting an issue, or sharing product feedback. In the Help Centre, click the "Contact Support" button in the upper right hand corner.
Since you're here, you can bookmark this link also!
5. Webinars
Handshake hosts a variety of webinars - past recordings and scheduled webinar signups are available by clicking Career Centre Webinars.
Looking for an overview of our Product Roadmap, reporting, graduating students to alumni, career fairs or experiences? Want to learn more about best practices from some of our partners? We've got live and recorded webinars to take you through these topics!
6. Relationship Manager
Questions on your Implementation or translating specific workflows to Handshake? Your Relationship Manager can help guide you!
7. Handshake Status Page
Visit the Handshake Status Page to check our system status. Click the Subscribe to Updates button in the upper-right corner to get an email alert of planned maintenance or issues!
Contacting Support Process
How does contacting Support work? Here's a general flow of the process:

Using the Contact Form
To contact support, please follow these steps:
1. Visit our Help Centre at support.joinhandshake.com and select "Contact Support" in the upper-right corner, or click on the message icon in the lower right of the page:


2. When contacting Support via our help form, please make sure to select "Career Services or IT" to ensure your question is routed to the relevant team.
Otherwise, if you select "Employer" or "Student/Alumni," it will take longer to get a response as we have different response time policies for Career Services and Employers/Students.
Even if you're helping an employer or student, please select "Career Services or IT".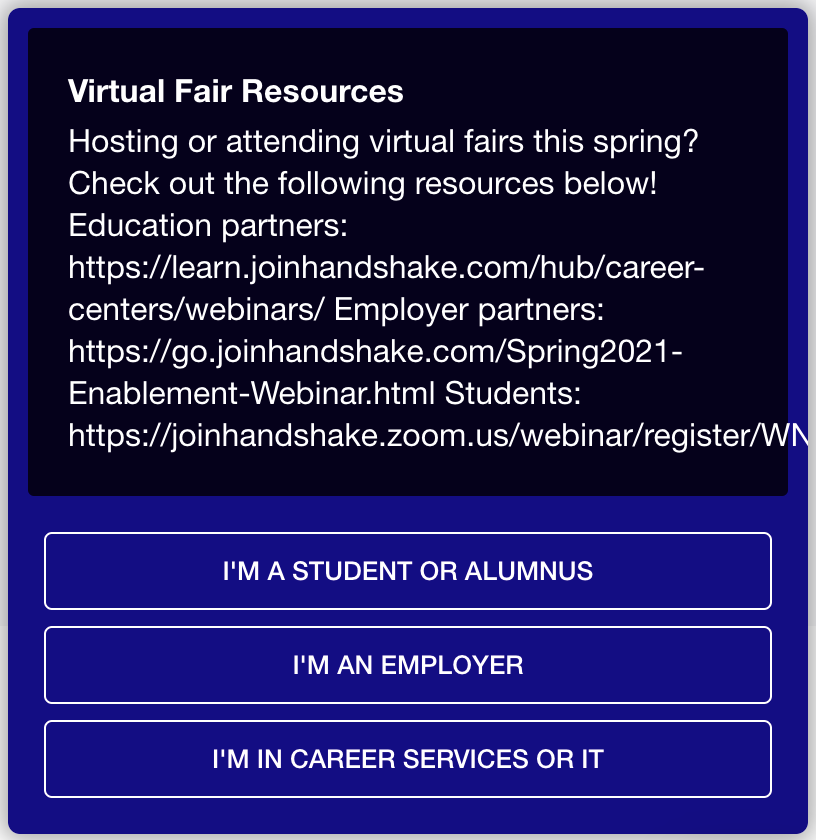 3. Enter your question, then click the arrow icon or press Enter/Return on your keyboard. There will be suggested resources that may help answer your question.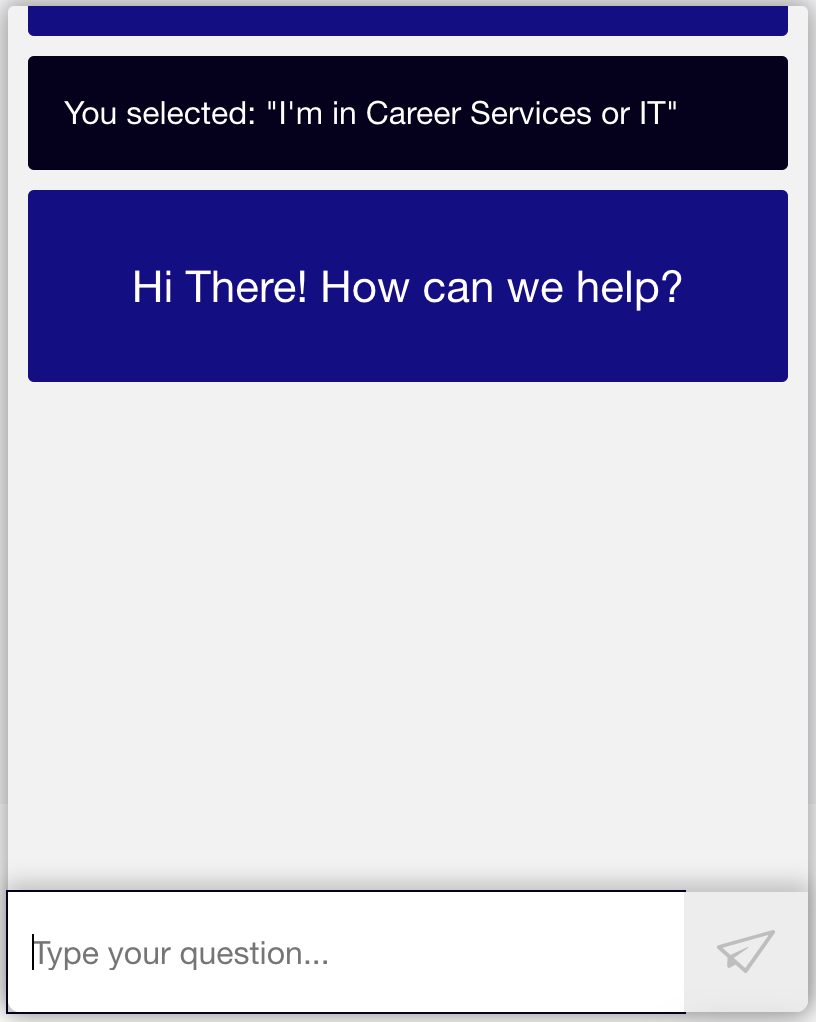 4. If you do not see an answer, select "No" on the prompt asking if the suggested resource was helpful, then you can choose to Rephrase Question or Contact Support. Click Contact Support to initiate a ticket.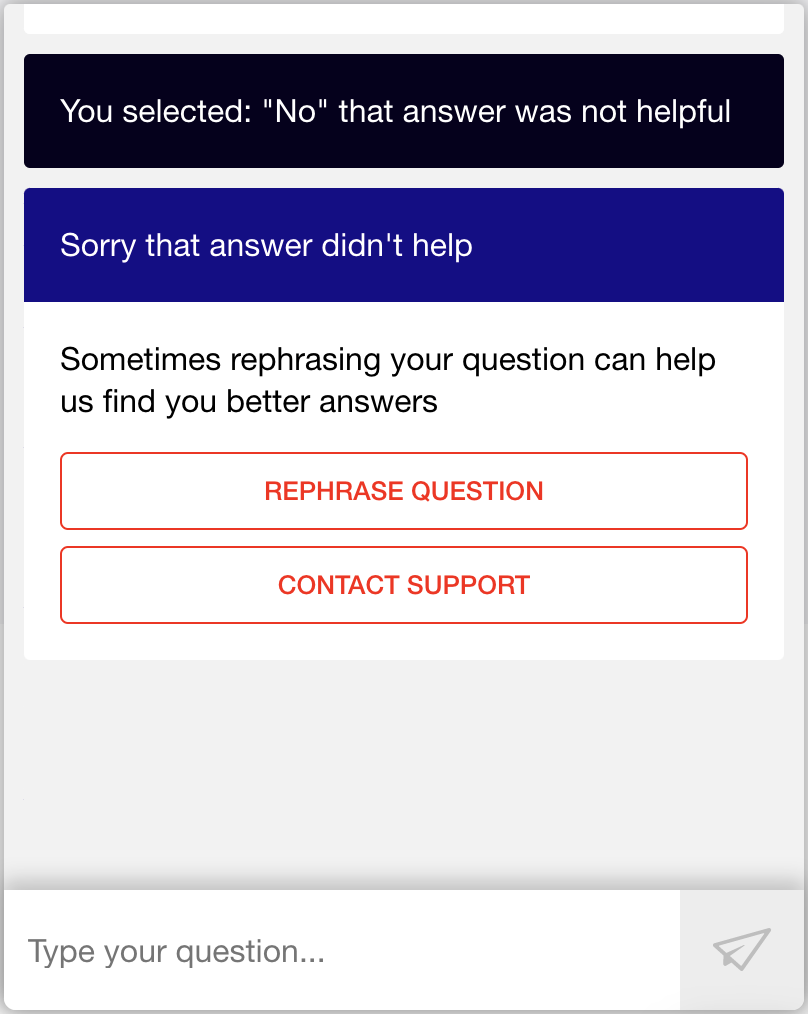 5. Include as much information as possible: URL if possible, attachments of screenshots, and errors.
When contacting us, please include as much information as possible to help us resolve your inquiry as quickly as possible.
For example, if you have a question or issue regarding a fair, please include the link to your fair when contacting us. If you're working on a report, please include the link to your report. Or if it's a job, interview, email, or survey, please include the link.
Additionally, please include the email attached to your account (or the impacted account, if you're submitting on behalf of someone else) in Handshake.
Lastly, please attach any screenshots and errors you see to help us troubleshoot further.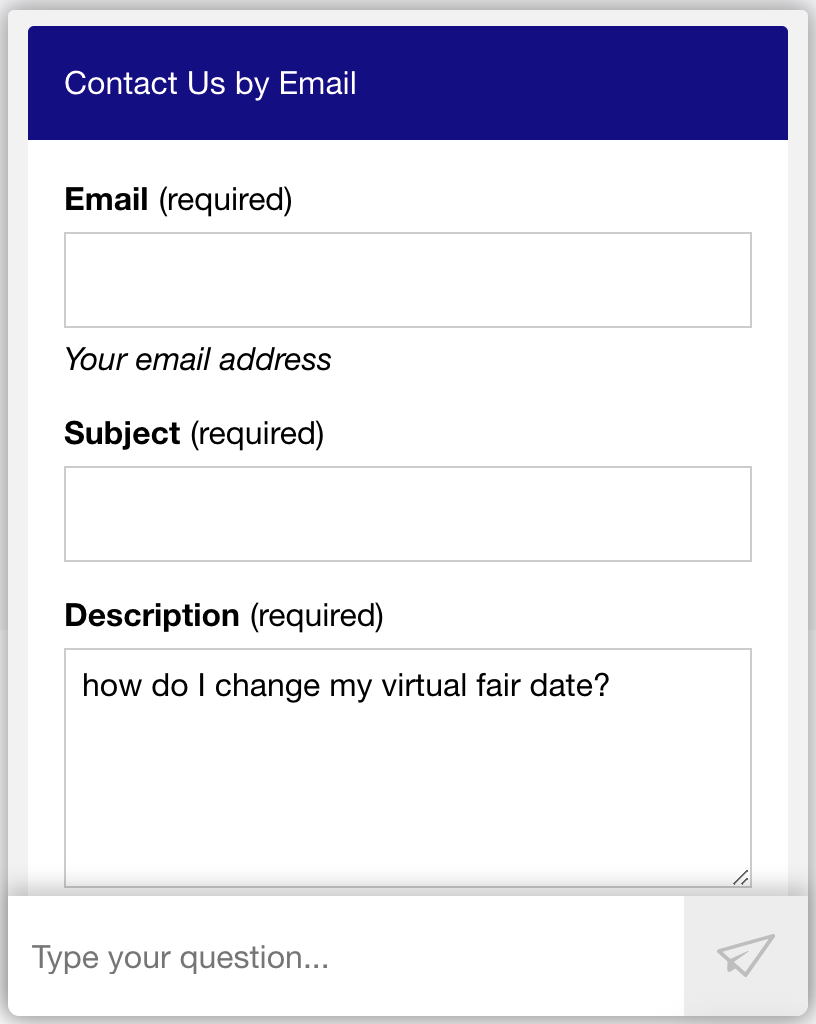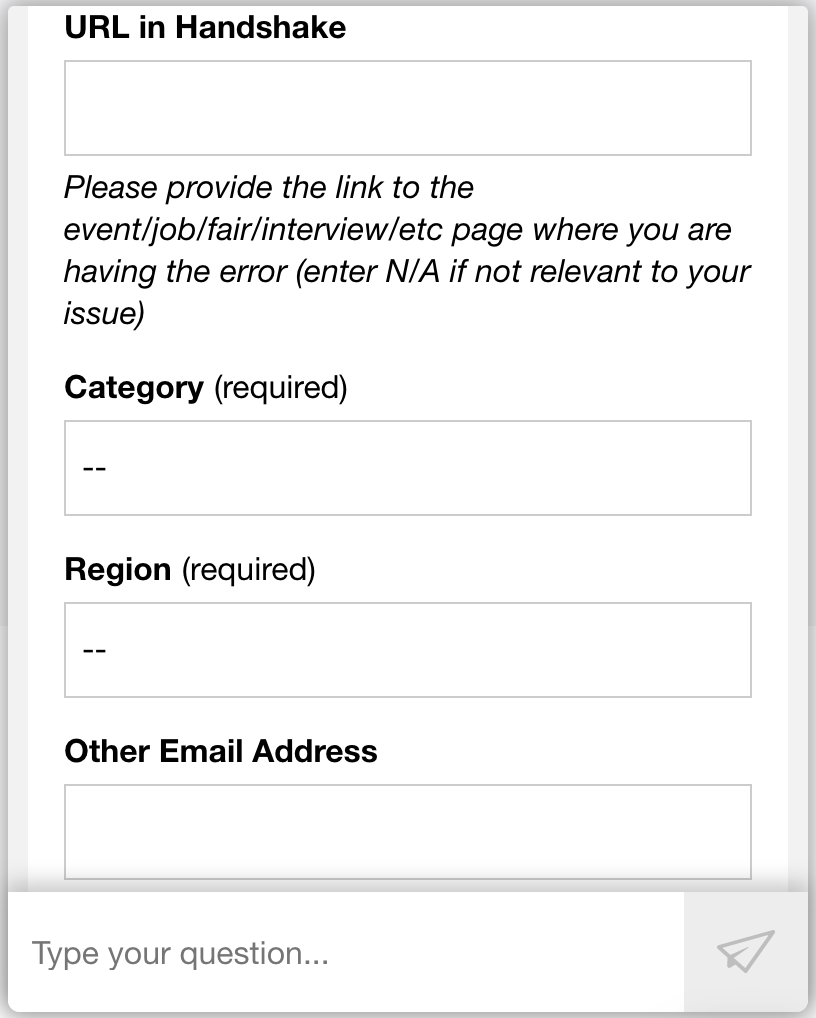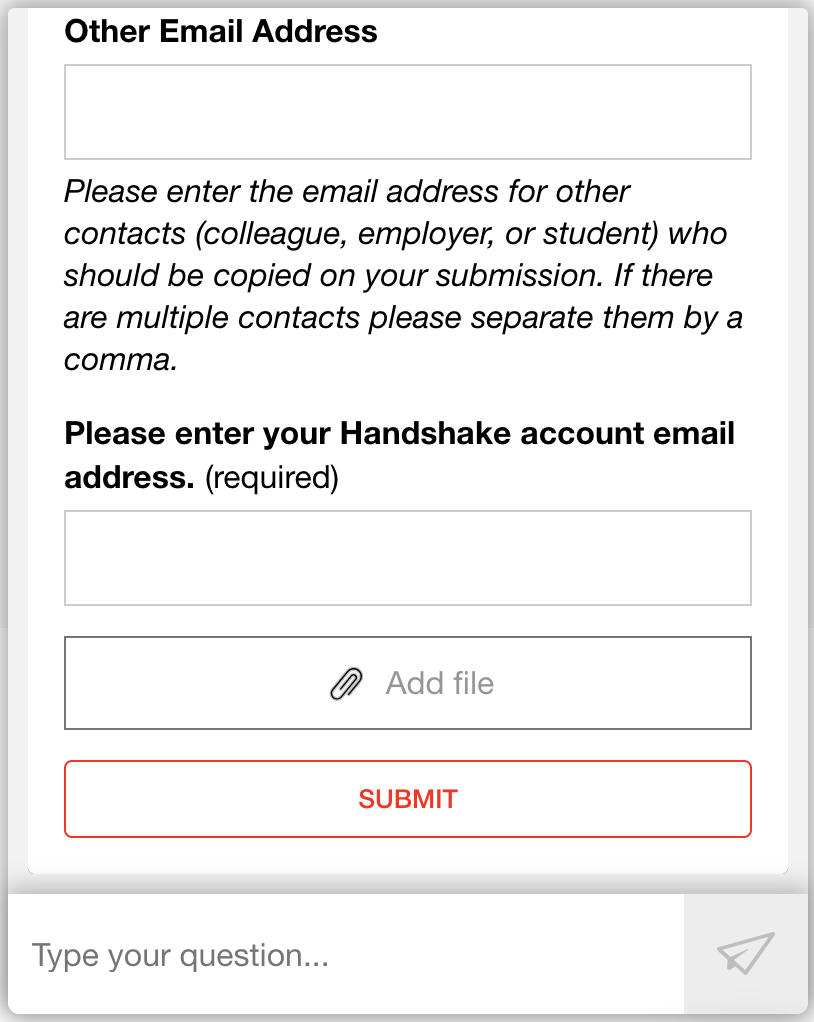 Checking Submission Status
After you've submitted your inquiry you should receive an email confirmation.
You can view all of your submitted inquiries and their corresponding status by visiting https://support.joinhandshake.com/hc/en-gb/requests.
Best Practices - Get your ticket resolved ASAP!
Handshake's Support Team is dedicated to answering your questions quickly and effectively, so
we'll use this article to highlight a few great pointers that you can use to help:
Blow us away with your ticket-submitting abilities (yes, we have been known to brag to each other about the awesome tickets we receive)
Get you the answers you need (ASAP!), without all of the extra back and forth!
Tell us your story
Handshake is a comprehensive product and the Support Team works with a wide range of users! Everyone uses Handshake in a slightly different way, and we want to understand each of those workflows. However, the Support Team can't always understand what you're trying to do at first glance. Sharing a bit of context about your ultimate goals (and where you're running into issues!) can really help us understand your perspective, and figure out how we can help.
A few questions that help frame your story:
Who am I working with?

Which part of the product am I on?

Which error messages am I seeing?

What am I ultimately trying to do?

Why?
Please Note: providing a relevant and concise subject for your ticket will help get your issue resolved more quickly by helping us triage your request.
Share the juicy details!
We've found that specific, descriptive information can help our support and development teams resolve your questions in half the time (and with much less back and forth) if you include items like:
The title and URL from the page you are on in Handshake (Event, Job, Interview Schedule, User Profile, etc)

Email addresses of all users that are impacted by the issue

Screenshots of the page or error message

A description of what you expected to see vs. what you are actually seeing

Steps you've already taken to troubleshoot!

What browser are you using? (Pro tip: try Chrome or Firefox if possible, they tend to be the most friendly)
Examples! Let's start with an awesome one:
Check out the example below - based on the context, details, and links submitted in this ticket, our team is able to quickly understand what you're trying to do, who is affected, and the pages you're on.
From these details, we will most likely be able to either solve this issue, or identify this as a bug, within just one touch! If we don't quite have everything we need from this, we'll be able to respond with some super specific questions so we can be sure to be on the same page with the next response.
Subject: Students cannot register for events on campus.
Description: Students are showing as not qualified for events on campus. When they go to an event page, they see a message saying that they are "Not Qualified" and are not given the option to register. This is happening for a few events, but below is a specific example. We want all of our students to have the option to register for this event!
Event: "Andover Finance Opportunities Information Session" (link to event: https://demo.joinhandshake.com/events/189)
Students experiencing the issue: (list student emails)
Attachments: For bonus points, attach screenshot! There's no better way for us to see what you're seeing than for us to actually see it!
The ticket above goes into our wall of fame, and helps us get you up and running ASAP!
Example two - slightly less awesome...
Subject: Students cannot register for events on campus.
Description: Students are showing as not qualified for events on campus. Students need to be able to register for the event but they are not given the option.
Attachments: None.
We'd love to help here, but first we'll have to follow up with some clarifying questions to understand what is happening. Of course, we're in it for the long run and will make sure this question gets an answer, but we'd love to get these details out of the way and dive right into the situation.
In this case, we won't be able to start looking for an answer, instead, we will have to start by asking questions like:
Which students cannot register for events?

Could you provide some examples?

Is there a specific event you're having trouble with?

Would you like all students to be able to see this event?
This will take extra time and effort on your part in building the responses, and then more time for us to dive in and circle back. Use the format for the "awesome example" above to prevent any delays!
Ultimately, we are dedicated to answering your questions as efficiently as possible - we just need a little bit of your help! Tell us your story & share the details - then the Support Team will take it from there!
Support Interaction Policy
Handshake strives to provide the safest environment for our users and employees while engaging in any conversation on our platform or vendor tools we use to service our customers. We require consensuality when interacting with our team members meaning that conversations must remain professionally relevant and contribute to our community in a constructive manner. We require that every user be civil and respectful as they interact with our team. If any of our employees wish to terminate the consensual conversation due to abusive behaviour, they may do without penalty or fear of retribution.

Handshake does not tolerate abuse of its employees: We do not allow profanity, bullying, harassment, unwanted advances, threats, violence, intimidation, prejudice, retaliation, discriminating, dehumanising, or hateful language/action against individuals working for, or on behalf of, Handshake.