If you have a suggestion or idea that might help to improve Handshake, then we're all ears!
Before submitting your feedback however, we'd strongly recommend that you read through the information below to gain a better understanding of how this process works.
Handshake is a

longitudinal platform

, meaning that our broad range of features are used consistently by a network of thousands of institutions. Whilst some aspects of the system are customisable per institution, most are standardised across all.

Handshake is also

multi-national

, serving

over 1400

educational institutions across the US & UK as of July 2022

.

As such, we always have to balance how the changes and updates we implement will affect not only individual users, but their institutions

and the

tens of thousands

of other Careers Services professionals who use our software

.
We ask that you bear this in mind when considering your product feedback. We are always seeking to balance individual needs both with what our other partners want, and more broadly what aligns with our aim of creating the most vibrant and impactful network possible. We consistently endeavour to increase our product development capacity - but as we do that, we look for feedback that is useful, beneficial and impactful for our entire customer base.
---
Handshake Product Resources (Product Team blog posts, webinars and video training)
Our Product Feedback Process
For useful tips on submitting PF, tap the

icon at the bottom right of the page, hit "I'm in Career Services or IT" then click "How to submit GREAT Product Feedback"
Here's a visual overview of our process: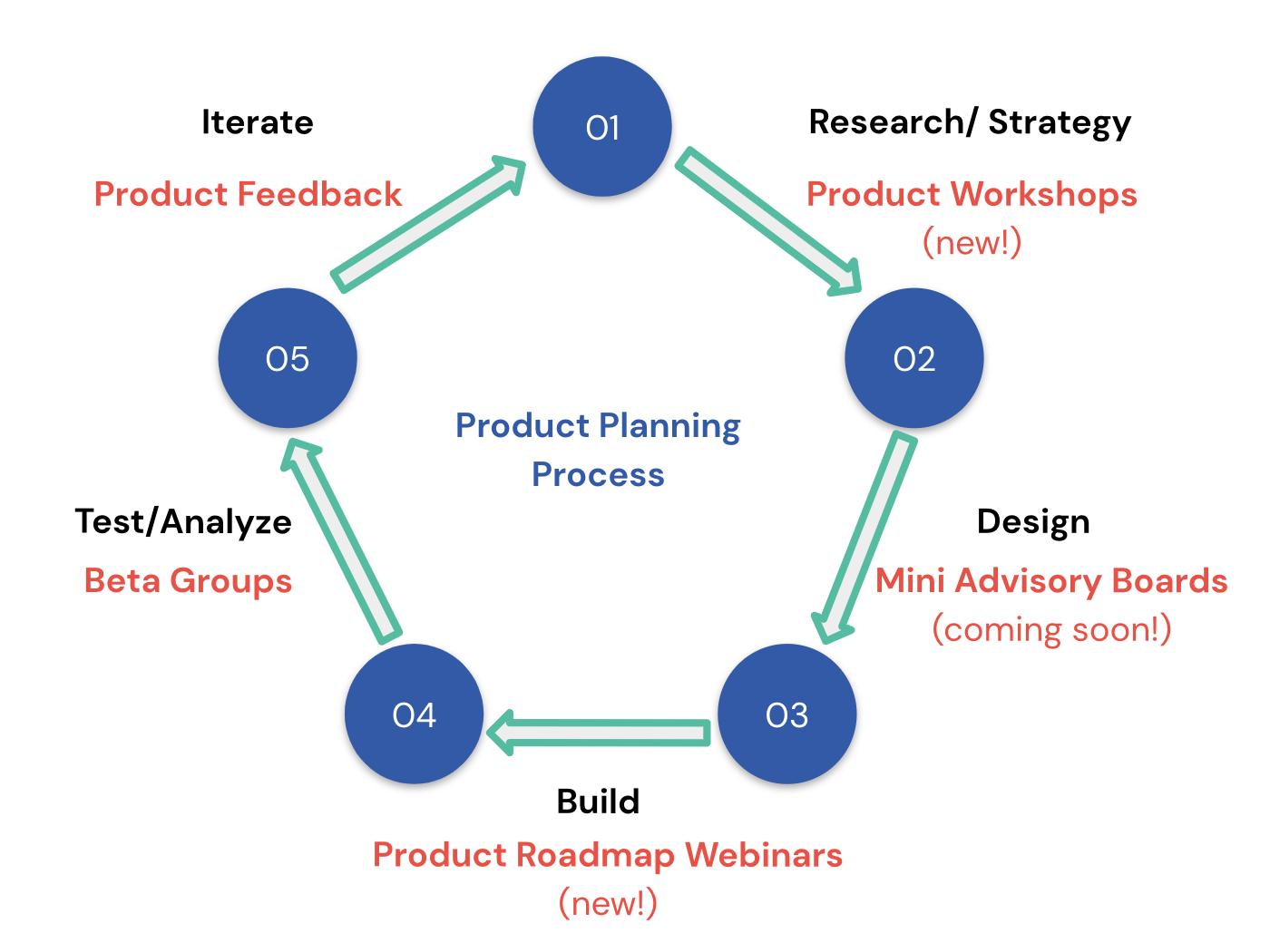 If you have an idea about how a feature could be improved, we welcome your feedback!
Please note that submitting this does not guarantee any changes and does not equate to a "change request", but our liaison reviews all submissions and triages the feedback appropriately for review by our University Product Team.
When reading through feedback, we're primarily evaluating the level of impact that an update could have on all of our users. The larger the impacted audience = the more likely that feedback will be prioritised.
When feedback comes in that doesn't have quite as much immediate impact but could definitely help improve our platform, we'll track that feedback in a workspace created by our Product Team. As more feedback comes in with similar themes, those tickets are grouped together to demonstrate the growing impact of investing in that area.
Our Success, Support, and Product Teams each have designated points of contact that meet biweekly to discuss prioritisation of submitted feedback and trends that we are seeing.
A great example of the results of this process is Handshake's Targeted Emails tool. We received over 90 product feedback tickets offering suggestions on how we could improve our old Mass Emails tool. These tickets were an important driver in our Product Team's decision to invest in building the a new tool - they helped to shape many of the key features of Targeted Emails!
What does strong Product Feedback look like?
it must clearly outline either the current perceived deficiency within Handshake OR what the ultimate goal is (for example if you're not sure what would solve it, but you know your goals aren't met currently)
it must define the impact of that deficiency (how many users are affected and how so?)
it must provide all additional context around why this change would be helpful (e.g. how will it improve your daily workflow?)
it should be solution focused, as much as possible! We don't expect you to know all the answers, but feel free to get creative with what you think would work!
Where can I submit Product Feedback?
1. Click here to open our Product Feedback submission form.
2. You'll be taken to the submission page, where you'll need to enter the following information:
Your email address
Subject
Product Category (optional)
Description
Attachments (optional)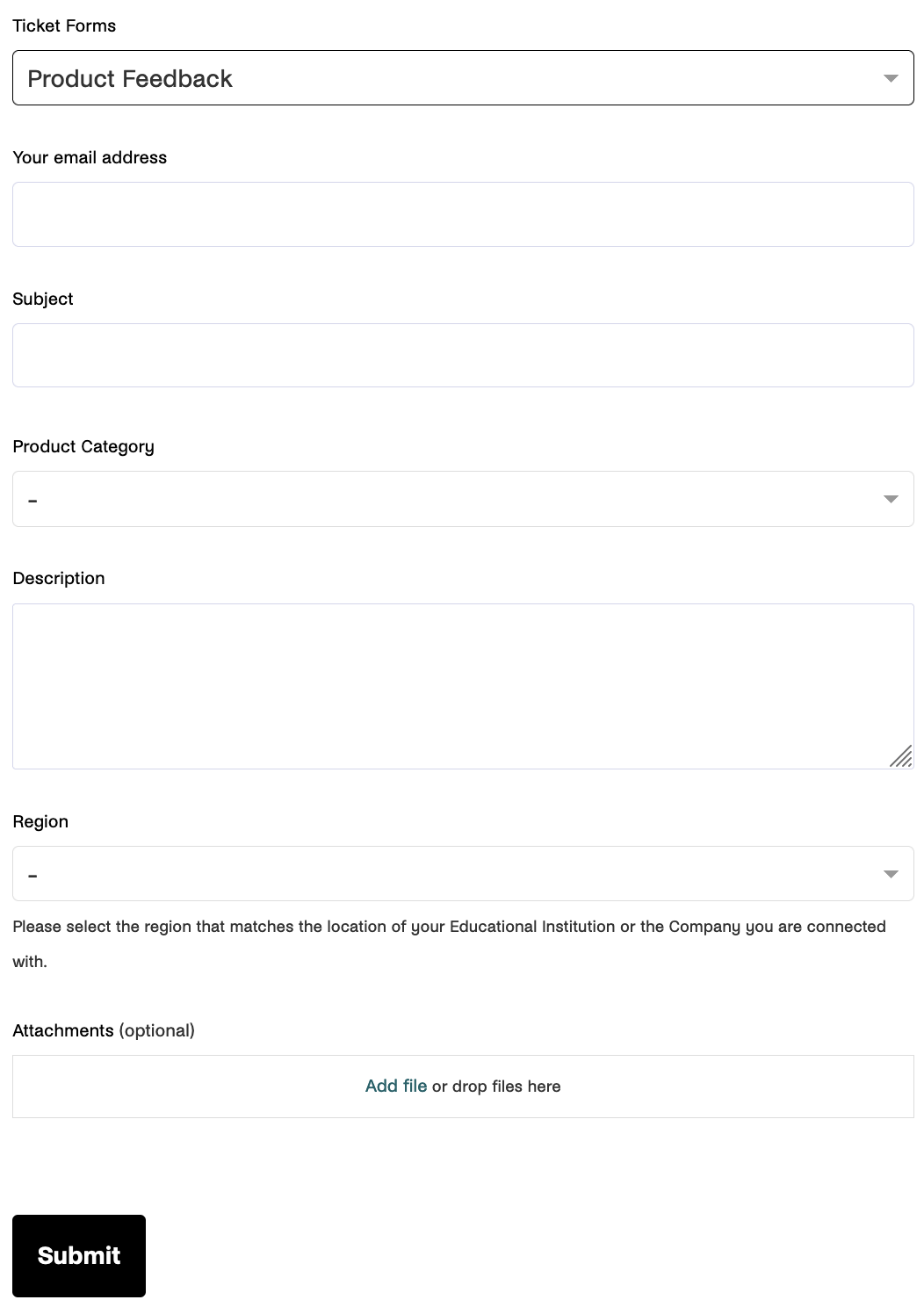 3. Click Submit when you are finished.