Handshake allows Employers to register for an account using a generic email, if you do not have a corporate domain. A generic email is any email address that use domains such as yahoo.com, hotmail.com, gmail.com, icloud.com, or others. These domain names are not typically desired by Career Services due to the high amount of fraudulent employer accounts associated with these addresses. However, the Handshake team understands that some companies, such as franchises, growing businesses, or household profiles, use these email domains to carry out their business.
Although we will always recommend a company domain email address, you may create a company profile using a generic email domain.
Note: The one exception to this, is if you are looking to create a household/babysitting/caretaker type posting. See more details about this here.
When you register for a Handshake account with a generic email, you will see a warning when signing up while using a generic email, but please note that this is just a warning, and not an error. It will not keep you from signing up with a generic email address.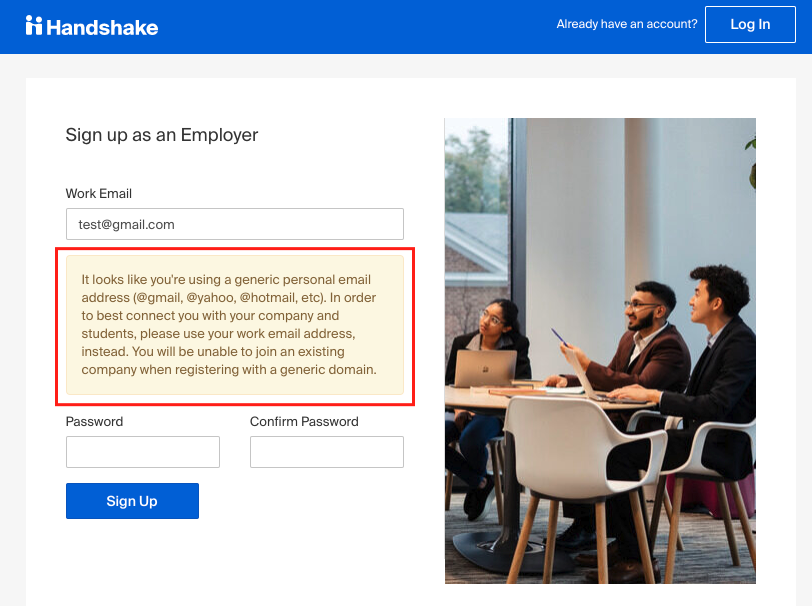 If you are struggling to join an existing company because you have a generic email address, you will need to be approved and added manually to the profile in Handshake by the Owner. In these cases, please contact support and provide us with your company's name (exactly how it is spelt) in Handshake. Please also provide the location you'd like to join, if there are more than one. We can then provide you with the Owner's contact information for further assistance in getting connected.
Helpful tips:
Once you've registered for your Handshake account, spend some extra time to make sure everything is complete with accurate and updated information, and maybe even take the time to upload your logo and banner for a beautiful first impression! It truly makes it worth it in the long run!
Only choose to connect with a handful of institutions during the registration process, specifically any you already have an existing relationship with. Requesting approval from many institutions can result in too many declines which can affect your Handshake Trust Score.