Targeted Email FDS Handshake Content
Career Services users now have the option to send emails to FDS recipients with links to the survey that will not require a login.
Navigate to First Destination Recipients page
Select the students you would like to email

Select "Send Email to Surveyees"
Review your survey reminder email
If you remove the Take Survey link then you can re-add it by using the First Destination Survey Handshake Content option.
**Please note that you will not be able to access First Destination Survey as Handshake Content by any other Targeted Email composition method - choosing students from the FDS Recipients page is the only method that allows for this content!
In addition, if you choose to send a test email, please be aware that the "Take Survey" button will not load the FDS for you, as it will not contain the token for FDS recipients. When the email is sent to the surveyees, the "Take Survey" button will include a unique token that will load FDS for the email recipient.
Add Work Experience to Profile
When a student completes the First Destination Survey while logged into Handshake with a Working, Volunteering or Fellowship response, we will add it to their profile.

Make Profile Public
When a student with a private profile completes the First Destination Survey while logged into Handshake we will recommend that they make their profile public to employers so they are discoverable!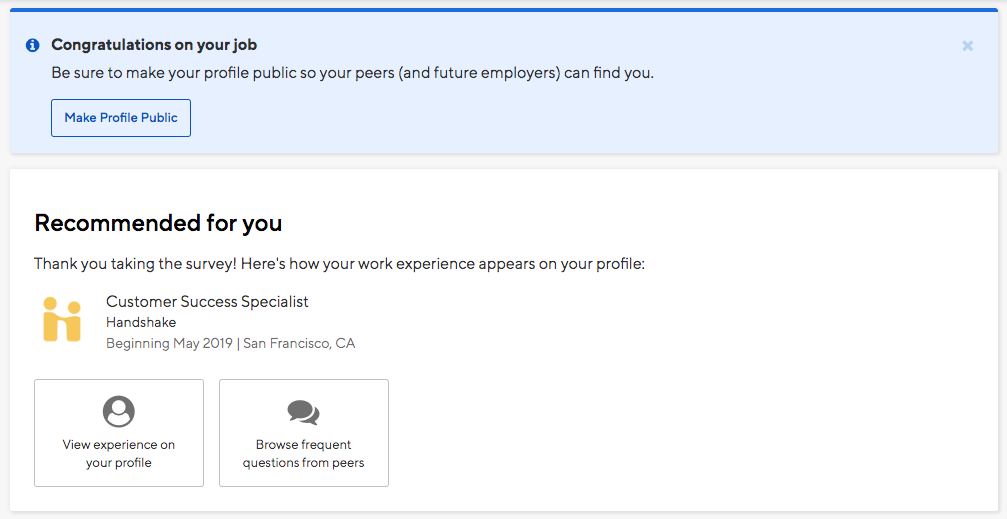 Separate Final Reminder emails for "Still Seeking" and "Unsubmitted" students
To make sure that final reminder emails are relevant to students based on their response, we have separated the final reminder content for Still Seeking and Unsubmitted students.
Language Updates
First Page of Survey

Changed "We know you're busy leading up to graduation, so we made sure this survey will only take a few minutes" to "Please take a few minutes to help other students learn from your post-graduation plans!"

Student Dashboard Link

Changed "Complete this mandatory survey for your institution" to "Complete the First Destination Survey for your institution"

Graphs before the student answers a question

Changed "Answer the questions below to see how you compare to your classmates." to "Answer the questions below to see institution-wide trends."

Reminder emails